Woo! It's one of my favorite times of year! The ShopBop Friends and Family Sale is ONNNNN! Now's the perfect time to purchase those items you've been dying for but wanted at a lower price! ShopBop is offering an additional 25% off! Here are some of my faves!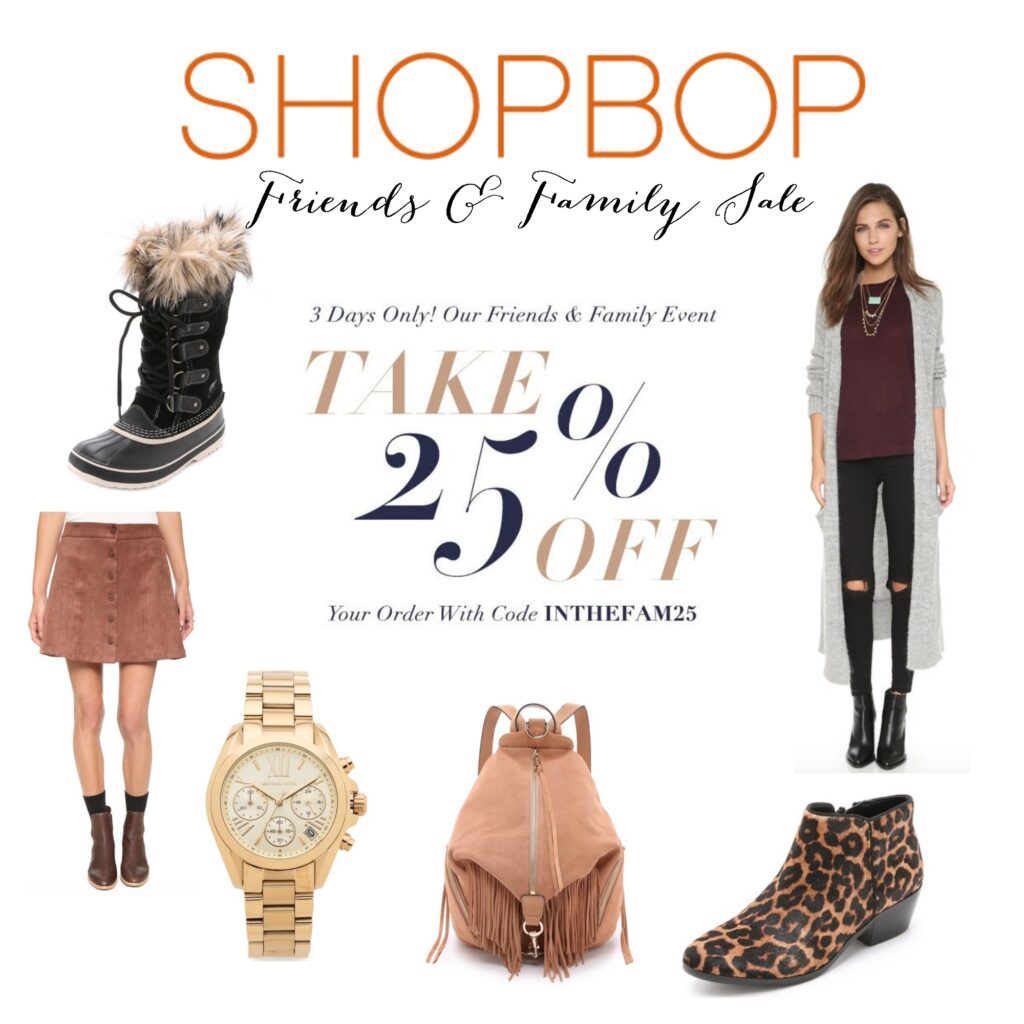 Sorel Boots: These boots are a necessity for winter. I splurged on mine a few years back and they've been one of my best purchases to date. They're RARELY on sale, so I suggest grabbing a pair now while you can that way you're prepped for the snow!
Free People Cardigan: It's no surprise that Free People is my favorite brand, and I am OVER THE MOON excited to take advantage of some pieces I've had my eye on with this sale! I love this maxi cardigan and there's another gorgeous striped blanket poncho coat I swoon over. And there's a thermal henley with the cutest detailed sleeves I must have! Probably won't fit until I pop out this kid but that's in a few weeks so we're good! 🙂
Suede Skirt: I've yet to purchase one because they aren't exactly pregnancy friendly (unless it's a maternity one!) but suede skirts are one of the hottest trends right now. This one is top quality at an affordable price!
Michael Kors Watches: I love my gold Michael Kors watch because it's classic and timeless and can be worn with anything. Normally priced around $250, this one right here is less than $200! Now's the time (haha, get it?!) to scoop one up if you've had your eye on it!
Sam Edelman booties: Leopard is a neutral, yes? I thought so. Which is why these Sam Edelman leopard booties are coming home to me! They come in other colors too!
Rebecca Minkoff Suede Fringe Julian Backpack: I've linked to this backpack before, but now its on sale AND an additional 25% off! Rebecca Minkoff has a great line of bags to choose from. Push present for myself?!
You can shop the rest of the sale here! Some exclusions apply, which you can also find here. The sale ends 10/16, so hop to it! Happy shopping!