Looking for some super cute Halloween decor on a budget? Check out these Home Goods Halloween finds for under $50! They're one of my favorite brands for decor in general so I knew they'd totally knock it out of the park this Spooky Season! The never disappoint!!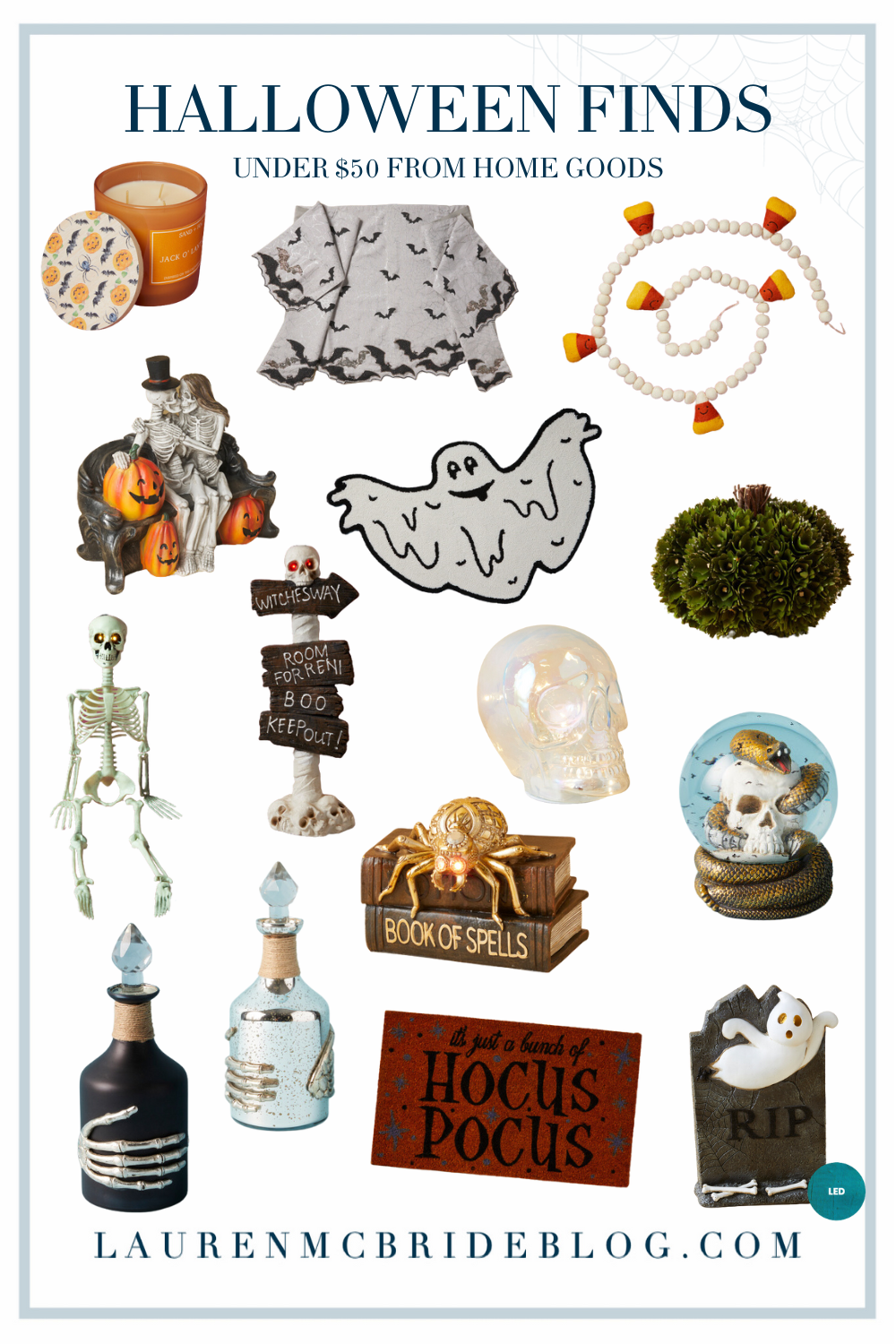 First on the list is an adorable ghost-shaped rug. This whimsical piece adds a fun and friendly touch to any room, welcoming trick-or-treaters with a smile.
Snow globes aren't just for Christmas! The skull snow globe with a gold snake wrapped around it adds a chilling twist to this classic decor item. It's an intriguing centerpiece that's sure to spark conversations.
Create a spine-tingling ambiance with this light-up hanging skeleton. Hang it on your porch or inside your house for an eerie glow that screams Halloween.
Add some shine to your spooky decor with the super chic pearlescent LED skull. This modern and glamorous piece illuminates your space with a spectral glow, adding a touch of luxury to your Halloween display.
Direct your guests (or ghosts!) with this fun "Room for Rent" skull outdoor solar powered sign. It's a practical and eco-friendly decor item that delivers a dose of humor to your yard or porch.
For book lovers, the faux skeleton hands holding a book bookend is a creepy yet charming addition to your library. It's a unique way to display your favorite horror novels or Halloween-themed books.
Cast a spell over your guests with the Book of Spells with a giant spider!! It's a spooky piece that adds a touch of magic and mystery to your Halloween decor.
Welcome your guests with a dash of witchy humor with the "It's All a Bunch of Hocus Pocus" rug. This fun statement piece is a nod to a beloved Halloween classic and sets the tone for your festive celebrations.
Hand Holding Fake Potion
Choose between black or mercury glass for this hand holding a fake potion. It's an eerie yet elegant piece that adds a touch of fantasy to your Halloween display.
The 8in wood curled pumpkin is a rustic and charming addition to your autumn decor. It's a subtle nod to the season that can stay out all fall long.
Have a sweet tooth? You'll love this candy corn garland! It's a playful piece that adds a pop of color and whimsy to your Halloween decorations.
Add a touch of romance to your Halloween decor with this cute skeleton couple kissing on a bench. It's a heartwarming piece that shows love lasts, even in the afterlife.
Create your own mini graveyard with the LED light up RIP tombstone. It's a classic Halloween staple that brings a touch of the macabre to your yard or garden.
Illuminate your space with the warm, flickering glow of the jack o lantern candle. It's a simple yet effective way to create a cozy and spooky atmosphere.
Finally, dress up your mantel with the beaded bats mantel scarf. This stylish piece adds a touch of elegance to your fireplace and serves as a perfect backdrop for your Halloween display.
With these affordable yet stylish decor finds from Home Goods, you can create a spooktacular Halloween display without emptying your wallet. Say RIP to over spending (🤣 couldn't help myself) and shop these Home Goods Halloween finds!