Still shopping for a staple 2023 Halloween decor item? I put together a HUGE list of great Halloween decor from T.J. Maxx for you to shop right now! I already picked up this LED Skull and we're obsessed (particularly my youngest 🤣). Keep reading for a full list of Halloween finds from T.J. Maxx!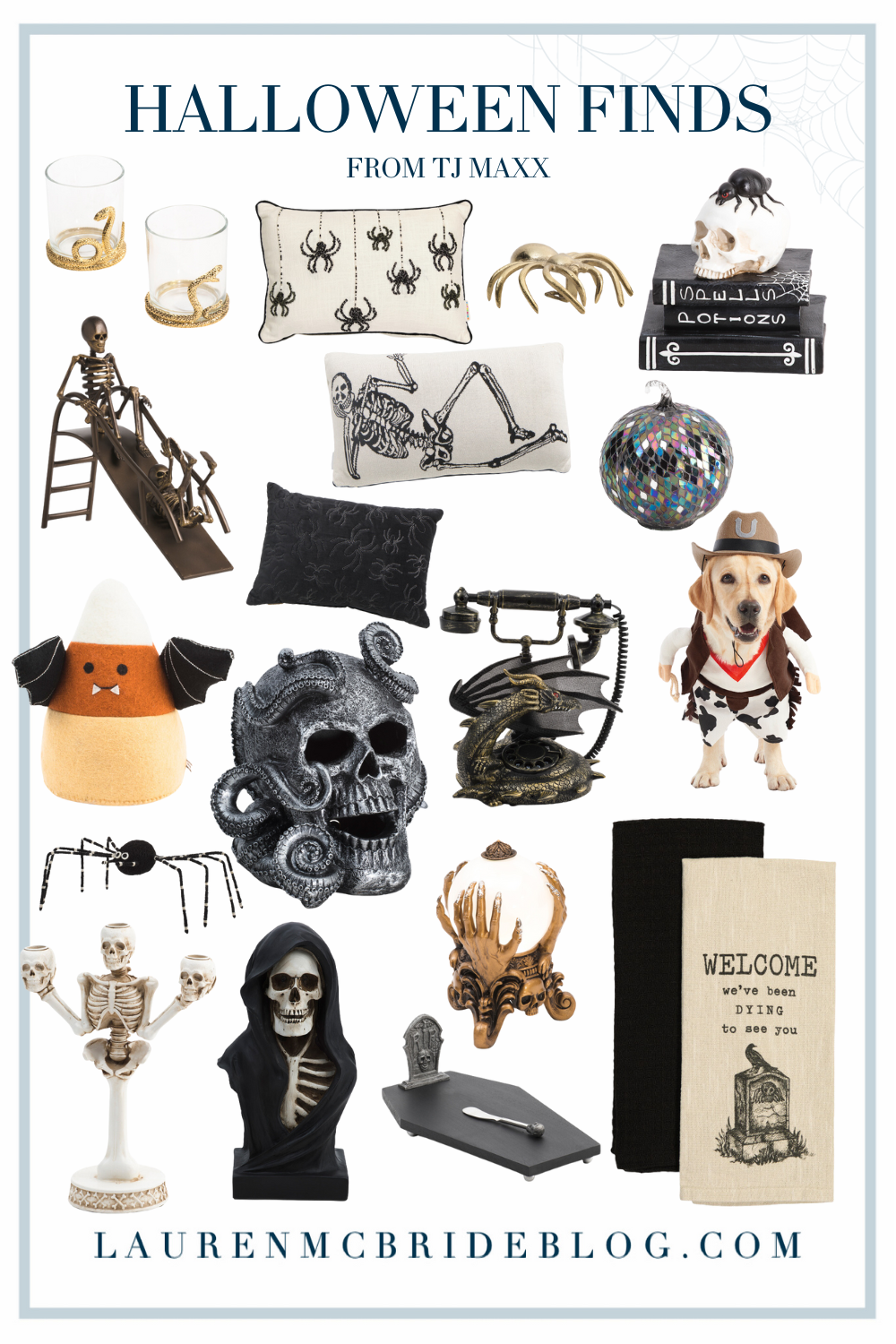 First up on our list is the gold spider coat hook. A unique blend of function and festivity, this piece adds an unexpected touch of Halloween spirit to your entrance hall or cloakroom. It's not just a coat hook, but a conversation starter.
This eerie yet enchanting LED Cauldron with gold hands is a must-have centerpiece for your Halloween table setting. The glowing cauldron flanked by golden hands creates a mystical atmosphere that will leave your guests spellbound.
Get ready to boogie down with the mosaic pumpkin that totally reminds me of a disco ball! This funky fusion of traditional Halloween and disco fever adds a sparkly twist to your decor. It's perfect for a Halloween dance party or just to add a bit of glitz and glamour to your spooky settings.
Ring, ring – Halloween is calling! The dragon phone is a quirky addition to your decor, blending the mythical with the macabre. It's not just a prop, but a working phone that emits spooky sounds when answered.
Add some comfy creepiness to your couch with the spider and candy corn pillows. These plush additions offer a subtle way to incorporate Halloween themes into your living room decor, while also providing a cozy spot for a Halloween movie marathon.
For the bookworms out there, the skeleton bookend is a bone-chilling addition to your bookshelf. And don't forget the skeleton pillow – a spine-tingling accessory that's perfect for cuddling up with a scary story.
Who said skeletons can't have fun? The gold skeletons sliding down a slide bring a playful touch to your Halloween decor. It's an eye-catching piece that will have both kids and adults grinning.
Entertain in spooky style with snake drinking glasses and a tombstone charcuterie board. These pieces are sure to be the talk of your Halloween party, offering a thrilling twist on traditional serving ware.
Greet your guests with a touch of macabre humor with these guest towels. They're a fun way to keep the Halloween spirit alive in every corner of your home.
Finally, we come to the star attractions of this year's finds.
The LED Skull with tentacles is a hit with the kids, especially those fascinated by the mythical Kraken (i.e. my youngest 🤣). This mesmerizing piece is not just a decoration, but a source of endless fascination, with glowing eyes and writhing tentacles that create an otherworldly ambiance.
Last but definitely not least, we have something for our four-legged family members. Thecowboy dog costume is a hilarious and adorable outfit that will make your pet the star of the show. Whether or not we'll be able to get our rottweiler to will wear it is another story, but the cuteness factor is undeniable! 🤣🤣