Thank you to for helping me create our dream home!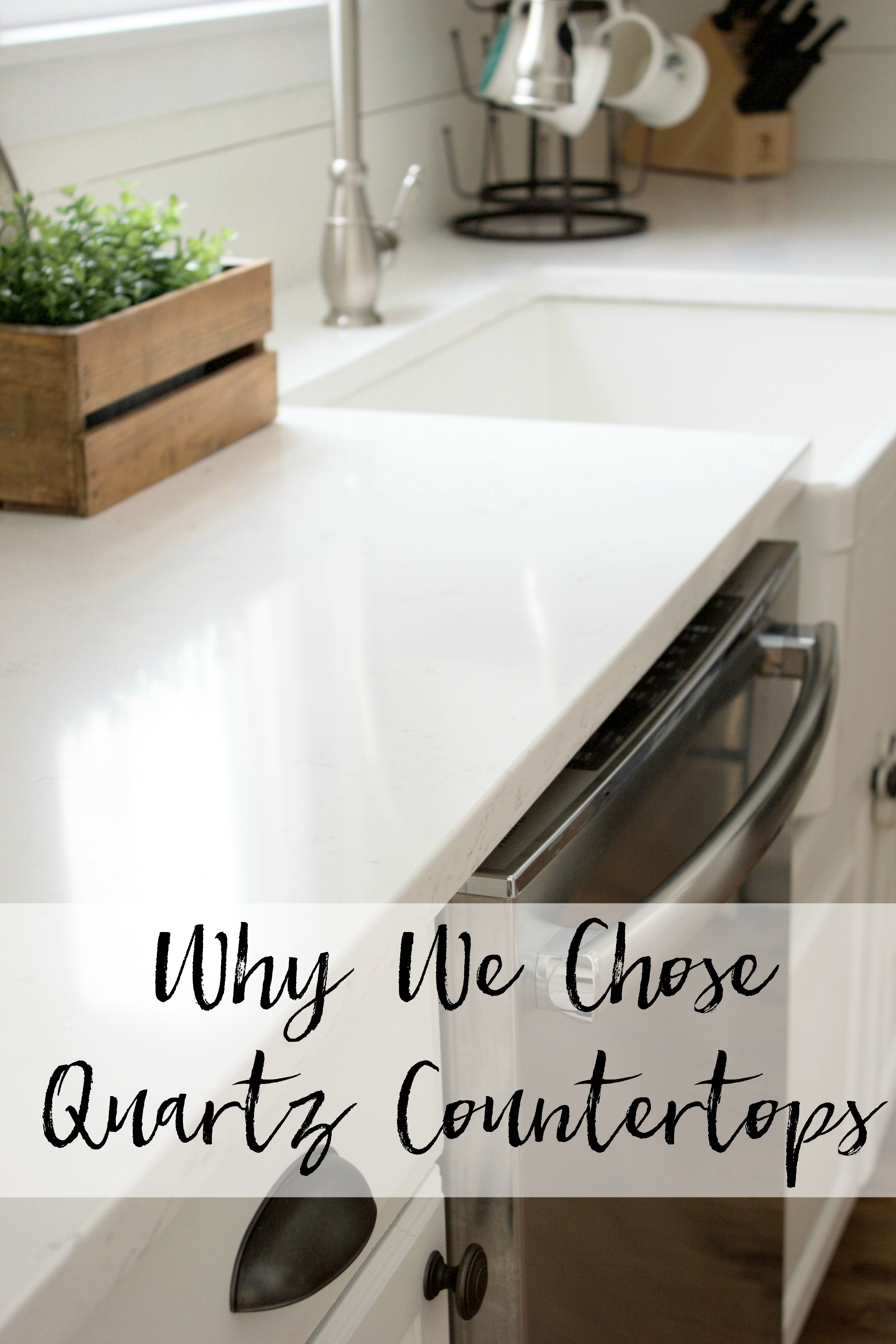 I'm finally sharing some kitchen details today! A lot of thought went into our kitchen because I've envisioned my dream farmhouse kitchen for quite some time now. I wanted to do everything "right" the first time, and didn't want to have any regrets for not doing what I TRULY wanted. I'll be sharing about choosing our farmhouse sink and how we painted our cabinet another day, but today we are focusing on why we chose our quartz countertops.
I had originally wanted butcher block countertops, and while I still LOVE that option, I realized they require some maintenance. And I'm not a maintenance girl. I can barely keep a plant alive, I cannot be worried about my countertops, especially when they will be so frequently used! This is also why we chose Pergo for our flooring. So I started researching maintenance-free countertops, and came across quartz as an option. Granite is gorgeous, but is actually very porous and can suck up liquids, as well as bacteria. It also needs to be resealed. And while I LOVE the carrera marble (my second choice), it's also not stain resistant and can scratch very easily.
Once I found out that quartz countertops can look similar to carrera marble, I was sold. Here's why quartz is so great:
– It's non-porous, making it naturally antibacterial and more hygenic.
– It's the most durable because its stain AND scratch resistant.
– No sealing is needed.
– The seams are less visible, and there are also no striations which lead to cracks.
– NO maintenance is required.
– BONUS: it comes in a VARIETY of colors.
Pretty perfect, right? And worth the cost seeing as there will be no additional maintenance. I came across Wilsonart's gorgeous selection of quartz, and fell in love with their Haida slab. It's bright white with slight black fine veining, making it somewhat similar to the carrera marble look I love. Wilsonart put me in touch with a local fabricator, T N B Marble and Granite LLC based out of Hartford, CT, who came out to create a template based on what I wanted. (Before this was done, we had to have our farmhouse sink installed so it was in the proper place. I'll go more into detail on that in my sink post). In just a few short weeks, our slabs were made and installed! The installation process went way quicker than I imagined, and the fabricator did an amazing job.
We've been living with our countertops for a few months now and I have no regrets! They're holding up beautifully, and we've had no issues.
I highly recommend Wilsonart for your quartz countertop needs. Their customer service was outstanding, and they clearly pay attention to the fabricators they work with because it was the best experience I've had so far with our home renovations. Everything was on time (something that never happens with home renos!), and everyone was so professional. And I highly recommend choosing quartz! Especially if you don't have time for high maintenance!
I'll be talking about how we painted our countertops and what to know when choosing a farmhouse sink in the upcoming weeks! Go here to see how we installed our plank backsplash.