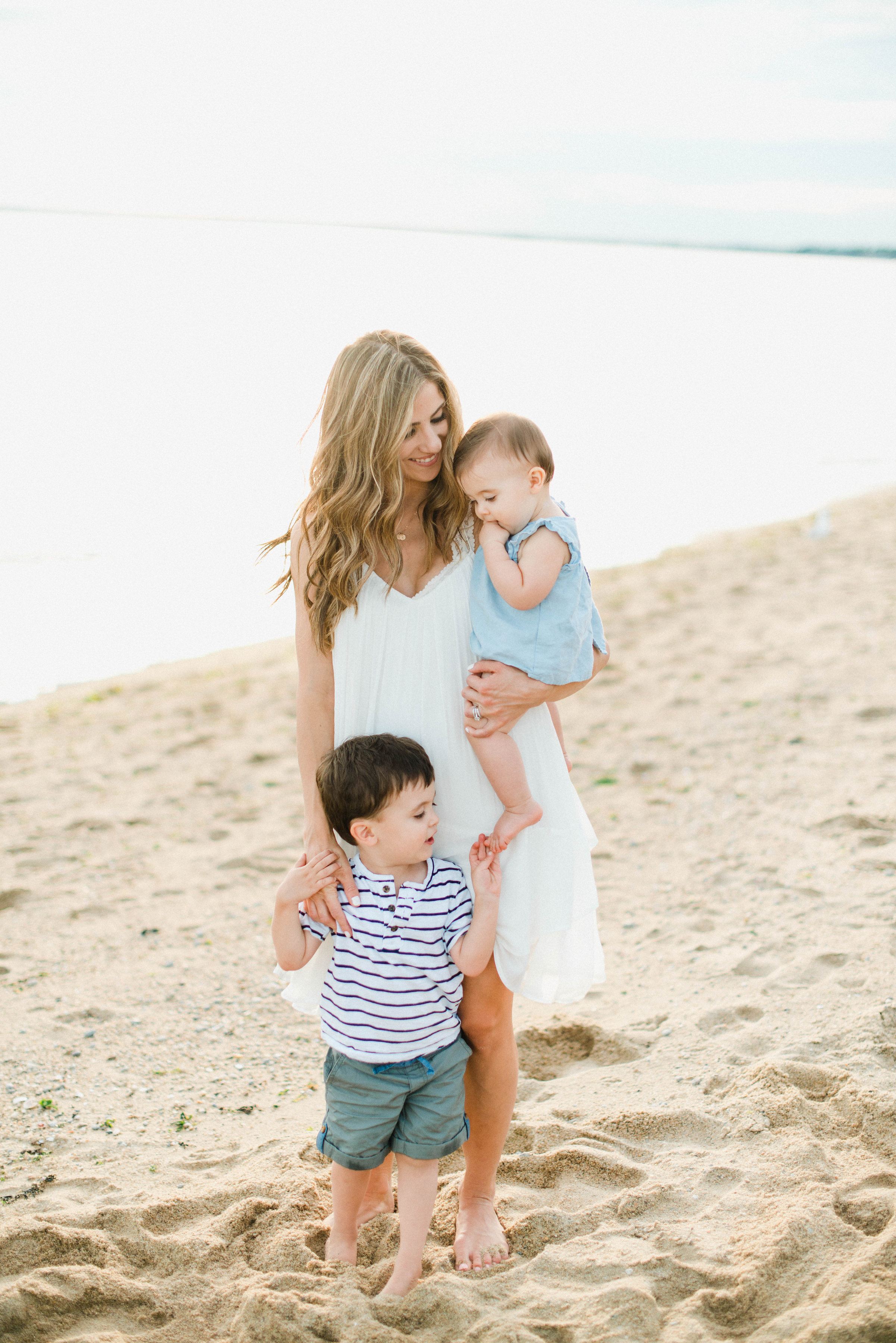 (Photo by Victoria Gloria, who captures motherhood beautifully)
This post has been coming for quite some time now, but I've finally decided to hit publish because I'm so done with seeing what I'm seeing lately. On Facebook, in mom groups, or wherever someone feels the need to pass along their unwanted opinion.
I don't understand why there's this great need for "mom-shaming" and passing judgment on other mothers.
I became a mother over 4 years ago, but I felt the judgment long before that even happened. (I'm happy to say I'm now at a place where I give zero f**ks what someone thinks of my parenting methods, but it took quite some time to actually get there.) We got pregnant, miscarried, and then struggled for 9 months to conceive again. No, that's not long compared to some others, but it was the darkest time in our life and we hit an all time level of low that I hope we never reach again. I can't tell you how many times hurtful comments were thrown at me over why we weren't pregnant yet. "It's not hard to get pregnant, just have sex!" <—-yes, you read that correctly. Do you know how badly that comment crushed me into a million pieces that took forever to pick up again? It's a miracle I didn't rip the person's head off.
Then we had Landon, and I struggled with breastfeeding issues. Now listen, I know many people struggle with breastfeeding, but I REALLY STRUGGLED. I cried every day for 3 months straight, went to countless lactation consultants, and did just about everything I possibly could until I finally said I can't do this anymore. And that's when I chose to exclusively pump for THIRTEEN LONG MONTHS. Do you know why? Because of the judgment I felt from other moms. From FRIENDS of mine. Friends who said, "Breastfeeding is easy, just pop the kid on!" or "Formula is like poison, you can't give that to your baby." or "Your baby will have poor immunity if he doesn't have breastmilk." Those comments are so incredibly crushing to a mother who tried her freakin' hardest to make shit work and it JUST. WASN'T. WORKING. I spent 13 months in hell as a first time mom hooked up to that stupid pump every 3-4 hours while I swear it was calling me an asshole (literally, that's how it sounded…"ass-hole, ass-hole, ass-hole.) because I WAS AFRAID OF JUDGMENT. I am incredibly proud I did it for that long, but I look back and think…for what? My own happiness? I wasn't happy. My baby would've been totally fine on formula. (This isn't to say anything negative about EPers, it's just my personal experience. And no, I would never EP again.)
There are countless more situations that occurred over the past 4 years that I could share with you, but I won't even entertain them because they don't matter one bit. But why is it that we feel the need to press our opinions on moms? When did this happen? What happened to "it takes a village?" What happened to having compassion and support for our fellow mothers?
I simply do not get it. There are many ways to gently educate someone on an issue, but many times I can see that no education is actually needed. It's simply a parenting CHOICE, because we all have the right to parent in our own ways. It doesn't matter who does CIO and who co-sleeps. It doesn't matter who does breastmilk or who does formula. It doesn't matter who allows TV and who doesn't. It doesn't matter who home schools or public schools. It doesn't matter who's a working mom or a stay at home mom. IT DOESN'T MATTER. We're all MOMS, no one is better than the other based on parenting methods. And unless we are physically or emotionally harming our child (our ourselves, for that matter), it's no one's business how we parent EXCEPT OUR OWN.
Postpartum depression and anxiety are more common than you think. There are a lot of women who suffer in complete silence, and usually show no signs or symptoms publicly. You never, ever know what someone is struggling with in private, which is why it's SO important to be compassionate, kind, and watch what you say. Your negative, judgmental comment can be the one thing that pushes that mom over the edge. I've heard numerous stories of mothers taking their own lives because of severe PPD. It's a sad reality, and we need to be mindful of that. Have a filter. Think before you speak.
We put enough guilt on ourselves as mothers, and we don't need anyone else adding more guilt on top of that. Motherhood is hard. I don't know one mother who claims this to be easy. I am personally just trying to raise children who are decent, kind, and compassionate human beings, and in today's world that's really hard. Do you know where they'll learn that from? ME. I have to set the example. And I can show that by not passing judgment on others.
I was that girl before I had kids. I was the friend who totally passed judgment on all my mom friends for whatever decisions they made because I didn't understand what they were actually going through. I think we're probably all a little guilty of that, and if I could go back in time and change things I said or ways I acted, I WOULD. In fact, I even apologized to many of my mom friends for being hurtful, even though I didn't realize just how hurtful I was back then. We all do it. But we DON'T need to continue doing that as moms.
We have to stop being judgmental. We have to stop criticizing other mothers (and fathers!) for how they parent. We need to be supportive and uplifting to each other. It's OKAY to disagree with a parenting method. You can disagree and still be supportive.
You do YOU and don't worry about anyone else. This is what we should all be practicing as parents, unless some great harm is involved. Imagine how amazing it would be if we could all get on board with this?
Please stop the mom-shaming. The parent-shaming! Please think before you speak. Please adopt the method of "if you don't have anything nice to say, don't say anything at all." Please realize that it can be as simple as, "Oh, we don't do THAT." All of our life situations are different, and we are just trying to navigate parenthood in the best way we can. What works for one family might not work for another. There are ways to make gentle suggestions without coming off as accusatory or judgmental. It is so, so important for us to remember that, or to quickly realize when we're in the wrong (and apologize!).
A few of my followers wanted to share their own experiences of mom judgment in hopes that we can all learn from these situations:
"I would say the most hurtful moments of mom judgment have come when people question our medical decisions or my daughters diagnosis. My daughters struggles are not easily visible and I've had so many people tell me they don't think any things wrong with her. Maybe this is meant to be a comfort but it feels like it questions my own intuition and observations. It instantly invalidates the very real and heartbreaking struggles we have and it instantly isolates me from who ever says this to me. Automatically that person doesn't feel like a safe place to navigate this really rocky journey with." – Sydney H.
"I planned to breastfeed my baby boy, but knew it would be a struggle. I know I don't have a high pain tolerance, but I knew I had friends that were successful and I had resources all around me to help me get the hang of it, so to speak. I was ALL IN. It worked for a few weeks. We struggled with latching, a small mouth and a tongue tie. I was finally getting the hang of it by week 5 when I noticed a significant decrease in my supply. My babe was getting fussy because he wasn't getting enough to eat, which in turn stressed me out. So I went to my lactation consultant and of course everything was perfect in her office, then within the week I would be hurting, he wouldn't latch and I would be frustrated just in time to go back to the lactation consultant. Turns out, my thyroid condition was to blame. All those hormones trying to figure out their new normal, I'd totally forgotten that my thyroid could affect my milk supply. Long story short, I ended up doing what was best for my sanity and my baby's belly and chose a formula I was comfortable with. I continued to pump milk and offer it as long as my body was still providing it, but in the end, my baby was being fed and was growing and I was still struggling with the "guilt" of my body not functioning the way I was told it should. I can't tell you how many times I would be around other women while with my friends who were having successful breastfeeding journeys and having another (usually older) woman/mom say "oh yeah, that is so the best thing. I'm so glad you don't have to use that icky (insert any negative adjective) stuff for your baby." – Like, I'm standing right here, another brand new mom and you don't know me from Adam or that I'm in the throws of hormonal balancing + mom guilt about not having my body work the "way it's supposed to". I know that breastfeeding is good, but when you can't, you can't. And no mom should be made to feel guilty about how to feed her baby. EVEN if she didn't want to breastfeed, there are wonderful healthy options out there and I'm happy to know that a child will get the nutrients they need even when a mama's body doesn't provide it directly. It took me a loooooong time to get to the point of accepting that, and it probably wouldn't have taken so long if other mom's would just keep their mouth's shut about how "breast is best". Because I found out the fed is best and my (almost) 1 year old is happy and thriving and smart and the most adorable tiny human I could ever have created." – Jess W.
"I was judged because my daughter weaned herself from the breast at 4 weeks and I am judged because my son is still insisting on his "boobie" at nap time after 2 and a half years. My view therefore is: Since you just can't win, do your own thing and f*ck the rest, quite frankly! (As long as the kids are safe obviously.)" – Stacy
"A little over three years ago my son passed away at birth. We knew that he had a condition that was considered "lethal" and he was not expected to survive. This was obviously an extremely hard time for my husband, daughter, and I- the worst days of our lives. Losing a child changes you. And of course it changes the way you parent. A few months after losing my son I had a family member (an in-law) tell me I was "too overprotective" if my daughter. Not only was I still working through losing my son I now felt like I was causing my daughter to miss out on things or stifling her development in some way because I was "overprotective". After weeks of being upset I finally confided in a friend who was 100% supportive and told me the fact that I was functioning at all was amazing. Being able to talk through he situation with someone I trusted helped SO much! The moral of my story is- you never know what someone is going through. Me seeming "overprotective" of my daughter after the death of her brother is a natural reaction. Nothing I was doing was harming her or upsetting her. I was taking care of her and loving her well, even through the pain. But the insinuation that I was doing something wrong sent me into more depression and grief, rather than being constructive. If you are really concerned about someone's parenting offer help, be kind- don't name call!" – Meredith
"I had my son in 2010 after a year and half of trying to conceive and one miscarriage. My husband I were very excited to bring our little boy home. What I didn't expect to bring home were the overwhelming feelings of self-doubt and sadness. (due to hormones, which I know now). I stayed home with my son for 10 months. During that time, I had a hard time being away from him. He even went on our anniversary date in his carseat ???? Family would come to visit us, but I had a hard time when he was not in my arms. My son took a long time to nurse, it was an hour sometimes. So in another hour I was nursing him again. (in hindsight I was not eating or drinking properly which affected my supply). My mother in law would make comments about feeding him formula. She would also suggest putting cereal in it so he would sleep longer. I was already feeling guilty about my supply and her comments did not help. I beat myself up pretty badly. Anything anyone said, I took like a personal attack. He slept with me too, which I don't recommend but it worked for our family. I slept with him all the time, even naps. I would sleep through meals. I got down to a size 8, which for me is not normal. My husband approached me one day after I had gone back to work teaching. He was so gentle and sweet with his words of concern. He suggested that I see someone. I was crying all the time and was so attached to my son. It was getting to an unhealthy state. So, I started seeing someone and knew at that point I had postpartum. I felt like no one talked about this part of motherhood. We did not live around family at the time and my friends were too afraid to say anything. After therapy and healing, I realized I needed to share my story with my friends and family. I have been very open about my experience. A few of my friends have come back to thank me for sharing because they ended up going through something similar. In those moments, I became passionate about not judging other women and not being afraid to share my experience. It is critical that we filter our words and support other moms. You never know what other people are going through." – Amanda
"I am a new mom (my son is 5 months old) and I have already felt ALL THE JUDGMENT! One situation that sticks out in my head is when I sent out this adorable picture of my son smiling while sitting in a Bumbo seat to some close friends and family. (I'll include the pic below) One of my best friends (who is an occupational therapist) promptly replied telling me that since my son cannot sit up on his own, I shouldn't be putting him in a seat like that-that it would affect the development of his spine and could potentially cause developmental issues later in his life! Sorry-It's not like I left him in the seat unattended for hours!! I couldn't believe that she offered me her unsolicited (and probably untrue) opinion. Needless to say, he's still sitting in a Bumbo and his pediatrician seems to think he's developing just fine!" – Molly
"I struggled with post partum anxiety after my son was born (though I didn't realize what it was initially) and had many people comment why I was struggling so much with adjusting to motherhood 🙁 Comments like "you only went back to work part time there are women working full time with multiple kids why are you so overwhelmed" or "why are you so anxious there's nothing really causing that big of a problem for you" etc. After working with a really great counselor I was able to understand more about PPA and be more forgiving with myself 🙂 I wrote this blog post with hopes it would help other moms dealing with PPA!" – Susan, Fill Your Cup Blog
"I believe you should always mother the way you want to mother. Mother the way that feels right and natural to you. If 20 minutes of TV gives you a sanity break, do it. If an all organic diet feels right, do it. If you want to be a SAHM, WAHM, or a working mom and put your kid in daycare, do it. Never let anyone make you feel like you are less than. Don't let mom guilt bring you down and definitely don't let mom wars or know it all moms make you feel like you are less than the best mother your child could ever have. At the end of the day, none of us are perfect mothers. None of us have all the answers but we certainly have the best answers for our lives and our own children. So always mother your way." – an excerpt from an awesome blog post by Jennifer at Teagan's Sandbox (I highly recommend reading!)
"So, earlier this year I was trying to break my son out of his 4 month sleep regression (which lasted a month and a half). He had been waking up every 30 minutes for about a week and a half by the time I said "something's got to change". So I decided to do modified sleep training even though I really didn't want to, but I was at the point where I couldn't function during the day and it was effecting my health. So I had two people shame me/my husband. One girl told me "They are only little once! You need to rock him to sleep!" I politely explained that I could longer handle waking up every 30-45 minutes to rock him/nurse him to sleep every night, all night. I already felt enough guilt that I wasn't picking him up and holding him to the point where I was in tears and eventually just hovered over his bed so he could hold onto me until he fell asleep. Then, I went to the doctor for the health issues I was having from lack of sleep. When I told her how often I was getting up in the middle of night she said, "Your husband can't get up in the middle of the night?" I just wanted to scream at her, "If my husband could lactate I'm sure he would, but unfortunately he doesn't have boobs!" – Erin
"We just got home

on Saturday

night from a Europe trip with a lot of our family. On the flight home, the kids were pretty terrible. Rightfully so because with the time change we were starting our 2nd flight in the middle of the night for them so they were both SO exhausted. But this lady across the aisle from my husband just kept looking over at us and giving us such dirty looks! Even the stewardess asked if we had a bottle or something for our 7 month old, as if I wasn't already trying everything I could! And I'm breastfeeding and he wouldn't eat. The whole flight was a nightmare and I don't think we will ever travel that far with such little kiddos again! But we are stronger for it I suppose. " – McKenzie, Walker Corner
I would love for you to leave a comment below sharing a time when you felt judged by another parent. My hope is to bring awareness to anyone reading this so we can all be a little kinder, a little more gentle, and more supportive and uplifting of one another!