Let's talk about well water. The last time I had well water was when I was a kid and never color treated my hair. I really don't remember much other than we had no water whenever the power went out (not fun when it goes out and you have shampoo on your head in the shower!). I've lived with city water up until we moved three years ago…and then all hell broke loose on my hair. It didn't happen quickly, and was a more drawn out process. But last year I noticed my hair was SEVERELY damaged and changing colors, and I hadn't changed anything in my hair process. My stylist and I came to the conclusion that it HAD to be the well (she's seen some crazy things happen to well water hair!). After trying several things, we finally have a system down that is helping my hair (the best it can considering I'm still washing it with well water!). Today I'm sharing the Best Hair Products for Well Water Damage with you!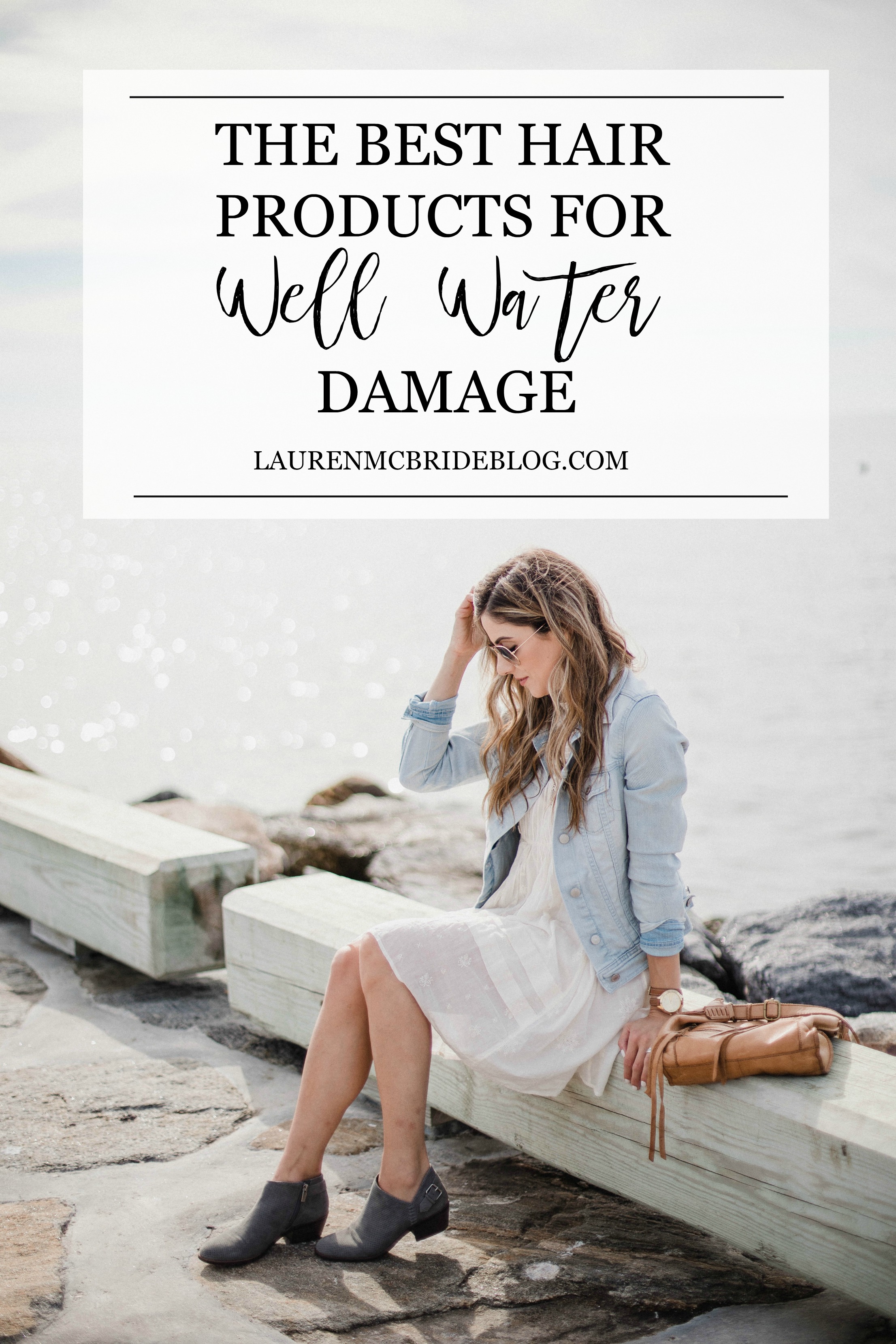 The Best Products for Well Water Damage
1 // Use a purple shampoo.
Since moving into this house with a well, my hair has completely changed color (and my stylist hadn't changed the formula!). It became very brassy, so it was recommended that I use a purple shampoo to counter act it. I use this at least once a week (honestly it depends on how often I'm washing my hair), and it's helped maintain the true color of my highlights. I'm currently using Joico Color Balance Purple Shampoo.

2 // Install a hard water filter.
If I'm being honest, I don't know if the filter I'm using is the absolute best one (I'll totally take recommendations!), but I have noticed a difference so it must be doing something! The water filter removes copper and lead from water, which can cause damage and discoloration to your hair. I'm currently using the Jonathan Product Beauty Hard Water Shower Filter which is under $70.

3 // Use a hard water wellness kit.
This is probably one of the biggest and most successful changes I made to my hair. My salon offered a Malibu treatment, and I realized I could do it at home and save a bit of money (and time – I can't go to the salon every week!). This Malibu C Hard Water Treatment Kit prevents dry, brittle, and discolored hair by removing mineral buildup from the hard water. I use this kit once a week and can visibly see and feel an immediate difference in my hair. I use the kit as a whole – the shampoo, conditioner, and crystal packets as instructed. It's a miracle worker, and I HIGHLY recommend it if you have a well!

4 // Use a clarifying shampoo
You might be able to do without this step, but I've added in a clarifying shampoo every few washes per the recommendation of my stylist. But the key is to use a GOOD clarifying shampoo. I'm using L'Anza Healing Color Care Color-Preserving Shampoo which I know is safe for my color-treated hair.

5 // Use a healing shampoo/conditioner.
Not only was my hair ORANGE from the well, but so brittle and damaged too! My stylist recommended L'Anza Healing Strength White Tea Shampoo and L'Anza Healing Strength Manuka Honey Conditioner. It took me SO long to agree to switch because I was hooked on my Pureology, but I can promise you this shampoo and conditioner are significantly better. My hair looks and feels significantly better since switching!

6 // Get an Olaplex treatment.
The Olaplex treatment is great for repairing the bonds of your hair and can be done at your local salon. It's a three part system, two of which are performed in the actual salon. The third part in the Olaplex system is a take home treatment that is done once a week in the shower! This has SIGNIFICANTLY helped my damaged hair. I literally had damage halfway up my head in the most random place, and we assumed it had to be the well because I'm very gentle with my hair. I don't wash daily, I don't use a blow dryer (I use it MAYBE once a week if that), and I'm not using my curling wand daily. I also use special hair ties to prevent damage. The salon will give you the third step to take home, or you can purchase it here.

I know, so ridiculous to have to do all of this, right?! But the reality of it is MANY of us have well water and it's INCREDIBLY damaging to the hair. If you're like me and enjoy adding color/highlights to your hair, you'll want to take some of these steps so the water doesn't damage it! I hope that helps!
SHOP THE POST