Thank you to Walt Disney World for sponsoring our stay! All thoughts and opinions are my own, as always.
Walt Disney World has been on our "to-go" list for quite some time, so we were very honored to be invited by Disney to spend a long weekend with them! I know Disney is truly for all ages, but I feel my kiddos are in the PRIME Disney age of life right now – all the princesses and Toy Story obsessed over here! We wanted to take them at this age because we knew how special it would be to experience the wonderment of Disney from a child's perspective. We actually already had a trip planned (which we ended up moving!), and we were so excited to be offered this opportunity! This post is all about our 4 days in Walt Disney World, including where we stayed, what we did, and more!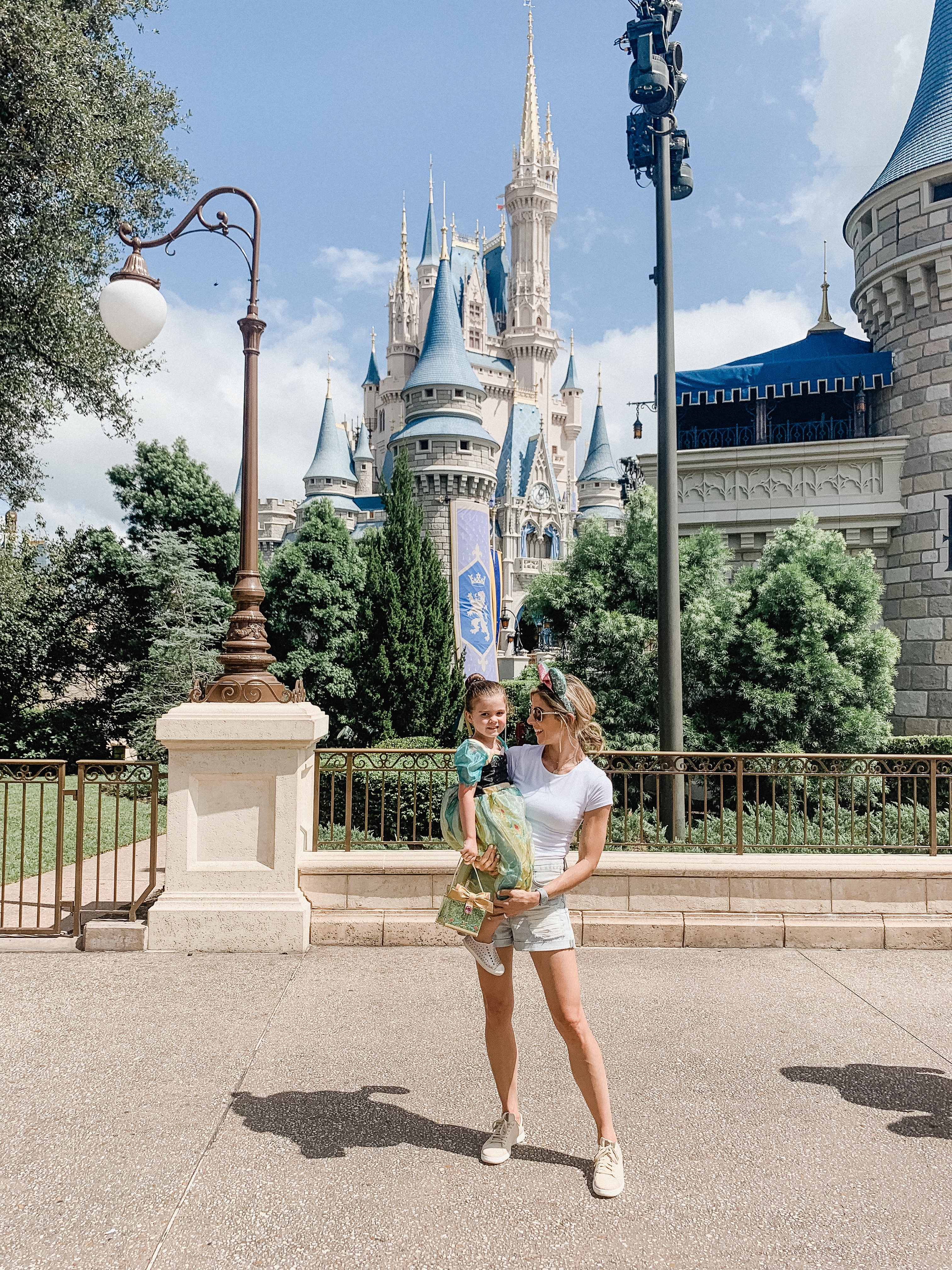 WHERE WE STAYED
Disney VERY kindly hosted us at their Grand Floridian Resort & Spa during our stay. I am well aware this is one of the top resorts on site and they proved why during our time there! Not only was it beautiful (it's a Victorian-style and truly gorgeous), but the service was outstanding. It is a monorail resort, and I loved that the next stop on the monorail was Magic Kingdom. Let me tell you – that monorail service makes things VERY easy. You can literally just wheel your stroller right onto the monorail (which is great if you have a sleeping baby). In fact, it was so easy that my husband is requesting we stay at a monorail resort the next time we return. I can see why the monorail resorts are priced higher than others – the convenience! The Grand Floridian also has a boat service to and from the park as well (as do a few other resorts nearby).
There's a beautiful view of Cinderella's castle from the marina, which means you get a stunning view of the fireworks as well! I loved that there were a variety of restaurant options, include one quick order place that also had ample grab and go snacks (like hard boiled eggs, carrot sticks, and more). We ate at the hotel for breakfast most mornings, and even for dinner most evenings. It made things super easy! Overall, we really enjoyed our stay here and the proximity to Magic Kingdom.
MAGIC KINGDOM
The benefit of being at the Grand Floridian is the next stop on the monorail is Magic Kingdom! So we high tailed it over to here as soon as we arrived at the resort. We truly loved this park SO much. There is something so magical walking on Main Street and seeing Cinderella's castle straight ahead. There is so much to look at and it was decorated beautifully for Halloween – which made it extra fun! This was my favorite park of the trip by far, and we plan on spending most of our time here during our next Disney trip. Here are some of the things we did/saw during our time in the park (we visited three times during the course of our stay!)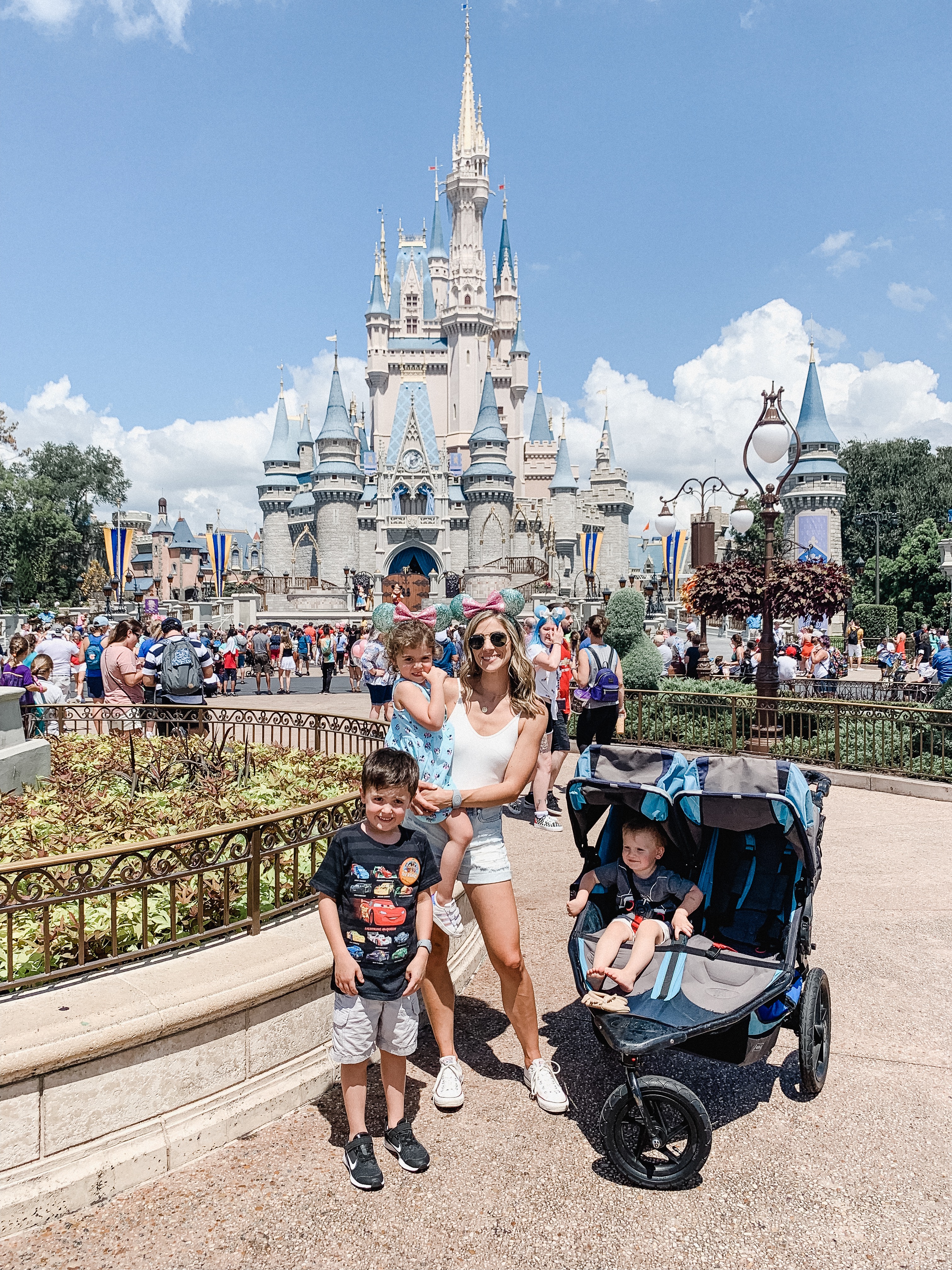 SEVEN DWARFS MINE TRAIN (7DMT): (Height Limit = 38″) This rollercoaster was SO fun! The height limit made it suitable for my oldest and middle child, so I rode with them while my husband sat out with my 18 month old. They loved seeing the dwarfs in the mine inside of the tunnel, and seeing Snow White dancing with the dwarfs at the end! It was SO cute! I highly recommend fast passing this ride as the line was VERY long and is one of the more popular rides in MK.
UNDER THE SEA – JOURNEY OF THE LITTLE MERMAID: (Height Limit = ANY!) I think I cried this entire ride because it was so nostalgic for me! The Little Mermaid was my favorite Disney movie as a kid, so I sang along with the music the entire ride. Because there was no height limit, Austin was able to ride this with me! I actually nursed him on the ride (he was so tired and having a moment, so it helped calm him down). It's fairly dark, and is a pretty slow/gentle ride so it was totally doable.
We also met Cinderella, Tiana, Rapunzel, and Elena of Avalor during our first stop in MK! The wait times during our trip were not very long at all – 20 minutes tops. However, I hear they can get up there in time, so I would either watch your My Disney Experience app or Fast Pass a favorite if it's top on your to-do list while in Magic Kingdom!
We came back to Magic Kingdom for Mickey's Not so Scary Halloween Party (more on that in a bit) and rode a couple of rides with Kate Bryan and her family! I had no idea she was there, so it was a really fun surprise to meet her and hang with her adorable family (my kids keep talking about her kids!) There are no Fast Passes during the party and we found that wait times weren't that bad. While there, we went on 2 rides for the whole family.
PETER PAN'S FLIGHT: (Height Limit = ANY!) This ride was so adorable! It's fairly short, but it's dark and easy to nurse on for my nursing mamas. I actually wore my 18 month old in his carrier during this ride. The kids loved it!
"IT'S A SMALL WORLD": (Height Limit = ANY!) This ride would be my top suggestion if you need a bit to cool down or want to nurse for longer than a few minutes. It was pleasantly longer than expected with so much to see! And since you're sitting in a boat, it's generally a smooth ride. I again wore my 18 month old in his carrier for this ride.
Since we had a later in the afternoon flight home, we spent our last morning back in Magic Kingdom and went on a few more rides (and found Dole Whip in Adventureland!)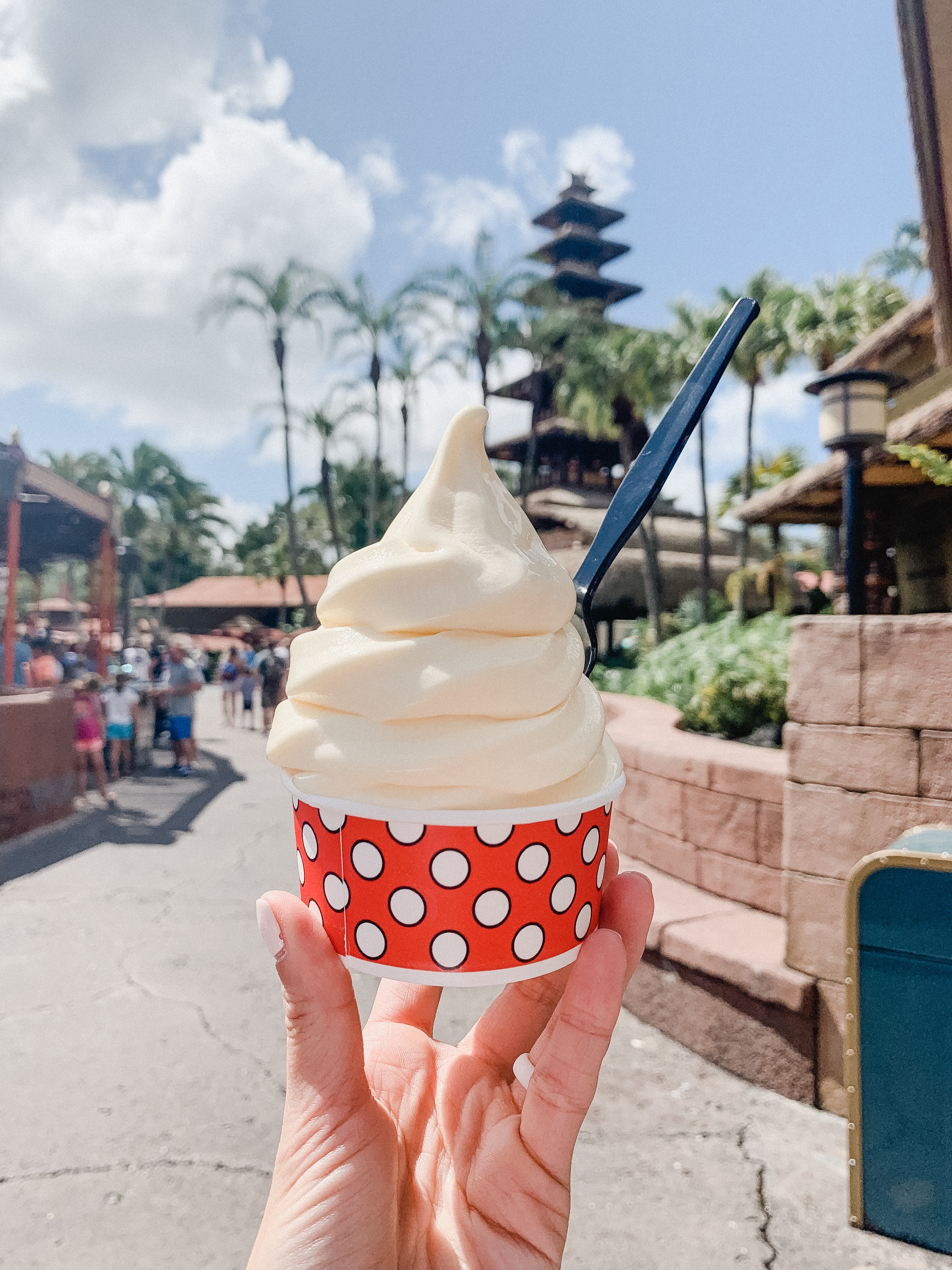 PIRATES OF THE CARIBBEAN: (Height Limit = ANY!) Right before this ride, I was THIS CLOSE to meeting my man Jack Sparrow, but he had to take a lunch 😉 I was so excited for this ride because, as you know, it's my fave movie! I haven't been on this ride since 1999, so it was so fun to see it remade! This is another great ride to nurse on, as it's slow moving and in a boat!
BUZZ LIGHTYEAR'S SPACE-RANGER SPIN: (Height Limit = ANY!) This ride was super cute and involved shooting targets with a laser! We were all able to ride this ride (I had my 18 month old in his carrier again), but I wouldn't recommend nursing on it because it spins a little bit!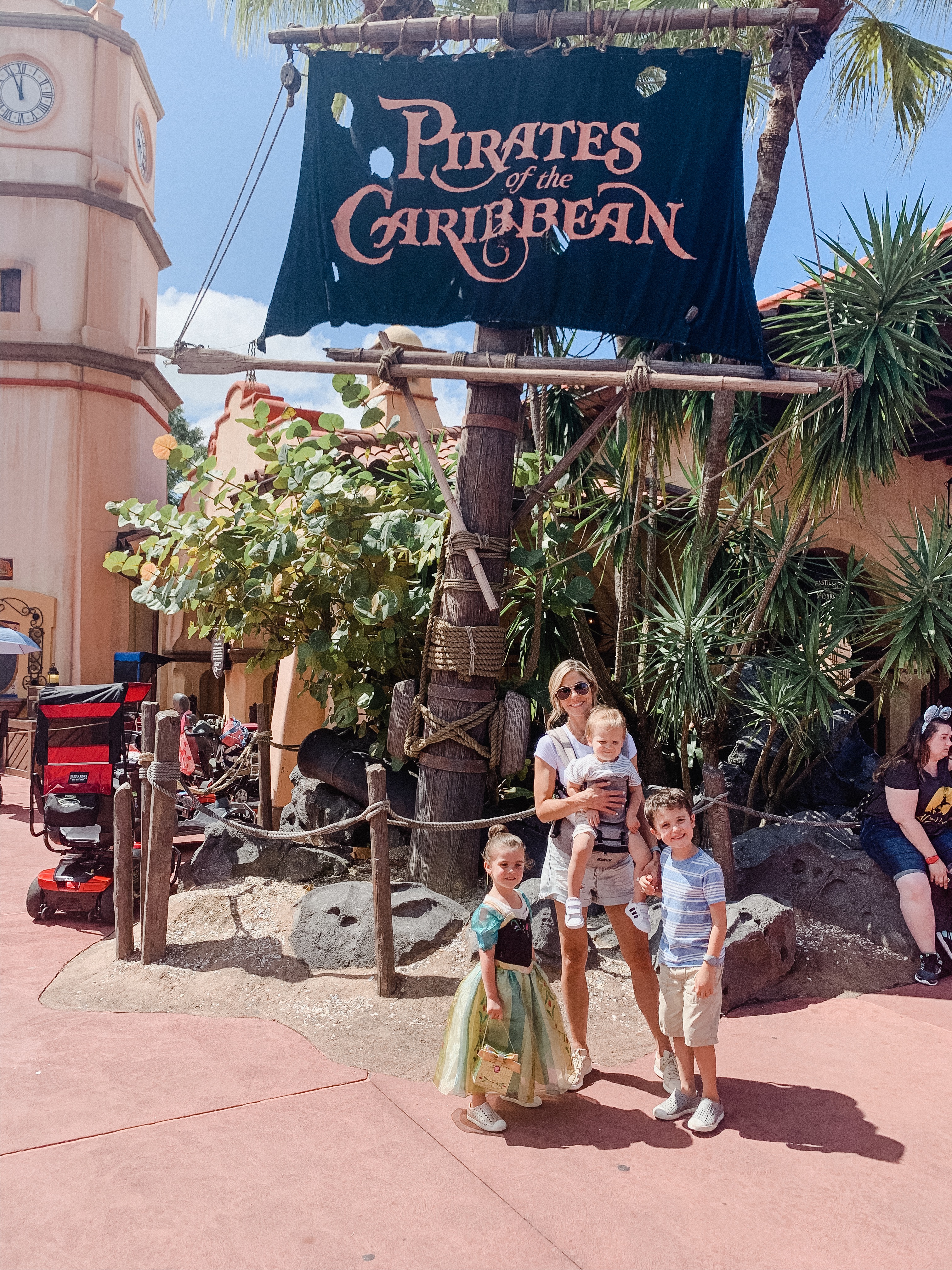 One thing I wasn't aware of but will TOTALLY use next time is each Disney Park has a baby center! In Magic Kingdom, it can be found near Casey's Corner and the Crystal Palace Restaurant. They have everything you need for kiddos including diapers, wipes, ointment, baby food, formula, snacks, and more! There's a nursing room there, too, if you want a quiet place to breastfeed!
We loved our time so much in Magic Kingdom that it will be the main park we visit when we come back!
EPCOT
We visited Epcot the first evening of our trip for a private media dinner. Afterwards, we decided to hit up a couple of rides while we were in the area!
FROZEN EVER AFTER: (Height Limit – ANY!) This ride was so precious! I remember going on it before Frozen took it over years ago. Frozen is one of our favorite Disney movies, so my kids loved seeing all the scenes from it. You are riding in a boat, and get a little wet during the small drop (just a heads up!), but otherwise is super tame and really enjoyable!
TEST TRACK: (Height Limit = 40″ or taller) I went on this ride with my oldest (my middle and of course youngest didn't mean the height requirement). It was SUPER fun, although my middle child was not happy she had to sit it out!
We also went back to Epcot first thing the next morning because we ate breakfast with the princesses Akershus! We got to meet Cinderella, Belle, Ariel, Snow White, and Sleeping Beauty (which was great!). We had an early reservation, before the park actually opened, which was AWESOME because we were then able to immediately get in line to meet Elsa and Anna next door in the Royal Sommerhaus. Highly recommendation making breakfast reservations before park hours if you can – then you're already in the park and can head over to whatever ride you want for rope drop!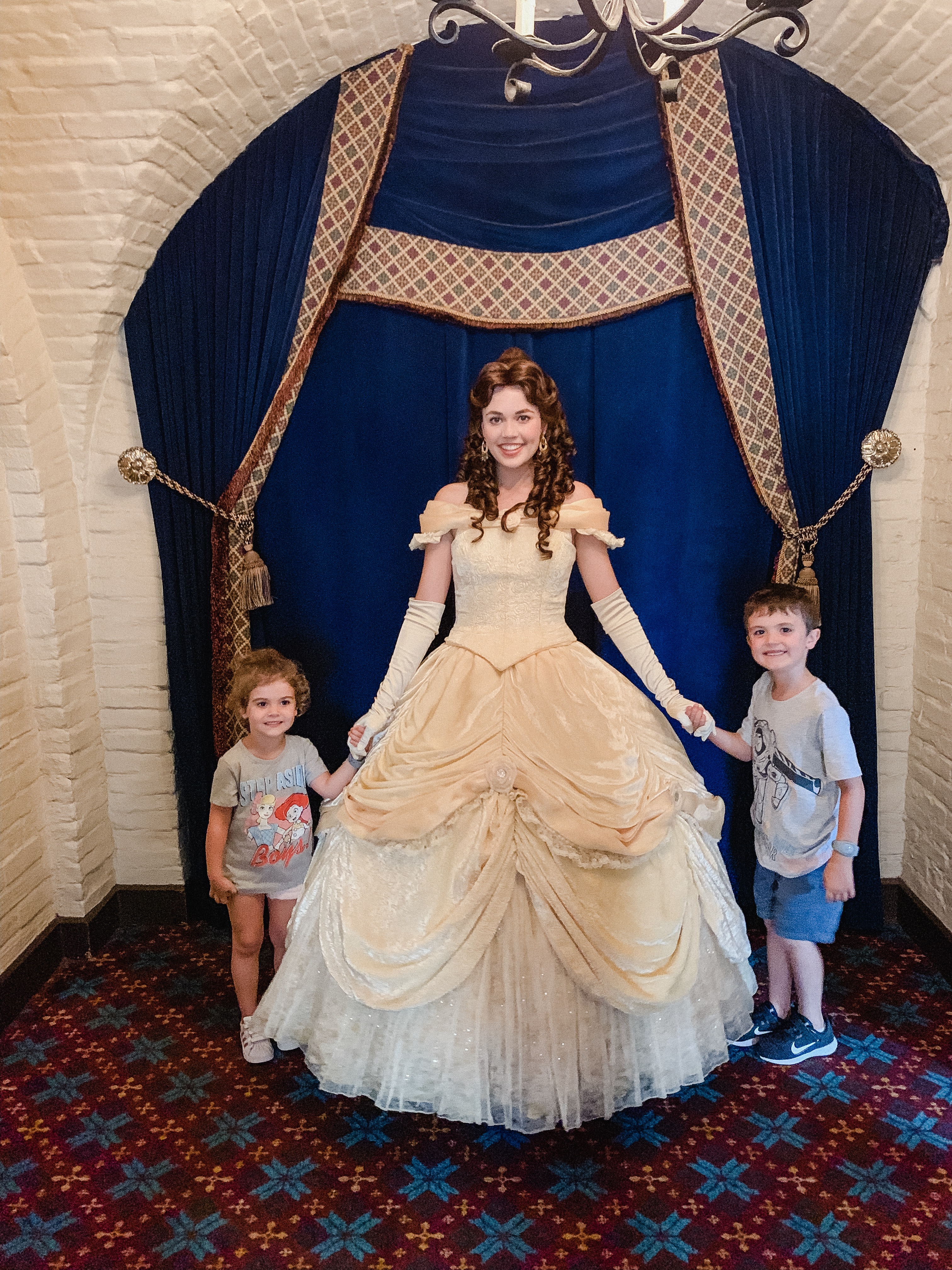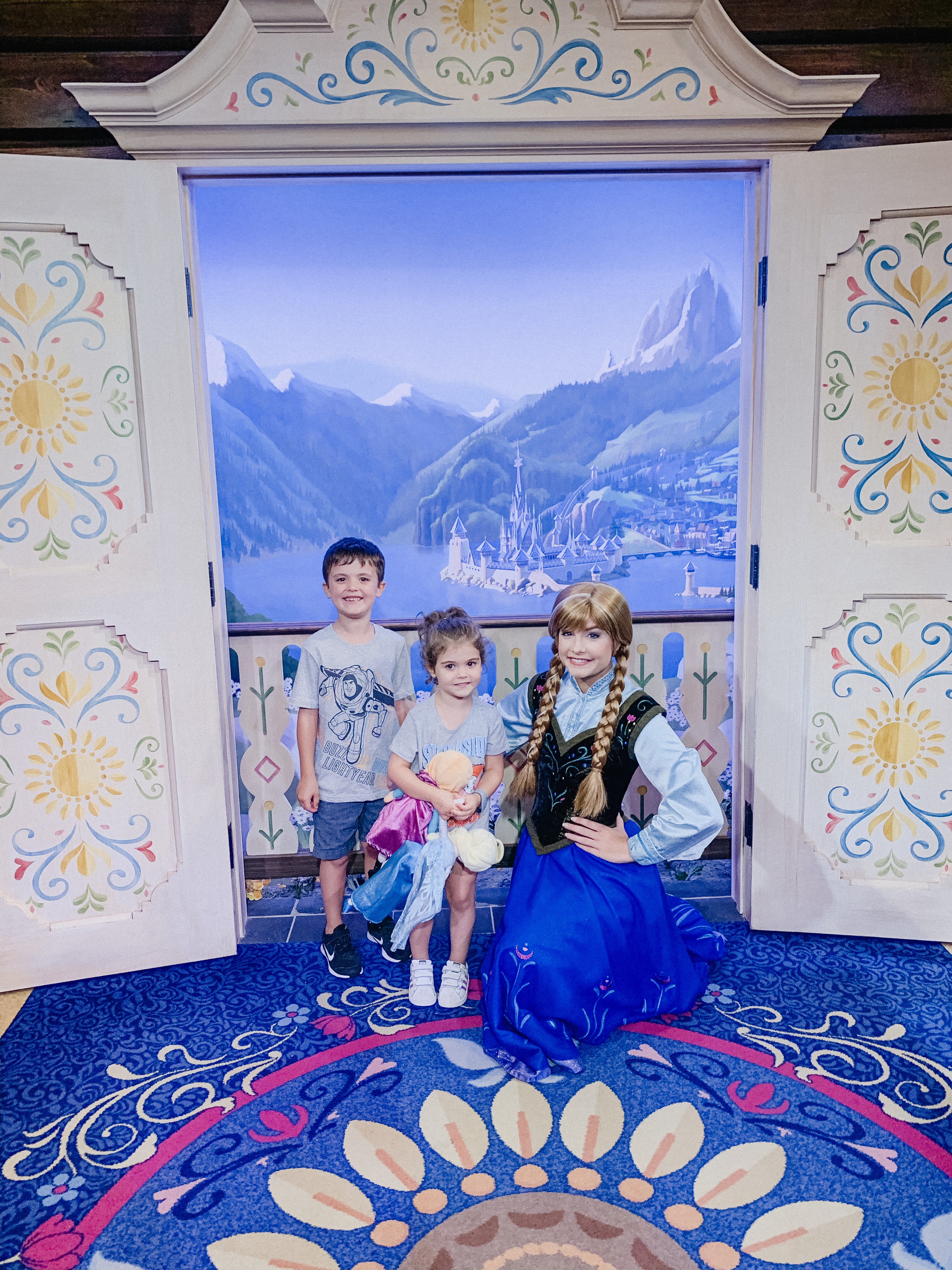 HOLLYWOOD STUDIOS
After our quick morning in Epcot, we took the boat over to Hollywood Studios for the rest of the day. I wish we had more time here, so this will be another park we come back to for our next trip!
SLINKY DOG DASH: (Height Limit = 38″) This was our first ride in Hollywood Studios (we fast passed it!) and it was SO fun. I highly recommend Fast Passing this if you can because it had the longest wait time by FAR. Both of my kiddos loved it!
TOY STORY MANIA: (Height Limit = ANY!) Our whole family was able to go on this ride, and it was so much fun. We got 4D glasses and it's essentially a shooting game featuring all the Toy Story characters. I wore my 18 month old in his carrier, and he enjoyed looking at everything (even without the glasses) too!
We also met Chewbacca and BB-8 during our time in the park. We skipped Galaxy's Edge for this trip! We are looking forward to spending more time in this park the next trip.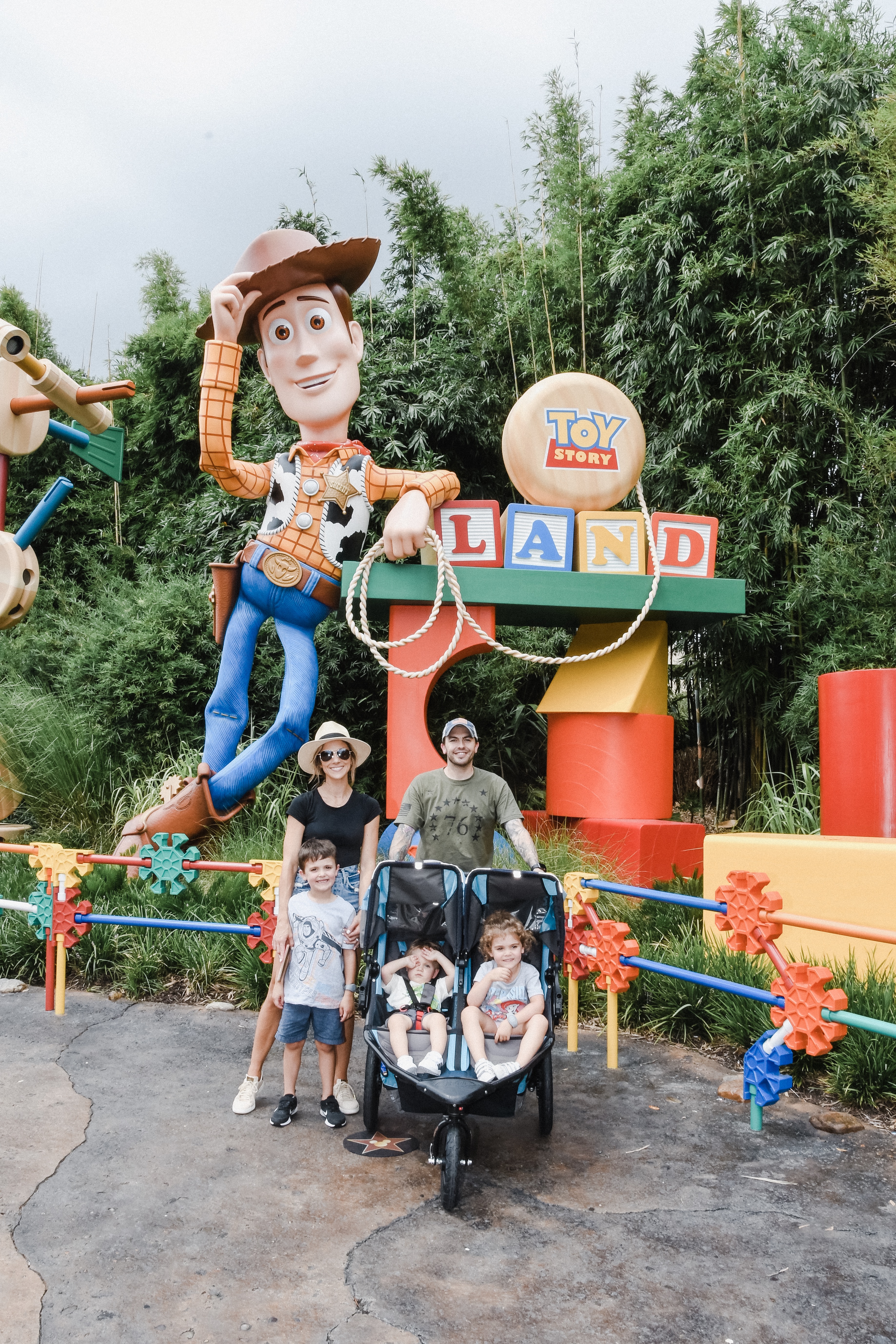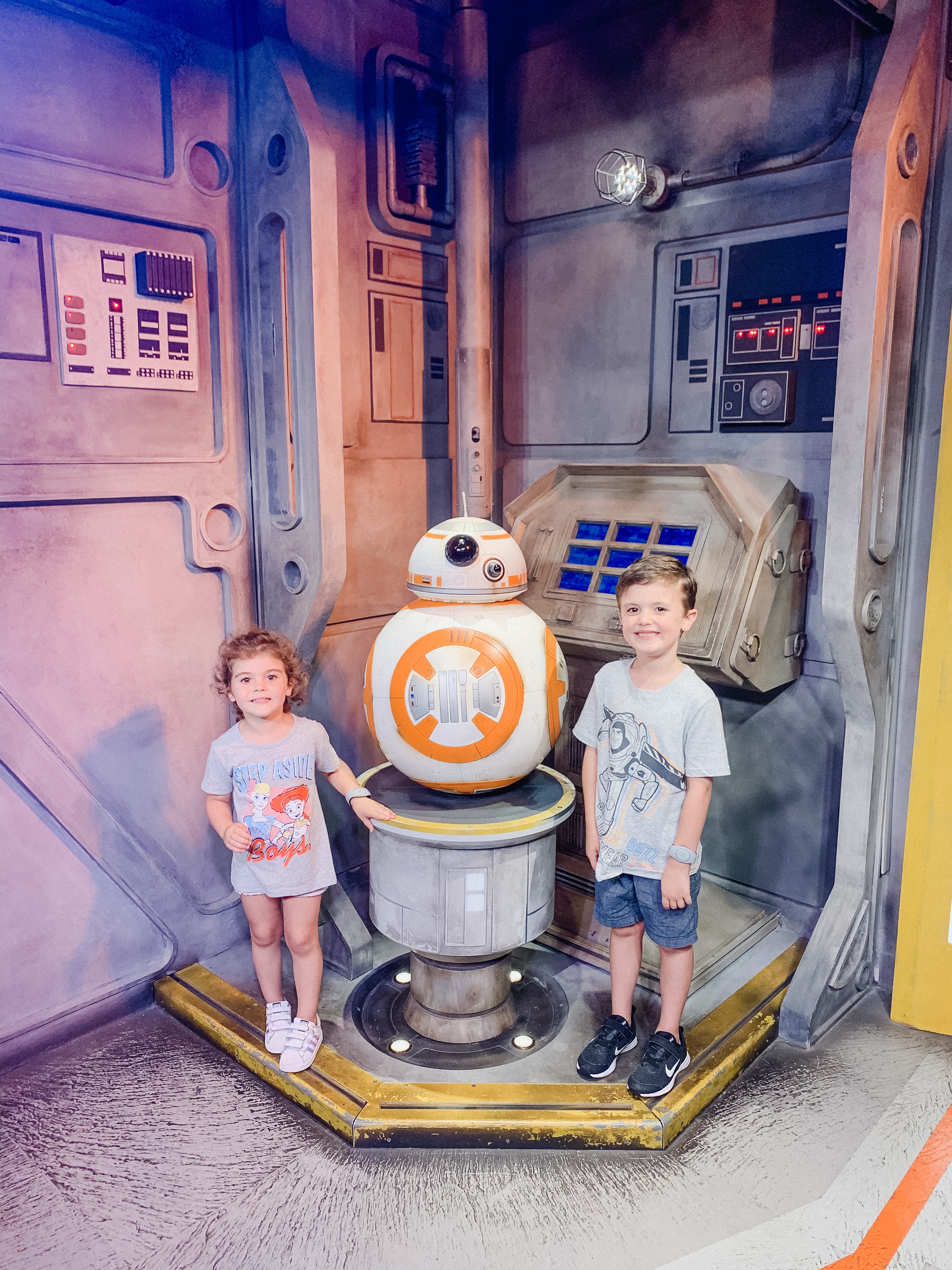 ANIMAL KINGDOM
We spent our last full day in Walt Disney World in Animal Kingdom! This was my first time in this park and I was surprised to see how big it is! We only made it to a couple of sections during our time there. We spent the day with Kate Bryan and her family, which made it that much more enjoyable!
KALI RIVER RAPIDS: (Height Limit = 38″) This ride is awesome if you need to cool down! It's a gentle rapid ride, and you definitely get wet depending on where you're seated and how the raft moves.
EXPEDITION EVEREST: (Height Limit = 44″) This might have been my favorite rollercoaster all trip! I went on it with my oldest and it was a total blast. You do go forward and backwards, and the majority of the ride is in the dark! But it was an awesome time. The only downside for our family was the height limit – my daughter SO BADLY wanted to go on it but she was 6″ too short.
DINOSAUR: (Height Limit = 40″) Our photo from this ride is my favorite, haha! It was a lot of fun, but my face says it all as the T-Rex pops out at you!
IT'S TOUGH TO BE A BUG: (Height Limit = ANY!) This was a super cute ride that the whole family can go on. It's essentially a 3D film about bugs with some cool special effects. I did not think this through very well though as one of my children hates bugs 😉 Whoops!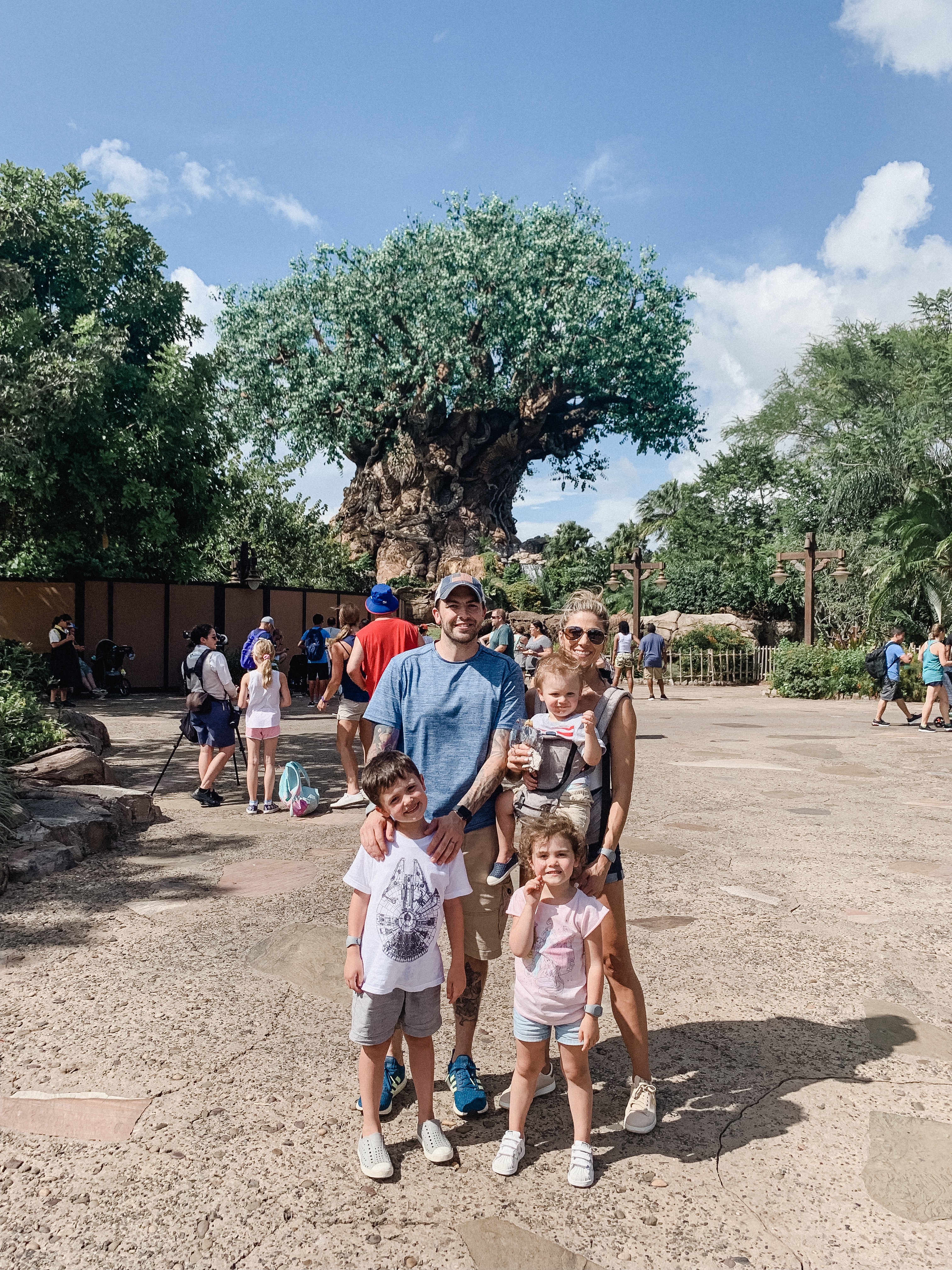 MICKEY'S NOT SO SCARY HALLOWEEN PARTY
We were invited to attend Mickey's Not So Scary Halloween Party during our visit, which was a really fun event overall. The kids dressed in costumes, got to do some trick or treating, attended a dessert party, and got prime seating for the fireworks show! There's a Halloween parade that we saw from afar because our kiddos were enjoying all of the desserts, but people were lined up on the streets hours beforehand to see it! There are no fast passes during the event, and we noticed the lines were smaller, so we were able to hop on a few rides without FPs. We did not trick or treat to it's full potential, but my kids were okay with that! They were enjoying everything else and just wanted to go on rides! We only stayed for a little of the fireworks, as they started at 10:15pm and my kiddos were VERY tired from the day. But what we did see was so incredibly magical!
BIBBIDI BOBBITI BOUTIQUE
I REALLY wanted to try to take advantage of visiting the Bibbidi Bobbiti Boutique during our stay, and I was able to snag a last minute reservation at the one inside of the Grand Floridian on our last morning (usually these are booked way in advance!). You guys…it was the most precious thing to see! My daughter loves dancing around in her princess dresses, and she absolutely loved getting "pampered" at the boutique. She wore her dress the entire rest of the day, in the airport, and on the plane home. They have a few pricing packages and you can bring your own dress if you'd like! I had a Disney gift card, so I bought her the Disney Anna dress which is also her Halloween costume this year! We loved this experience – I cried the whole time!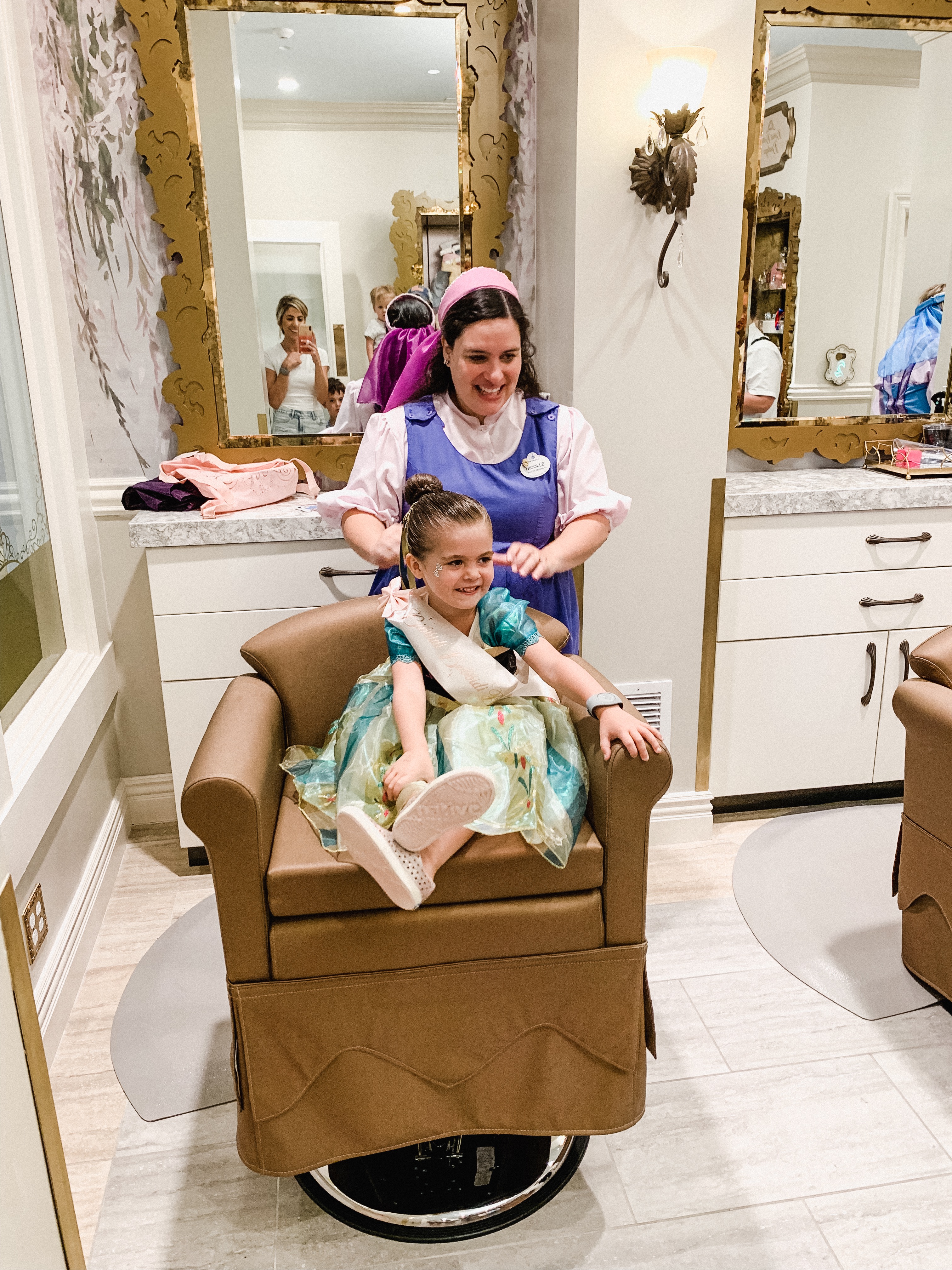 Some general thoughts….
We mainly ate at our hotel during our stay (for breakfast and dinner) because dining reservations were a bit limited for times (we like to eat around 5pm, and that's obviously a prime time) since those are usually planned out well in advanced. We utilized the quick order service in most of the parks which made eating really fast and easy. You can order in the My Disney Experience app, and its available for pick up shortly after. This feature is FANTASTIC with small children, and I highly recommend utilizing it! For future trips, I will most likely book dining reservations for breakfast or dinner. We plan on going back, so I can share more about that when we do!
We were provided special Fast Passes during this trip, but I now know which rides to Fast Pass for next time. I highly, highly recommend doing your research on all the rides in advance because many of the more popular rides have very long stand-by wait times – and those you'll want to Fast Pass for! You're allowed 3 Fast Passes a day (booked 60 days in advance!), and then can schedule additional passes (one at a time) after you use your three initial FPs.
We utilized the bus systems to get to and from Hollywood Studios and Animal Kingdom, and it surpassed my expectations. We didn't wait long for a bus at all (I know this is dependent on peak times), and the bus ride was not very long. I hear there is a time difference depending on the hotels, but I can't speak to that just yet. Disney newbie over here, so I'll learn more with each stay!
The Memory Maker package? SO WORTH IT! I loved all the photos we received, PLUS all the ride photos (which were hilarious if you remember me sharing on stories). Totally worth the $, in my opinion, and then you aren't having to snap your own photos!
Also, RENT A STROLLER. They have strollers in the parks, but we rented a double BOB from Kingdom Strollers. It was great because we were able to pile all THREE of my kids in it at once (my oldest sat on the end of it). Highly recommend! They'll deliver right to your hotel!
Last, there are several grocery delivery services! I planned on using this for snacks and diapers, but had some communication issues with the one service we tried using. Our hotel had everything I would've ordered anyway, so it wasn't an issue. But going back, I'll definitely set this up better (and now I know what to expect) and have some quick breakfast options, snacks, and waters to pack for the park delivered ahead of time! We (tried) using Dizzy Dolphin Delivery – it was just user error on my part.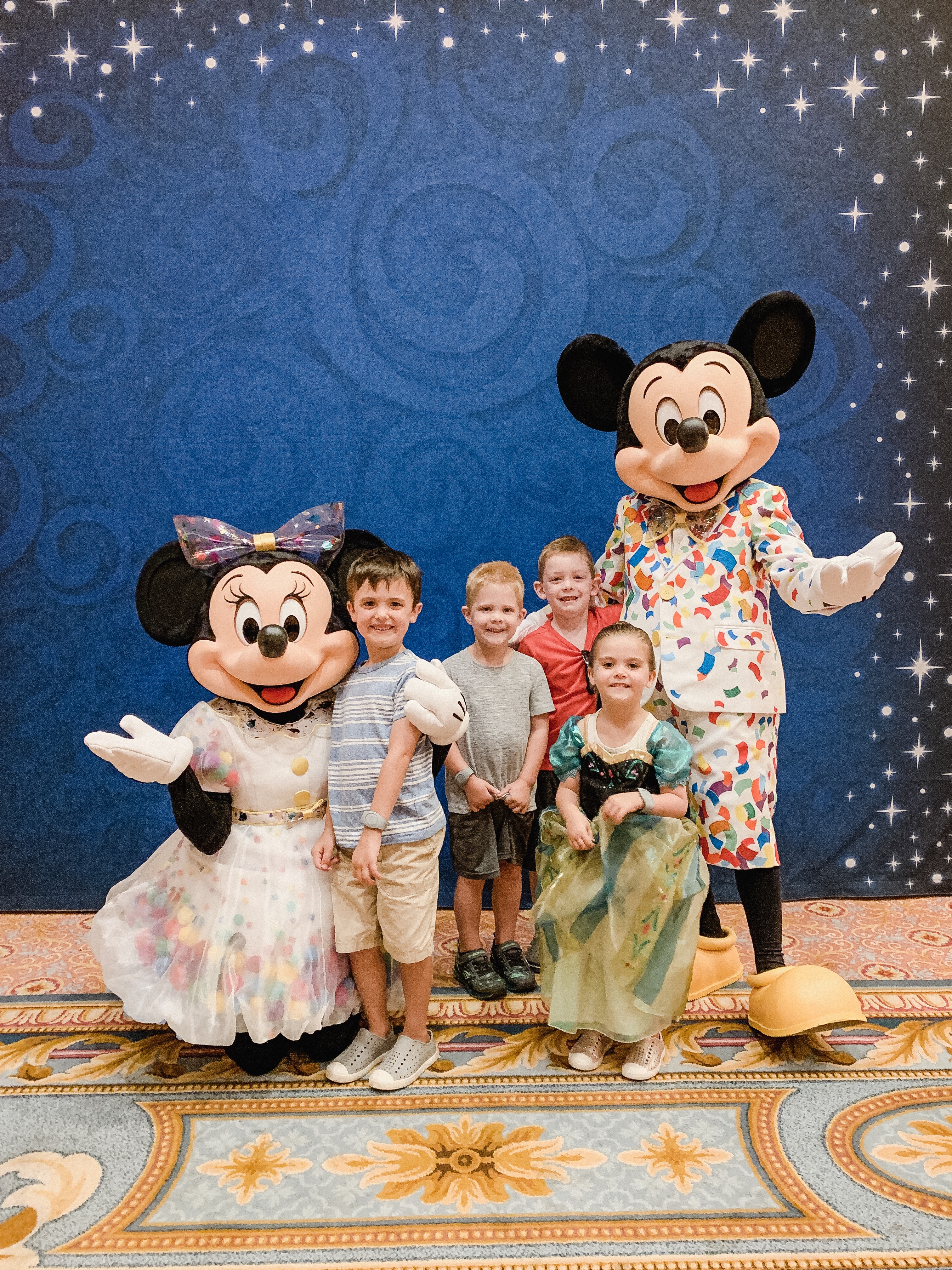 Here is where I'm going to sound super cheesy for a minute. But guys….Walt Disney World is TRULY magical. I know everyone says that, but they say it because it's true. I don't know if it's the nostalgia of it or the overwhelming joy you feel seeing your kids' faces light up, but this was one of my favorite vacations yet. And my husband agrees! The first thing he asked me when we got home is when can we go back – which surprised me because it was VERY hot and he hates the heat! So…we're going back and can't wait!
A huge thank you to Disney for hosting our trip to Walt Disney World. Memories were made, fun was had, and we truly cannot wait to return. Stay tuned because I have more fun posts in the works for you!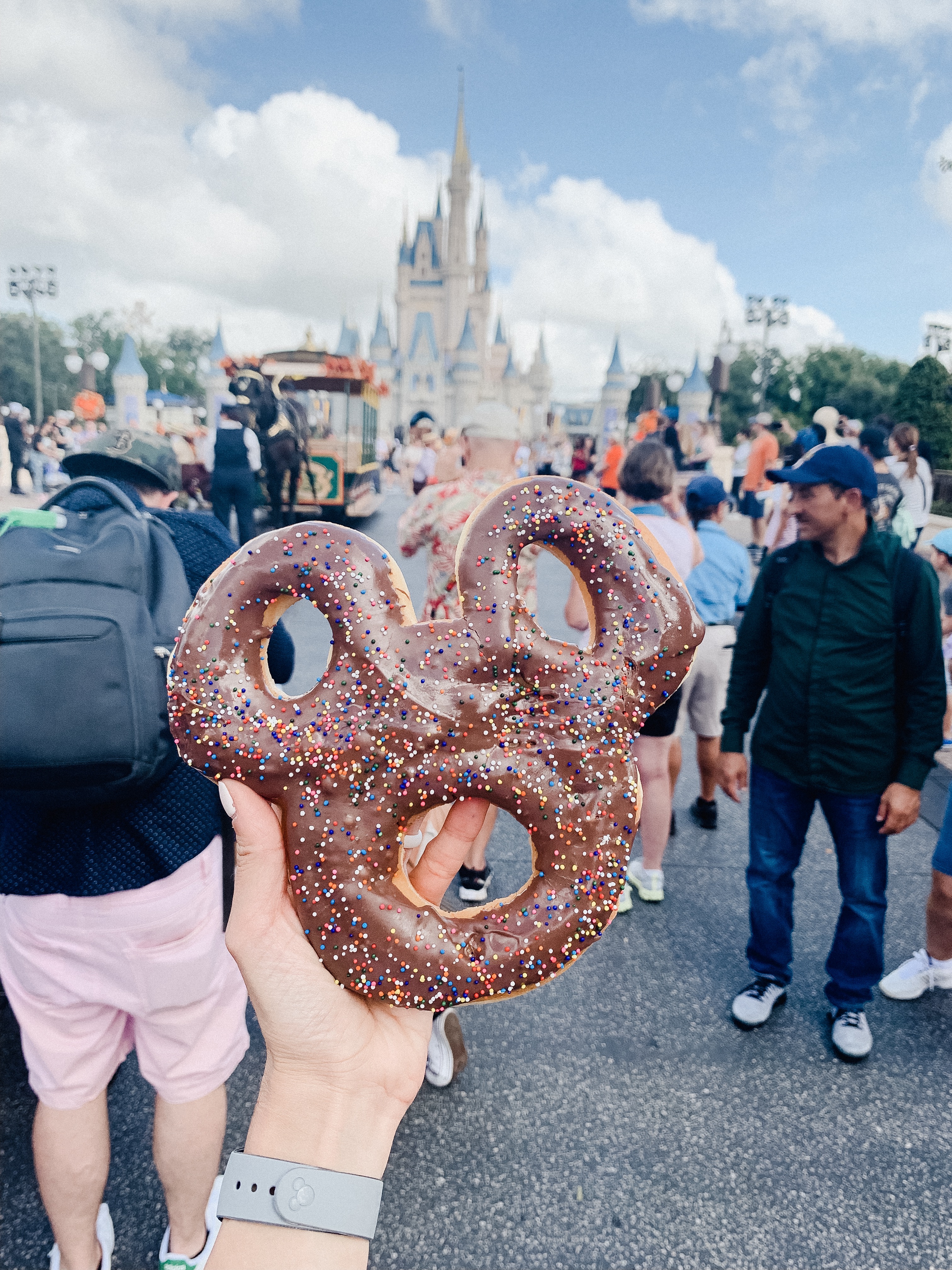 Read Now, Pin for Later: