Can you believe it is almost spring? I recently was browsing through Abercrombie New Spring Arrivals and found so many great pieces for both lounging, hanging in the warmer weather, or just overall basics. From the perfect bodysuit to my favorite pair of boyfriend jeans I rounded up a few of my top favorite Abercrombie new spring arrivals for you. Keep reading to see them below…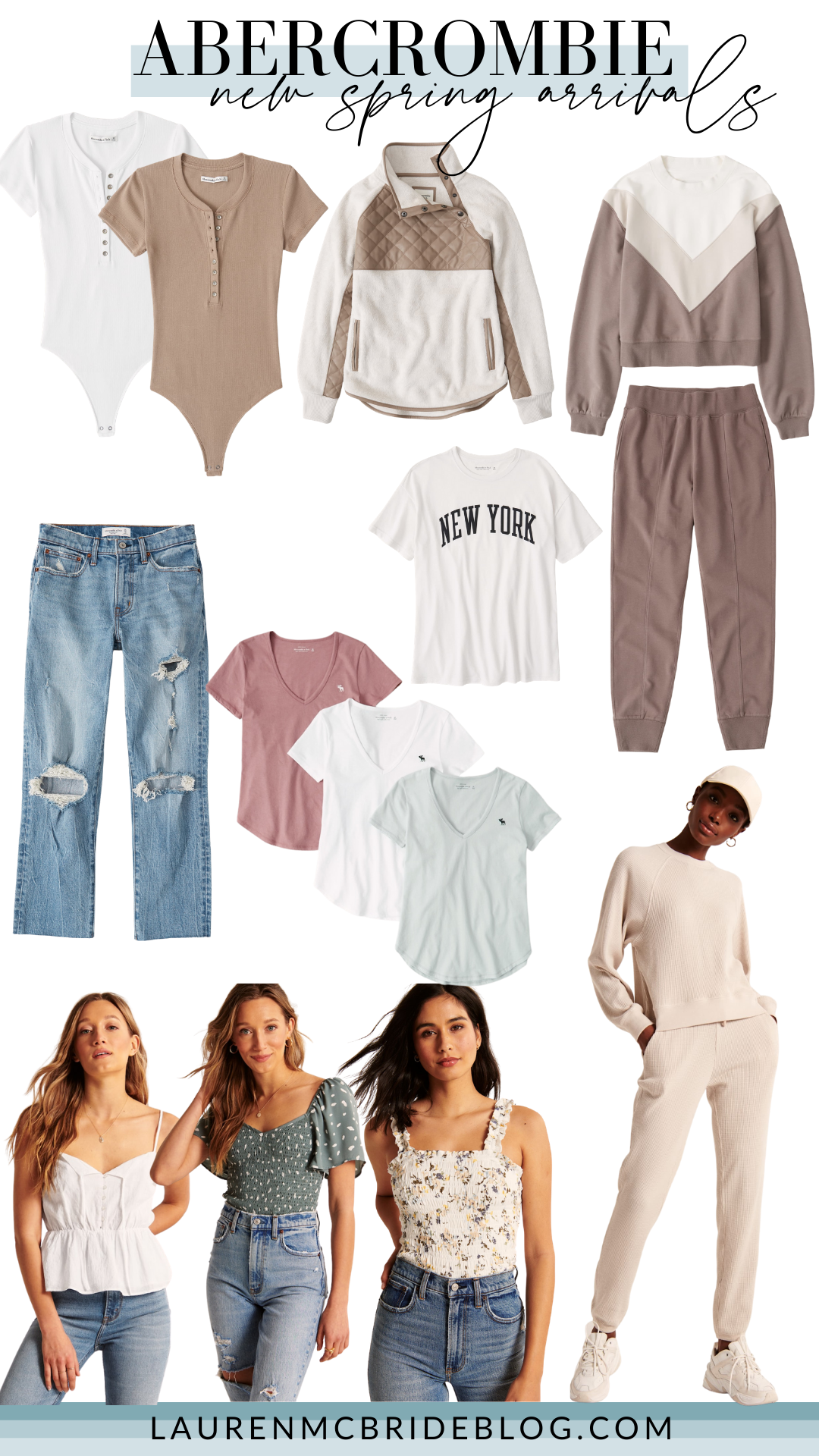 Short Sleeved Henley Bodysuit // Asymmetrical Snap Up Fleece // Soft AF Terry Crew Neck Sweatshirt // Soft AF Terry Crew Joggers // Mid-Rise Boyfriend Jean // 3 Pack Short Sleeved Deep V-Neck T-Shirts // New York Graphic Tee // Easy Waist Tie Front Cami // All Over Flutter Sleeve Smock Top // All Over Smock Wide Strap Cami //Long Sleeved Waffleneck Sweater // Matching Pants
Abercrombie New Spring Arrivals- My Top Picks
Short Sleeved Henley Bodysuit – love the Abercrombie bodysuits and I am picking these up in both white and tan- perfect neutral for spring.
Asymmetrical Snap Up Fleece – you can never go wrong with a light fleece layer especially in spring when the weather can be a bit up and down. Perfect for light layers.
Soft AF Terry Crew Neck Sweatshirt – love the colorblock colors. I have something similar to this in a Sherpa from many years ago- but loving this sweatshirt as well!
Soft AF Terry Crew Joggers – literally the softest joggers ever!
Mid-Rise Boyfriend Jean – Abercrombie makes some of the best jeans, and these are perfect!
3 Pack Short Sleeved Deep V-Neck T-Shirts – such a great staple to always have on hand!
New York Graphic Tee – anyone else loving graphic tees right now? This one is super cute and simple. I also love the color of the Nashville social club version too.
Easy Waist Tie Front Cami – I absolutely love the shape of this, and can't wait to wear it with a pair of cut-off shorts.
All Over Flutter Sleeve Smock Top – I envision being able to wear this once we can finally go places. I love the cute flutter sleeve and the color is perfect for spring.
All Over Smock Wide Strap Cami – I can't wait to wear this on warmer weather days. Love the wider strap too.
Long Sleeved Waffleneck Sweater + Matching Pants – Let's be honest we are still living in loungewear. I love this matching sweater and pant set!
Shop My Picks