Last week I asked my Instagram community, "Who do you need help shopping for?" After receiving a LOT of responses, I narrowed it down to the top four categories. If you're looking for a guide discussing even more responses, head over to my Youtube where I detailed Seventeen People You Need Help Shopping For.
Husbands
A lot of you ask for this every year so here's the much anticipated husbands' gift guide, with help from Pat! This year, we found Groovy Guy Gifts which Pat really liked! All of their products have a discount code attached for you guys.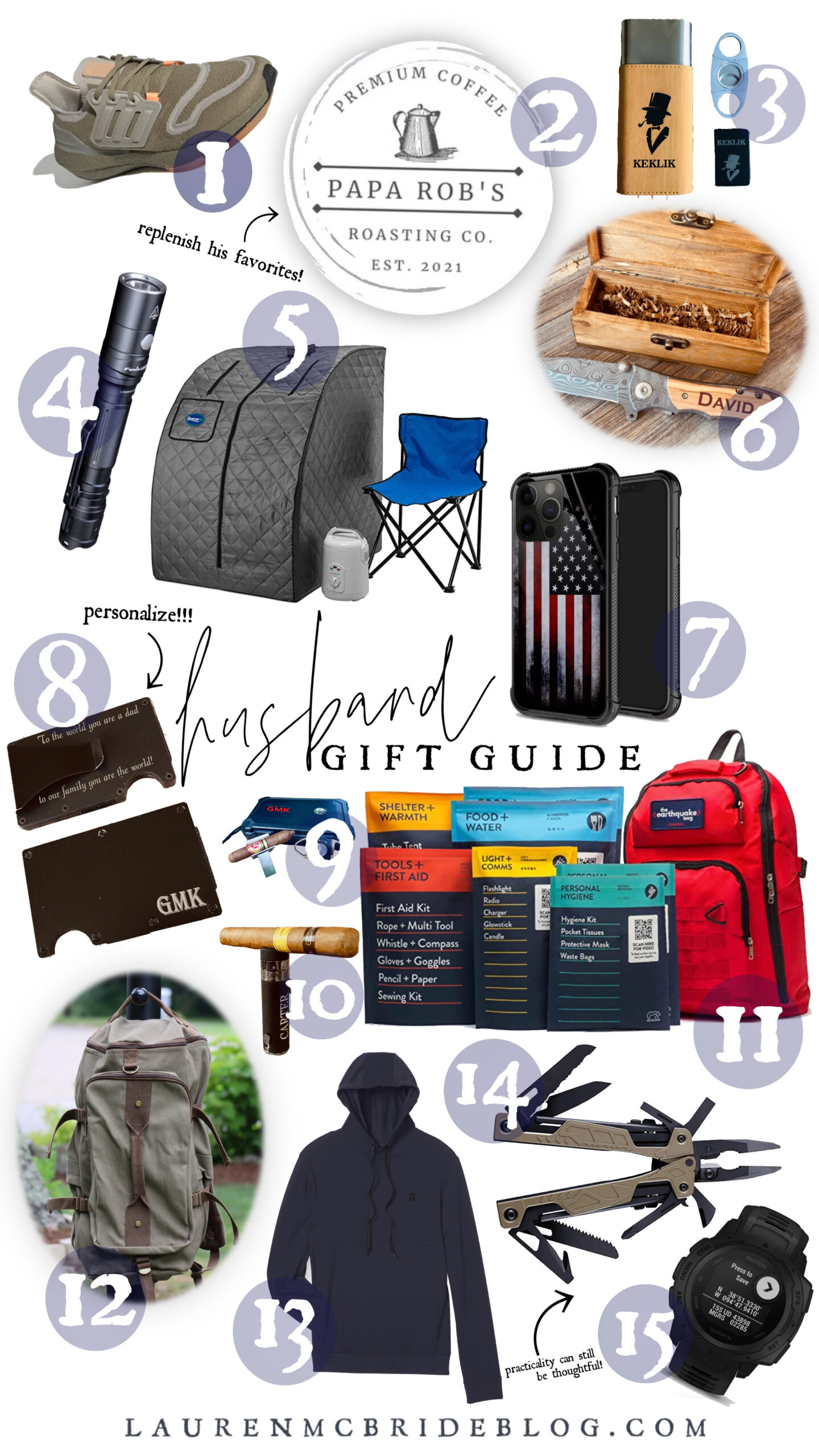 3: Cigar Travel Set (Use Code MCBRIDE10 for 10% off)
4: Fenix LD22 V2.0 Compact EDC Flashlight
6: Gentleman's Gasher (Use Code MCBRIDE10 for 10% off)
7: iPhone 14 American Flag Case
8: Custom Minimalist Wallet (Use Code MCBRIDE10 for 10% off)
9: Humidor To Go (Use Code MCBRIDE10 for 10% off)
10: Triple Threat (Use Code MCBRIDE10 for 10% off)
12: Combat Backpack (Use Code MCBRIDE10 for 10% off)
15: Instinct Watch – Tactical Edition
In-Laws/Parents
The in-laws were maybe the most requested group. I decided to pair them with parents since they both tend to fall in the same age bracket. Below are a variety of items, for men and women, that would make a great gift for in-laws and parents alike.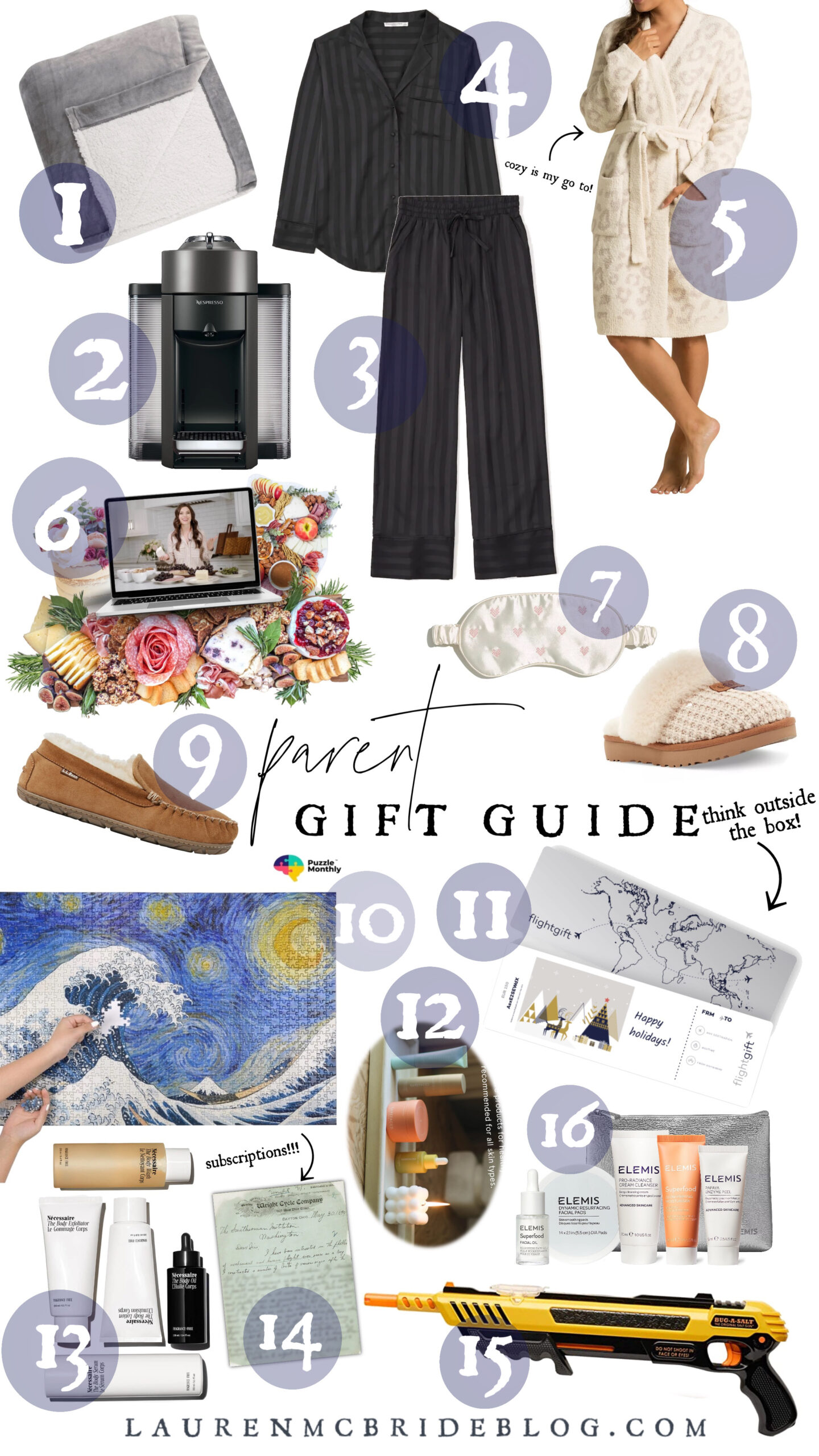 2: Nespresso by De'Longhi Vertuo Coffee & EspressoMaker
4: Women's Satin Sleep Button Down
5: Barefoot Dreams CozyChic Robe
6: Gather Intentional Living Classes (Use code MCBRIDE for $25 off a 12 class bundle)
8: Women's Cozy Faux-Shearling Slippers
10: Puzzle Monthly Subscription
11: Airline Miles
12: Barefaced – Bare Necessities Kit
13: Necessaire – Holiday Essentials Kit (Use code MCBRIDE10 for 10% off)
14: Historic Mail Subscription
15: Bug-A-Salt
16: ELEMIS Holiday Glowgetters Skin Care Kit
Kids
Kids are tricky and I got MANY requests for gift suggestions for all ages. I decided to make two guides, girls and boys, though there's many things on both that could be gifted to either gender! The lists are ordered from youngest to oldest with gifts for ages 3 or 23!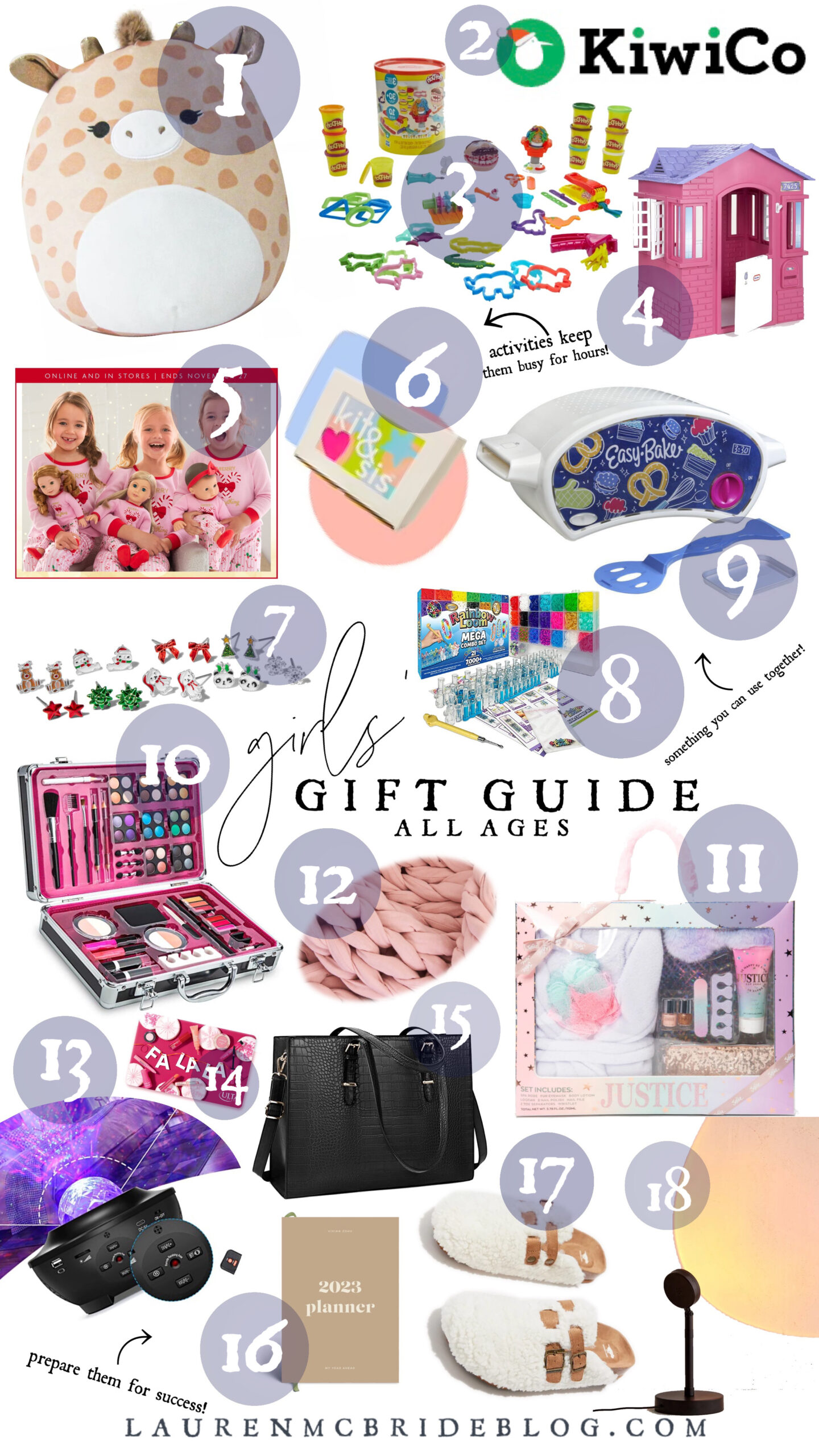 1: 12-inch Giraffe Squishmallow
3: Play-Doh Set
6: Kit & Sis Craft Set (Use code LAUREN for 20% off)
10: First Makeup Kit
12: Weighted Blanket
13: Star Projector
15: Laptop Tote Bag
16: Custom Planner
17: Shearling Clog
18: Sunset Lamp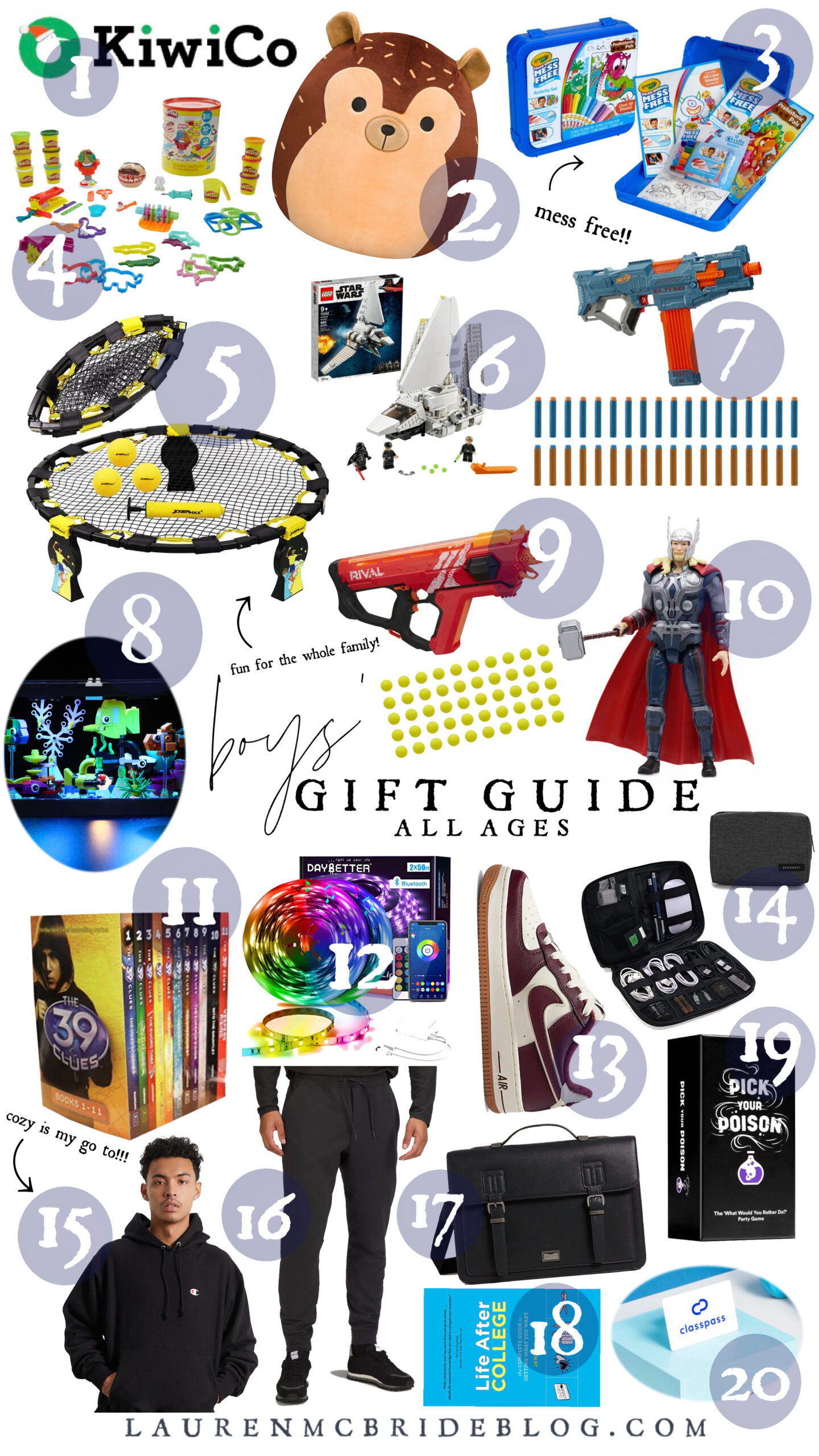 3: Crayola Color Water Prehistoric Pals
6: Lego Star Wars Imperial Shuttle
7: Nerf Elite 2.0 Turbine CS-18 Motorized Dart Blaster, 36 Nerf Elite Darts, 18-Dart Clip
8: LED Legos
9: Perses MXIX-5000 Nerf Rival Motorized Blaster
10: Thor Talking Action Figure
11: 39 Clues Box Set Books 1-11
12: LED Light Strip
14: Small Travel Cable Organizer
15: Champion Hoodie
17: Briefcase
19: Pick Your Poison Card Game
20: Classpass – Gym Classes Giftcard
Yourself
Last but not least, you! I know we all say "Oh, I don't need anything!" but there will always be people in your life that want to spoil you. Here's some inspiration if your most difficult gift this holiday season is YOU!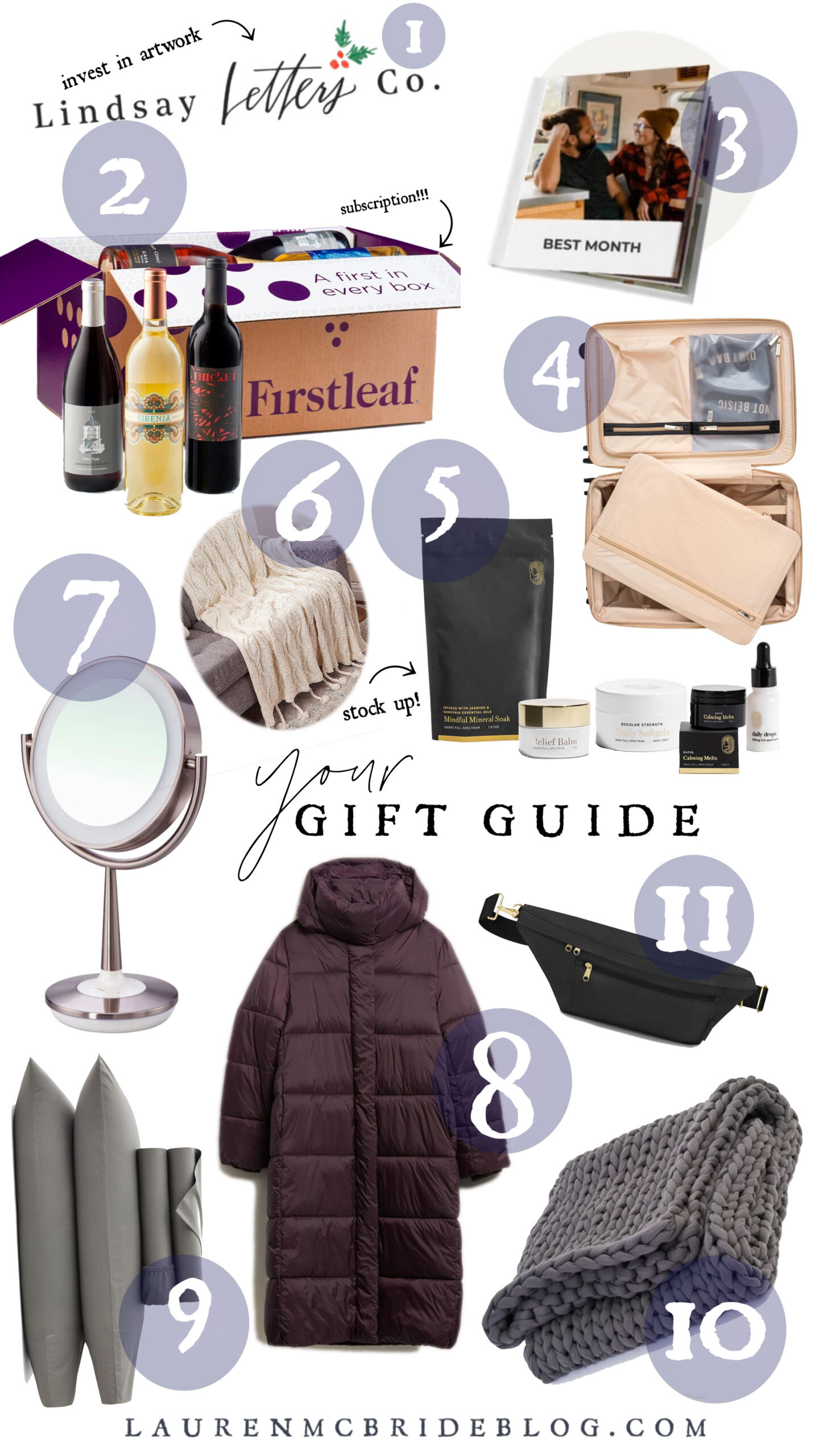 1: Invest in Artwork! Some of my favorites are Lindsay Letters Co. and Kat & Charley
4: Beis Luggage
5: Equilibria CBD Set (Use code LAURMCBRIDEBLOG for 15% off)
7: Cordless Illuminated Makeup Mirror
10: Weighted Blanket
I hope this helps you in your holiday shopping! Again, for even more check out my most recent Youtube video…where I also shared some general gift shopping tips! Comment or DM me any more requests/questions. Subscribe to my newsletter before 11/25 to get alerted of my favorite Black Friday deals! Happy shopping!