In 2017 I shared The Best Damn Sweet Potato Casserole and the reception definitely proved the name right. I still hear from you guys every year raving about how much of a hit it is!
As you all know (or may not know), my diet restrictions have changed since then, and I can no longer experience the deliciousness of my sweet potato casserole…until now! I've amended the recipe to be dairy AND wheat free (with no sugar added too)! Obviously, if you can still enjoy those ingredients, my original recipe is there for you. But anyone, like me, with certain food sensitivities, allergies or restrictions…this one's for you!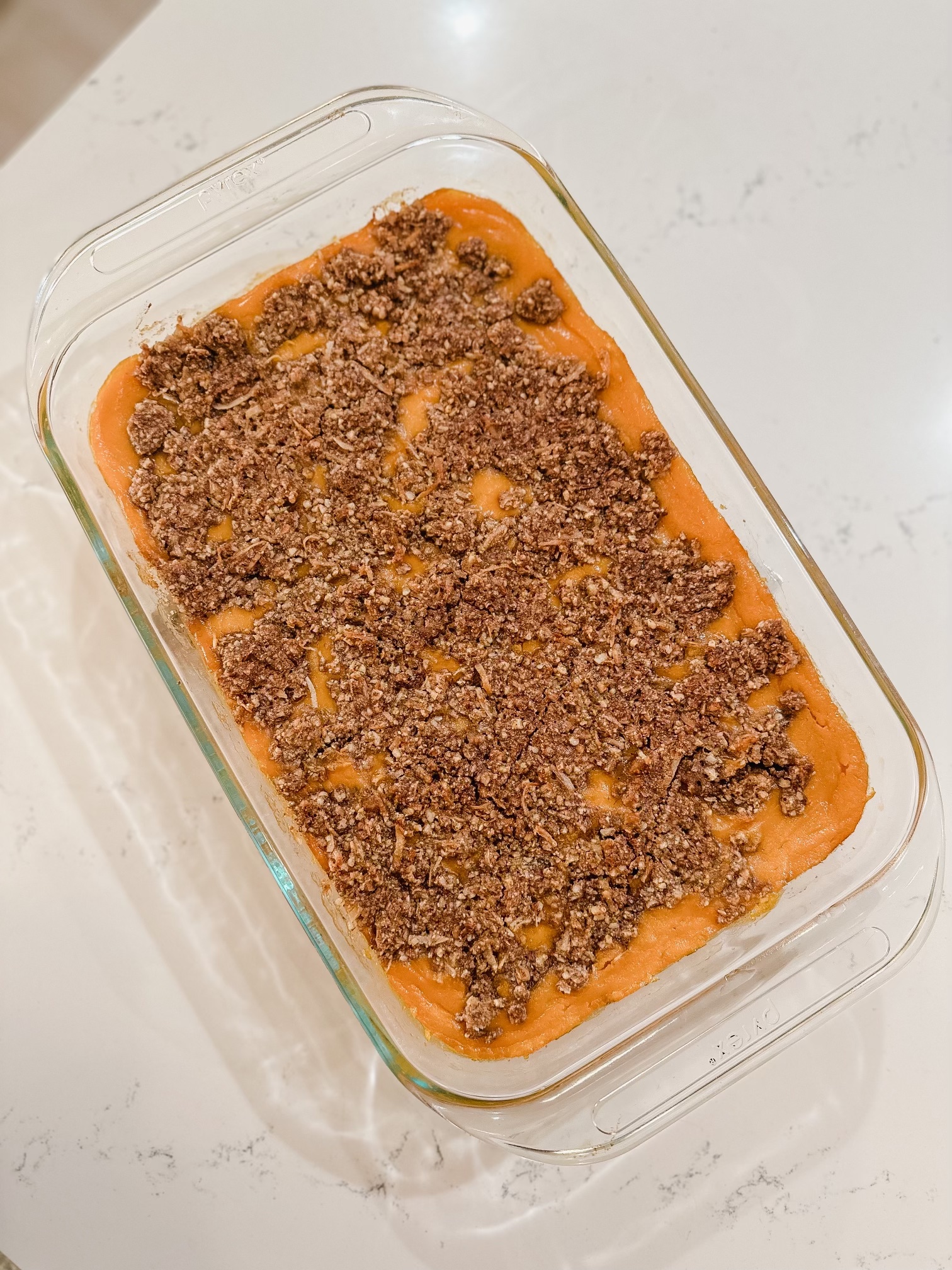 Dairy and Wheat Free Sweet Potato Casserole
First, I start with three or four (this time I used three) sweet potatoes. I clean, wash and boil the potatoes in order to soften them up. Then I mix the softened potatoes, ¾ cup and 6 tbsp. of maple syrup, 1 tsp. of vanilla extract, 6 tbsp. of melted vegan butter, ⅓ cup of cashew milk (though you can use any dairy substitute), and 2 beaten eggs in the barrel of a food processor and mix!
Once thoroughly mixed via the food processor, I pour into a casserole pan and preheat the oven to 350º.
While I wait for the oven to preheat, I mix the top layer. In a large mixing bowl, I add ⅓ cup of coconut sugar, ⅓ cup of almond flour, ½ cup of coconut shavings/flakes, 1 cup of chopped pecans (which I chop in the food processor), and 7 tbsp. of melted vegan butter. Once those ingredients are thoroughly mixed, I spread it on top of the uncooked casserole.
Once the topping is spread as an even layer, I pop the whole thing in the oven for 45 minutes. After 45 minutes (let it cool slightly so as to not burn your mouth), serve hot and enjoy!
I hope everyone has a safe, healthy, happy & delicious Thanksgiving!