Every year, teachers might be my most requested gift guide. As parents, I know we're always so grateful to them, but it can be tough to find gifts that convey that appreciation without defaulting to another mug. I've done quite a bit of research and I believe these are gifts teachers actually want to receive this year.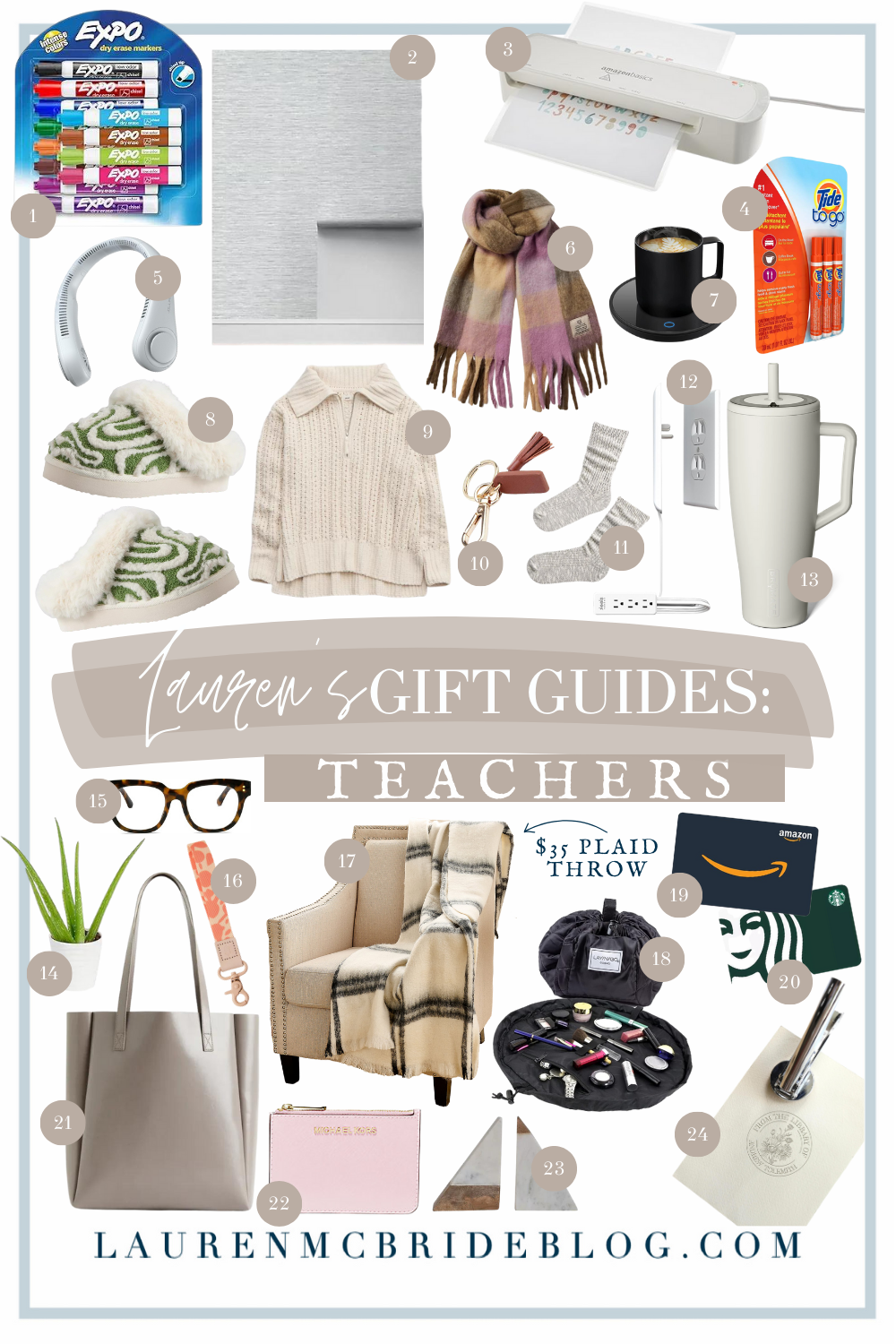 I designed this gift guide to allow items to stand alone OR be gifted together! If your class is doing a group gift, pick a few items and present in a basket! Or, gift any one of these items to make your teacher's Holiday season a little extra special.
Classroom supplies are a no brainer and I feel like these dry erase markers run out of ink so quickly!
Teachers love to customize their spaces, but often have to be careful to not damage the foundation of the classroom. My peel & stick wallpaper is perfect for making spaces feel more homey, but is also easy to remove if need me!
This laminator looks great and is under $40! Definitely a handy classroom tool.
Tide To-Go is such a life saver, especially if the teacher you're shopping for is teaching younger kids (though older kids stain things too!) they'll definitely appreciate this.
They had these fans on set of the QVC+ Wrapping Competition, and they work great! If your teacher works in a building with no AC, or is monitoring recess in the hot sun, these for sure come in handy!
In the same respect, but in winter months, a cozy scarf to bundle up with is always a must.
I know teachers tend to have very long mornings, and no shortage of mugs, so I thought, what's better than a mug? A mug warmer! This portable hot plate is the perfect classroom companion and can warm up your coffee that may have gotten cold.
These slippers look SO cozy, and Aerie always dominates in the comfy department. I love the design of these, but they have a bunch to choose from!
If you're close enough to the teacher you're shopping for to know what size top she wears, this quarter zip is a must this Winter. I love it because it's just as comfy as a hoodie, but the cable knit design really elevates it. Pair it with some booties and trousers it's the perfect lazy day work outfit!
This keychain popped up in my browsing as it's currently on major sale, so I figured why not! Everyone's keys tend to get very weathered very quickly, so a refresh is always nice.
Need I say more? Cozy socks, especially headed into Winter, are always appreciated.
This power strip is one of my favorite Amazon finds! It makes it super easy to organize cords at your desk!
This is the water bottle I have right now and I loooove it! The straw has a leak proof mechanism and my drinks always stay cold!
After chatting with some teachers, plants sound like a welcome addition to many classrooms or homes! Obviously, make sure you know who you're shopping for. If the teacher in your life is more of a faux plant person, I have a bunch of favorites linked here in my home office tour.
Blue light glasses genuinely make such a difference and this brand has a lot of cool frame options!
This FP Movement lanyard is a great find! Super affordable and cute!
This is from my line's August drop and it's on sale right now for $35! It's so warm and comfortable!
This makeup bag cinches in and out to allow you to see all of your products when getting ready without making a mess. The inside is lined to be waterproof, so it doesn't necessarily have to be for only makeup. If the teacher in your life brings any hair/skin care products with them, this would be perfect for that too!
19,20: Gift Cards
While I normally shy away from gift cards, teachers are the exception. Especially with how much they need to furnish their own work spaces with their money, Amazon gift cards can go a long way!
A catch all bag for various knick knacks that need to go back and forth between the home & classroom is always appreciated! I loved H&M's tote selection, if the one I linked isn't your vibe, check out some others!
Card holders are great, and I feel like between school IDs and other work specific cards, teachers would appreciate one just for work! Maybe throw a Starbucks gift card in there if you're looking to elevate it!
23 + 24: Book Lover Gift Set
These gifts would be the perfect additions to a book lover gift basket! Maybe add in a gift card to Barnes & Noble or a local book store! And, I know lots of teachers have a personal classroom library! Getting a personalized stamp is such a thoughtful gift that they'll use for years to come!
I hope I did teachers proud with this one! Be sure to check out my other holiday gift guides, and have a Happy Holiday ❤️