Guess what? My office makeover is finally complete and I couldn't be more thrilled! I've been on a mission to transform it into a serene, tropical oasis – the ultimate happy place. You see, I spend a ton of time up here, especially during the dreaded winter months when my seasonal depression kicks in. So, I wanted to create a space that feels like summer all year round. A few weeks ago, I shared a vision board and plan for the space, and I'm so happy to share how that translated into a real transformation! And now, I'm about to take you on a little tour to show you all the amazing updates I've made. If you'd rather watch me give the tour, head over to my Youtube channel to see a full video guide!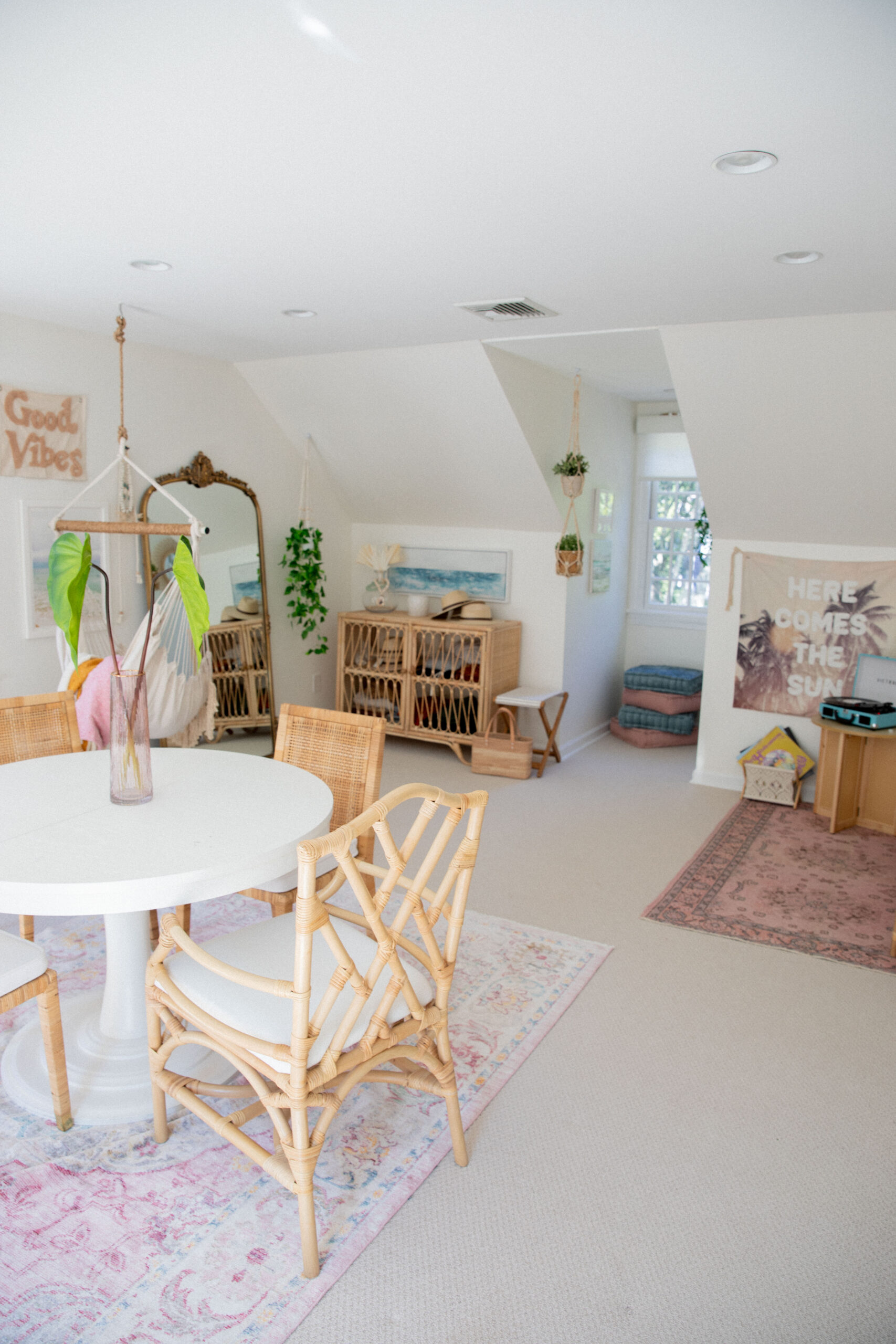 First up, this fabulous gallery wall. It's not new, I actually put it together last year. It's filled with prints from Minted that just scream ocean vibes – palm trees, waves, surfboards, you name it. I recently added some faux plants (because, let's be real, I can't keep real plants alive) and they're hanging gorgeously from cute macramé plant hangers. It's all about those beachy vibes, my friend.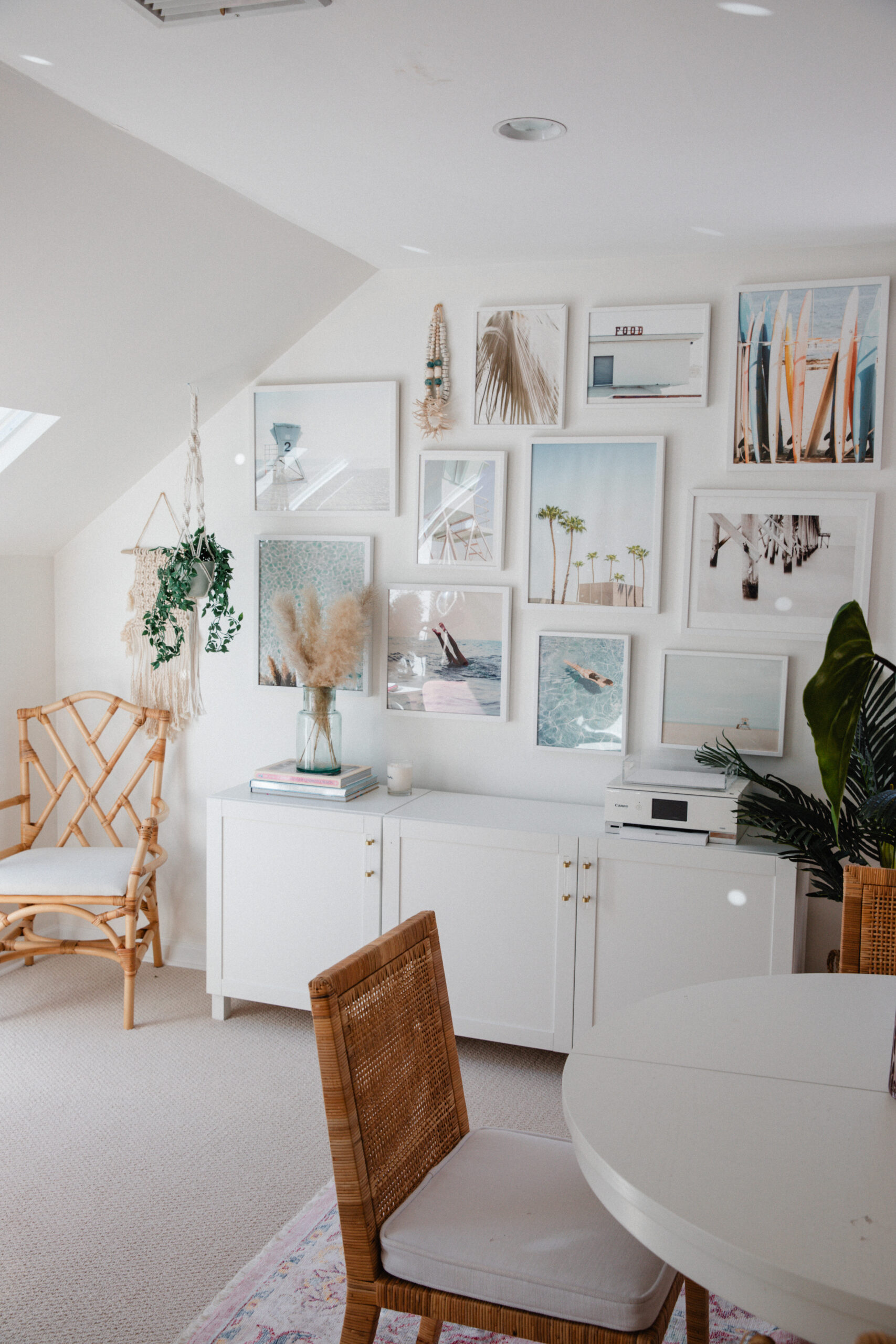 Of course, I've got to highlight my new favorite candle. I picked it up during a trip to Newport and it's called "Endless Summer" by the Shore Soap Company. Not only does it smell incredible, like a true summer dream, but it also sports the cutest little wave design. I can't wait to light it up during those winter months when I need a summer pick-me-up.
Moving on, I've got a serious obsession with that aqua, sea glass color. So, you'll find plenty of jars and containers in that lovely hue, filled with pampas grass from my QVC line. Right under the picture wall I also have my sleek white printer and a faux palm that adds a touch of tropical goodness to one of my baskets. Seriously, faux is definitely the way to go. Thank goodness I can't kill this one 🤣🤣!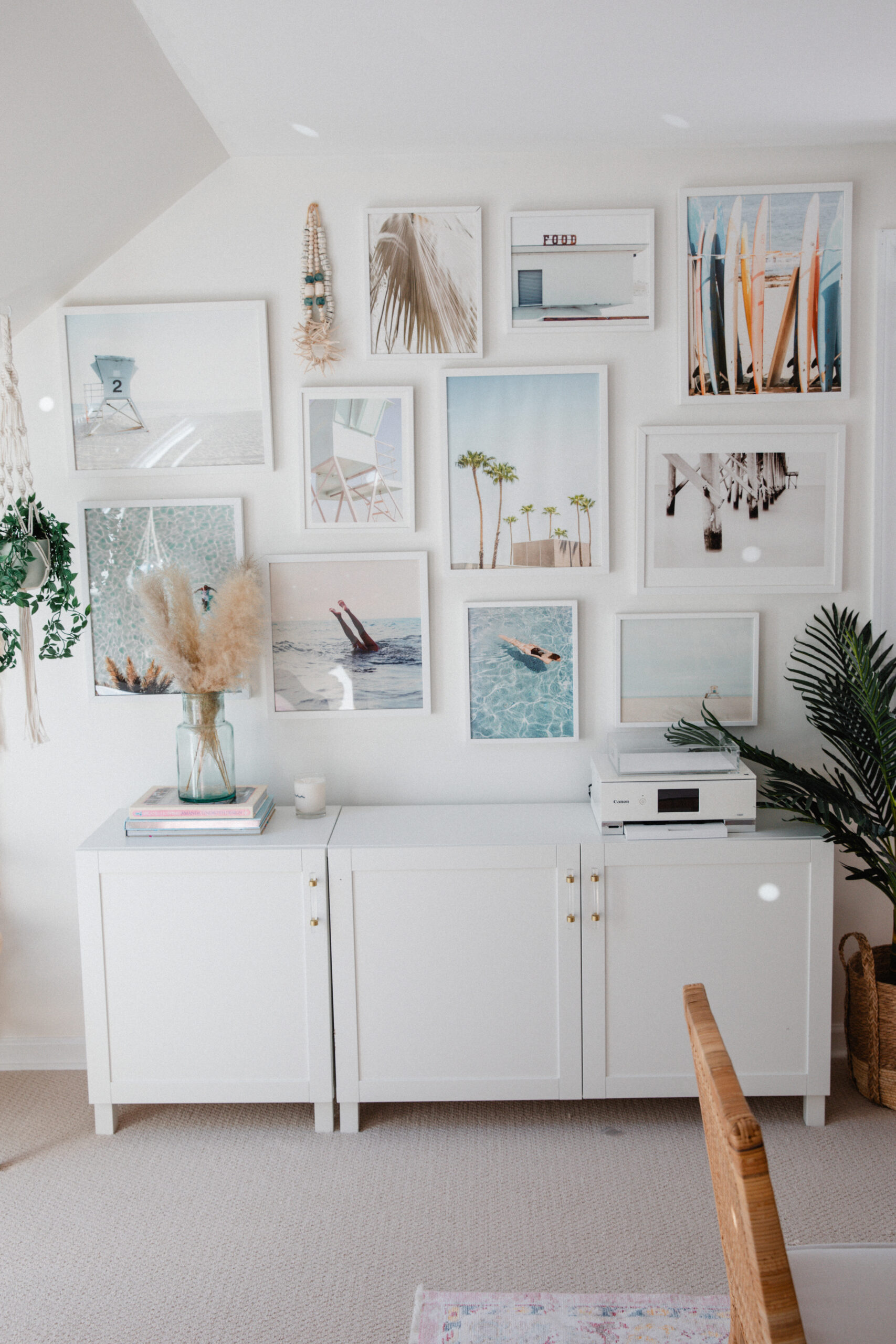 Now, let's talk about the workspace. I've got this cute little table where all the magic happens (or where I dump all my daily crap, let's be honest). The chairs are a mix and match from Serena and Lily, featuring that lovely rattan style and natural materials. And here's a fun fact – this is the only room in my house where you'll find a pop of pink. I just love mixing it with blue. Oh, and that rug? It's what inspired the whole office color scheme, with its beautiful blend of colors that I wouldn't normally put together. It's pure inspiration!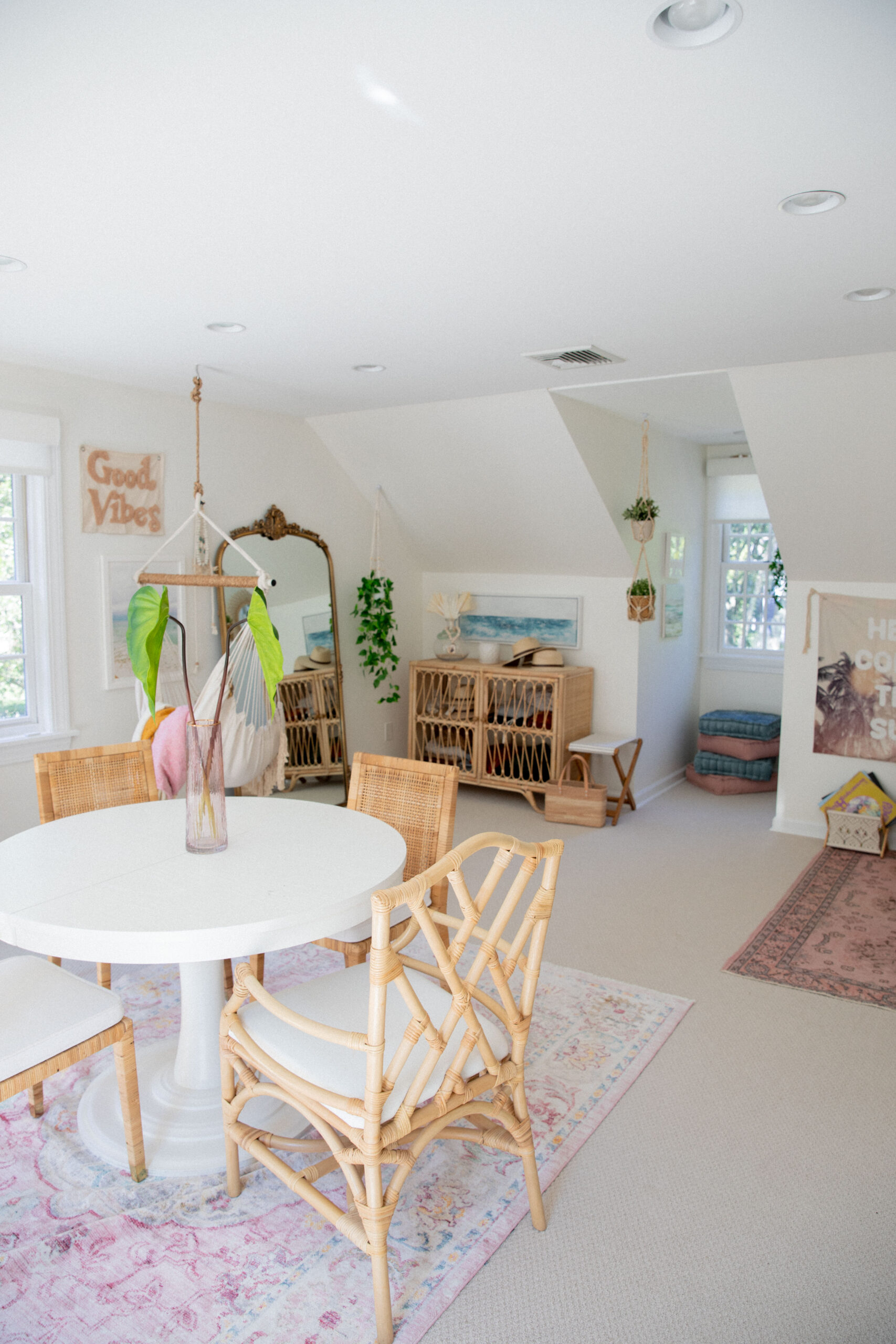 But wait, there's more. I recently invested in a standing desk because I want to make sure I stay active and get those endorphins flowing, even while I'm working. It's been a total game-changer and I'm also loving the cute acrylic and gold pulls I added to spruce it up. And you know what goes perfectly with a standing desk? A walking pad! This nifty device allows me to walk while I work, keeping me active and fighting off the winter blues. Plus, it folds up neatly when I'm not using it. Genius, right?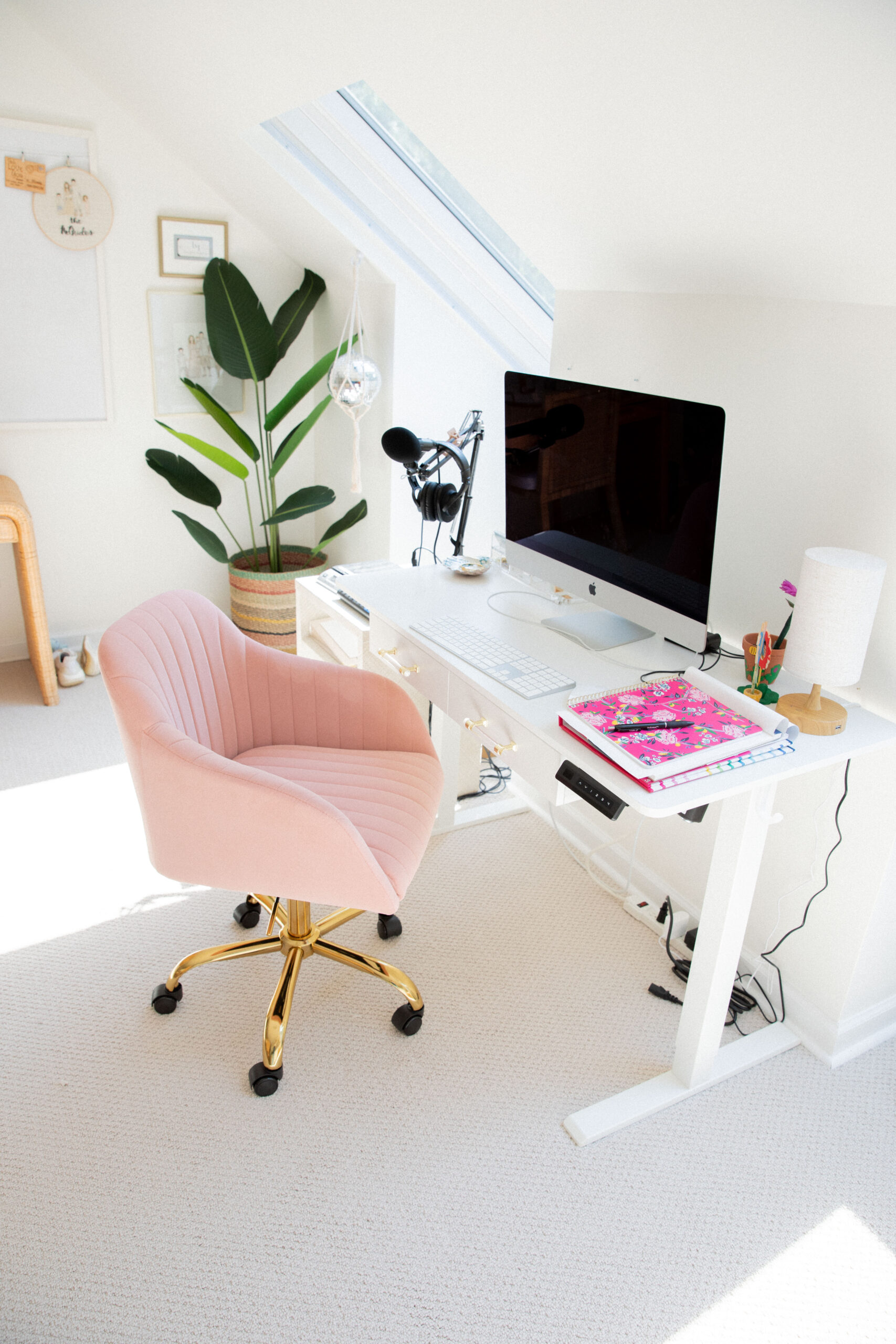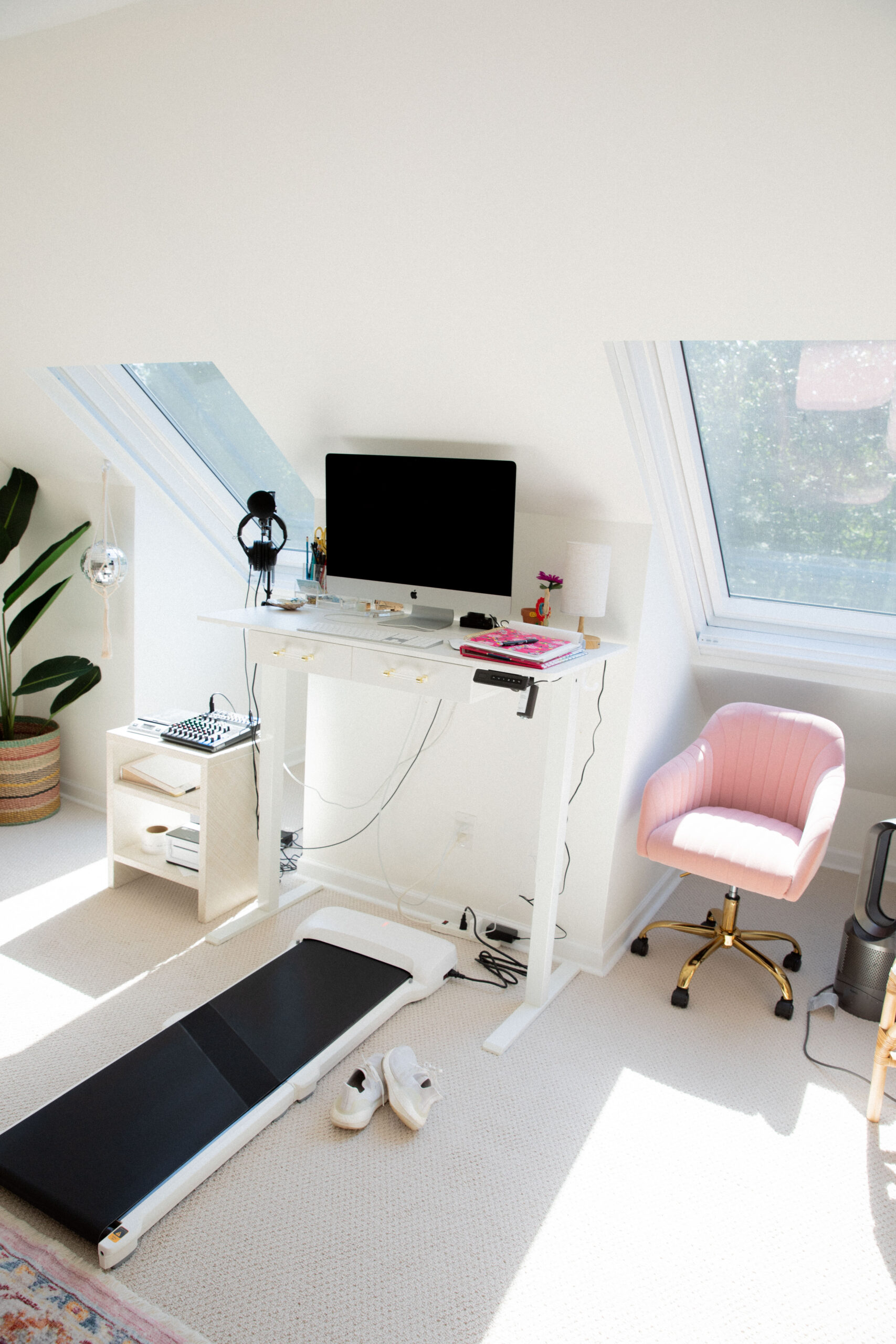 To combat the seasonal affective disorder, I've also added a happy light. Sure, it may look cuter than those plain white boxes, but I'm still waiting to see if it does the trick. Fingers crossed!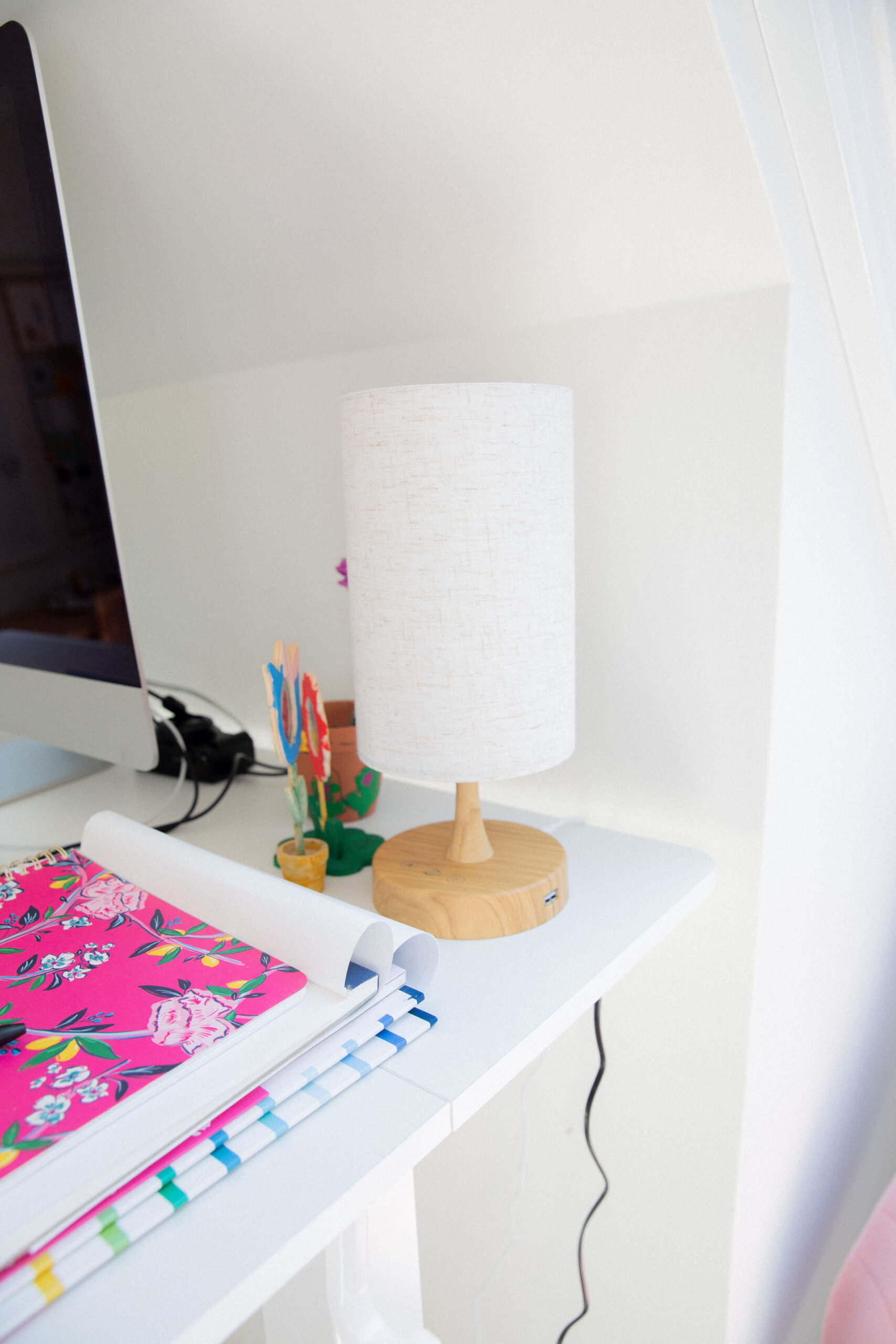 I've got my podcasting equipment and a fun little disco ball. I love it sooo much and it adds such a layer of fun to the whole office when it lights up! I'm seriously considering adding one in every window that catches the sun's rays.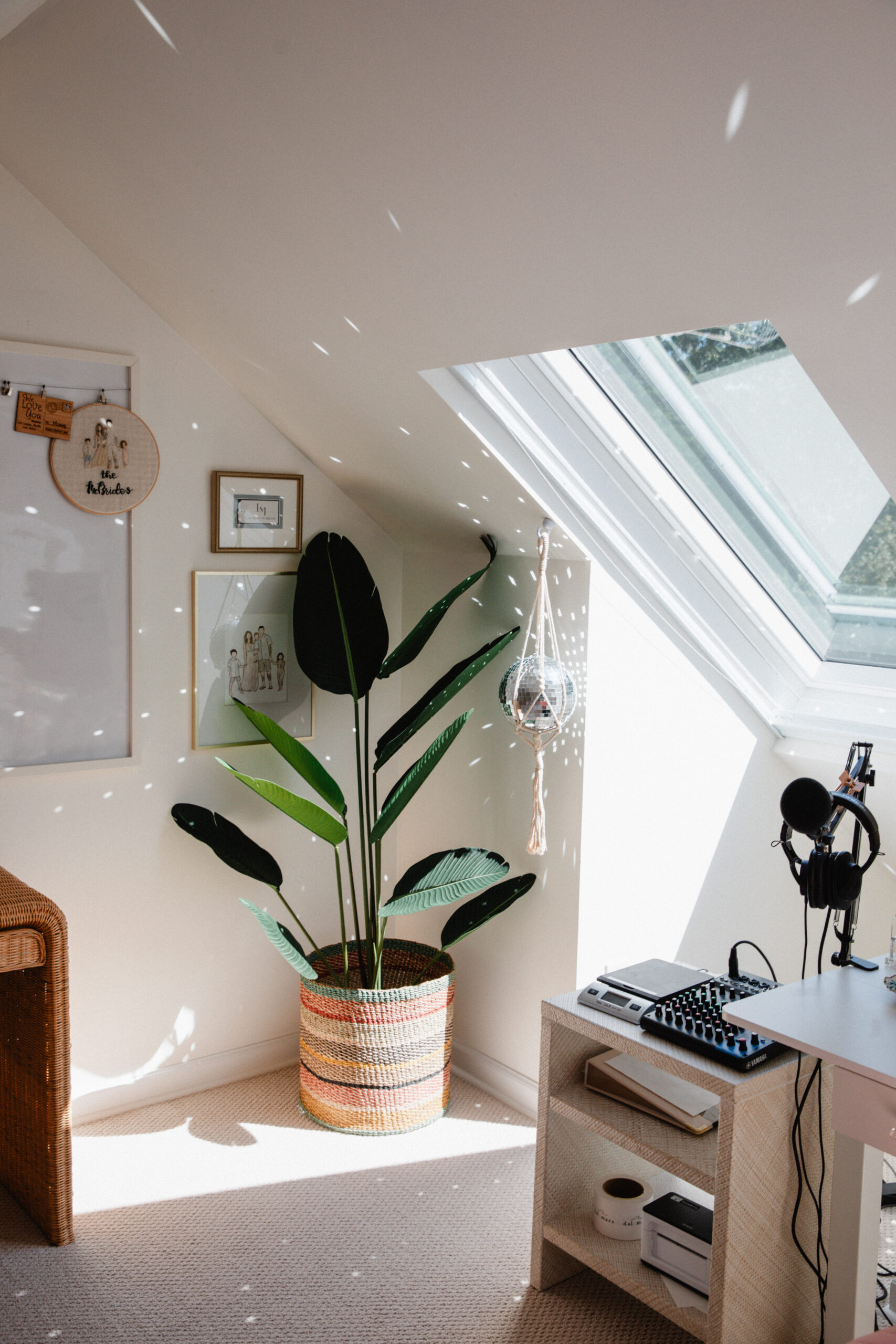 Another thing we added was this awesome swing chair! We customized it a bit by wrapping some rope around the bar – super simple, but it made a big difference. I bought it on Amazon for around $30, and then my husband hung it up with some rope. I absolutely adore the fringe – it just adds an extra touch of fun. It's just another cool spot to hang out and move around. I didn't want to be stuck sitting at my desk all day, so this swing is the perfect solution. It brings me so much joy!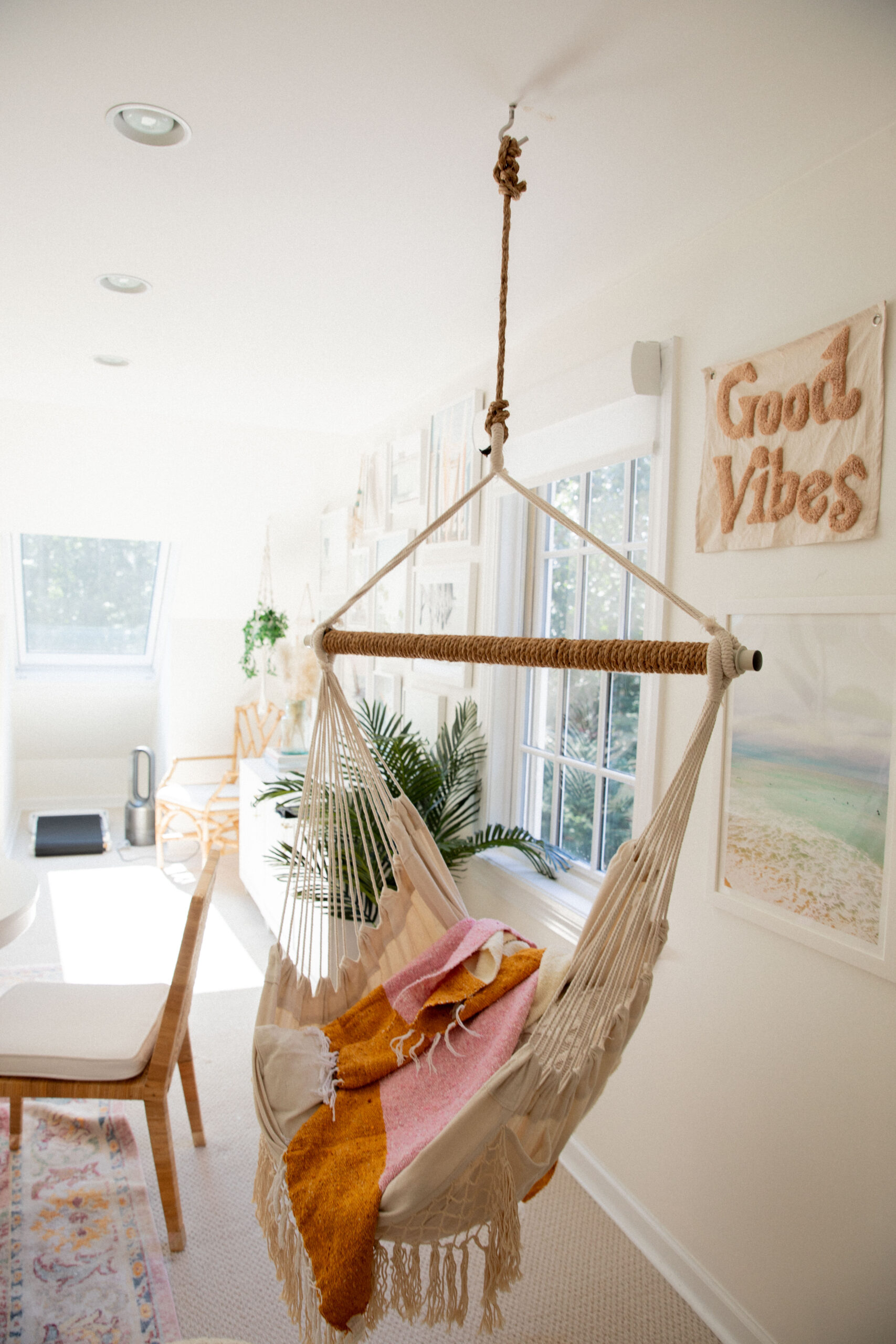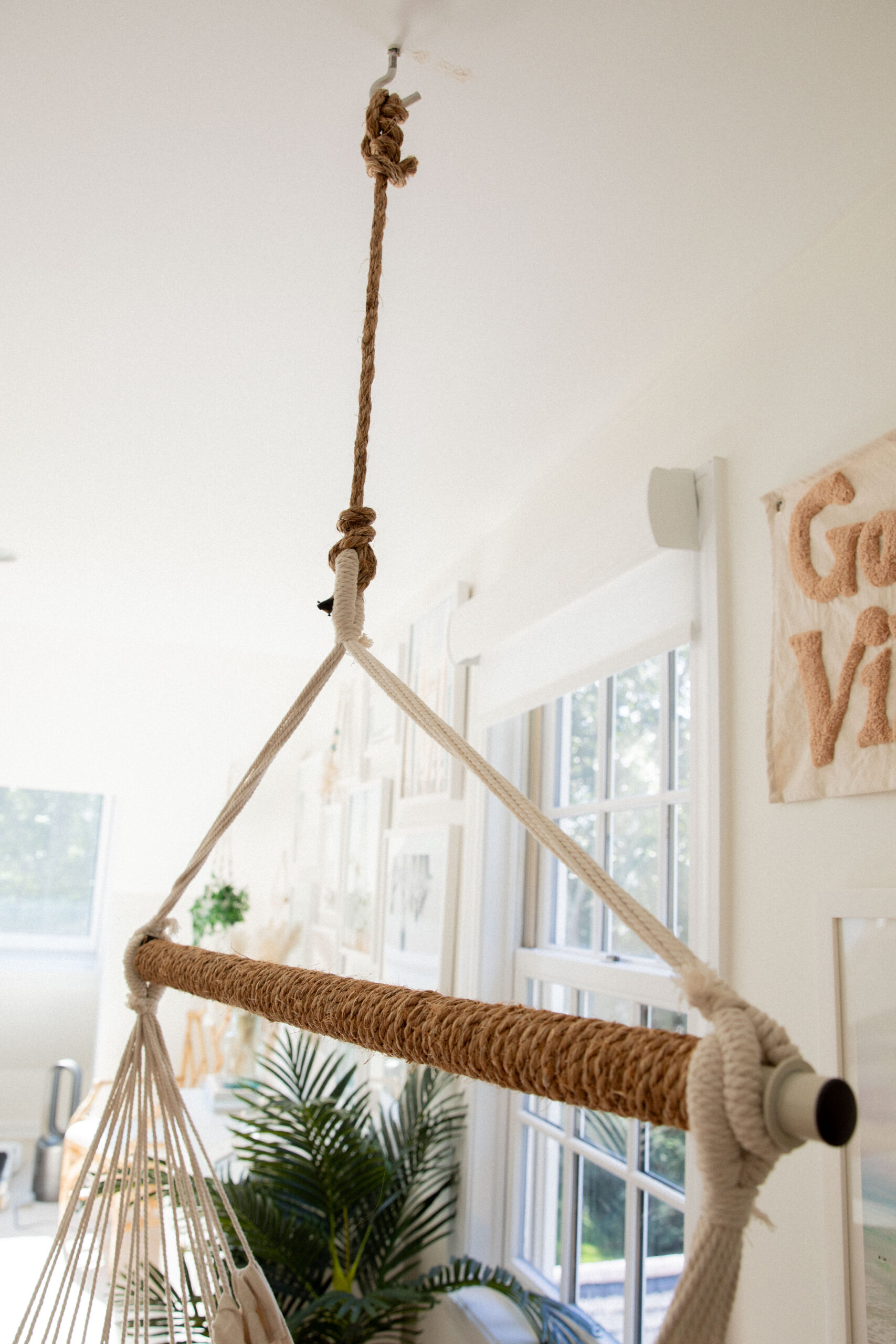 I've decked out my office with more gallery wall stuff, fake plants, and macramé plant hangers. Don't judge me for going the faux route; I can't risk killing real plants! Even during winter when nature outside is bare, my office will still be filled with greenery.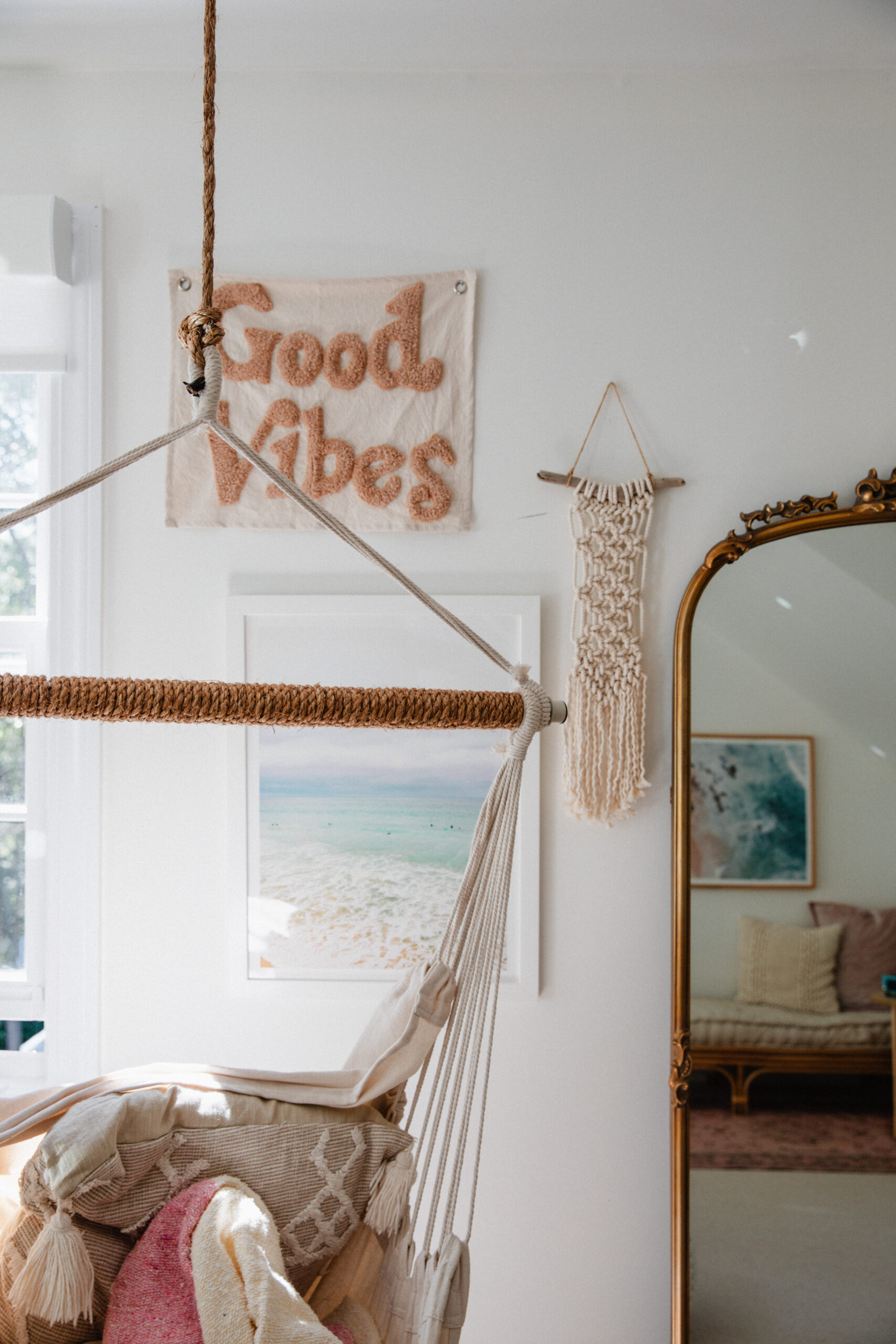 I scored an amazing rattan cabinet from HomeGoods for extra storage. And to set the mood, I added a diffuser and some beachy artwork. There are also these cute lights that I need to fix to make them stand out more. They're a Pottery Barn Teen find, and honestly, they're just too adorable to pass up!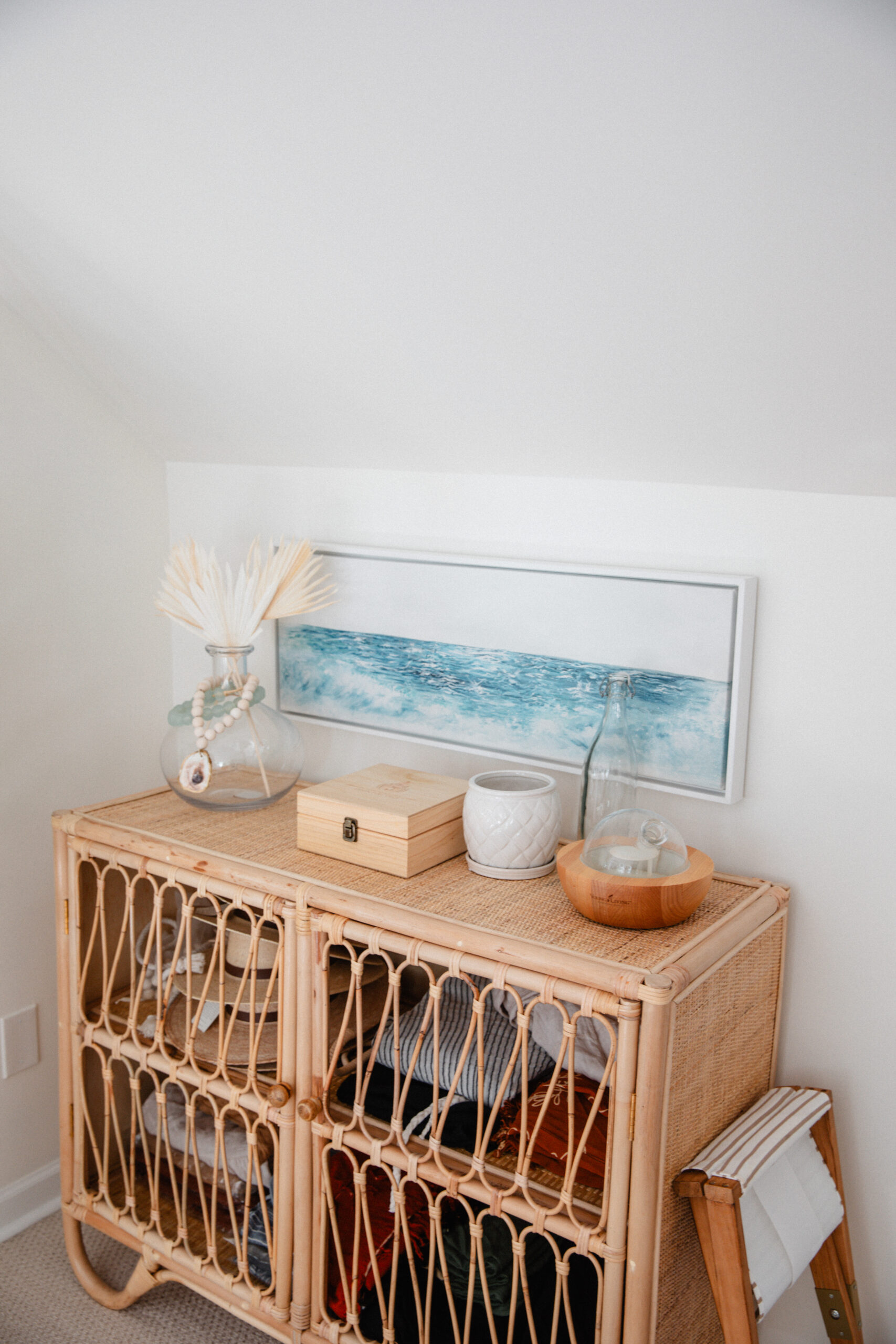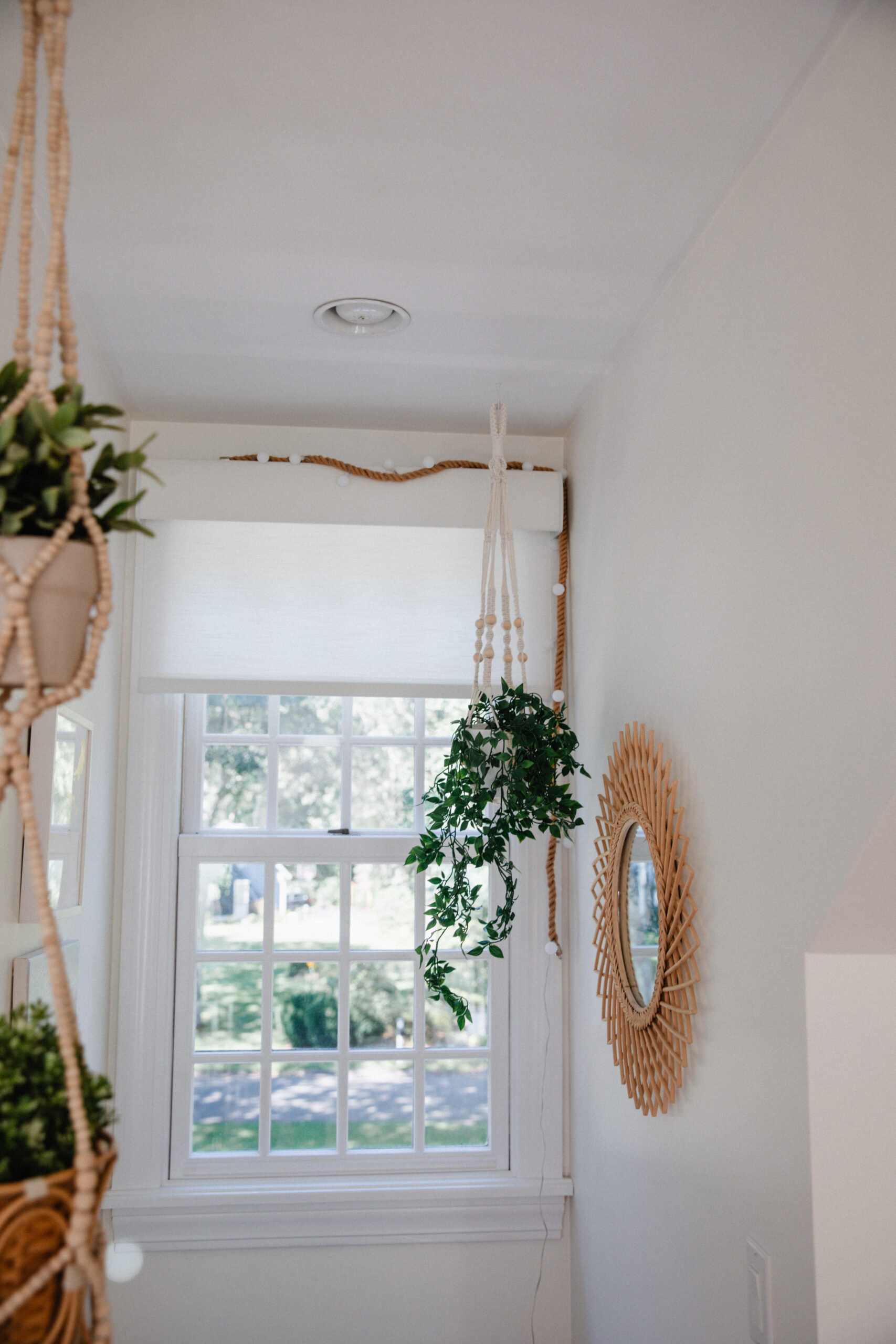 If I want to take a break from my desk, I have some comfy floor cushions and a cozy rug (here's a similar one) that used to be in my daughter's room. It's all about creating a relaxed and inviting atmosphere in this space!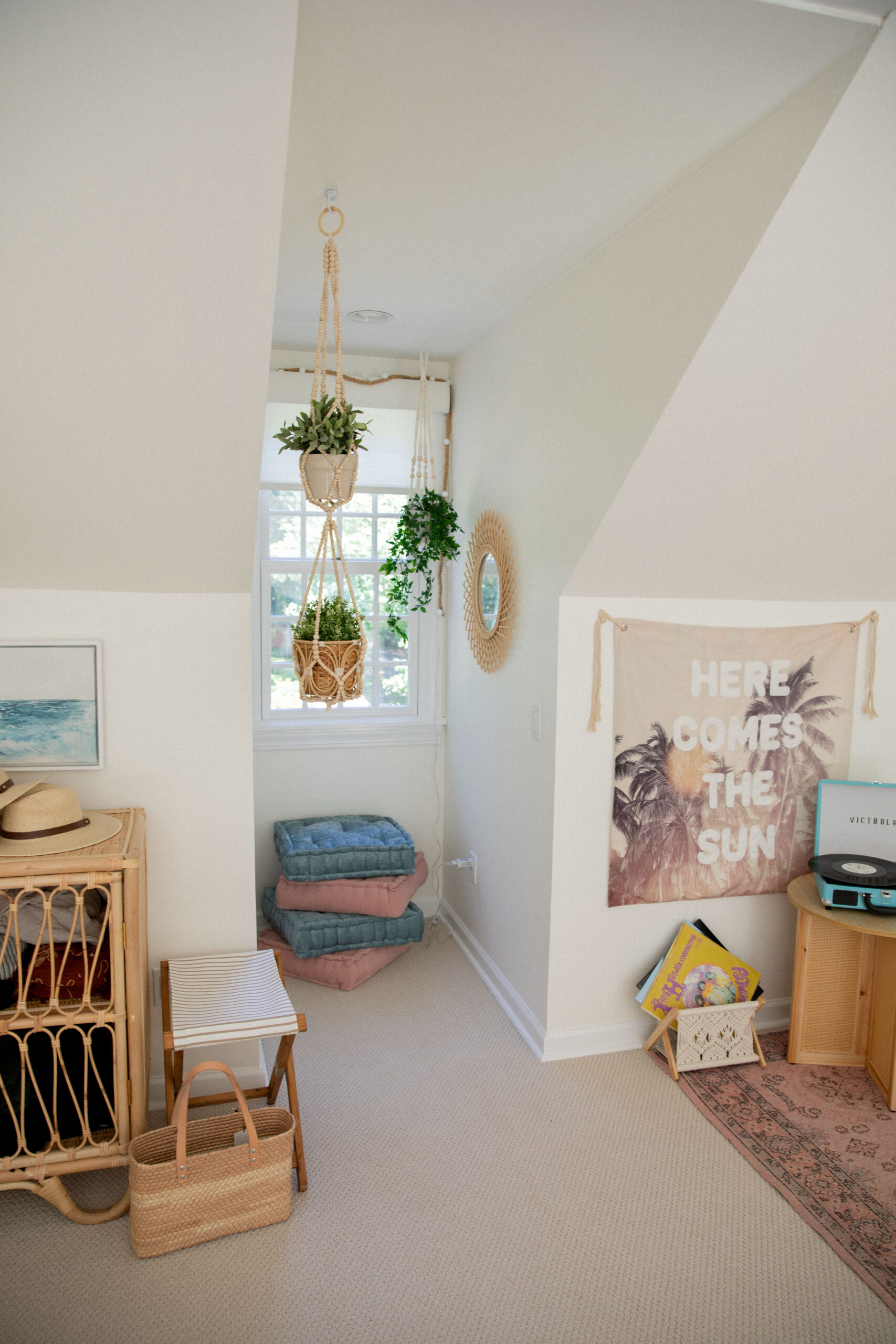 To add to the lounge area, I set up a side table with a vintage record player. It even has Bluetooth, so I can play my favorite tunes from my phone. And of course, I've got some vinyl records for that extra touch of nostalgia.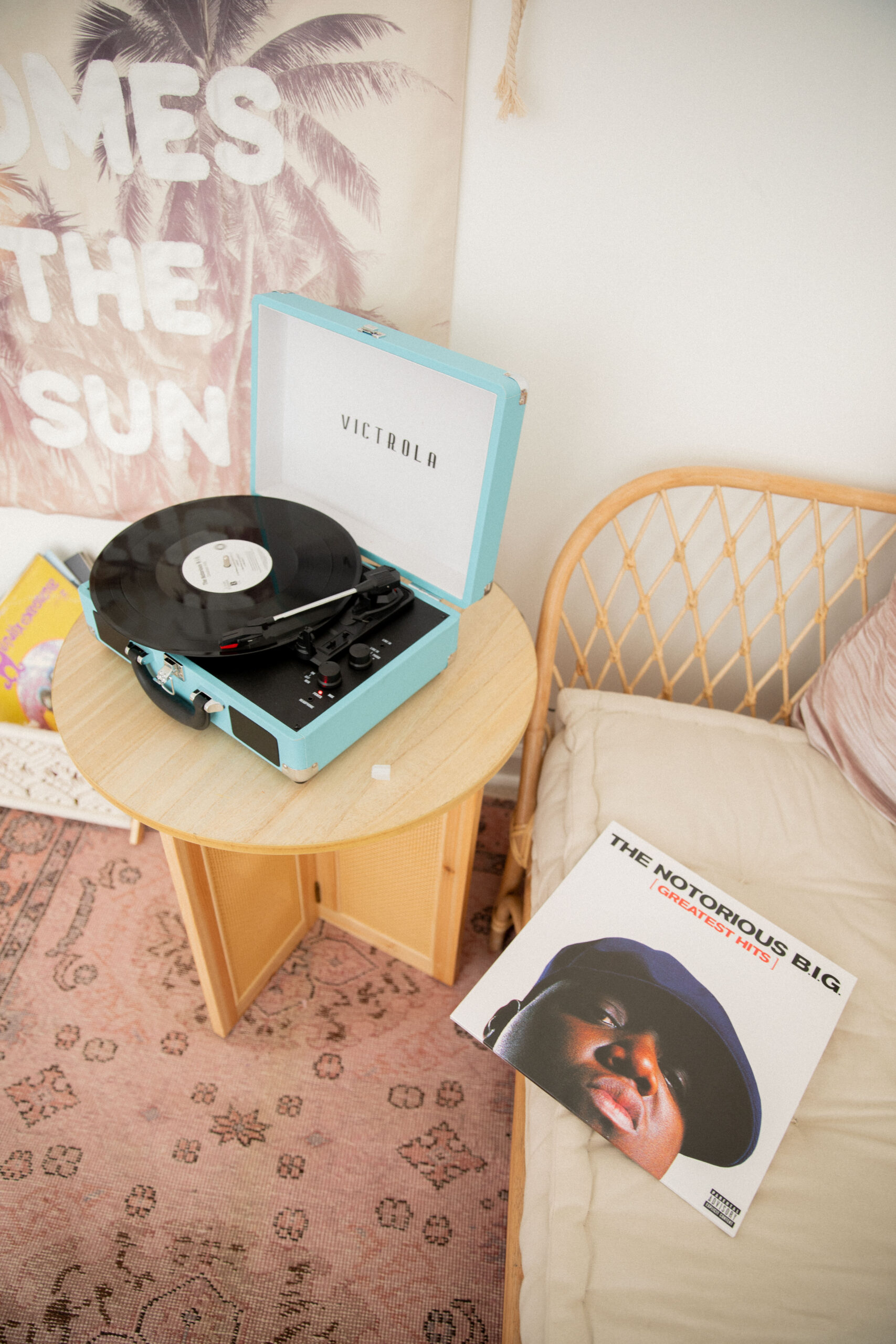 The tropical vibes in my office remind me of sunny days and keep me motivated. I've curated a collection of prints and artwork that perfectly capture the aesthetic I wanted for this space. One of my favorites is a print by Ingrid Beddoes, the colors of which inspired the entire office's color scheme.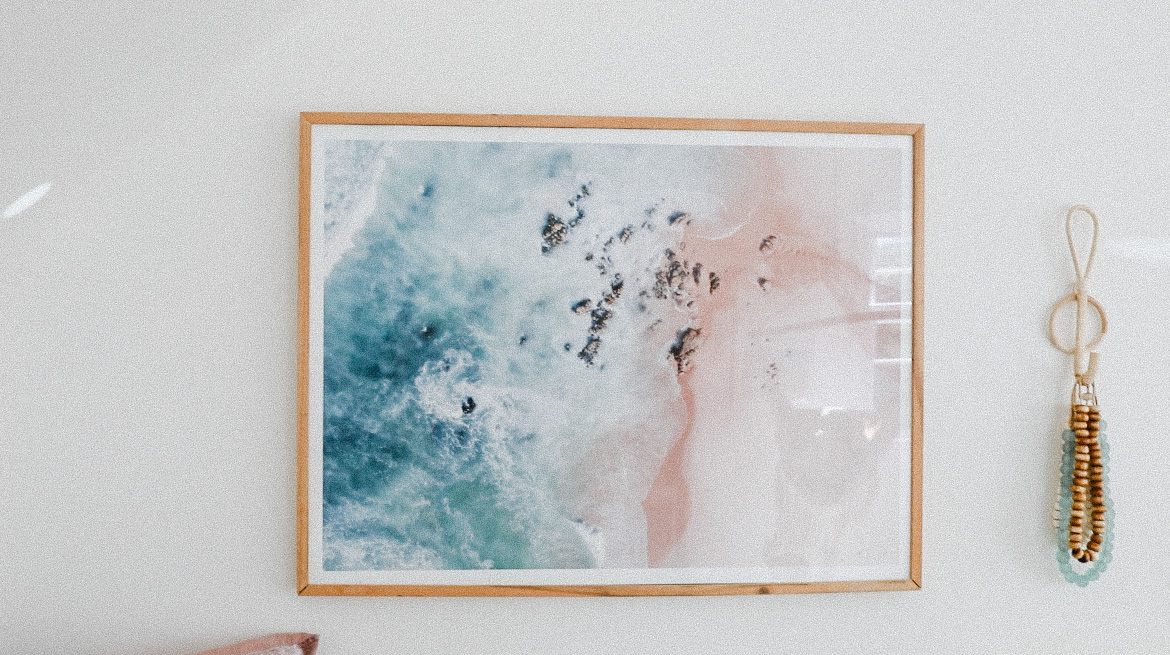 I couldn't be happier with how my office turned out. Now, it's a space where I not only work but also relax and enjoy my time. Whether I'm filming, having meetings, or just reading, my office is the place to be. And with a space heater during the winter, I can stay happy and cozy all year long! Fingers crossed!