If you've been watching my stories over on Instagram, you know I'm struggling this year with my oldest. His traditions are changing as his Christmas beliefs evolve with age (wink wink hint hint) so I want to make sure he feels extra special on the big day! BUT, it's so hard to shop for boys who feel too old for toys but at the end of the day are still kids. So, if you're tween is maturing and you're not sure what to buy him this year…keep reading (and don't worry, I didn't forget about the girls! keep scrolling for their guide). While it was a bit of a struggle, I think I've compiled a pretty great gift guide for 8-12 year olds!
For The Boys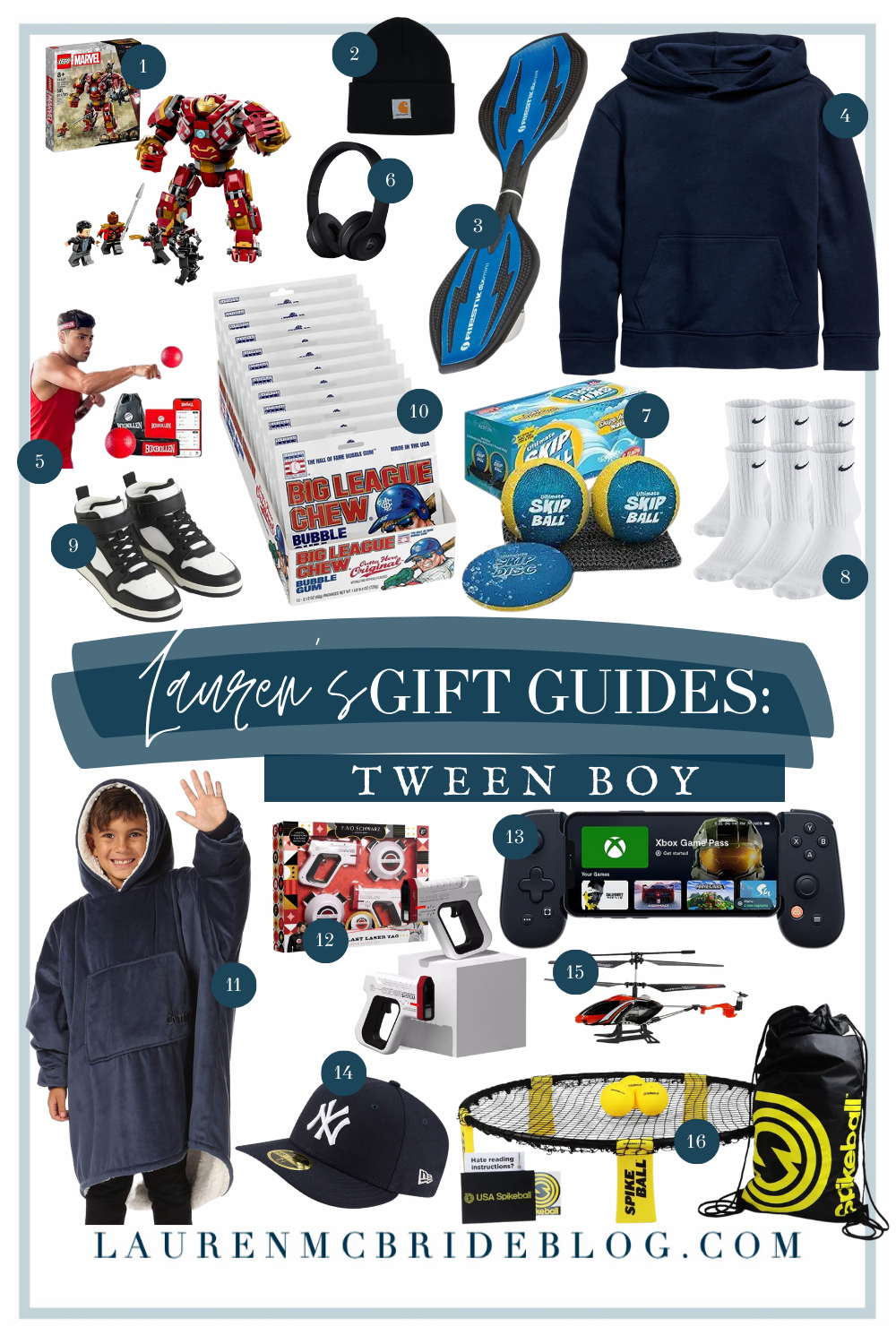 While they might be getting a little too old for Lego's, they're such a great Christmas gift as they're also an activity that will keep them busy for a little bit. I love this one because once built it's really cute room decor for a Marvel lover! Lego has a lot of character choices to choose from so browse for a character perfect for your tween!
Especially considering the cold weather we've been having this year, this is a great choice! Plus, this is a gift they can start using immediately, so they'll be excited to put it to good use!
These are SO much fun! Definitely take a little bit of practice (and you should definitely invest in some protective gear), but they're so much fun. If your tween already has a bike, but you still want to give them a fun outdoor toy, this is a great choice!
Like I've mentioned in other gift guides, I feel like the drawstrings on cozy clothes tend to show wear more than anything else. So, why not opt for a hoodie without the drawstrings?
This game is super fun and easy. Basically you hit the ball, like a paddle ball attached to your head 🤣, and the score is kept via the app! Be warned, it can get very competitive amongst the family, but is a really fun addition to game night.
These are the headphones that I have and I love them!! And luckily, I don't have to worry about him growing out of them so while this would be a "big" gift, he'll use them for years to come!
This game is so much fun and it's so small so it's easy to pack up and bring to the beach!
These socks are going to make it on all of my boy's gift guides 🤣 Can never go wrong!
These sneakers are super trendy without the name brand price tag! While they're growing so quickly, I'm happy to stick to the budget friendly version!
My son is a big baseball fan so I have that in mind with this gift! I know he'll love this, especially in the off season when he's missing baseball!
I LOVE my Comfy so I already know I'll be gifting one to all of my kids this year.
Something that's so frustrating about the Nerf blasters is all the parts! I feel like you're finding nerf darts in every crack and crevice of you home 🙄 This laser tag is a great idea! And, you don't have to worry (as much) about the mess!
This was on my teenage gift guide, so I'll just reiterate my sentiments here! These Backbone gaming controllers are REALLY cool. Basically, they allow users to play on otherwise immobile gaming platforms like Xbox and Playstation. The one drawback is that it does require a subscription based membership, so you'd either have to gift the membership or feel secure that the receiver would be able to continue it!
My son is a huge Yankees fan, so I know I want to get him some official merch. At this age, a hat seems like a best bet. It's adjustable so I'm hoping he can have it for years to come!
These are always a win! I love them because there's typically no set up time, so it's a great Christmas morning treat!
I think this is a great family gift for when the kids are getting a little bit older! I've seen Spikeball played before and it looks like a lot of fun, I'm excited to give it a try!
For The Girls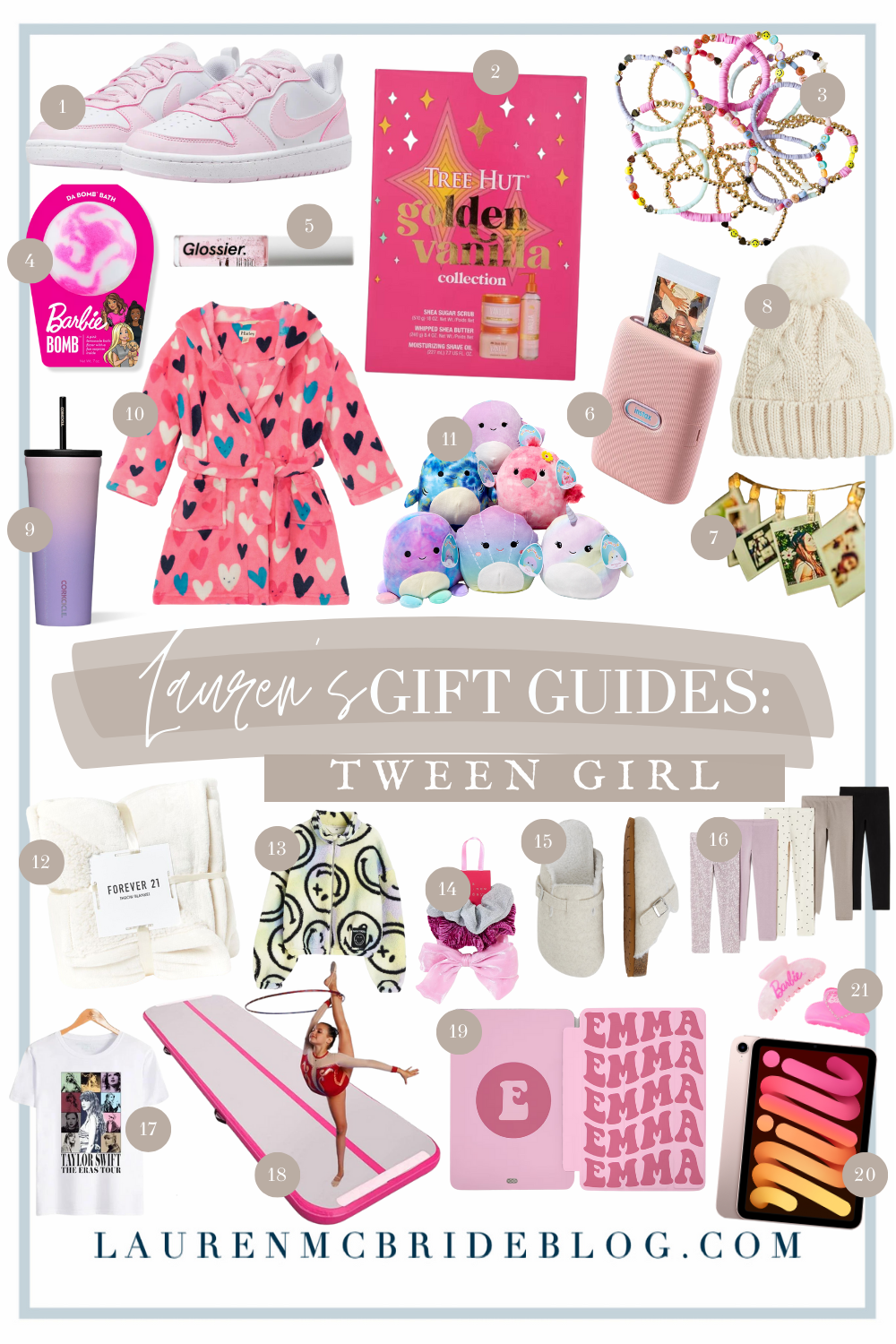 A nice new pair of sneakers is always such a fun Christmas morning treat! These sneakers are probably better for the older tween, but if her foot is growing too fast to justify this buy, here's a more budget friendly alternative.
You can never go wrong gifting some great smelling beauty products. Vanilla is a super popular scent, so I thought this one was a good find!
If your daughter is anything like mine, she's been bitten by the Taylor Swift bug. At her concerts, it's typical to exchange friendship bracelets, so getting a DIY kit is perfect for the Swiftie in your life.
Another craze this Summer was Barbie! This bath bomb is so cute and perfect for Barbie lovers!
While our girls are probably a little too young for makeup, a good lip gloss is such a fun starter makeup item!
I recently got my daughter a mini Instax Camera and she LOVES it! This printer looks super cute because you can make photos already taken on your phone into polaroids!
And…you need somewhere to display them! This photo hanger is made of LED lights, so it's super cute!
This is a super cute Winter accessory that any girl would be happy to receive!
I've shared this tumbler on my stories before! This is the water bottle my daughter uses at her various dance and sporting events and she loves it!
As I've shared on stories in regards to me, I looove a good robe. It's no surprise that my daughter's the same! I've already ordered her a Comfy Jr, so I'm sure she'd love this!
While stuffies are the bane of my existence (seriously they're taking over my house 🤣), I know they make my kids happy, so I'm sure I'll be gifting several this year!
A fuzzy throw is a Winter staple. Love this one from Forever 21, and it's under $15!
Is this not the cutest?? I know my daughter would LOVE it.
You can never have too many scrunchies! And, these are $5! Perfect stocking stuffer!
The Birkenstock Boston Clogs were a HUGE hit last Christmas, and I'm sure they will be this year too. But, I just can't justify the expense while feet are still growing, so I love this alternative from Gap – under $20!
I love these Leggings packs because one gift becomes 5! Plus, these are such cute patterns!
Like I mentioned, my daughter is a big Taylor Swift girl, so I'll definitely be picking up some Swiftie merch. Listen to what your kids are into and cater to that – they're really appreciate the thoughtfulness!
My daughter has this and she LOVES it! She's already trying to convince me to make her a gymnastics studio in our house 🤣 Luckily, we don't need to make a whole studio since this mat is inflatable! It makes it super easy to store!
If your kids are like mine, as they get into the middle school years, the ask for a phone becomes more frequent. So far, I'm still holding my ground that I'm not gifting phones at this age. But, a mini iPad is a great alternative! It still gives them some independence, but it's a lot simpler to monitor. And I love this custom case! Make it harder to lose 🤣
Fun hair clips (and hair accessories in general) are such a great stocking stuffer! And, these are Barbie themed so they have an extra layer of fun!
Tweens can be really tough to shop for (seems like all kids are 🤣). But I hope this was helpful! We're all in this together 🤣 Be sure to check out my other holiday gift guides, and have a Happy Holiday ❤️