Here's my gift guide for book lovers! This might be a little specific to the genre of books that I enjoy, but can be easily adapted depending on what your book lover likes to read!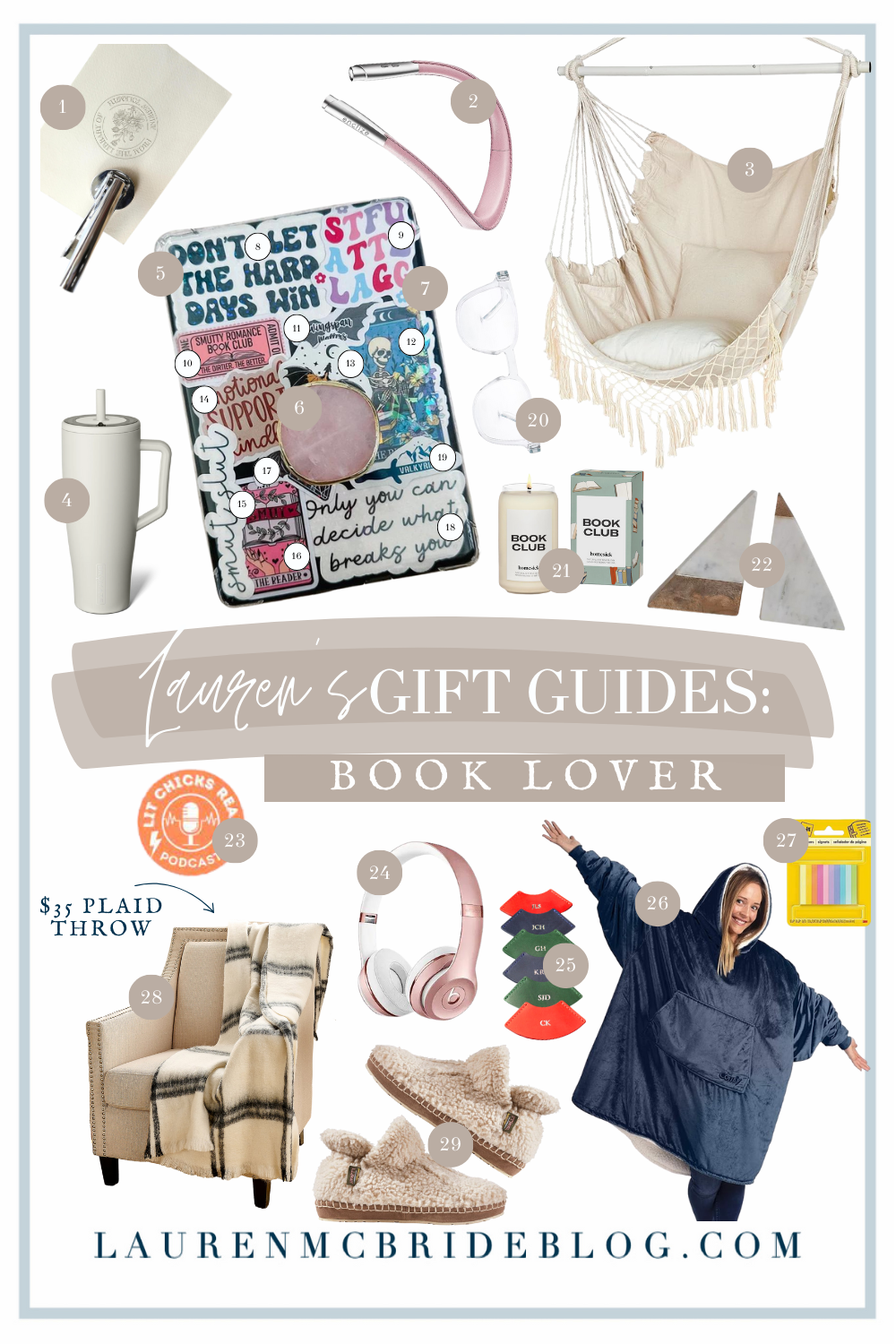 I've recommended this gift for a few years now! It's such a special gift to receive and perfect for a book lover who's often lending out books to friends!
This reading light seems great as it directs the light ahead of you as oppose to overhead, as to not bother anyone trying to sleep!
This hanging chair is featured in a lot Lit Chicks of my reels on ! It's a new addition to my home office and a great price!
This tumbler is on every single gift guide! It's the best because of the straw & no spill mechanism!
I LOVE my Kindle! I've shared it so many times, and I love this clear case because I can customize it with stickers! Again, these stickers are pretty specific to the books that I like to read, so make sure to check and see what books your gift recipient likes! Linking each sticker below:
If your reader has a kindle, these are a great addition!
Haven't gotten a chance to snag this candle yet, but it looks super cute!
These bookends are from my QVC line, and are great! They're marble & wood and have a nice weight to them.
For those who don't know, along with our Podcast, Sheryl and I host a virtual book club on Patreon! If your book lover is into the same books as us, gift them a subscription!
Again – these headphones are winding up in every single gift guide 🤣 Don't forget, Beats has two version of these, so make sure you check out both.
These bookmarks look so cute!! And they're custom for an extra thoughtful touch!
I basically live in my Comfy once the temp starts to drop. It's the perfect reading buddy 🤣
I love using these when I read, especially prepping for podcasts and book club meetings! Lots of quotes stick with me, and I want to make sure I can refer back to them quickly!
This is another item from my QVC line. It's SO comfortable and on sale for $35!
This is another Winter staple for me, I wear these shoes EVERY day around the house.
Be sure to check out my other holiday gift guides, and have a Happy Holiday ❤️