As you guys know, I'm an avid gym goer (I just finished my home gym!). Between equipment, supplements and attire; here's the best gift guide for the fitness lover in YOUR life!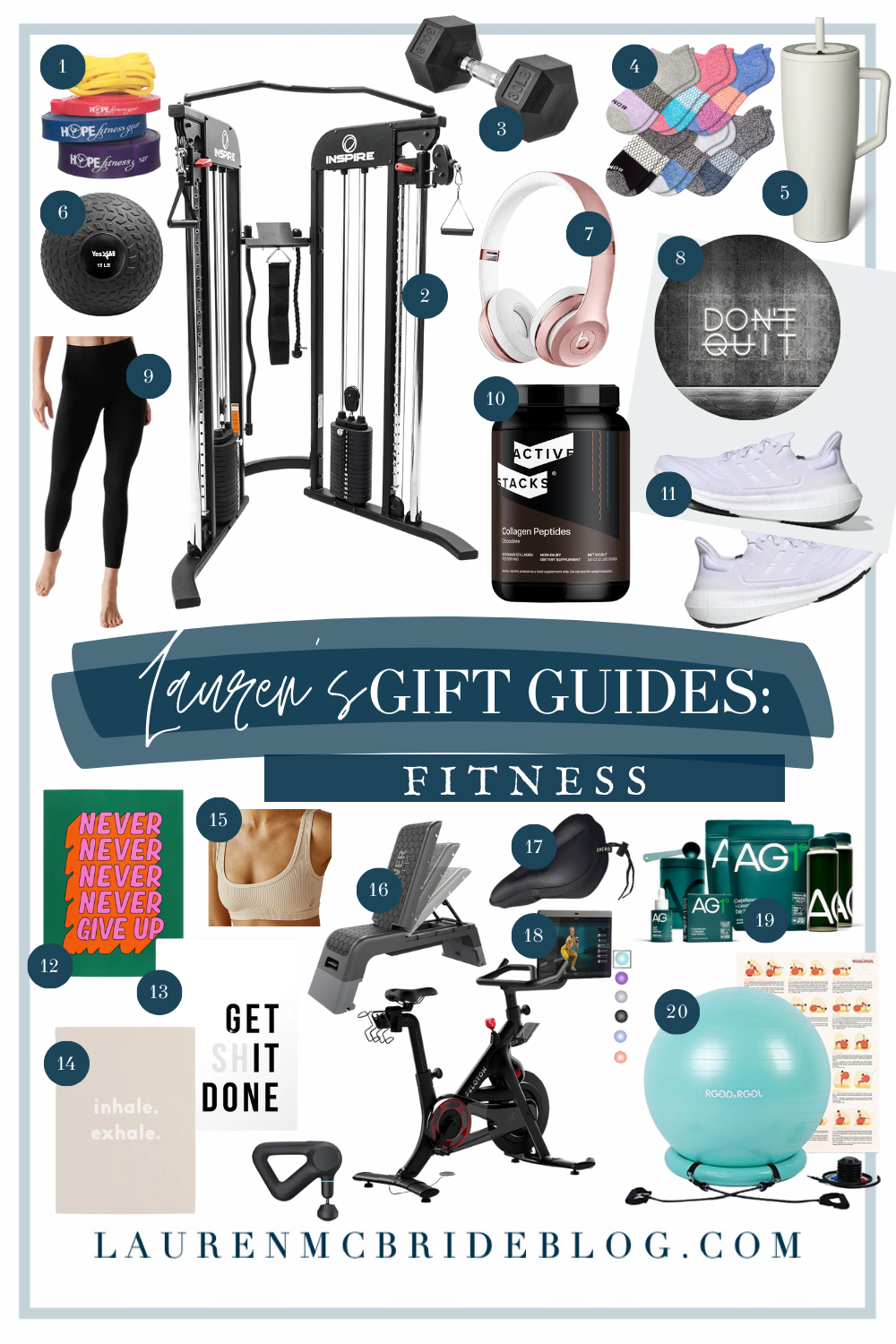 These fitness bands have truly changed the game for me & and my at home workouts! I use them often and couldn't do what I do without them!
Use code 'LAUREN' at checkout for a discount!
This might go without saying, but this workout machine has been a COMPLETE game changer in my at home workouts. I truly have no need for a traditional gym with this machine! While it may be an investment, my husband or I use it nearly everyday, so I'd say it's worth it.
These are the dumbells we use and I love them!
These socks are meant to be worn during workout and you can really feel the difference! Such a great gift for a runner/ someone doing high impact workouts!
Pretty sure this tumbler is going to be on every single gift guide 🤣 And for good reason!
These are the slam balls we use in our home gym and we love them!
Again – these headphones are winding up in every single gift guide 🤣 Don't forget, Beats has two version of these, so make sure you check out both.
My home gym is covered in motivational quotes/posters (check out the tour here). I love this one and really think it elevates the space!
These are hands down my favorite workout leggings. Can't sing enough praises!
This is the bestProtein Hot Chocolate protein powder out there! I use it everyday, and especially love it in my !
Use code 'LAUREN10' at checkout for 10% off!
These are my favorite sneakers to workout in! My husband and I both own a pair, and I own multiple colors. Love. Them.
12, 13, 14: Motivational Posters
Like I mentioned, my home gym is covered in motivational quotes/posters. These are just a few, check out the full list here.
I love this sports bra! If you're close enough with your gift recipient to know what bra size she wears (and what fit she likes when working out) this is a great option!
This fitness deck is fantastic and adjustable!
Peloton will come as no surprise as I talk about it often on IG stories! Especially because we workout at home, it's great to have the option to take a class with an instructor!
I've been using AG1 for years and can't sing enough praises for them!
Shop from my link and save 10%!
Again – this is an item we have in our home gym and use very frequently! Highly recommend!
Be sure to check out my other holiday gift guides, and have a Happy Holiday ❤️