Ok one thing about me…I'm. Always. Cold. No matter what I do I'm always freezing! So I think I may be expertly qualified to give you the best Gift Guide this year for the friend/wife/mom/sister/whoever who's always freezing🤣!! There are some exclusive discount codes in this guide, so make sure to check each item for specifics!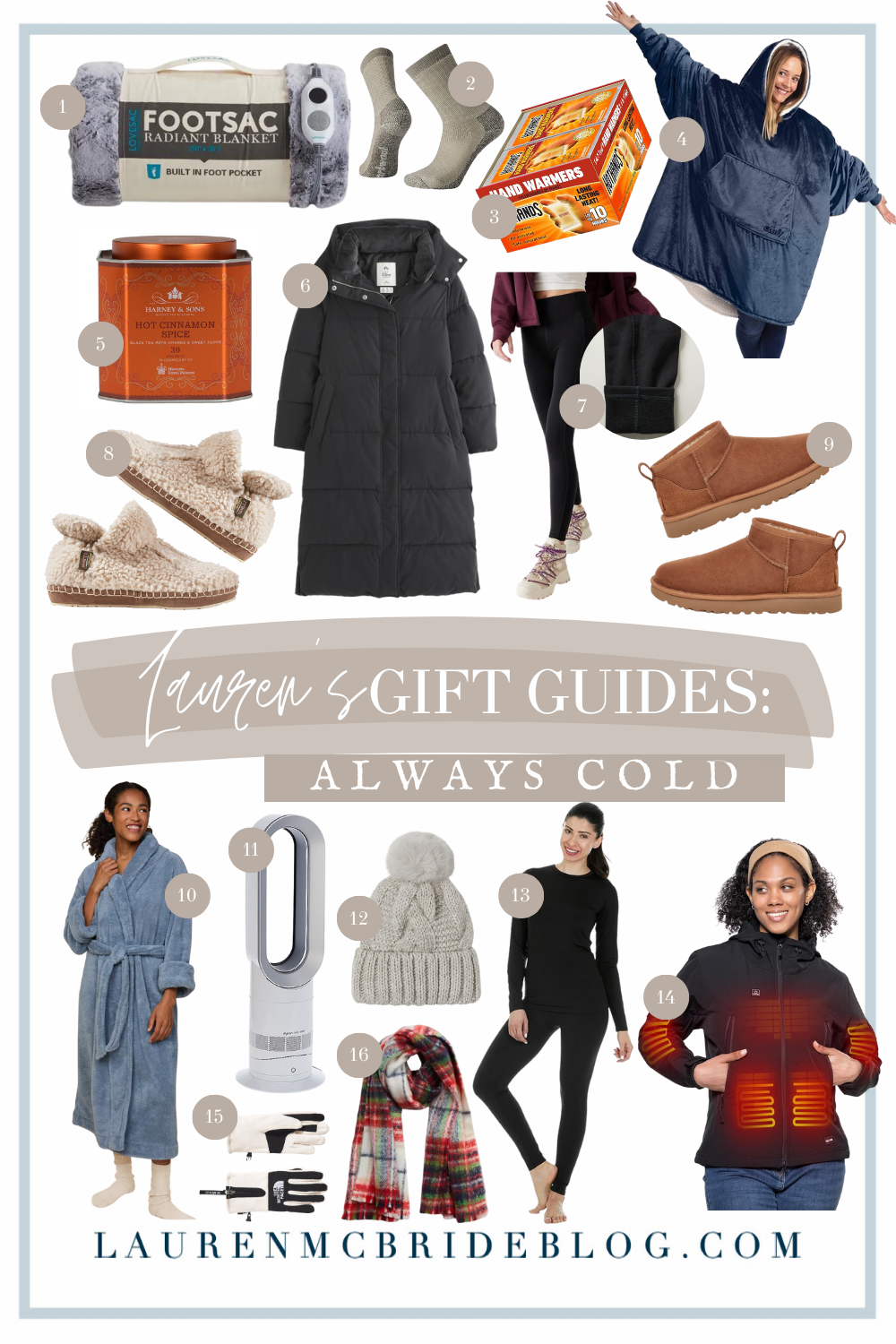 I love this heated blanket! It's the best because it has a little pocket specifically for your feet.
These socks are the best to stay bundled up!
These hand warmers are perfect in a pinch and super easy to carry with you all the time. I also like them because there's no need to worry about charging anything or battery life…just shake and go!
The Comfy is one of my top recommendations this year! It's a wearable blanket PERFECT for all of your warm blooded loved ones.
This is my favorite tea brand! I love their hot cinnamon tea because I really love anything cinnamon, but they have SO many options if your cold friend isn't a cinnamon fan!
I just bought this coat for the second time this past weekend! It's perfect for sports games or Thanksgiving parade – really any extended time outside calls for this coat!
As you may know, the Salutation Stash Leggings from Athleta are my hands down favorite pair of workout leggings. But, in the Winter months I do love to lounge in their fleece lined Altitude Stash Leggings!
This is THE Winter staple for me, I wear these shoes everyday around the house.
Even though I swear by my LL Bean slippers, I don't wear them outside. That's what my Uggs are for! If you see me outside in the cooler months, chances are I'm wearing these.
I mentioned this robe in my IG story a few weeks ago because it's the perfect gift for any homebody who's prone to a chill! I love the texture and know I'll have this on come Christmas morning!
Use code MCBRIDE15 for 15% off your order!/ Free shipping on orders $75+
There are few things I rely on so frequently as my Dyson Space Heater. I'm using it right now as I write this (and more than likely at the time that you're reading this too 🤣)! It really helps to quickly warm up my space.
This is a great cable knit hat at an affordable price!
I'm planning on getting a second pair of thermals this Winter but in White – that's how often I wear these under my clothes! Huge game changer when it comes to layering.
I haven't tried this heated jacket yet, but I've heard great things! Might have to ask for it myself this year (hint hint Pat).
These North Face gloves are no joke. Not only do they keep your hands warm (& dry!) but they also have pads built into the fingers so that you can use your phone!
I just bought this blanket scarf last week and I'm LIVING in it. Between this and my Comfy I'm always wearing a blanket 🤣
Be sure to check out my other holiday gift guides, and have a Happy Holiday ❤️