Here's my self-care/beauty/wellness/skin care/everything-like-that gift guide! Obviously self care looks different for everyone (and mine expands past these things…reading and fitness play a big part too) but I wanted to do a guide that was a little all encompassing for these things and figured self care was the best way to categorize! There are some exclusive discount codes in this guide, so make sure to check each item for specifics!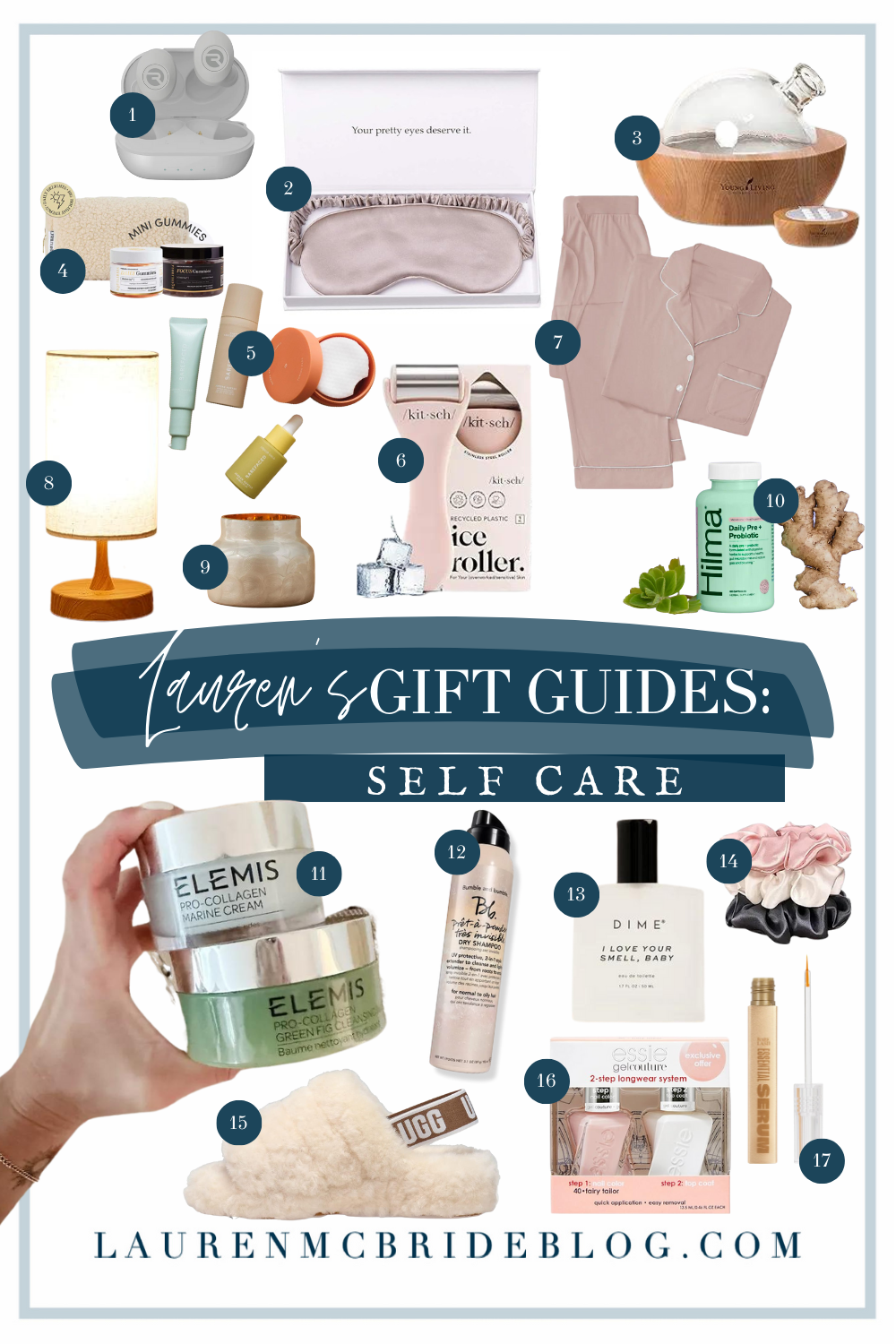 These are actually per my husband's recommendation! He's always listening to a podcast and always on these headphones!
These look so comfortable! I don't use them but have heard great things!
This is the oil diffuser I have in my home office! This Winter I made it a goal to bring happiness to my office and love to use this to bring beachy aromas to my CT based office!
I've talked about this brand a lot on my Instagram (see here) and I LOVE them. I really can't stress enough how much these gummies help me with my anxiety throughout the day. Highly highly recommend.
Use code 'laurmcbrideblog' at checkout for a discount!
I love my Barefaced products soo much (check out my skin care routine here). While the products are more high budget than others, I really see such a difference in my skin!
Use code 'LAURENM10' at checkout for 10% off!
I don't use these, but I've seen great things about them online!
These PJs are SO comfortable they're literally like butter. So so cozy, perfect for a self care night.
Along with the oil diffuser, I have this "happy light" in my home office! It's supposed to combat SAD (Seasonal Affective Disorder) and I'm excited to put it to good use this season!
These candles are so popular & for good reason! Definitely will be picking one up this season!
I talk about my Hilma supplements frequently on my IG! As you guys (might) know, I'm dairy & gluten free because of my sensitive stomach. Even with taking those precautions, I still face some ~stomach~ problems if you catch my drift 🤣 Hilma's Gas & Bloat Relief is a life saver!
Use code LAUR20 for a discount at checkout!
All of my Elemis favorites are listed at the link above! The best!
This dry shampoo is my favorite! If you follow me on IG you know I love this one above all else!
Dime perfume are great for sensitive skin! And they smell sooo good!
Use code 'mcbride20' for 20% off!
I use these silk scrunchies as part of my heatless curls routine!
These Ugg slippers are so comfortable! They're open toe so I don't wear them all winter, but I do love them when weather permits (i.e. fall/spring).
An at home gel set is the best for moms on the go! My youngest just went off to full day school, so I've started going out for my manicures! But before that – this was a lifesaver (see here)!
This lash serum is SUCH a game changer. I've been using it for a while now and see such a difference in my lashes.
Use code LAUREN at checkout for a discount!
Be sure to check out my other holiday gift guides, and have a Happy Holiday ❤️