While I included small businesses in all of my gift guides, I wanted to make one that was exclusively for shopping small! All of these brands were recommended to me via IG, and their products look awesome! Will definitely be looking into picking up some things up from them during my holiday shopping! There are some exclusive discount codes in this guide, so make sure to check each item for specifics!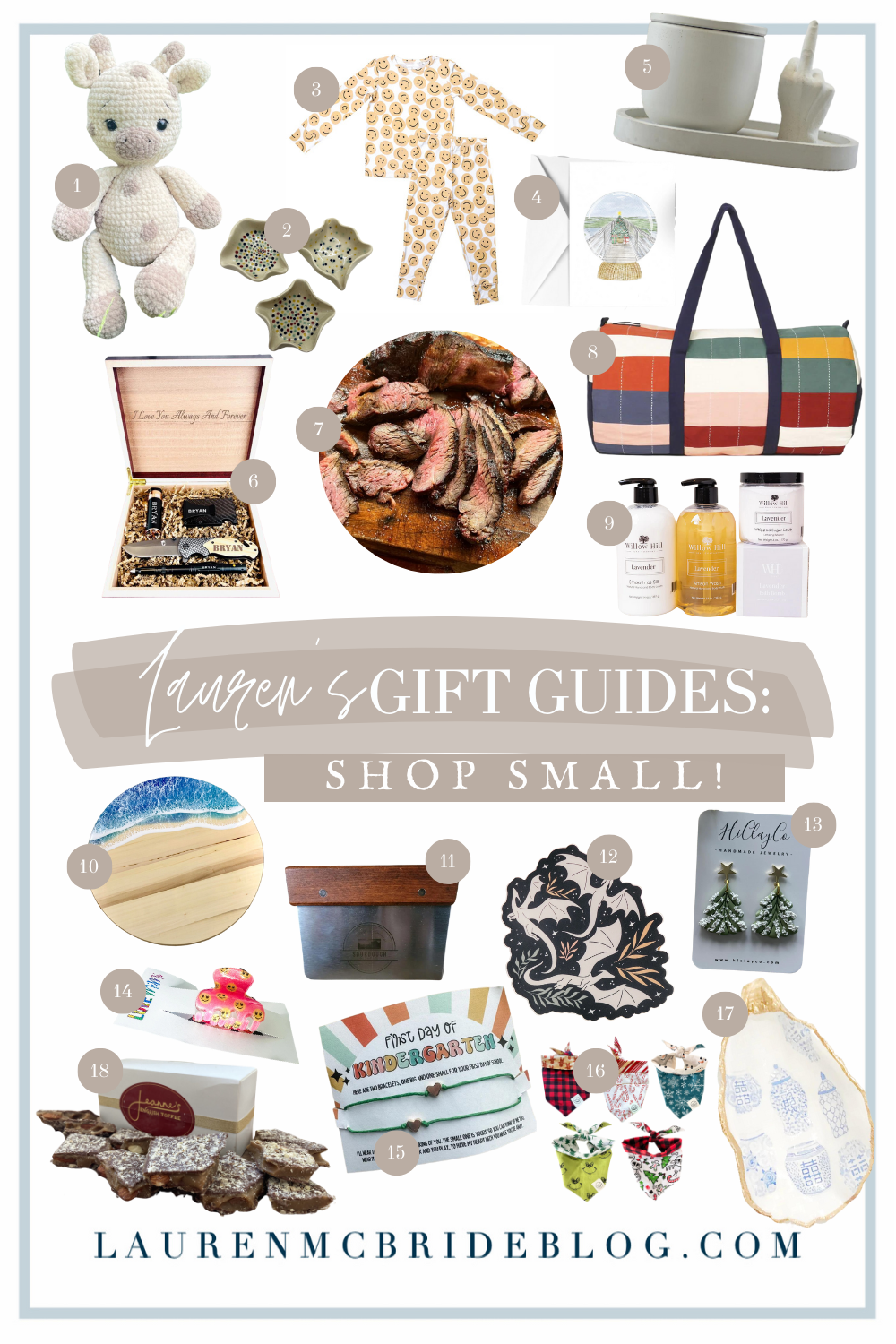 These hand crocheted stuffed animals are SO cute! My kids absolutely love stuffed toys so I'll definitely be browsing for one!
This is a hand made pottery shop. Every single item is unique as each is carefully handmade! I love these ring/trinket dishes! Such a unique find.
This is a kids pajama brand that has the absolute cutest prints! This would be such a fun gift for a new mom, or a fun matching gift to give to your kids!
These water color paintings are absolutely gorgeous! These are especially great if your gift recipient loves traveling in New England. Lots of their products feature popular New England spots!
Use code LAUREN10 for 10% off all purchases!
I can't get enough of this tray 🤣 Talk about unique storage 🤣 This shop also has a wide range of candles, would be the perfect gift set!
Use code BEAUTY10 for 10% off!
I've been recommending these guys for a few years now! They're a CT based men's gift brand that specialized in customizations. We love them, I'll be picking up some of Pat's gifts from here this year!
Use code MCBRIDE10 for 10% off!
As you may know, we started buying our beef in bulk last year and have been loving it. This farm in North Dakota offers that and more! I'm excited to check them out!
This weekender is so unique and would make for a great gift for a travel lover or a teen that frequents a sleep away camp!
Use code HOLIDAYFREESHIPPING for free shipping on orders $40+
I thought the selection of gift sets here was great as well as their variety of scents. Perfect for an at home spa day!
This Etsy shop (also CT based!) specializes in coastal/oceanic artwork. You guys probably know by now that the beach is my happy place and I love surrounding myself with beachy/coastal pieces. I'm excited to check her shop out!
Use code LAUREN2023 for 10% off on orders $50+
I've shared this shop before and I'm SO excited to have found them! They're a small business based in Minnesota that specializes in sour dough! It's on my 2024 bucket list to try out their gluten free starter, and maybe even check out a class!
Use code LAUREN15 for $15 off an online course!
You all know I looove to read and these stickers are EVERYTHING! My kindle is already covered in stickers from my favorite books, I might have to find a new place for stickers once I pick up some of these 🤣
Use code LAUREN10 for 10% off!
Are these earrings not the cutest?? I'm obsessed! Would be SUCH a fun gift that the receiver can then wear on Christmas day! Will definitely have to grab something fun for my daughter, and maybe for me as well!!
And these accessories are just as cute!!! My daughter would be OBSESSED (are we seeing a trend 🤣). These will for sure be making their way into her stocking.
These bracelets are meant to be worn by you and your little one on their first day of school so that you're always connected 😭 My heart 😭 I love these and they would be the BEST gift for a little one or a new mom!
Use code LAUREN30 for 30% off your order!
I saw this shop on Tik Tok and absolutely fell in love! I'm not sure if we'd be able to get my rotty to wear one, but I'd love to give it a try. Such a cute gift for four legged family ❤️ They have a Black Friday sale coming up, 50% off from 11/22-11/26!
Another CT based store! These hand painted oyster shells are absolutely stunning. Truly functional art to the highest degree. They're so timeless and elegant, I'd love to gift one to a jewlery lover for rings or bracelets!
This homemade toffee looks SO good, I wish I could eat it! But I know that plenty of my friends would absolutely love to receive this gift.
Shopping small is so important, especially around the holidays! Make sure to keep local shops in mind, whether one listed here or one local to your area, when doing your shopping this season! Be sure to check out my other holiday gift guides, and have a Happy Holiday ❤️