Sometimes the hardest person to shop for…is yourself. Whether you're doing your own shopping this year or you're stumped on building a wish list…I've compiled my TOP purchases this year for the ULTIMATE 2023 Gift Guide For Her!
PS: If you're looking for more specific guides based on special interest/hobbies, I'll link them here!
FITNESS | BOOK LOVER | SELF CARE | ALWAYS COLD
For Her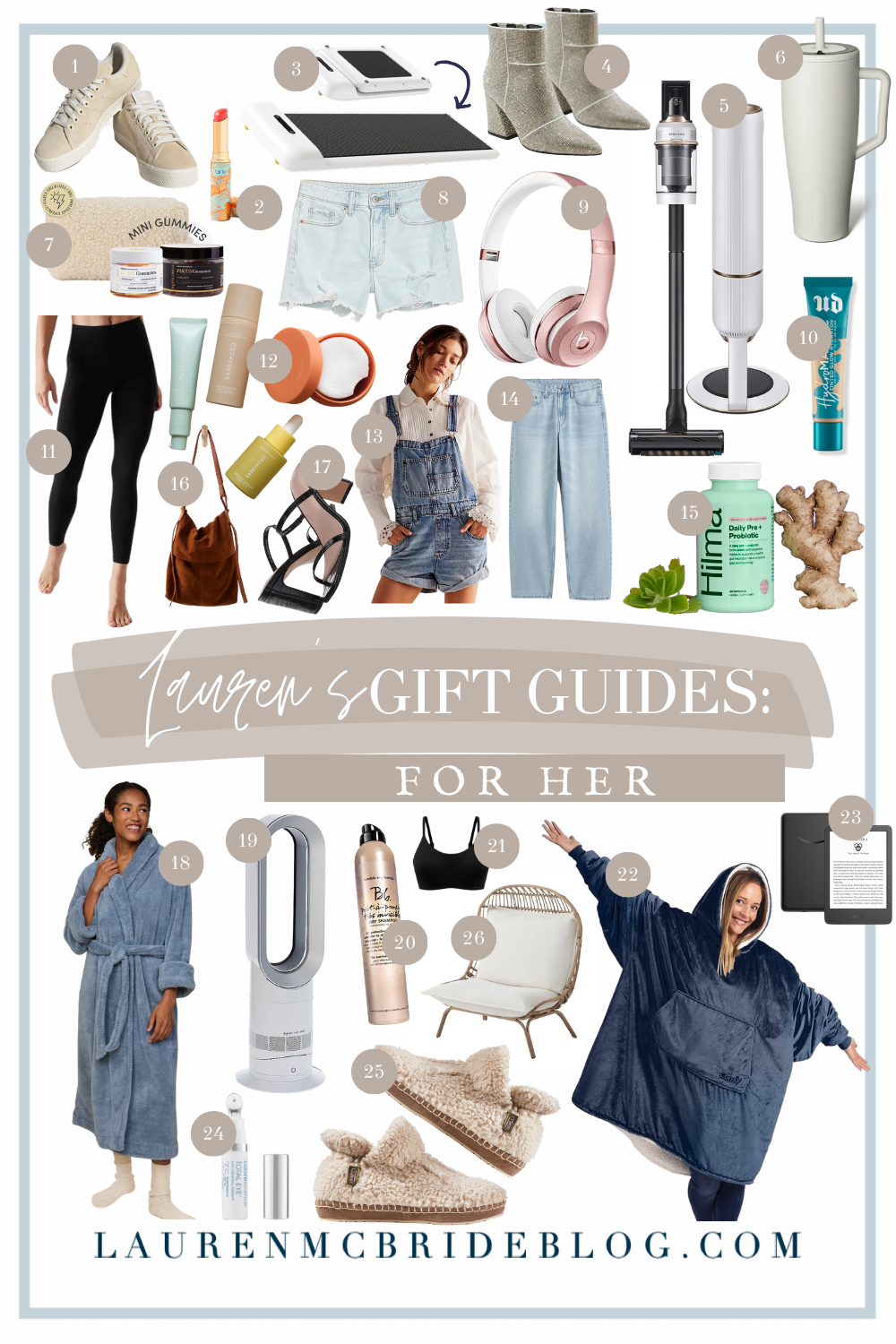 These are new sneakers I just got that I'm loving! They neutral but also very trendy so they're the perfect everyday shoe.
You guys know that this my absolute go to lip product! I have SO many of these – my car, my desk, my purse…everywhere 🤣.
This is a recent addition to my office in an effort to beat my seasonal depression. A little too soon to tell if it's working, but it's definitely working at helping me get my steps in! And the collapsable aspect is sooo convenient (check out my demo here).
I've been talking about these shoes on my IG for the past few weeks and you guys agree – they're the BEST! This would be a great gift to receive on Christmas morning that the recipient can then use that same day! Or even for NYE!
Guys this vacuum is THE BEST! Trust me…the best. Check out my IG highlight of it here!
Pretty sure this tumbler is going to be on every single gift guide 🤣 And for good reason!
I've talked about this brand a lot on my Instagram (see here) and I LOVE them. I really can't stress enough how much these gummies help me with my anxiety throughout the day. Highly highly recommend.
Use code 'laurmcbrideblog' at checkout for a discount!
These shorts were a Summer find that you guys loved just as much as me! If you're gift receiver is a warm weather lover like me, they'll love these shorts!
Again – these headphones are winding up in every single gift guide 🤣 Don't forget, Beats has two version of these, so make sure you check out both.
This is one of my go-to makeup products for everyday. It's a tinted moisturizer that really moisturizes. Such a great addition to any makeup routine.
These are hands down my favorite workout leggings. Can't sing enough praises!
I love my Barefaced products soo much (check out my skin care routine here). While the products are more high budget than others, I really see such a difference in my skin!
Use code 'LAURENM10' at checkout for 10% off!
These are another great addition to a warm weather wardrobe! I've never found shortalls that fit as well as these!
You guys know I've been a skinny and straight leg jeans warrior for years, but I've recently joined the wide leg jeans trend and I'm not sure if I'll be able to go back 🤣🤣🤣 They're so comfy!!
I talk about my Hilma supplements frequently on my IG! As you guys (might) know, I'm dairy & gluten free because of my sensitive stomach. Even with taking those precautions, I still face some ~stomach~ problems if you catch my drift 🤣 Hilma's Gas & Bloat Relief is a life saver!
Use code LAUR20 for a discount at checkout!
Free People can do no wrong when it comes to purses. Love this tote!
These heels are great, even if you're not typically a heels girl! Super comfy and easy to walk in!
I mentioned this robe in my IG story a few weeks ago because it's the perfect gift for any homebody who's prone to a chill! I love the texture and know I'll have this on come Christmas morning!
Use code MCBRIDE15 for 15% off your order!/ Free shipping on orders $75+
There are few things I rely on so frequently as my Dyson Space Heater. I'm using it right now as I write this (and more than likely at the time that you're reading this too 🤣)! It really helps to quickly warm up my space.
This dry shampoo is my favorite! If you follow me on IG you know I love this one above all else!
This seamless bra is one of your guys' favorite shares that I've ever done! The material is SOO soft, it's the best way to be braless without really being braless.
The Comfy is one of my top recommendations this year! It's a wearable blanket PERFECT for all of your warm blooded loved ones.
I LOVE my Kindle! I've shared it so many times, and I love this clear case because I can customize it with stickers!
This item is my true secret weapon. Along with a consistent skincare routine, I'm always using this!
This is THE Winter staple for me, I wear these shoes everyday around the house.
This loveseat is a new addition to our Villa in St. John! It's such a great place to hang out and lounge outside, so again, if your recipient is a warm weather lover, this is for them!
I hope this is helpful for everyone struggling to build their wish lists this year! Be sure to check out my other holiday gift guides, and have a Happy Holiday ❤️