Teenagers are tough to shop for. They feel like they're adults, but they're still growing and switching favorites almost daily. Without splurging TOO much on trends that will be out by next week, I tried to put together two guides that cater to (what seem to be) trends that are here to stay.
For The Girls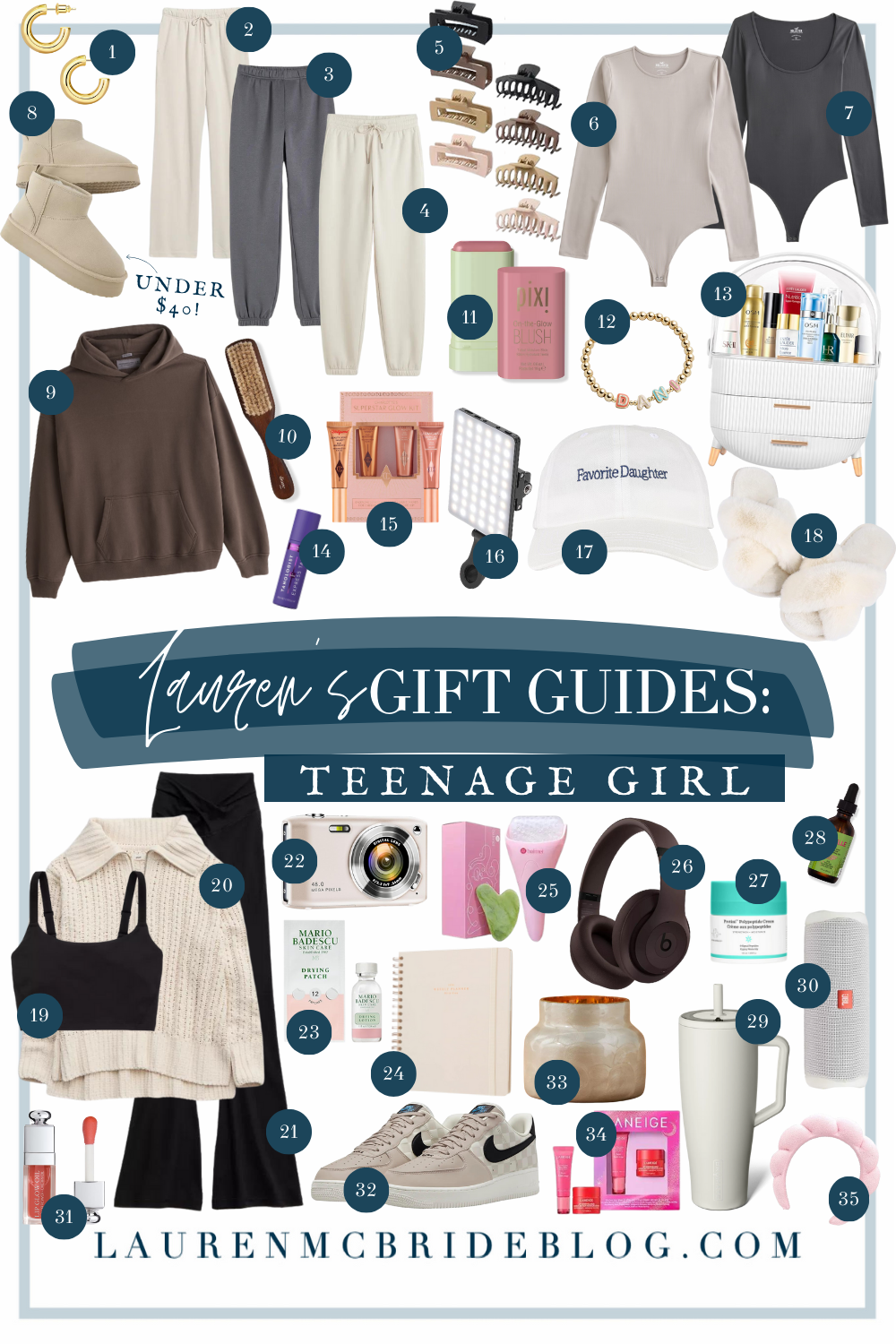 A girl can never go wrong with some staple pieces. As you all (may) know, gold hoops are definitely mine. These small ones from Amazon are the perfect starter set!
2,3,4: Cozy Sweats
Cozy sweats are obviously a stable of my wardrobe, so I'm all for the cozy trends right now. These sweats are from (2) Old Navy, (3) H&M and (4) H&M again!
Neutral tone claw clips are perfect for in between wash days!
6,7: Seamless Bodysuits
Seamless clothes are so chic and comfortable, and there are a lot of pricey options right now. But, for a growing girl, there are a lot of budget friendly choices! I found both of these (6) (7) from Hollister!
These are a budget friendly version of this pair of Uggs, for those of you shopping for girls who's feet haven't quite stopped growing.
Drawstrings tend to show signs of wear very quickly, so I love the look of a drawstring-less hoodie.
This brush is your secret weapon in achieving the perfect slick back look! If your teen has been trying to master it, this brush is definitely worth checking out!
This tinted moisturizer is actually a blush substitute as opposed to a foundation substitute! It's a glide-on stick that's meant to travel with you throughout the day and touch up your blush! Perfect for long school days & low maintenance makeup looks!
Custom jewelry always feels so thoughtful, so I was so happy to find this for under $40! Word to the wise, there is a shipping warning that says to leave 4 weeks for delivery…so order soon!
This was a big ticket item among teens last year, so if you weren't able to snag a skin care fridge then, now's a great time! There's a lot of science behind storing your skin care in a cool climate, I personally don't but it's very popular!
I swore by self tanner in high school 🤣 so it HAD to make the list. This one is mist based to prevent stains and dark spots!
This is an illuminating highlighter + blush combo to brighten your makeup! I haven't used it yet but word on the street says it will be a big item this season!
This selfie light is all the rage on Tik Tok (according to my sources 🤣). Made famous by influencer Alix Earle, this light totally enhances any selfie or video!
Now, this baseball cap might only fly in my house (both me and my daughter are only daughters 🤣) but it was too cute to not include!!
These slippers are perfect for a lazy day around the house!
I don't own this exact sports bra, but I have a lot of the 2023 OFFLINE collection and haven't been disappointed! Super comfy and also gives great coverage.
Now this I do have and I love it! It's SO comfortable and flattering and perfect for the holidays!
When did we start calling yoga pants flare leggings? Anyway, they're all my daughter can talk about and I know the trend extends wayyy up into teenage years. I might have to try a pair!
The early 2000s are back with a force, and digital cameras are sweeping pop culture right now! I even picked one up! This is a perfect beginner camera for any budding photographer!
Ok if you only buy one skin care product on this list, make it this one. This lotion is so cheap and it WORKS. Any blemishes are gone practically overnight. Make sure to read the directions, it's a little counterintuitive!
With a busy school schedule, you can never go wrong gifting a teenager a planner!
These have been super popular for a few years now! I don't use them, but I know a lot of people who do and swear by them!
If you're going to splurge on your teen, tech is the way to go. The trend cycles are much longer than that of the fashion world, and it's impossible to (physically) grow out of! These are the headphones I have and I LOVE them! Most days I prefer them over my Airpods!
These were the gift last Christmas and I wouldn't be surprised if it's popular again this year! All of my skincare is from Barefaced, so I'm not sure if they work, but their popularity probably speaks for itself .
This hair oil is your second key to the perfect slick back look! Not only will it grease your hair up enough to actually stay in a slick back look, but it promotes growth! Best of both worlds!
This is the Tumbler I use and it's fantastic! It fits in a car cup holder, and I can "close" the lid with the straw still intact so there's zero spillage!
Speakers are a great gift and JBL is a super reliable brand!
I don't use this product but rumor has it, it's super popular right now. I use other Dior makeup products though, so I may have to give it a shot!
These Nike's have been popular for YEARS, but I love these specifically for their unique design.
Need I elaborate?
This day and night lip treatment is truly a game changer. And, it's super affordable!
This headband has been EVERYWHERE the past few years, so if she doesn't have one yet she's probably been eyeing it!
For The Boys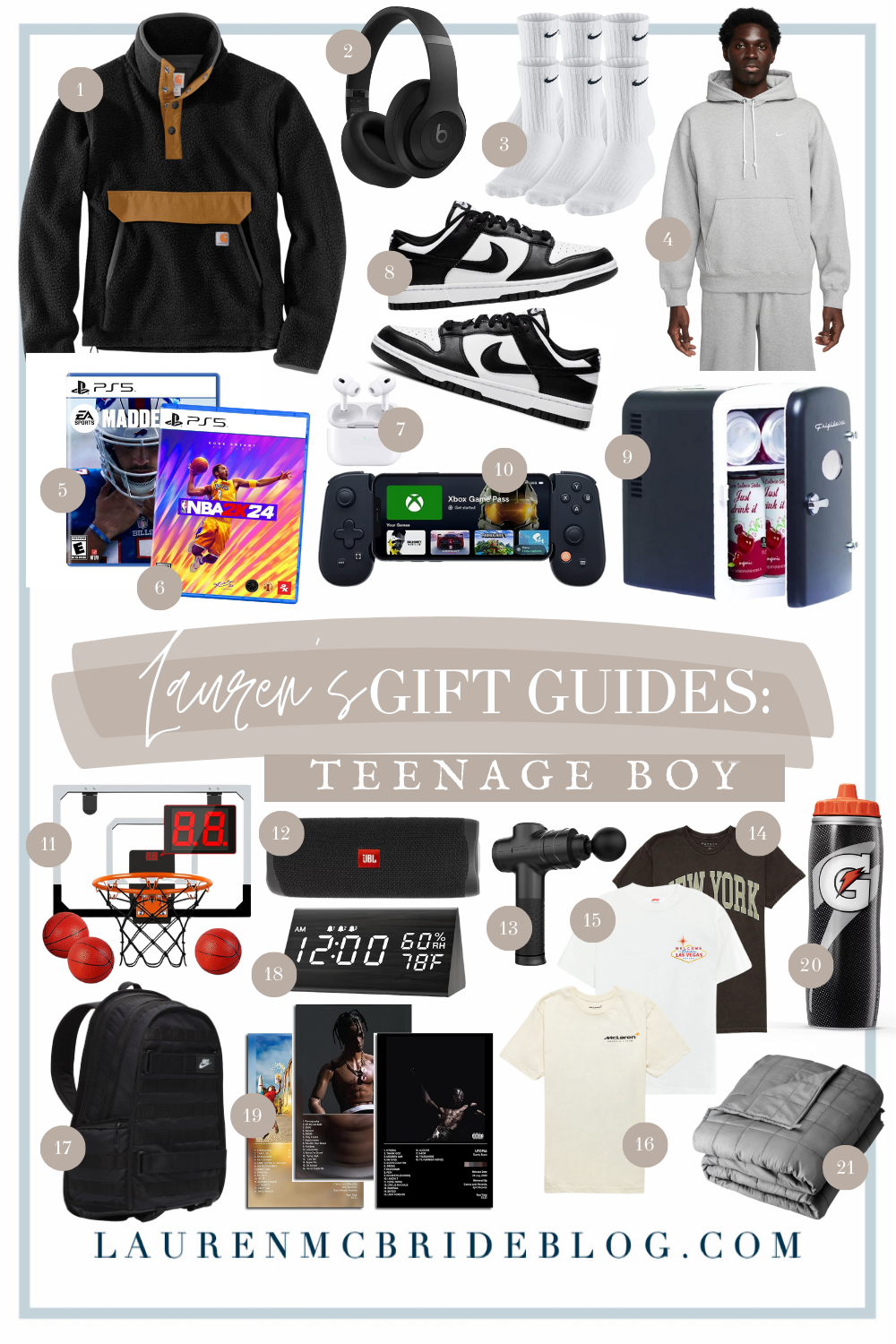 Carhartt has been super popular the last few years, so anything Carhartt will be a hit. I love this fleece lined one because of the aesthetics and the practicality! Super warm for Winter!
I think these headphones will be featured on every gift guide 🤣 They're great! There are a few different headphone options, so make sure to check them out!
Kids can never have too many pairs, they always seem to go missing 🤣🤣🤣
Nike really does a great job with apparel, and their hoodies are sure to be a hit!
5,6: New Video Games
Video Games are obviously a staple in any teenage boy gift guide, and it's looking like these two are going to be popular asks this year! Linking PS5 versions here(5) (6), so be sure to double check what console your teen is using before buying!
If bigger wireless headphones like Beats aren't up your teen's alley, Airpods are another great option! While I tend to prefer my Beats for workouts, I still use my Airpods fairly regularly!
A brand new pair of sneakers seems to be another staple of my gift guides this year 🤣 Dunks are always a good idea, and credible resale sites like Goat are a great way to gift growing kids with trendy items!
These portable mini fridges are so fun, especially for kids looking for more independence. Nothing better than an ice cold water without needing to leave your room.
These Backbone gaming controllers are REALLY cool. Basically, they allow users to play on otherwise immobile gaming platforms like Xbox and Playstation. The one drawback is that it does require a subscription based membership, so you'd either have to gift the membership or feel secure that the receiver would be able to continue it!
This is nothing new, and always a hit. I love this one because of the electric score board!
Speakers are a great gift and JBL is a super reliable brand!
On my 20-something gift guide, my assistant suggested the Theragun. While I do think that's a great gift option, it might be a little pricey for a teenage gym-goer. If the teen your shopping for is just starting on his fitness journey, this is a great starter massager! I don't use them, but I've seen great things.
14,15,16: Graphic Tees
Again, on my 20-something guide, my assistant suggested a wardrobe revamp with some new graphic tees! Hers were from Urban Outfitters, and do have a great selection of men's graphics. But, I will say they can get a little pricey especially for a growing boy! Pacsun is a great, high quality budget friendly alternative! Linking shirts from the collage here -> (14) (15) (16)
A new backpack is always a good idea for school age kids! Check out this one from Nike. It has lots of compartments and looks pretty durable too.
This alarm clock is a luxe looking but affordable Amazon find that will enhance any teen's bedroom!
Paying attention to your recipients special interests and hobbies is always a sure fire way to win the gift exchange. If your teen is a Travis Scott fan, I linked some cool, inexpensive posters he might like!
If your teen's an athlete, he'll always like a new water bottle. This one has the squirt nozzle so it's great if he's wearing a helmet during games!
Last but not least, a weighted blanket is ALWAYS a great gift. This one is extra nice as it has the weight distributed evenly via this square pattern, so the weights can't bunch up!
Be sure to check out my other holiday gift guides, and have a Happy Holiday ❤️