As I sat down to write this post, I realized my son has more interest in playing in the dog's water bowl, opening and closing the refrigerator door, and climbing in the dog crate than he actually does with any of these things, BUT I can't exactly make a cute little graphic of those now can I?
When Landon isn't busy exploring things he shouldn't be, he does actually have some favorite toys and books he prefers over others. And as his mom, I've developed some favorites over the course of this year as well! I thought I'd share a few with you today, because I found that I'm always looking for suggestions for new toys or brands…so maybe you do too!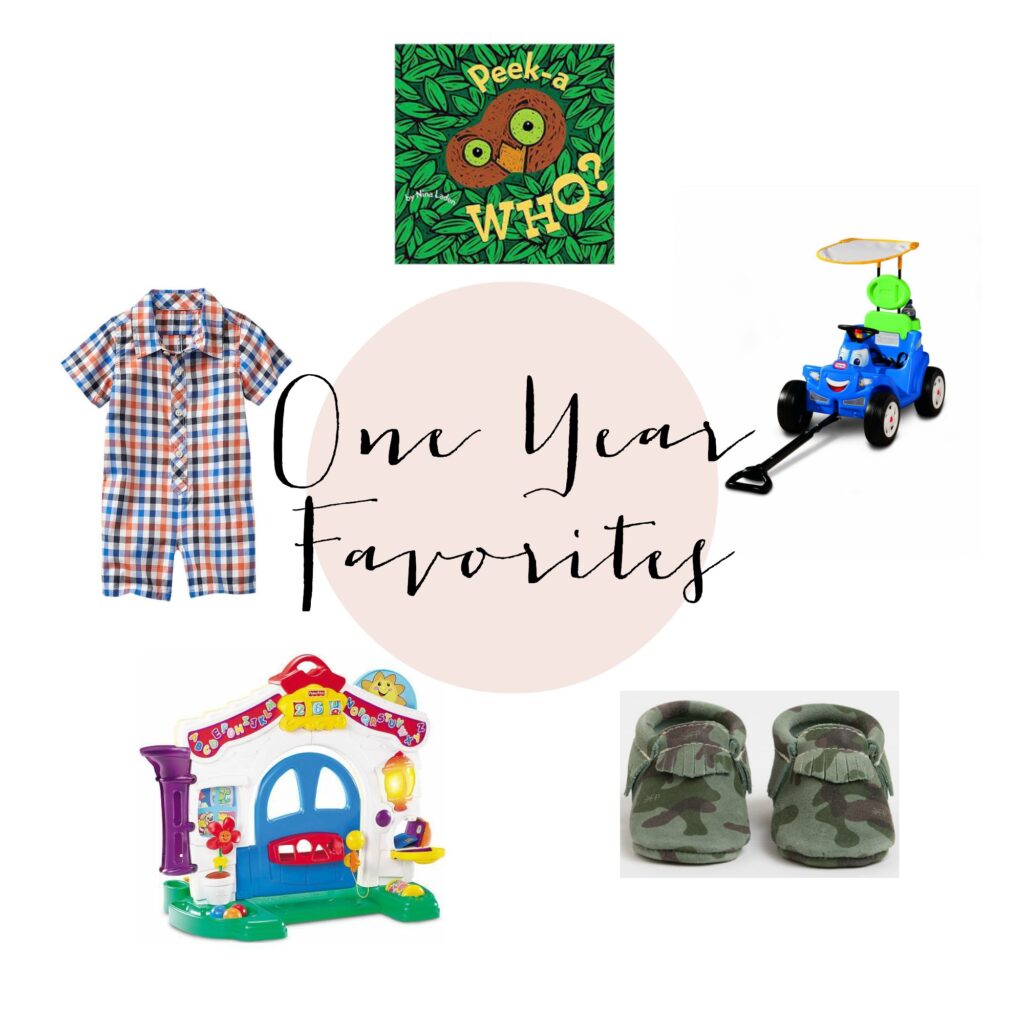 BabyGap: I've purchased a variety of brands of clothes this past year, and I swear Baby Gap never fails me. They wash so well, it's not even comparable to other brands. I know the price may be a little higher than others, but I've been really successful in getting things on super sale (I'm talking 40% off!).
Peek A Who: This book ensues large smiles and laughter from my little boy! If I even show him the cover, he's all 🙂 🙂 🙂 🙂 :), and then yells for me to read it again when we finish. I also love it because it's a very easy, quick read which is great for short, one year old attention spans. He has another favorite alphabet book we love, but we can never make it past the letter G.
Little Tikes Deluxe 2-in-1 Cozy Roadster: My mom purchased this for Landon's first birthday, and I haven't yet decided if it's a blessing or a curse. Someone wants to ride it ALL THE TIME, which is really awesome until it comes times to stop all the riding and then we get reeeeeaaaaally upset. 🙂
Freshly Picked Moccasins: Now that Landon is walking, he needed some shoes that allowed him to toddle around without being restricting or were too clunky like sneakers. The FP moccs are perfect because he can't pull them off (WIN!), they're soft but durable, and flex appropriately with his foot so he can comfortably move around. Also, they're camo (which apparently makes everything better when you're a boy, per my husband).
Fisher-Price Laugh and Learn Playhouse: Please do yourself a favor, and buy this house. I know the price tag is all EEEEEEK, but I swear it will be the best $90 you've ever spent. We purchased this months ago before Landon was even crawling, and it's STILL providing literally hours of fun. There's so much to do, and it's fun to play with together! Any time Landon is having a rough day, this house provides some fun distraction and helps change his mood around.
Stay tuned because I have a BIG giveaway for you featuring one of these great items starting Monday June 16th!
Happy Weekending!