I absolutely loved our dining room at our condo, so I knew I wanted to keep the feel very similar in our new house. I originally wanted to keep my nautical theme, but it just didn't feel right in this house just yet. Or at least not for the dining room. So I kept it farmhouse inspired, except clean and simple. Before we get into the new photos, let's take a peek at the before photos. Granted, this was already with a coat of paint, but you can at least see the tile floors!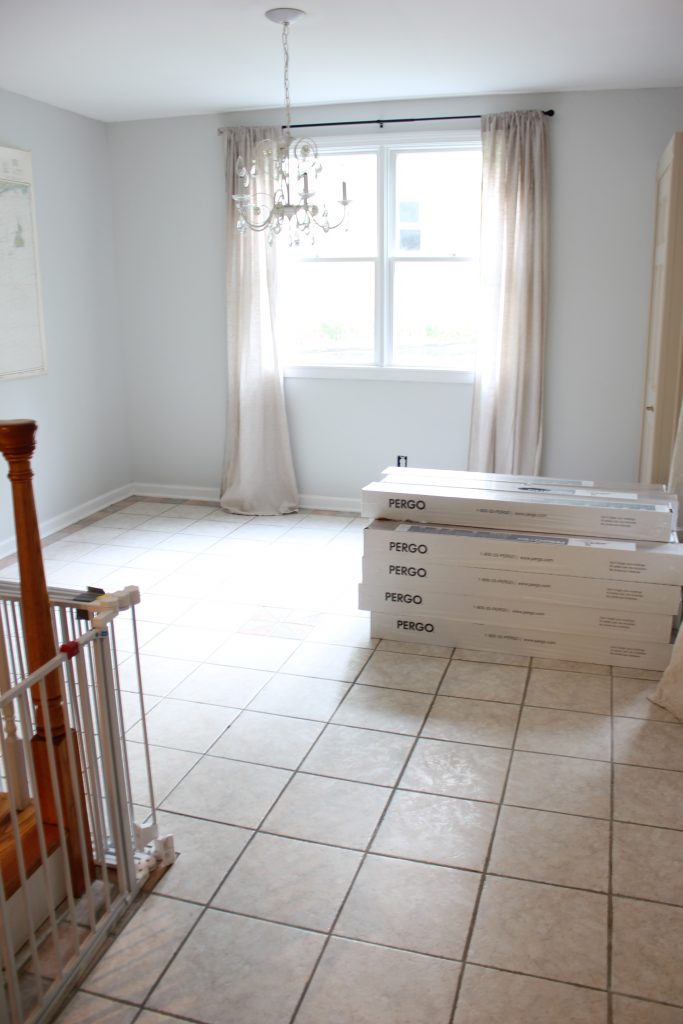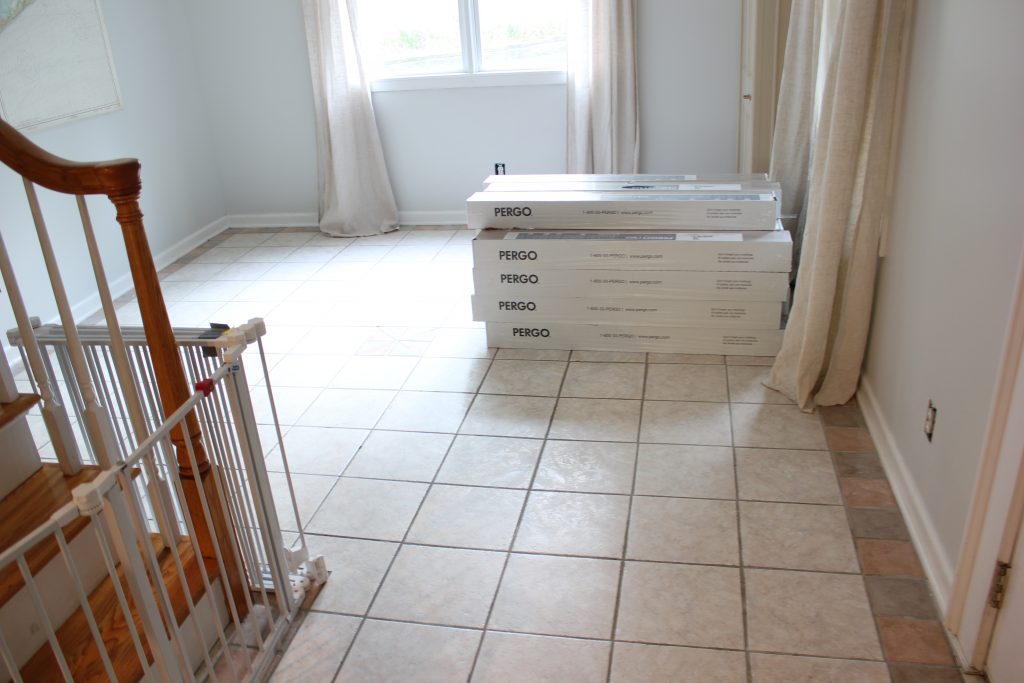 The walls used to be a beige color with a floral border wallpaper up top. Which was the first this to go. It's still insane to me what a different a coat of paint can make. Our dining room opens up to our living room, so it was important that they both had a cohesive look. I'll be featuring our living room soon, but here's what the complete dining room is looking like today!
This dining room was originally used as the previous owner's living room because they had a huge family and needed more dining space. I wanted the tile floor removed immediately. Tile freaks me out with kids for some reason, so it was a necessity. The process of removing it was a real pain in the ass, but I love how the Pergo flooring looks much better!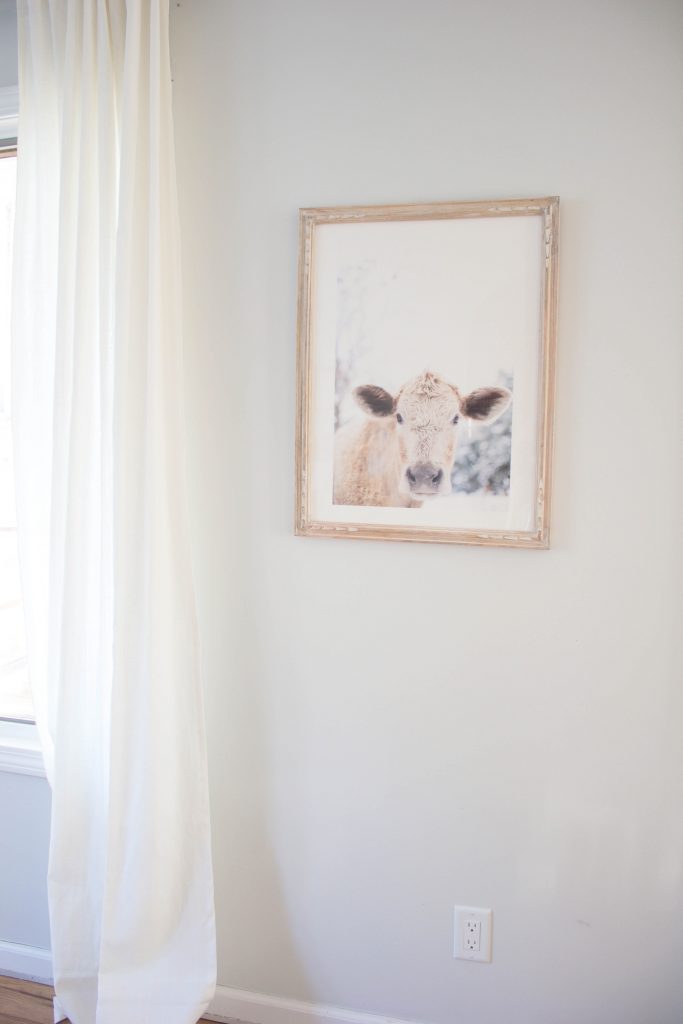 This cow print from Minted was a cute addition. My son is obsessed with all things cow related, so I put this here mainly for him. Our neighbors have a cute little barn, but alas they do not have cows. So now the little man can see one every day 😉 I love that Minted works with independent artists and that their pieces are sourced through on-going art competitions!
If you've been a long time follower, you remember this piece from our condo. After it gave me so much trouble, I still love the end result SO much. I refuse to get rid of it.
I love how cozy this jute rug from Rugs USA makes the room feel. I also love the look of the planked walls extending into this room. It's the perfect farmhouse touch!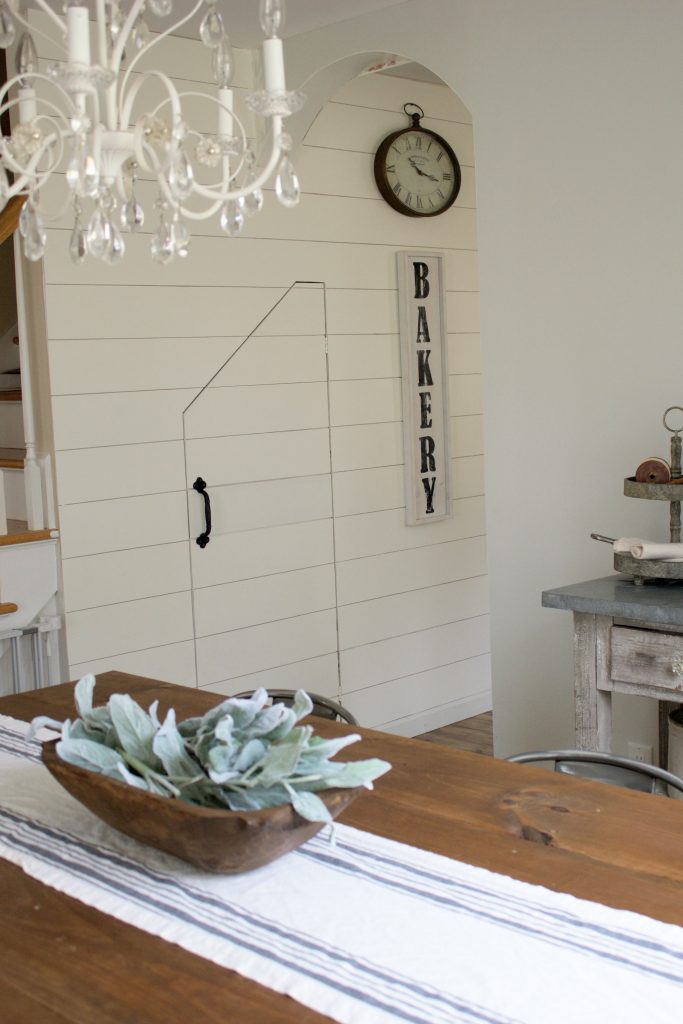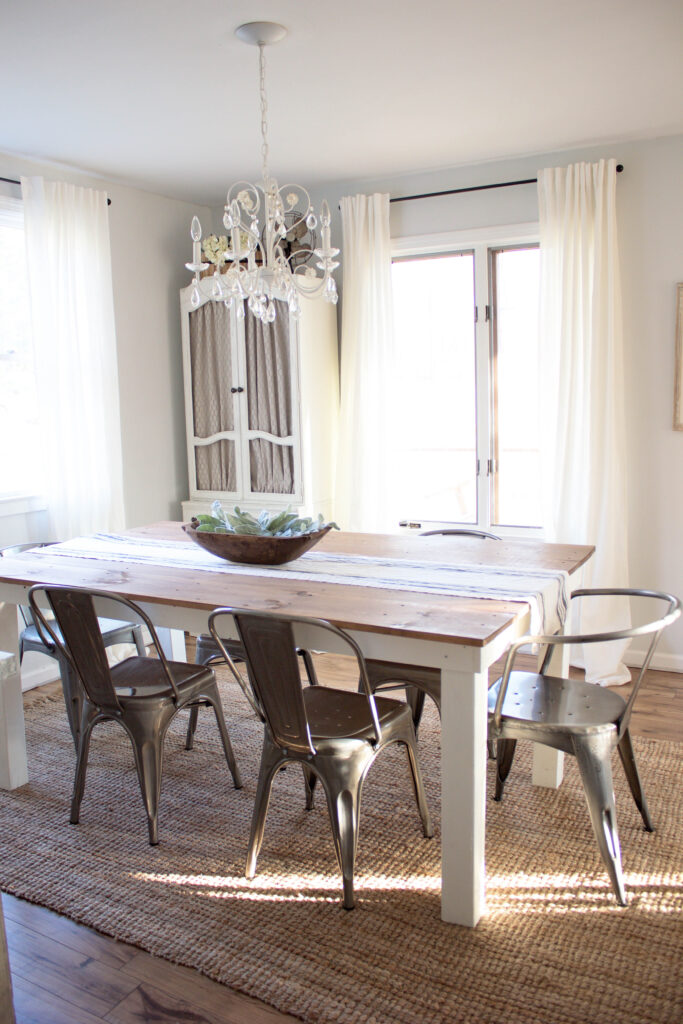 Eventually I'll switch out that chandelier when I find something that fits the space perfectly. I've been back and forth on what type of chandelier to go with, so in the meantime this one will do. Once I find what I'm looking for, this chandelier will go into Noelle's room.
There are still changes I'm sure I'll make, but I love the way it's looking at the current moment! My favorite addition has to be my faux tolix chairs because they're something I've been pinning for years now. It will be fun to see how this room changes this year with each season and holiday, and I'll be sure to share it will you as I go.
Sources:
Floors: Pergo Flooring
Wall Color: Benjamin Moore Horizon
Rug: c/o Rugs USA
Curtains: IKEA
Curtian Rods: Walmart
Table: Built by my husband
Chairs: Amazon
End Chairs: World Market
Runner: World Market
Antique Dough Bowl: Antique Farmhouse
Chandelier: Tag sale, upcycled by me
Hutch: Given to us for free, upcycled by me
Fan: Estate sale
Cow Photo: c/o Minted
Buffet: HomeGoods
Window frame: Stratford Antique Center
Candle sticks: World Market
Tiered tray: gifted
MORE HOME POSTS: Quartz Countertop Review // DIY Planked Walls // Pergo Flooring Install