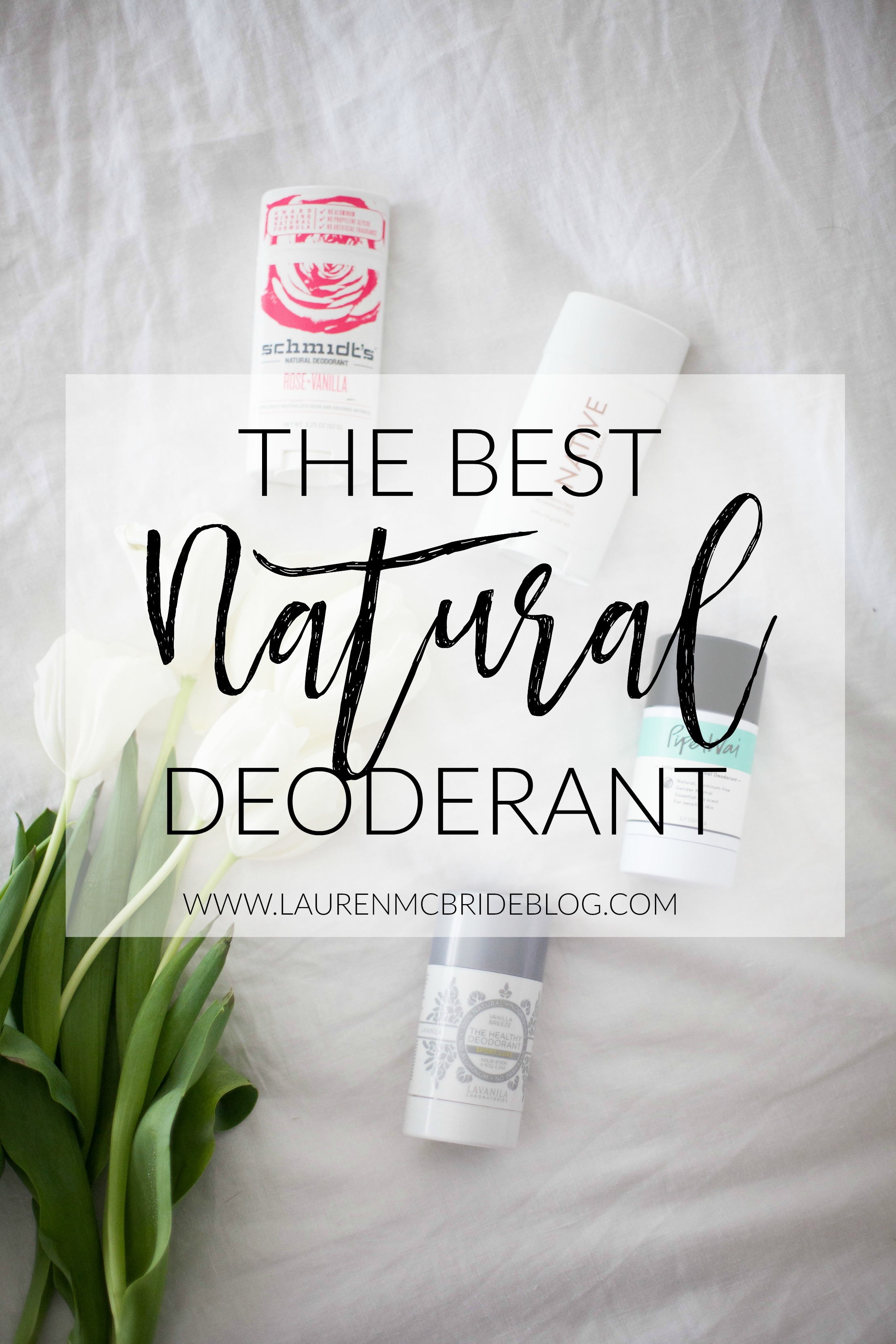 If you've been following me on Instagram and Snapchat, you know I've been on the hunt for the best natural deodorant on the market. I have a very strong opinion on standard deodorant and is relation to breast cancer, and I wanted to switch to something natural. There are a variety of natural options out there, but since I was investing money into this "trial" I polled you guys on Snapchat and Instagram for your favorites. I chose the top FOUR from your suggestions and tried them out over the course of the month to see what I truly thought. Today I'm sharing my results with you!
After doing some research, I learned that its necessary to put your armpits through a detox prior to trying any natural deodorant. You might remember my experience with this on Snapchat 😉 I found the detox recipe from Wellness Mama right here explaining the whys and the hows, and it put things more into perspective for me (and confirmed why I really needed to switch over to natural). It involves using a bentonite clay mask on your armpits which you can find RIGHT HERE. I already used this mask on my face and LOVE IT. It's an instant face lift, I swear. It's also only $12 and a little goes a LONG way, so even if you buy it just for this purpose, I highly recommend using it on your face!
I mixed ONE TABLESPOON of bentonite clay with ONE TABLESPOON of apple cider vinegar, and added the smallest bit of water to get the right consistency. It was essentially like a paste. I let it sit for 20 minutes before removing it. Redness is totally normal, as it increases blood flow to the area. It shouldn't hurt at all. You can leave it on for less than 20 minutes at first, but since I had been using the mask already, I knew my skin could handle it. Warning: the mask does harden a bit, so be careful when washing it off. I held a hot washcloth in place for a bit to loosen things up before wiping it away!
I only did the mask to my armpits once, but I was actually quite amazed at the results. I felt like I didn't smell NEARLY as much as I did prior, so I think I might do this every once in a while to have some odor control. I'm convinced this is really the key to using a natural deodorant. Detox those armpits prior to use for optimal results!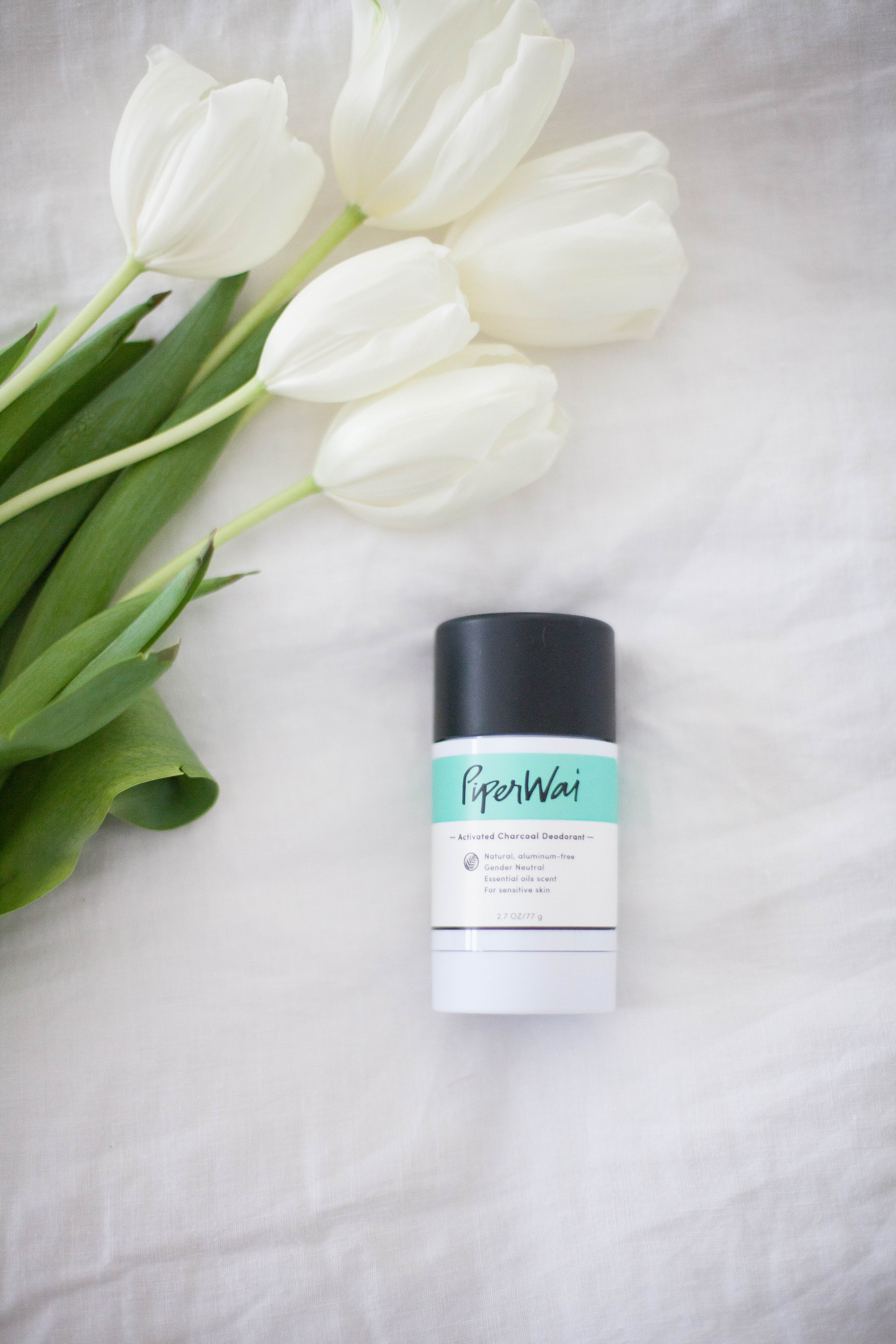 PiperWai
I'd heard great things about activated charcoal and many of you suggested PiperWai's Activated Charcoal Natural Deodorant. I saw this brand on Shark Tank (we love that show!), so I was intrigued to try it even more. I opted for the stick version because many of you had said the paste was a bit sticky. PiperWai is aluminum-free with all natural ingredients as well as activated charcoal.
The verdict: I was a little disappointed there was no smell to this deodorant, but since it was my first go with a natural kind I figured maybe this was normal. I was impressed that I didn't smell like I thought I would during hot yoga, but once my husband got home my positive feelings towards it changed. He hugged me and said, "You stink." Aaaaand that was that. Granted, I didn't give it more of chance after this, but if my own HUSBAND thought I stunk, then I'm sure others did too. And I wasn't about to walk around like that. It also was a little weird to apply because it's not exactly soft and smooth. It's basically a dry stick of deodorant, so I felt like it chafed a little when it went on. However, this is just my personal experience, and I know many others who do love this brand.
UPDATE: PiperWai was kind enough to send me their original formula which I liked MUCH BETTER than the stick! This is a great option!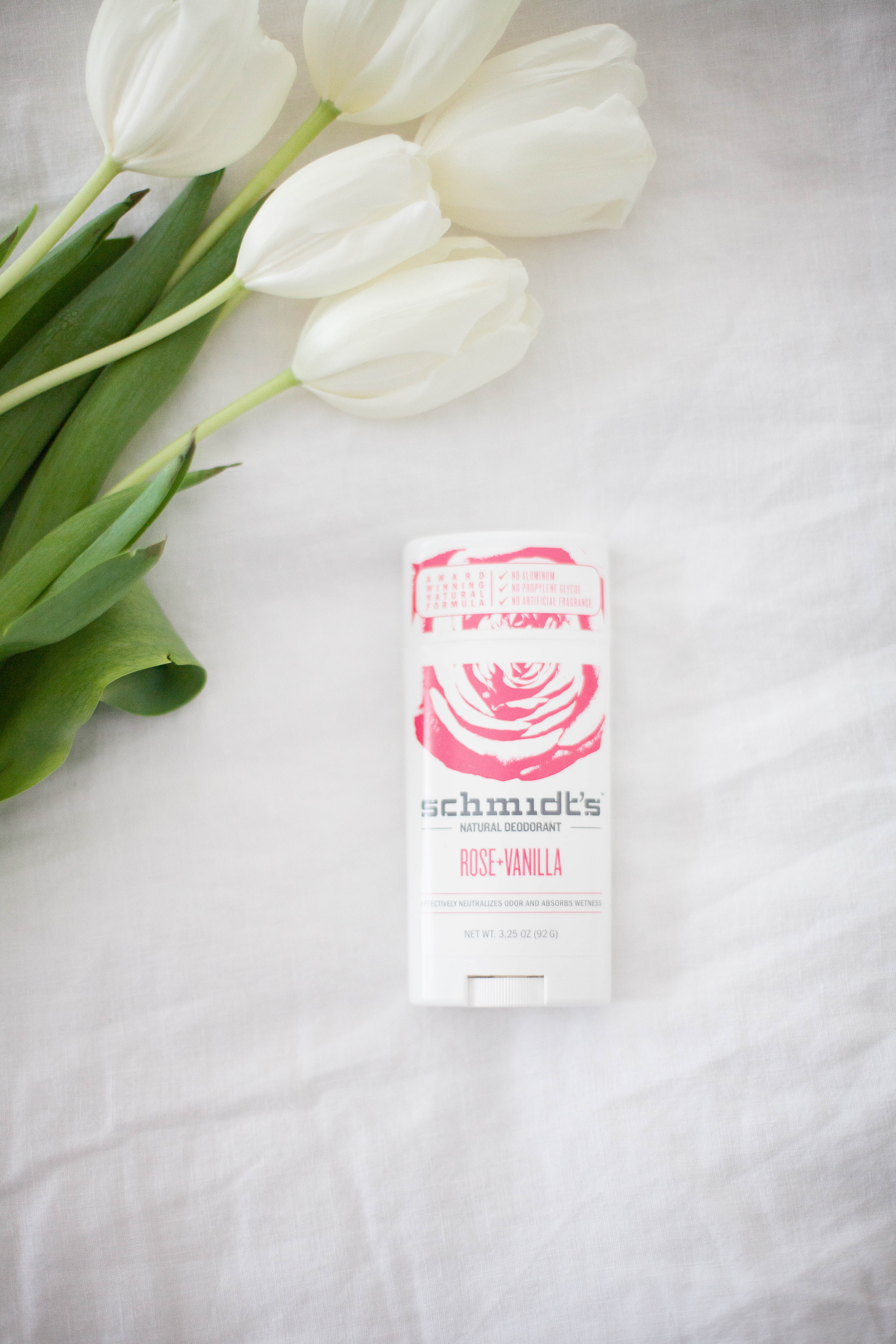 Schmidt's Natural Deodorant
I was drawn to Schmidt's because of the odor protection AND wetness relief. Sweating is actually a good thing, so I didn't have high hopes for any of these brands as far as an anti-perspirant goes. But this one claimed to control wetness, so I was intrigued. I also liked the variety of scents they offered and chose the Rose & Vanilla! Schmidt's is FREE of aluminum, phthalates, parabens, and propylene-glycol. It's made in the USA, and also vegan and cruelty-free!
The verdict: I did really like this brand, a lot. I felt it controlled my sweating the best, and I really loved the scent (there are SO many options for scents). My husband also said he couldn't smell me like he did the previous one I tried. The ONLY issue I had was it really irritated my armpits one of the times I applied it. I don't know the cause, but it burned and caused a lot of redness. I can't recall if I happened to shave prior or what, but I had a few of you message me and say this same thing happened with it. So while I do like it, this turned me off. But I will definitely give it another shot and see if it happens again because I did really like that it controlled wetness!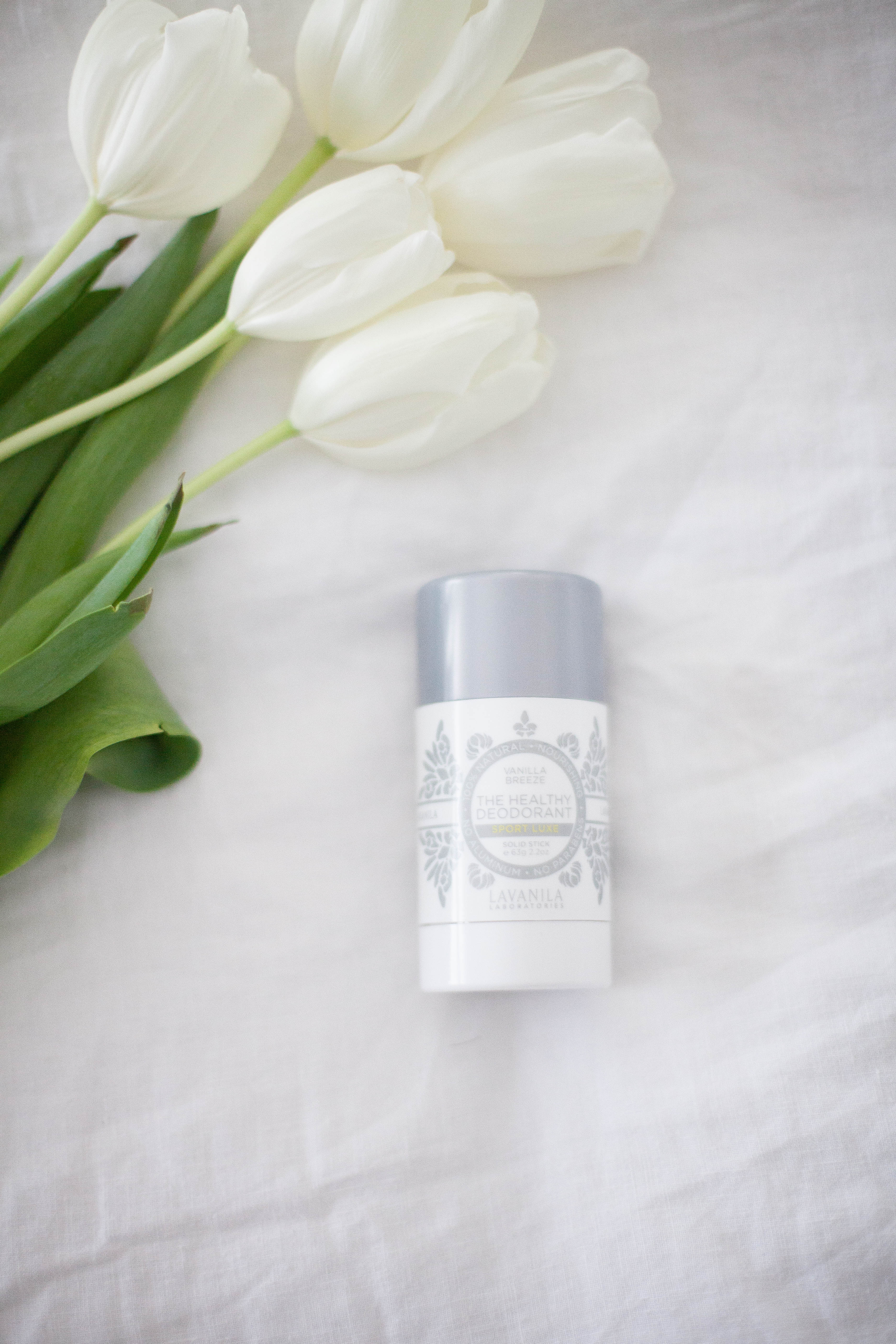 Lavanila, The Healthy Deodorant
MANY of you recommended Lavanila, maybe because it's found in Sephora and also on Amazon! I went with the Sport Luxe version because I figured it would be best for my sweaty workouts (the amount I sweat in hot yoga is unreal). I wasn't too crazy about the scent (Vanilla Breeze) because it was a little too perfume-y for my liking, but I did like the design of this one the best. There are a variety of other scents, so I might have to try a different one in the future! Lavanila is aluminum-free, paraben-free, free of propylene-glycol, and free of harsh chemicals.
The verdict: I kept having to reapply, more than the others. I don't have a rhyme or reason as to why, but I felt like it wore off quickly and didn't last through my workouts. Maybe it's just me, but I wasn't a fan. I'm going to give it another shot though because SO many of you loved it!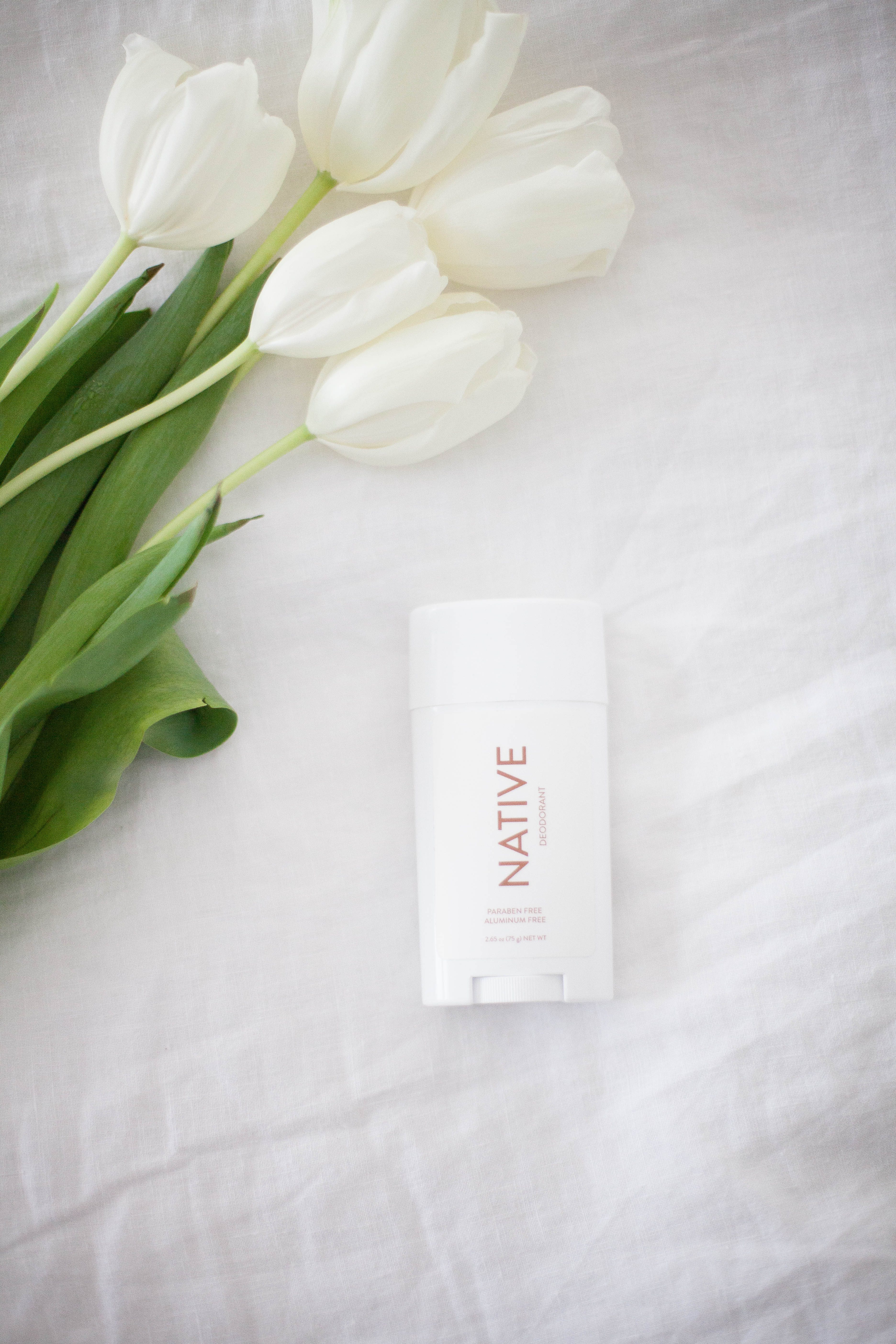 Many of you suggested Native, and I really liked the variety of scent options. They also have a men's line, which I would love for my husband to try! I chose the Coconut Vanilla because I'm always drawn to this scent, and I swear it smells like a tropical vacation. Native is aluminum-free, paraben-free, talc-free, all natural ingredients, and also made in the USA.
The verdict: WINNER WINNER! This is the one I've been using regularly!!! Guys, I love this brand! I sweat, but not horribly, and I definitely don't smell. I do have to reapply mid-afternoon in some instances, but otherwise it's great! It doesn't burn when applying, and if anything feels a little soothing..if that makes any sense. Out of all 4, this has been the one I reach for the most. It glides on super smooth every time, and I've never had any irritation.
You can buy Native here! USE CODE LMCBRIDE10 FOR 10% OFF!
Obviously results may vary immensely here. This is just my personal experience with these four brands, and I honestly expect my opinion to change during the summer when it's hot and sweaty all day long. I only tested these during the cooler months and my workout sessions, but the summertime will be an entirely different story. I'll be interested in seeing if my opinions change in a few months!
You can find my full review on Kopari's Natural Deodorant HERE, as well as how I detox my armpits! I REALLY love this one, too, very comparable to Native except it glides on clear! I don't find I need to reapply either.
I'll continually update this post as I try more natural deodorants! 🙂