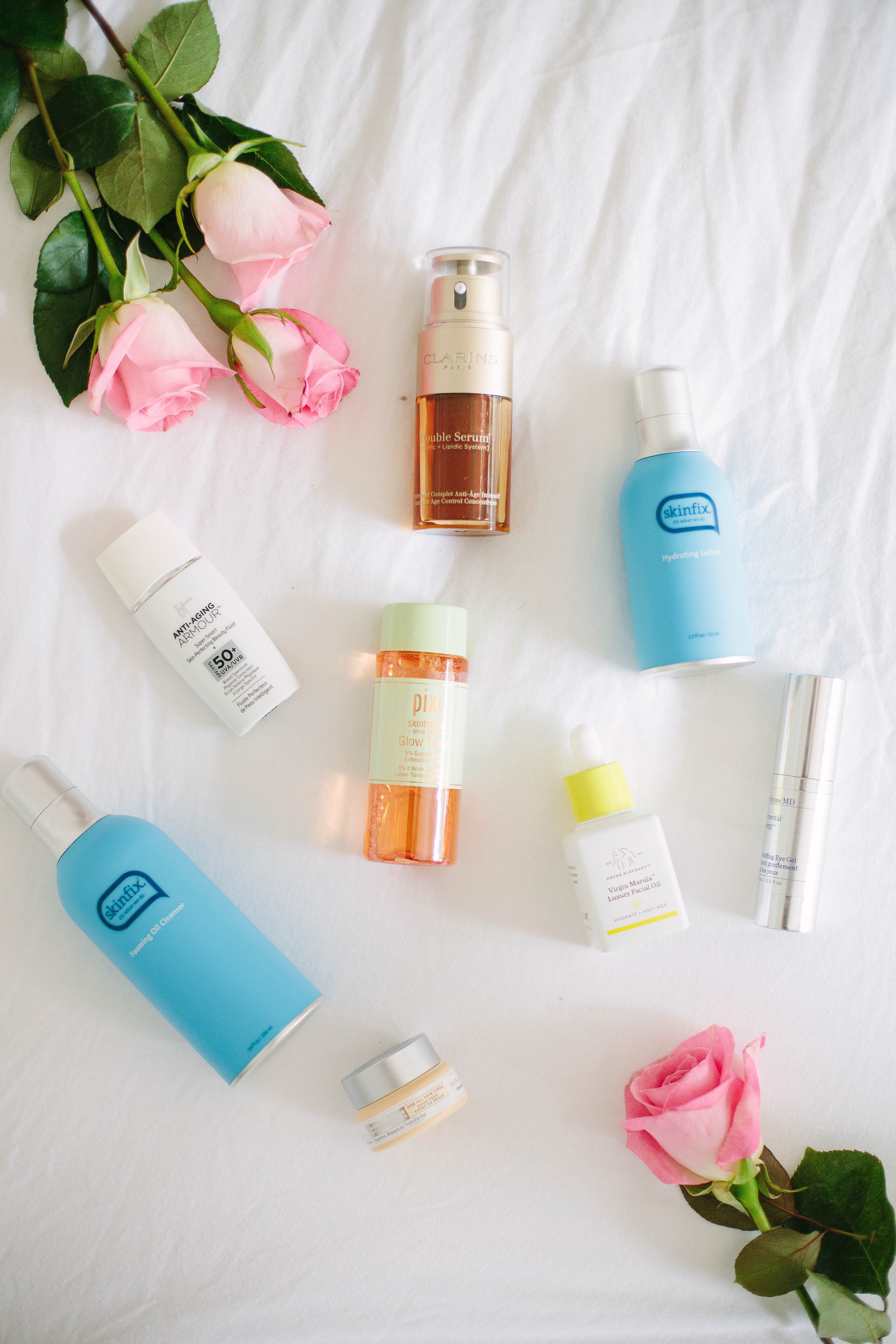 Having a healthy skincare regime is always important, but even more important during pregnancy. Our hormones are fluctuating which directly effects every part of our body, including our skin! My skin was perfect with my pregnancy with Landon, but I was a HOT mess with Noelle! This pregnancy has been good to me thus far, but I know that could change any time! Many of you asked about my Safe for Pregnancy Skincare Routine, so today I'm sharing my favorite products and WHY they're great to use during pregnancy!
Safe For Pregnancy Skincare Routine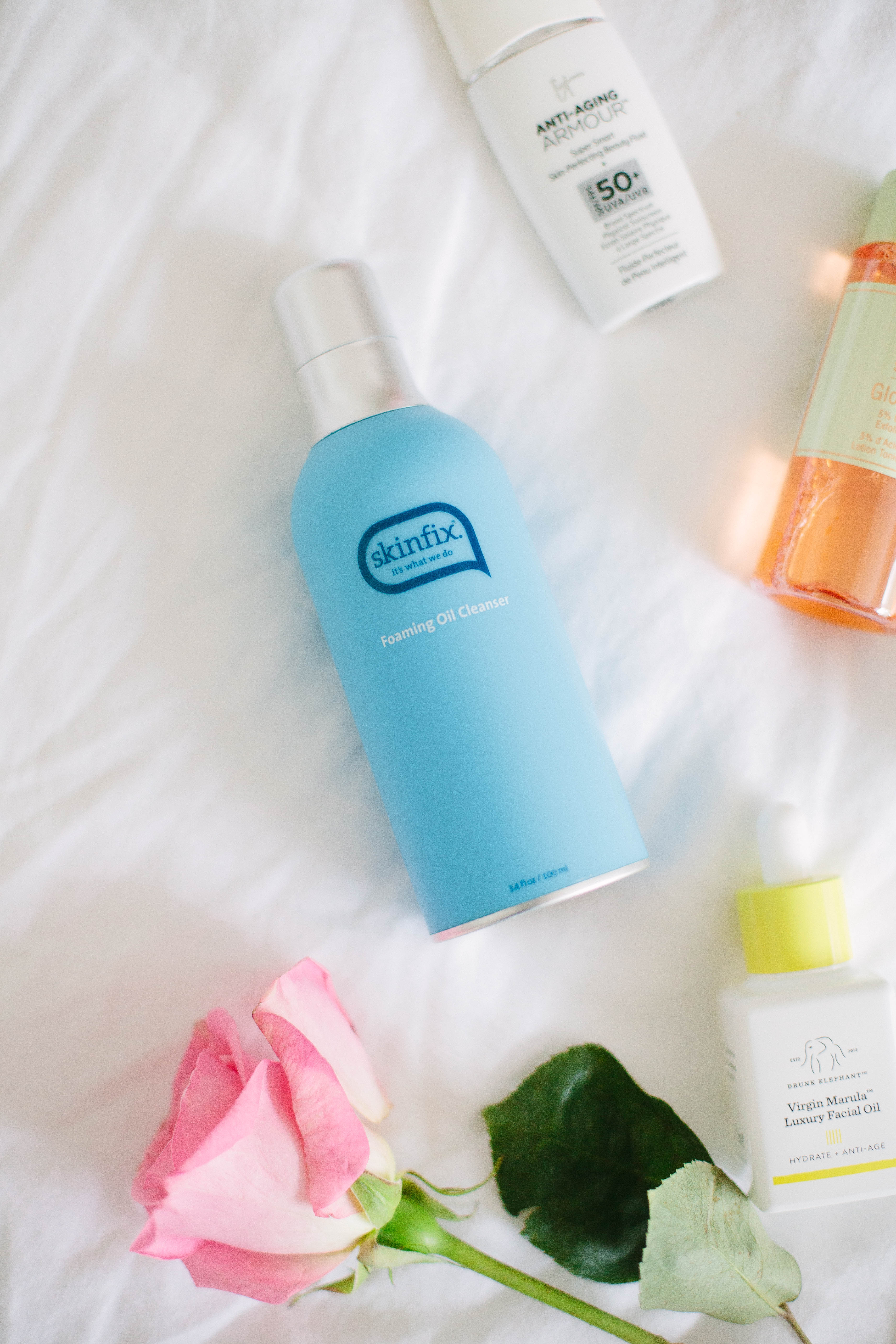 CLEANSER
I became hooked on my Skinfix Foaming Oil Cleanser since last year when I first tried out the product, and it's been my go to ever since. I love that it doesn't leave my skin feeling tight after I wash it, and my breakouts are really minimal. It's safe during pregnancy because they leave out ALL harsh ingredients and include 98% natural ingredients. It's for ALL skin types, cruelty-free, and free of parabens, phthalates, silicones, fragrances, and dyes. It contains natural ingredients like jojoba oil, aloe leaf extract, and macadamia oil that are healthy for your skin. It's a winner in my book for safe skincare during pregnancy! I wash my face with this morning and night.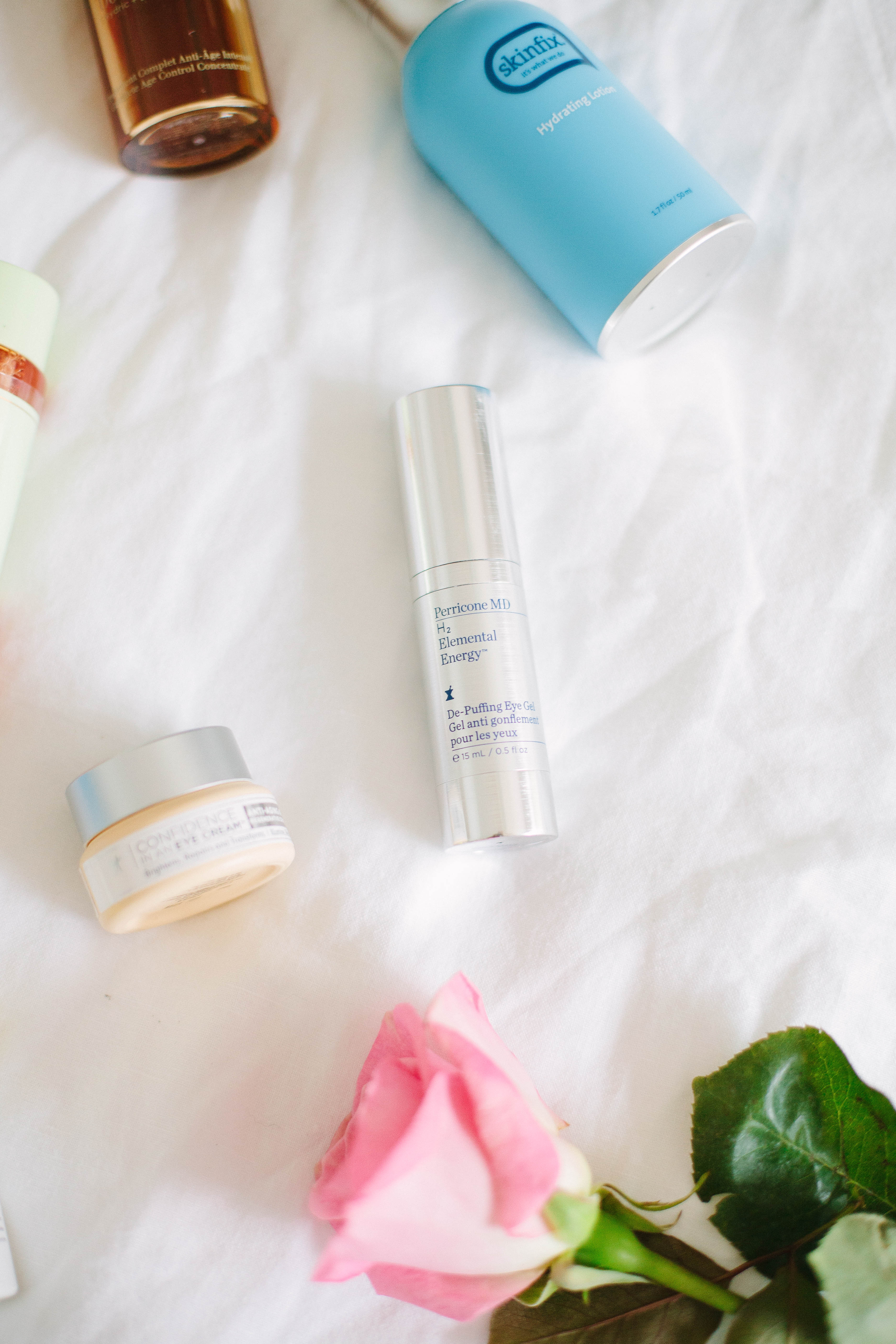 EYE CREAM
Eye cream is so important, and not something to skimp on during pregnancy as well. Avoid eye creams with retinol, as this ingredient is contraindicated during pregnancy. I love It Cosmetics Confidence in an Eye Cream and Perricone MD H2 Elemental Energy De-Puffing Eye Gel because they're effective and hydrating without compromising how my makeup applies!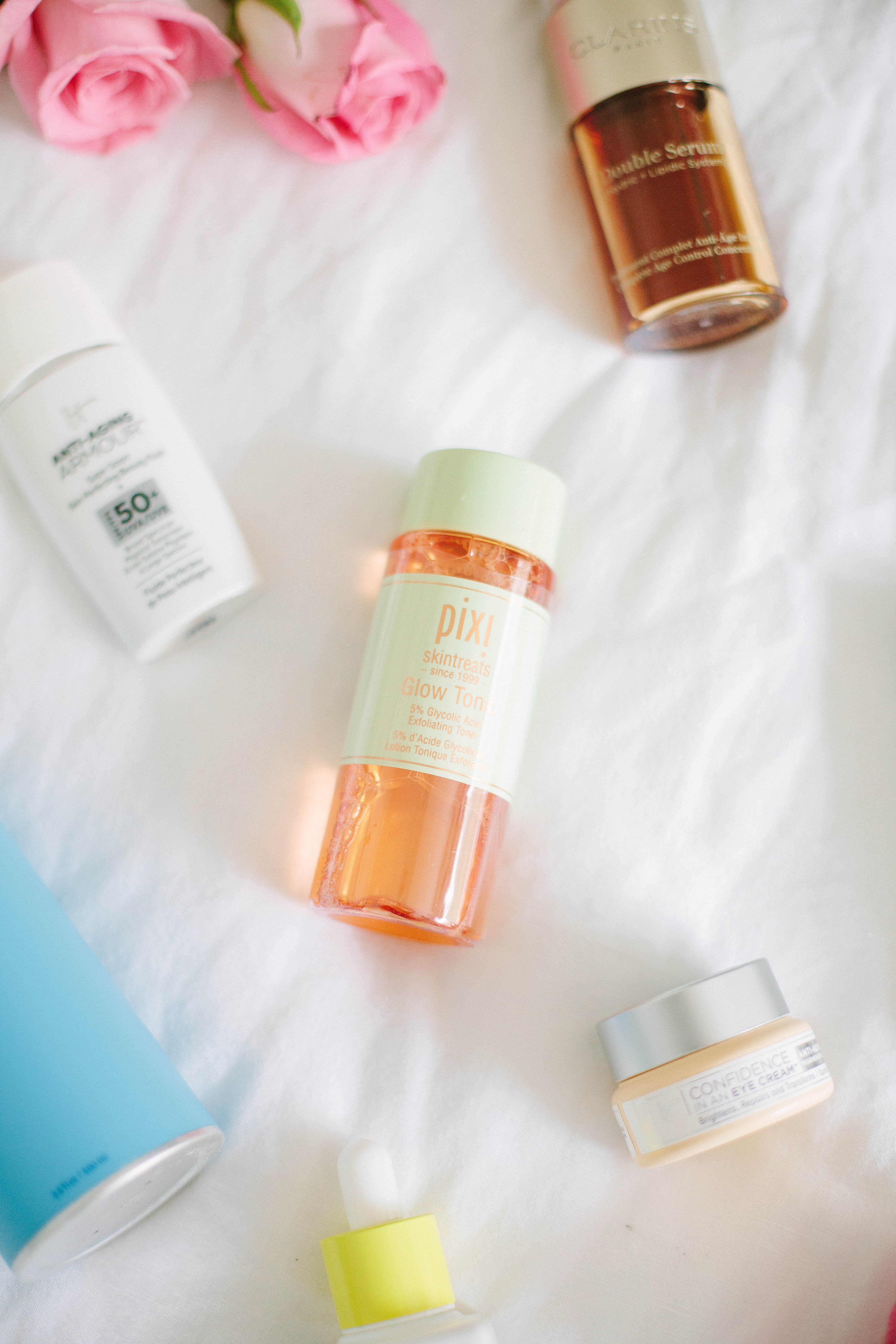 MANUAL EXFOLIANT
I added this in to my nighttime routine awhile ago and it really changed the texture and appearance of my skin. These products contain acids, so it's important to be mindful when using them on pregnancy skin. Due to hormones, your skin during pregnancy can be super sensitive and reactive to acids, which are mild exfoliants. It's best to introduce your skin to them slowly, whether that be every other day or every few days, just to see if your skin becomes irritated. My skin is pretty normal, so I'm able to use it once a day in the evening (as directed). My preferred brand is Dr. Dennis Gross Alpha Beta Peel Pads (I actually use the extra strength version, but that's because I've been using them for a while), but I recently tried Pixi Glow Tonic which is a cheaper version! Again, I only use this once a day in the evening.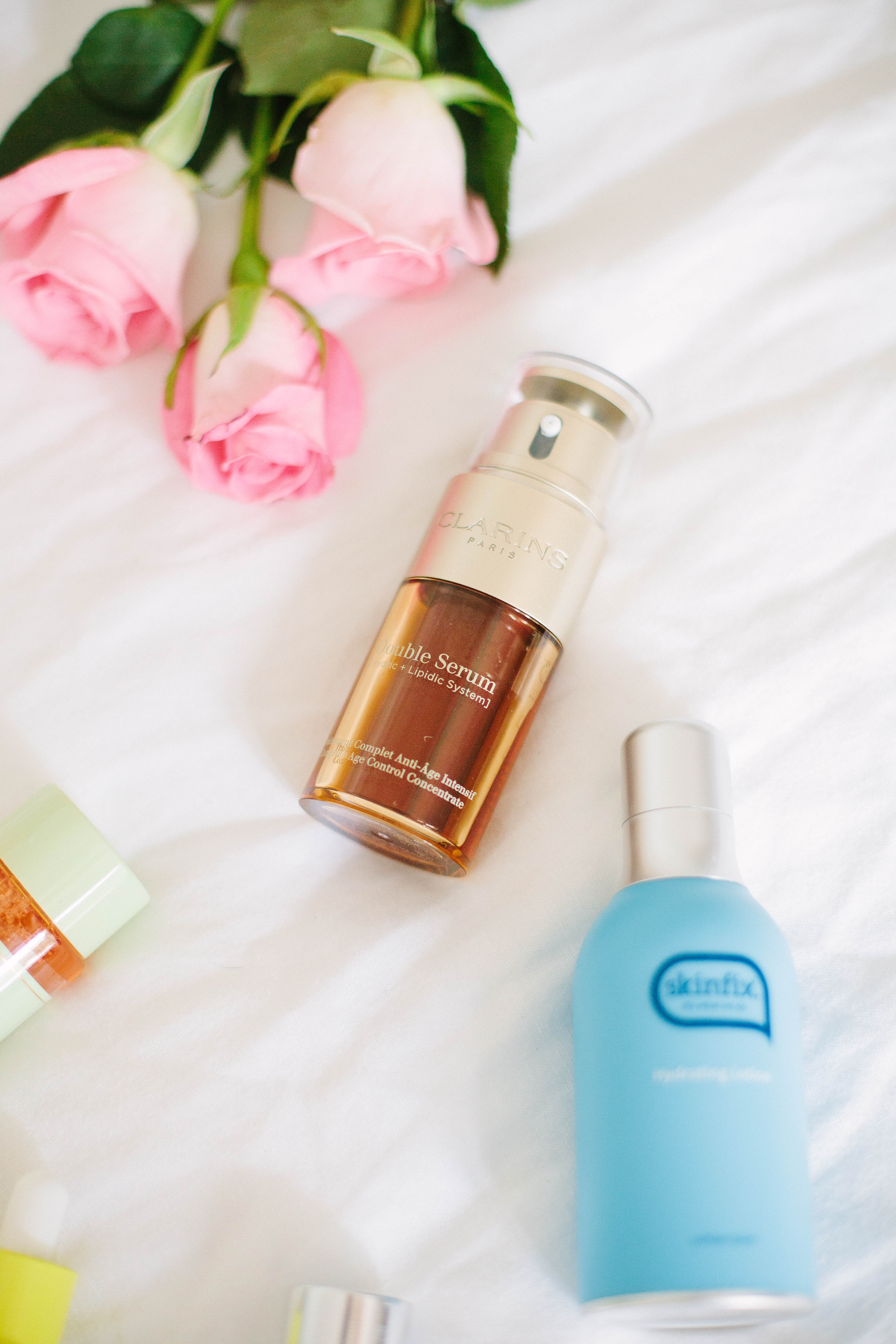 SERUM
You all know I recently added the Clarins Double Serum Complete Age Control Concentrate to my daily skincare routine, and a large reason was that it's safe during pregnancy! I made sure to check on this before trying it out (I'm super careful about what I try in general, but even more so during pregnancy), and I'm happy to say it passes the test. Double Serum is a plant-based serum with the key ingredient being Tumeric (this is the new change to the Double Serum this year!). There are over 20 plant extracts packed into this little bottle! It boosts hydration and skin circulation all while helping the skin with cell renewal. It has made a huge difference in the softness of my skin. And I SWEAR my skin looks more radiant since starting it (you guys noticed too, saying I have a pregnancy glow! It might be a little of that, but I swear it's this!) There are no harsh chemicals, parabens, or phthalates as well. I use this day and night! You can check out my post on it here.

MOISTURIZER
Moisturizer is key, especially if you have dry skin. You can mix a little with your face oil, or use it BEFORE your face oil for extra hydration and to lock in moisture. I've been skipping this step during the summertime, but will re-incorporate it back in during the cool and dry winter months because my skin ALWAYS dries out. I use Skinfix's Hydrating Lotion because it's made with 97.5% natural ingredients. It's lightweight and leaves your skin feeling refreshed without feeling greasy. I use this morning and night during the winter when I'm really dry! Another great option is Bobbi Brown's Hydrating Face Cream!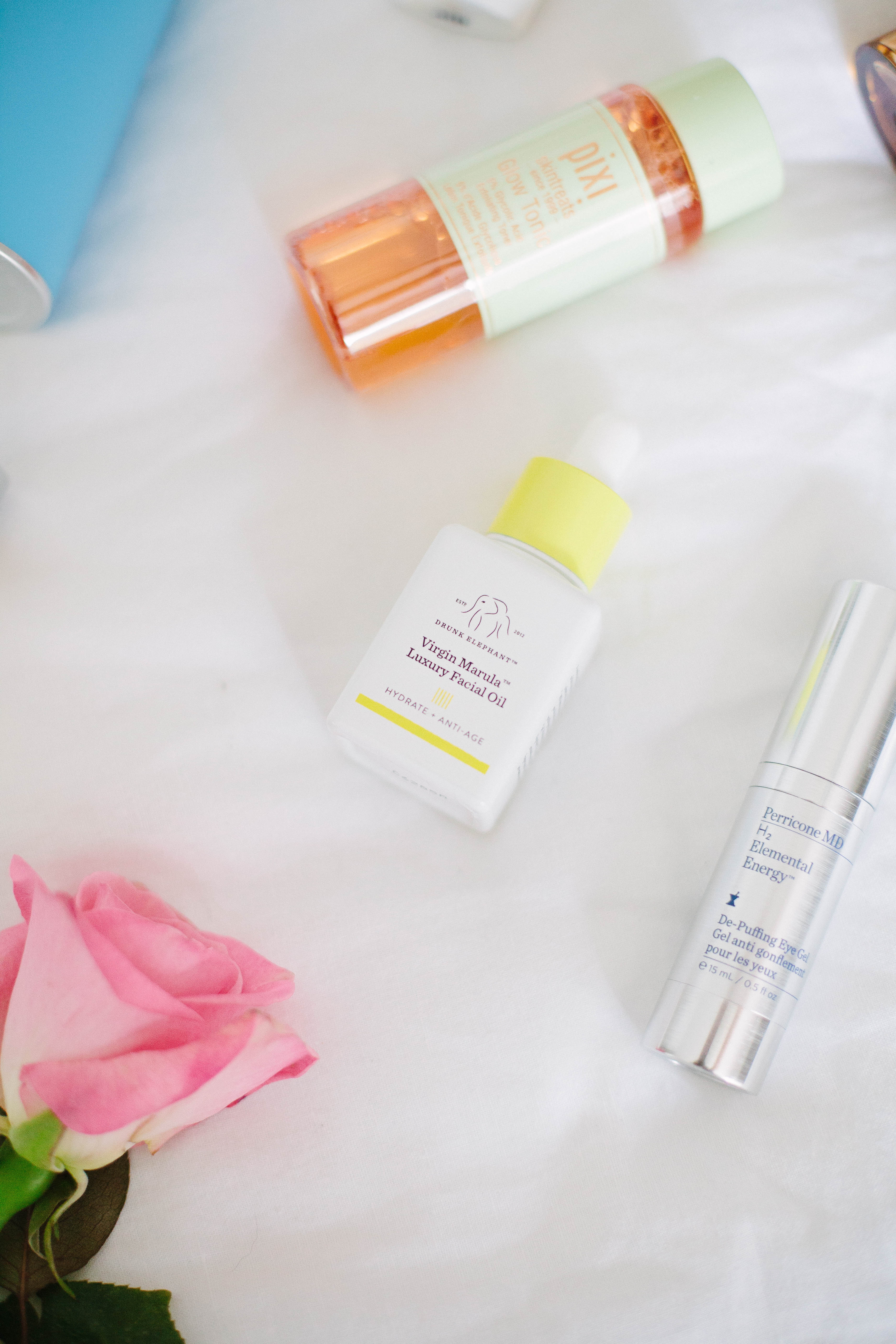 FACE OIL
One of my beauty blogger friends Jamie from Makeup, Life, Love told me to add in a face oil to my skincare routine months back and it's been one of the best changes I ever made to my routine (PS, she's a skincare WIZARD, so I highly recommend checking her out!). She instructed me to try Drunk Elephant Marula Oil, and oh my God this has become my HOLY GRAIL skincare product. Seriously, I will never not use this oil. It helps balance and hydrate the skin, as well as balance oil which makes it good for ALL skin types! It's 100% pure marula oil (all natural!) that comes from the marula seed, which is PACKED with tons of Omega-3s that help with collagen and elastin. It's also HIGHLY absorbent which means it doesn't leave your skin feeling greasy (literally – at all. I was amazed!). It's perfect for ALL skin types, even the driest or oily skin. I use 1-2 drops morning and night, and it's made all the difference in my skin texture and appearance. It's my #1 recommended skincare product and a great addition to your skincare routine if pregnant. I know it's pricey, but a little goes a LONG way with this one! I've been using the same bottle for 6 months!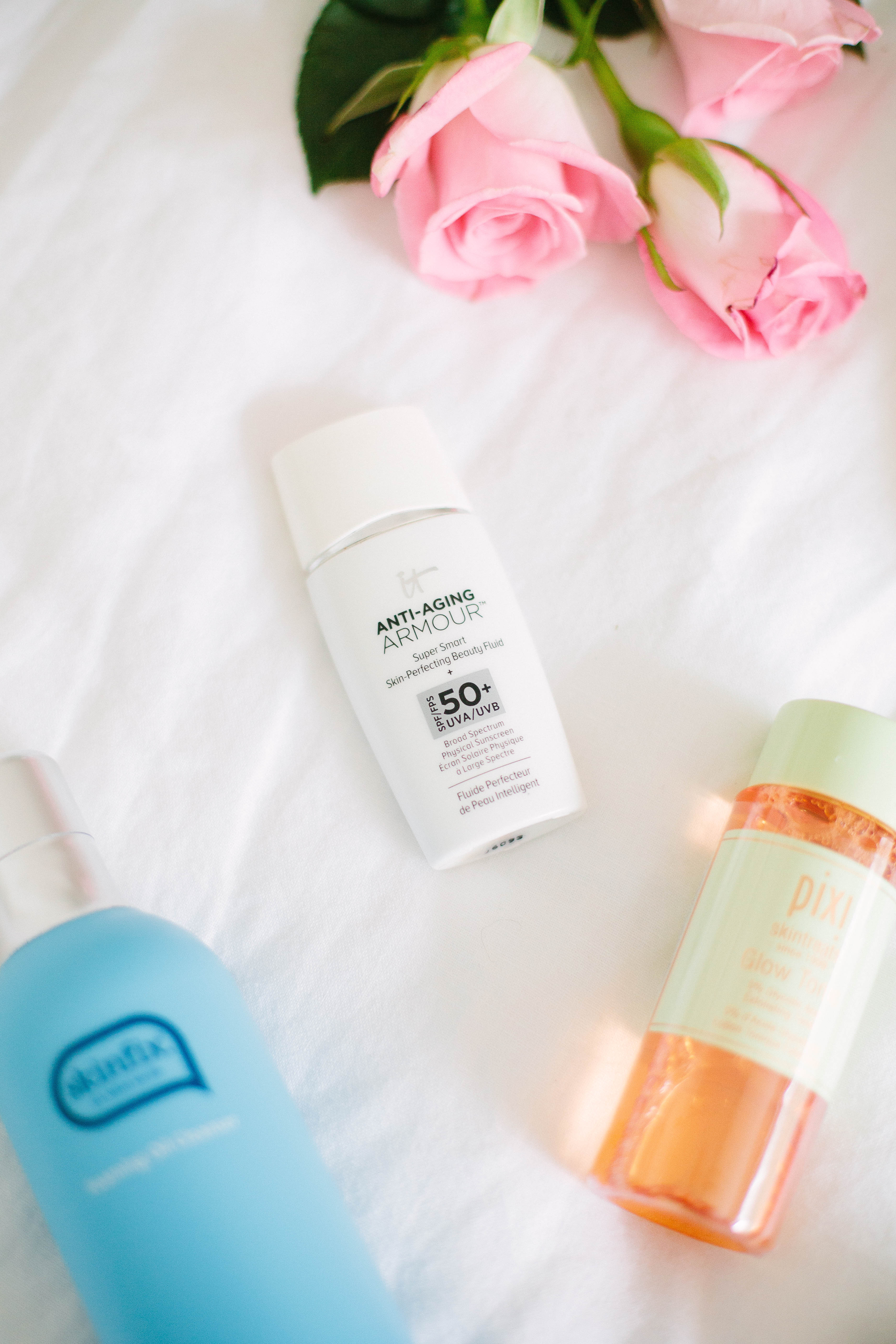 SPF
The last step in ANY good skincare routine, especially during pregnancy, is SPF. With hormones going haywire, your pregnant skin is directly affected making it more sensitive to the sun. This is why it's so important to always wear SPF, even if your makeup includes it! It also protects against developing melasma during pregnancy. I like the It Cosmetics Anti-Aging Armour Beauty Fluid, but the Clarins UV Plus Anti-Pollution Broad Spectrum SPF was recently recommended to me as well. I plan on using this every morning as the last step before my makeup!

The best way to apply your face products is lightest to heaviest, that way you're creating a protective barrier!
A good rule of thumb is to AVOID any skincare products with retinol and hydroquinone. These are not safe during pregnancy! Be mindful of acids because pregnancy can cause sensitivity to your skin and it's more likely to react to acidic products. If you choose to use a product with AHAs, start SLOW and only use them every other day at first. See how your skin reacts before continuing. These precautions are the same with breastfeeding, since our hormones are still all sorts of crazy!
Hopefully this gave you some insight as to what products are safe to use while you're expecting! I would love to hear was great, safe pregnancy skincare products you're using below 🙂