This post has been long awaited by many of you, and I've put off writing it until now because I wanted to be super transparent about the transition to three kids. But before I dive into that, I want to share with you a little about my transition from one to two.
Going from one child to two ROCKED MY WORLD. Just when I thought I had the mom thing down, Noelle entered the world and threw me for a loop. I remember being terrified when my husband went back to work for the first time because I had no idea how I was going to care for two kids except for the help of Daniel Tiger's Neighborhood and a lot of snacks. Learning to balance two schedules (I was very regimented with Landon…not so much with Noelle) proved to be difficult and I felt like I had to learn everything all over again. I officially had "my hands full" and I don't always work well under stress. For me, it was a very difficult transition. I had a new baby who DID NOT SLEEP (Noelle was the worst sleeper ever…literally did not sleep more than 5-10 minutes at a time, and it slowly killed me), and I felt so guilty about my toddler not getting the attention he did before. Of course, this all got better (it's just a season after all), and I became a pro in no time.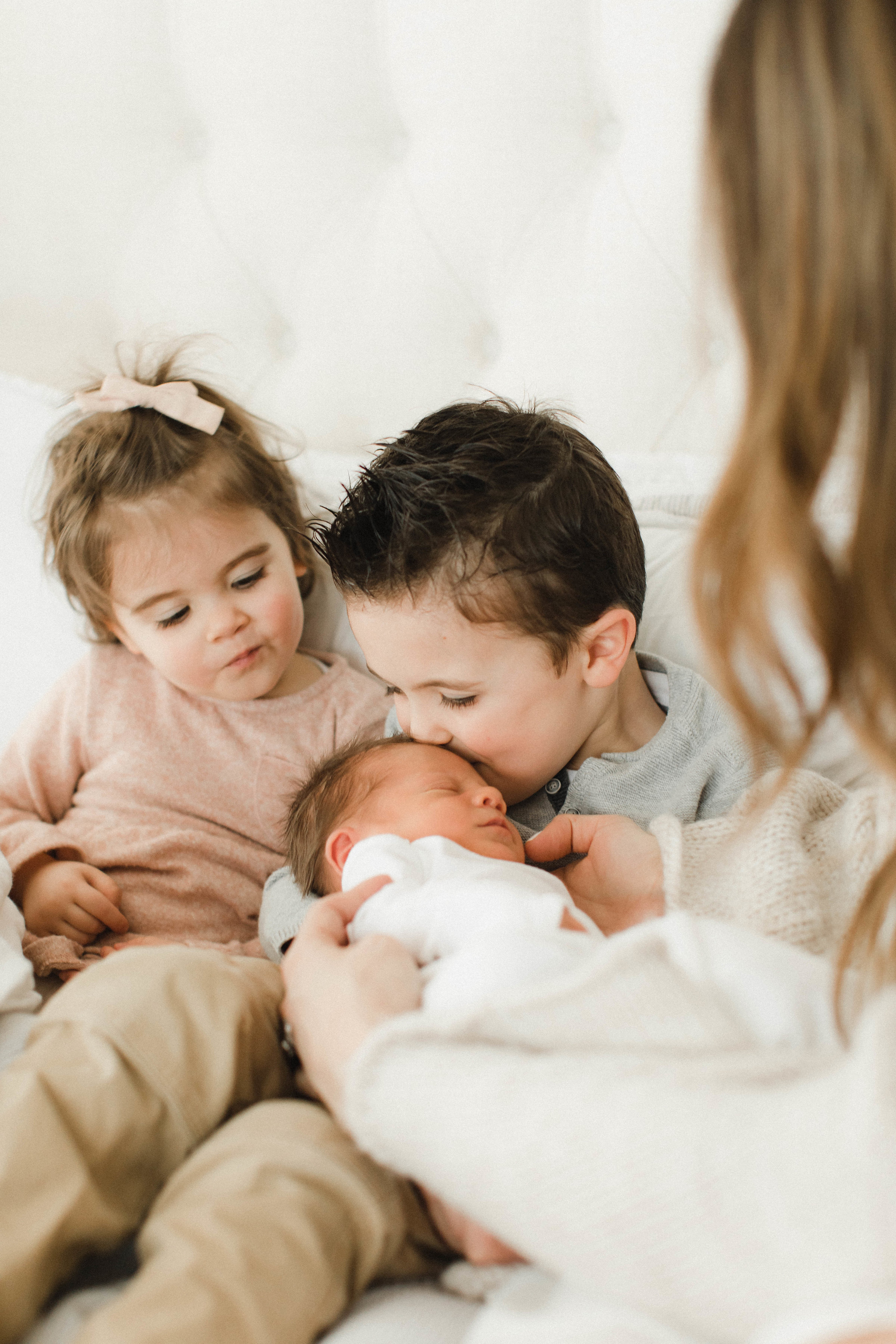 Okay, now let's get into the transition to three. And I'm going to be REALLY transparent with you here.
Guys. Three kids is a circus. A freakin' CIRCUS. A circus I wouldn't change for anything, but oh man. Our house is a hot mess all the freakin' time. I'm thinking maybe it's the age gap (they're all 2-2.5 years apart), so I've got a 4 year old who never stops talking/always tattles/still hates sharing/is very emotional when things don't go his way, a 2 year old who just loves instigating her older brother (YES, she's that sister. She knows everything that upsets him and plays on it, and oh my word. She is a tough cookie. She's gonna be FUN as a teenager, ha! But I assure you, they're the best of friends as well), and a newborn who relies on me for his every need.
To say I'm pulled in 932847682910 directions at any given time is an understatement.
My husband and I often look at each other like "WHAAAAAAAT IS HAPPENING?" because we are officially outnumbered and the noise level in our household is equivalent to a sonic boom. Someone is either always fighting or always crying, and I feel like lately it's a rare moment that everyone is happy all at once (now granted…lots of factors playing into that here. 1. New baby; 2. NEVER ENDING WINTER…it's finally warming up, so I can get these kids outside THANK GOD; 3. Sibling rivalry). It's pure chaos all of the time.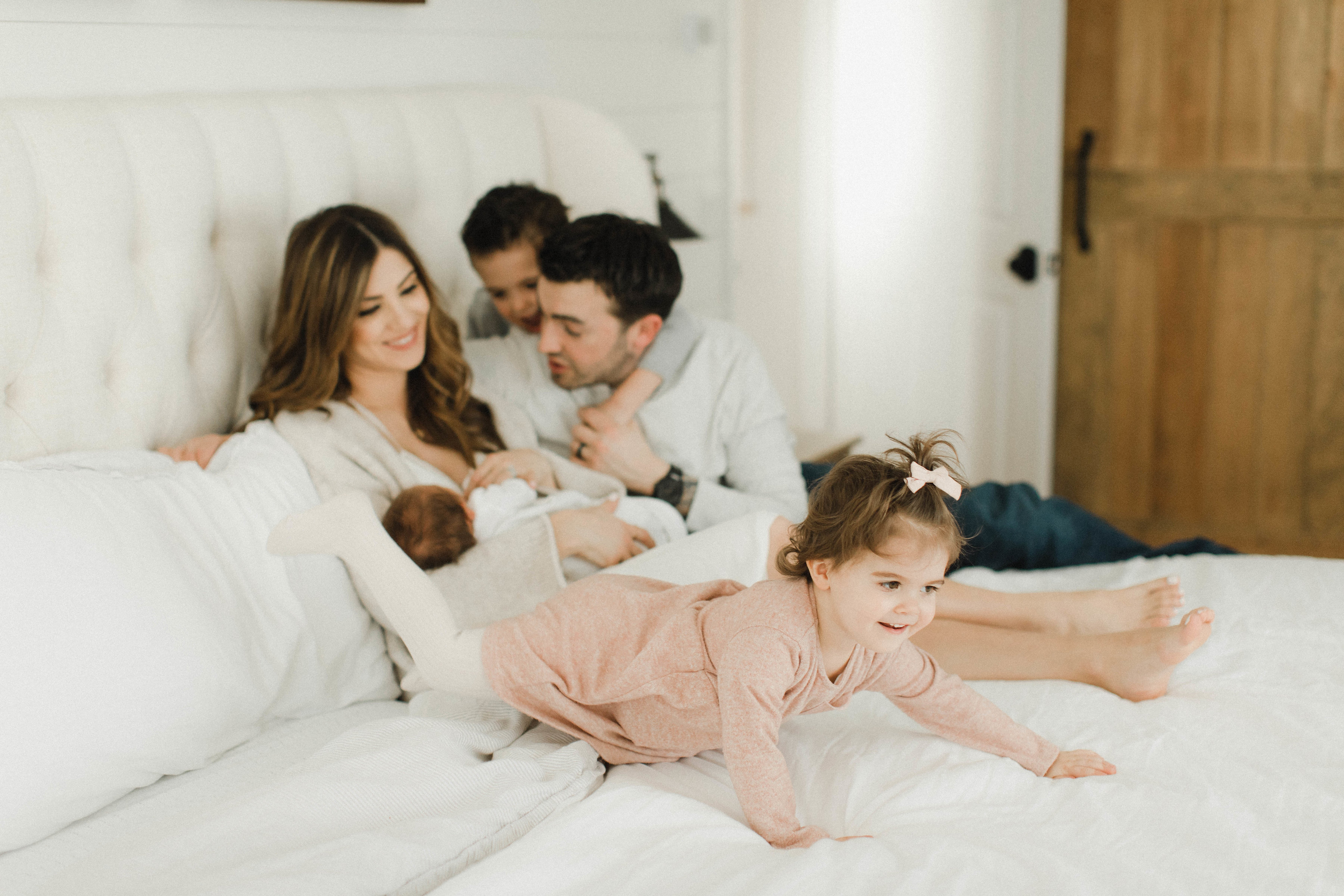 But, that being said. It's BEAUTIFUL chaos. Yes, it's loud. Yes, it can be frustrating. Yes, I get tired of breaking up fights over toys or the tantrum over what color snack cup we're using today. But honestly, I think back to years go when I said I wanted a family with three children and it's everything I've ever wanted and more.
I know this is just a season, and I know it's a hard one. Raising kids is not easy. But I also know it's a short one. I see the three of them and have an overwhelming feeling of happiness, even if they've driven me crazy all day and I feel like I need to put MYSELF in time out.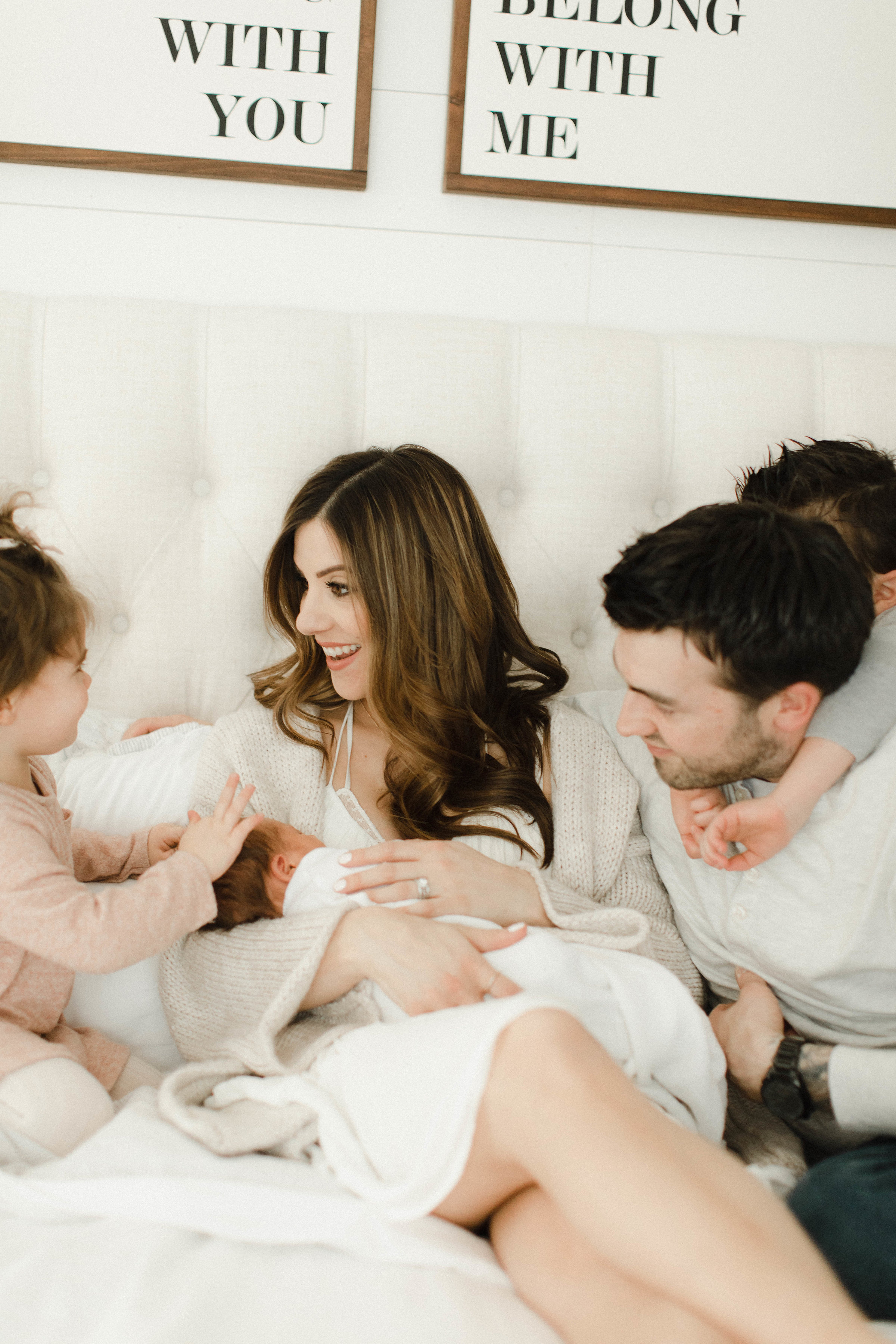 I'm still learning the balancing act that is three children. I can get very stressed very easily (hello, hormones), so I often feel like I'm failing when I'm sitting feeding the baby and the older two are fighting over a toy or something else that's crucial in their little world. I'm figuring out how to handle this better (often times, I need to separate them…or strap them in their high chairs at the dining table for some fun with Play-Doh. OR a good dance party!), and I know it will get easier with time. They both LOVE to help with the baby, so often times I'll stop a fight by saying "MOMMY NEEDS YOUR HELP! Who wants to be my big helper?" and dishing out an easy task like getting the baby a diaper.
There are many days I have nothing left to give and the dishes are piled up in the sink and the 5 loads of laundry are all over the bedroom and laundry room floor, and I just really want to run away for 20 minutes the second my husband walks in the door (we can all relate to that, right?).
I feel blessed to have a husband who GETS IT and will let me go for those 20 minutes, and who won't tell me that it was equally as hard for him while I was gone. I know not everyone has this (single moms/military wives, you're amazing), so it's not something I take for granted.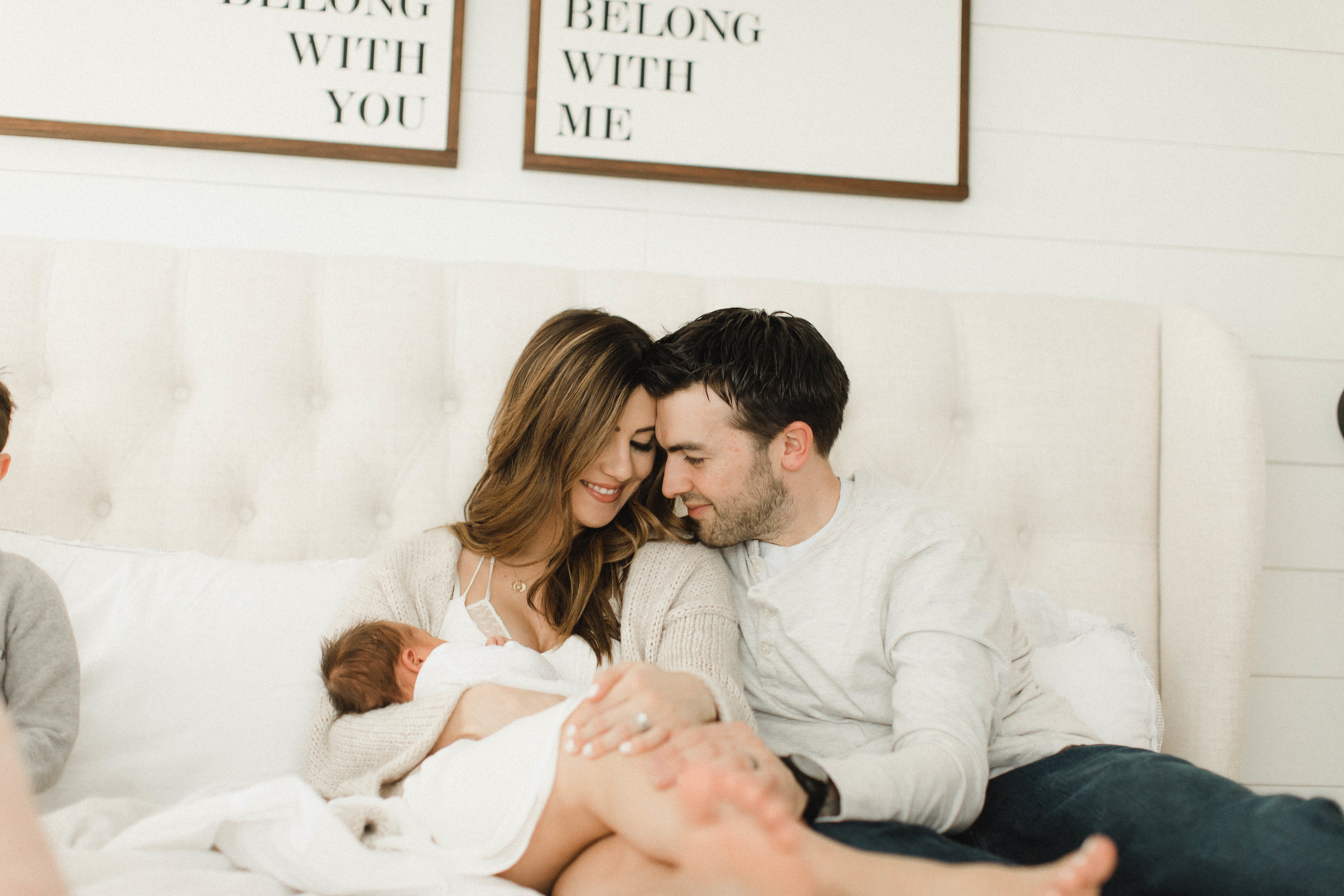 And I also don't take for granted the fact that I have three beautiful children running around and noisy-ing up our household. As hard as it may be, I look at them and think about the work that it took to bring them here. I remember the emotions and struggles we experienced trying to conceive, and I feel so so blessed to be their mom. I know that sounds super cliche, but this really is everything I've ever dreamed of for my life.
Our schedules are only going to get crazier as we add in extracurricular activities like sports, swimming, and dance, but this is what I've always wanted. I've always wanted to be cheering for my kids along the sidelines. I've always wanted to be a team mom and help arrange snack schedules. I cannot wait to see my boy at his first tee ball game, and Noelle in a little tutu on stage. And I cannot wait to see who Austin will become in the next few years. I have no doubt in my mind that these three will be the BEST of friends, and that makes my heart so happy. I try to remember this on the hard days where everyone is driving me crazy, and it's really helped put things into perspective. I would rather have all of this than not at all.
So if you're wondering what 3 is really like…it's a shit show! But a really amazing, glorious, incredible, overwhelmingly beautiful one. And one I wouldn't trade ANYTHING for. 🙂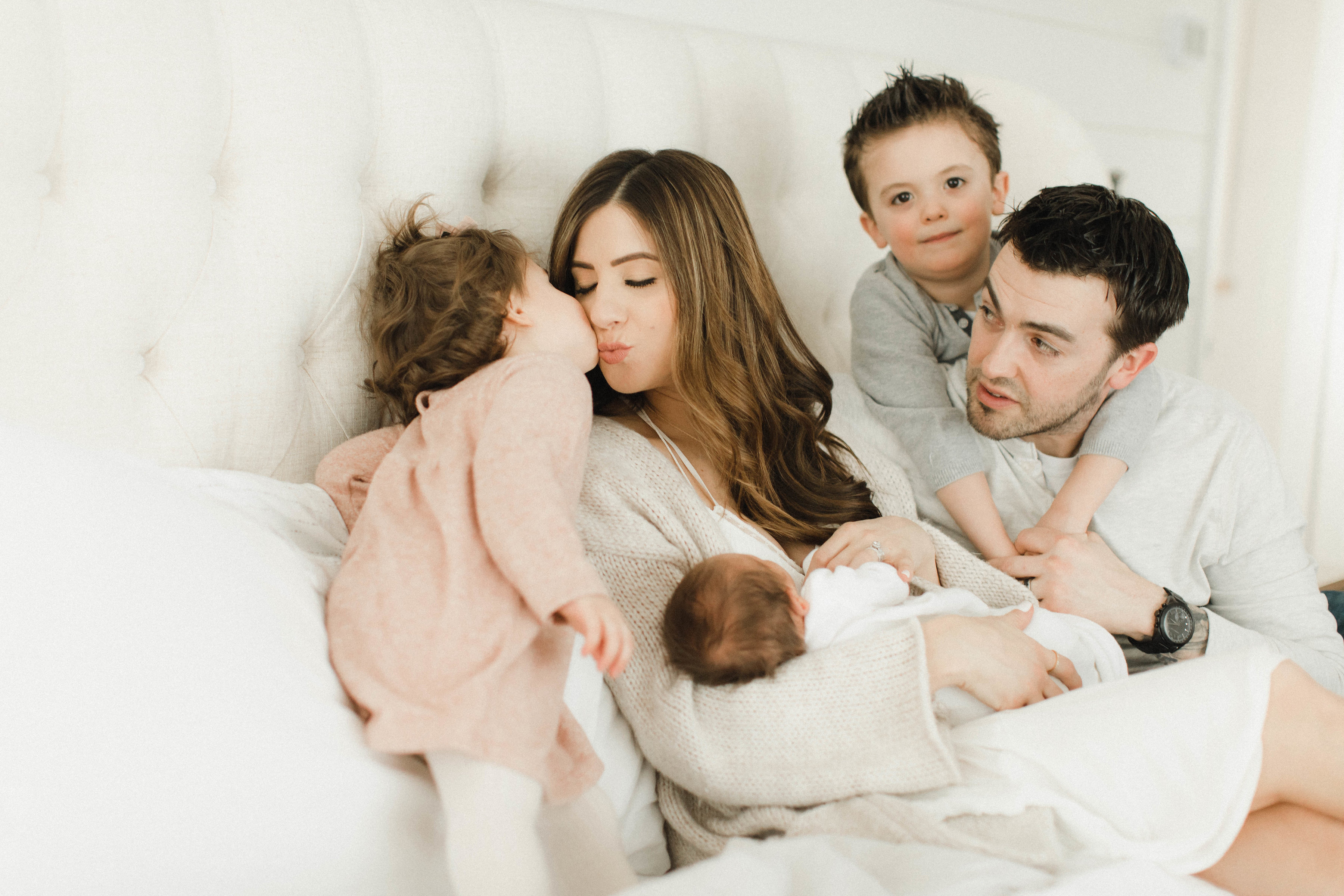 Photography by Victoria Gloria, who knows how to capture the beauty of motherhood 😉