I rounded up some Easter Basket Ideas for Baby below for you! 🙂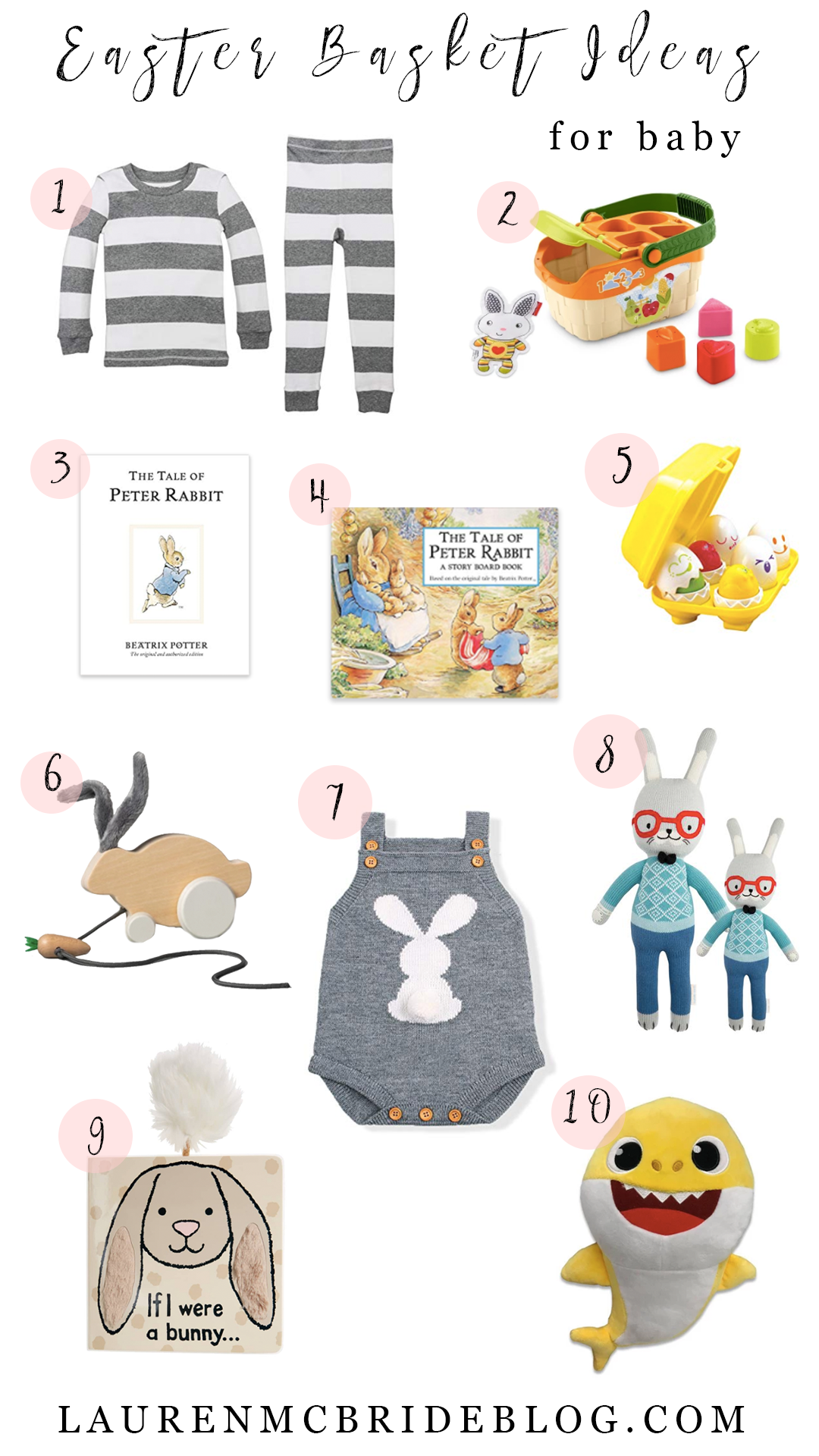 1 // Burt's Bees Organic Cotton Pajamas: Burt's Bees pajamas are some of my favorites, and I love that the organic cotton is affordable!
2 // Sort and Learn Picnic Set: This cute little picnic basket set is a fun learning activity for baby!
3 // The Tale of Peter Rabbit: I used to love this entire collection as a kid, and I'm so sad I can't find my collection! I plan on starting one for my kids because I love how classic these are! I linked a board book option below for baby.
4 // The Tale of Peter Rabbit Board Book: Here's the board book option if you prefer!
5 // Hide & Squeak Eggs: These little eggs are so cute and have so many 4.5 star reviews! I scooped them up for Austin for Easter!
6 // Bunny & Carrot Pull Toy: I love the neutral tones of this adorable little wooden pull toy. Super cute for a new walker!
7 // Bunny Romper: This romper is SO CUTE for a first Easter outfit!! It comes in a variety of colors, too!
8 // Cuddle + Kind Doll: These dolls are absolutely adorable AND give back, too! 1 doll provides 10 meals to children in North American and around the world. The dolls are handcrafted by women artisans in Peru which provides them with sustainable, fair trade income. This company is amazing! They have a variety of dolls, too, for all kids!
9 // If I Were a Bunny Board Book: Another cute board book option with some sensory play!
10 // Plush Singing Baby Shark: This is half a joke and half for real, haha! If your baby is as obsessed with Baby Shark as mine, then they'll love this singing plush toy! Totally got it for Austin 🙂