It's that time again! Below are my May Amazon Finds Under $50, including many on-trend items for the season! Happy shopping!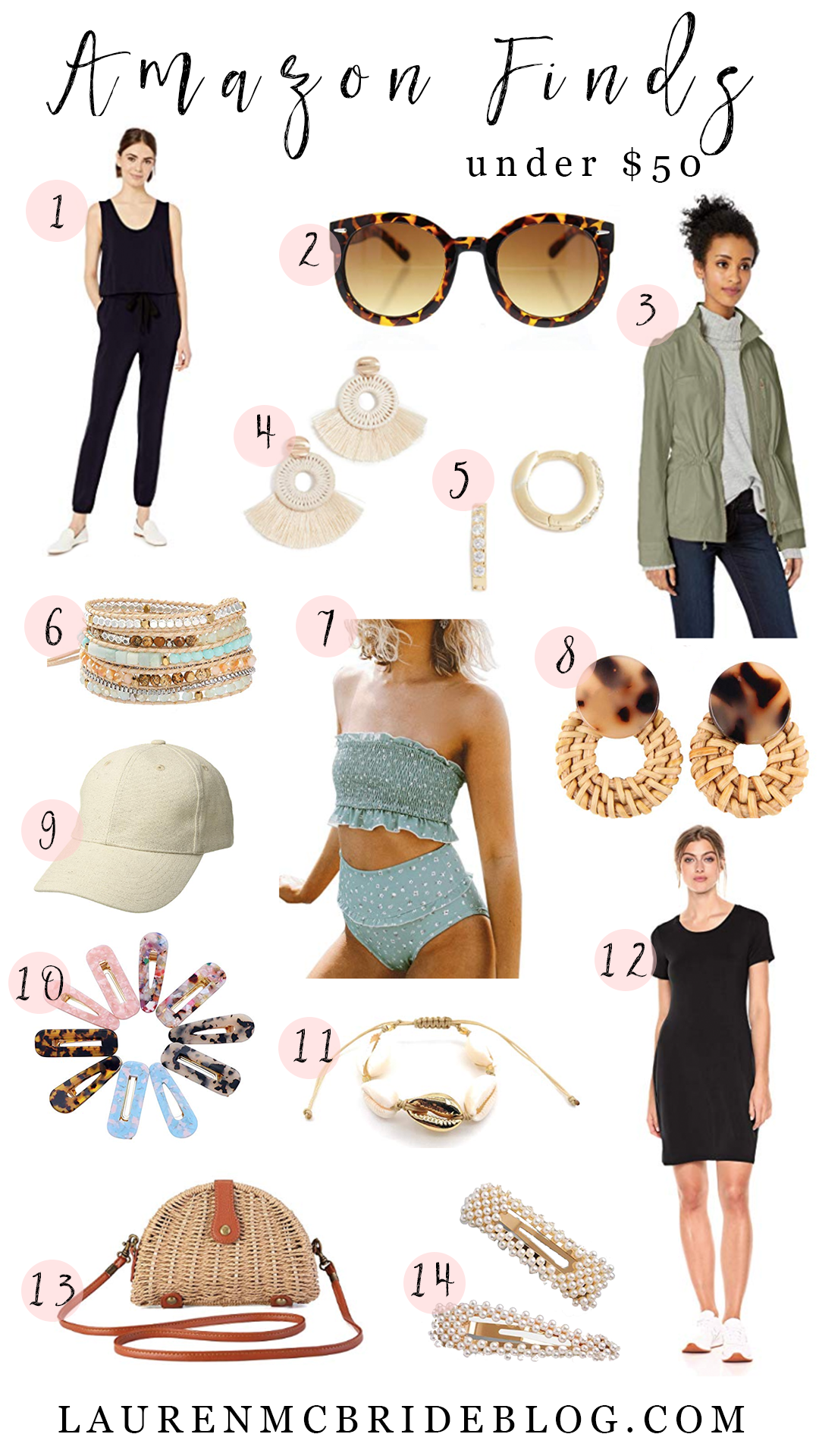 1 // Sleeveless Jumpsuit: This jumpsuit has 4.5 star reviews! It looks super soft and a great basic for spring.
2 // Oversized Round Sunnies: These look like Karen Walker dupes, have 4.5 star reviews, and are only $12! Great if you like a similar designer look but not the price!
3 // Military Cargo Jacket: This jacket is perfect for spring! A cargo jacket is one of my must-haves for capsule wardrobes. This one is under $40!
4 // Tassel Earrings: These are absolutely beautiful (I scooped them up!) and I love the mix of rattan and fringe! So fun for this time of year!
5 // Mini Hoop Earrings: I've owned these for a few weeks now and have been wearing them daily! I love that they're dainty and add a little bit of sparkle.
6 // Beaded Wrap Bracelet: I loved this so much, I scooped it up! I love the boho style and that it gives the appearance of multiple bracelets. Super easy to way to accessorize!
7 // Bandeau High Waisted Swimsuit: This swimsuit is so adorable, flirty, and feminine. It comes in multiple colors, too.
8 // Rattan Earrings: These adorable hoop earrings are under $9! Great for summer and go with just about everything!
9 // Linen Ballcap: I love this simple ball cap for rough hair days!
10 // Oversized Acrylic Hair Clips: These oversized hair clips seem to be all the rage, and I love the look of these acrylic ones!
11 // Cowrie Shell Bracelet: I love this bracelet on it's own or stacked with others for the summer!
12 // Black T-shirt Dress: If you're looking for a simple black dress, this one is it! It has over 250 4.5 star reviews and is under $20!
13 // Rattan Bag: I love the shape of this little rattan bag! It's fun and a bit different than the standard circle bag.
14 // Oversized Pearl Hair Clips: If you're looking for these hair clips, these are under $7!