I've got some more great Amazon finds for you this month! I scooped up quite a few myself to try out and I'm sharing those on stories! Check my highlights for AMAZON FINDS to see them!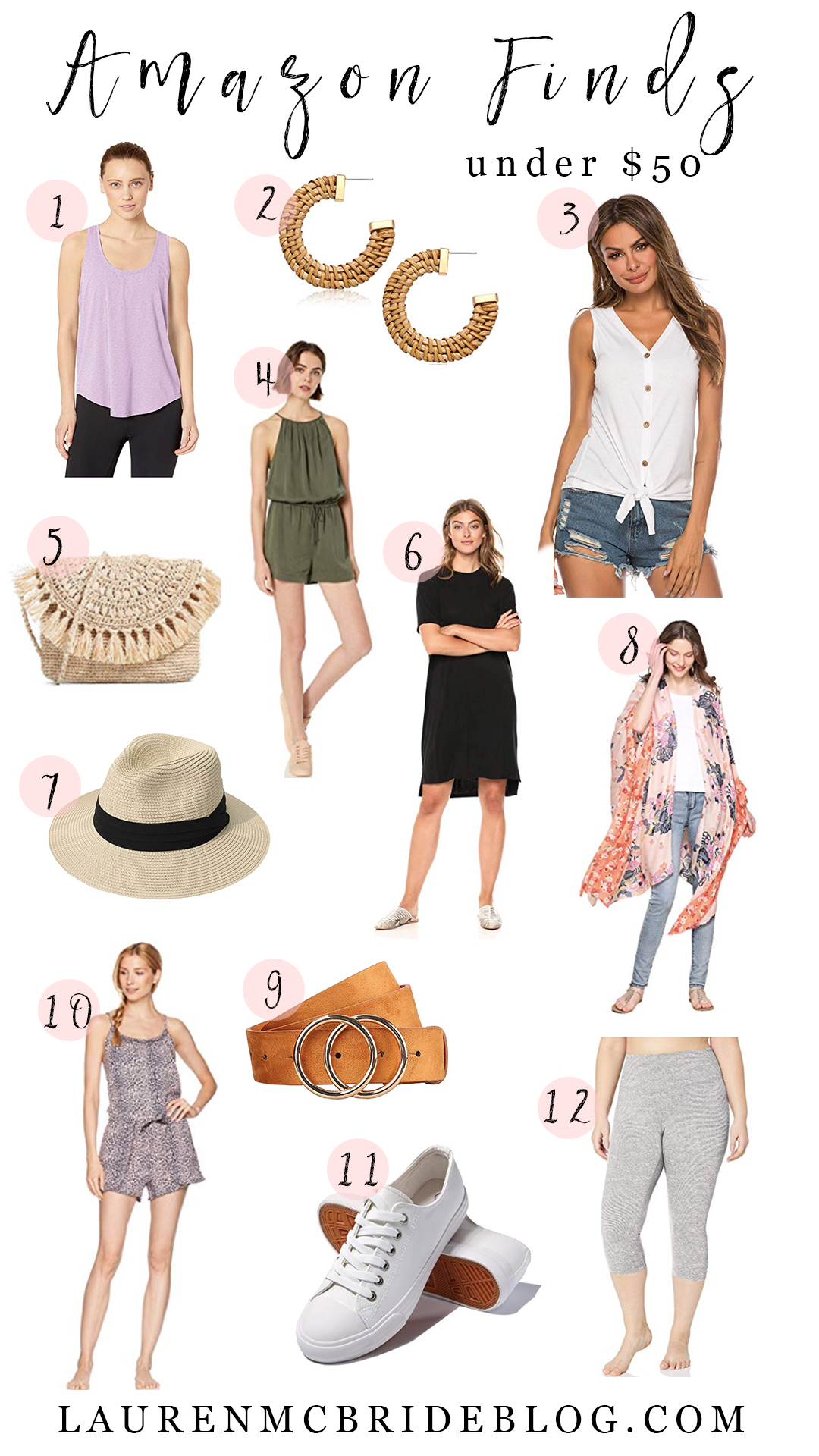 1 // Workout Tank: This basic workout tank is by one of my favorite Amazon athletic brands, comes in multiple colors, and is under $20!
2 // Rattan Hoop Earrings: Love the detail of these rattan hoop earrings, and the gold adds a bit of sophistication and makes them look more expensive than they are! These come in at under $12!
3 // Tie Front Tank: This cute tie front, button down tank has endless amounts of color options and is under $20!
4 // Romper: This adorable romper is under $35! I love that it can be worn casually or even dressed up with some heels!
5 // Straw Bag: This straw bag is adorable and fun for nights out during the summer, or a tropical vacation!
6 // T-shirt Dress: If you're in need of a basic t-shirt dress, this one comes in a variety of colors and is under $20!
7 // Wide Brim UPF50+ Hat: I LOVE that this hat is UPF50+! Perfect for those who need that extra layer of protection in the hot summer heat! It rolls up, too, for easy packing! It's adjustable for your head size, as well, and it's only $16!
8 // Floral Kimono: This kimono is so beautiful, only $22, and has over 400 4.5 star reviews! Mine is on it's way to me, so I'll be sure to update when it comes in!
9 // Leather Belt: This classic belt has a beautiful, simple buckle detail and is under $16!
10 // Pajama Romper: These leopard pajamas are so cute! I love that it's a romper, and the ruffle detail is flirty and feminine. These are only $20!
11 // Canvas Sneakers: These simple canvas sneakers are a wardrobe classic and go with just about everything.
12 // Workout Leggings: This cropped version of my favorite Amazon leggings are great for this time of year! They're only $35!