I remember being SO excited when I sent my first kiddo off to preschool because I couldn't wait to see the adorable little projects they work so hard on during their school day. I literally saved EVERY SINGLE PROJECT that first year, which as you can imagine….was quite a bit. I had an entire bin filled by the end of the year, and quickly realized that I needed a better solution or else my house would be taken over by construction paper projects.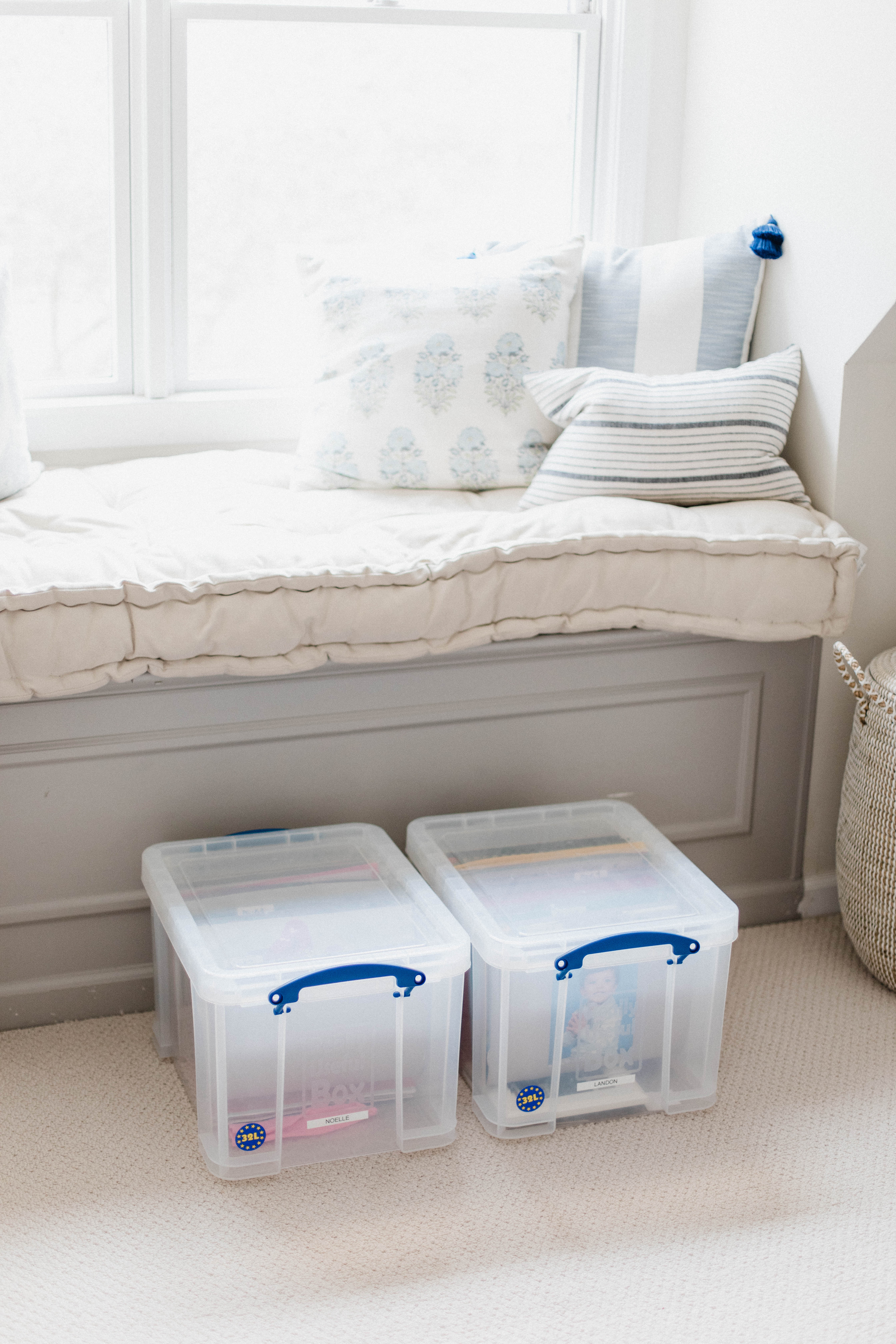 Now don't get me wrong…I LOVE every thing they make. I actually have THIS shelf in our playroom where I display the cutest ones for the month or season. But I decided I'd have a lot throughout the years if I saved every little thing. My mom saved only her favorites from when we were kids, which I absolutely love looking back on. I decided I needed a system to save only my favorites or most meaningful projects in a safe place to share with my kids in the future.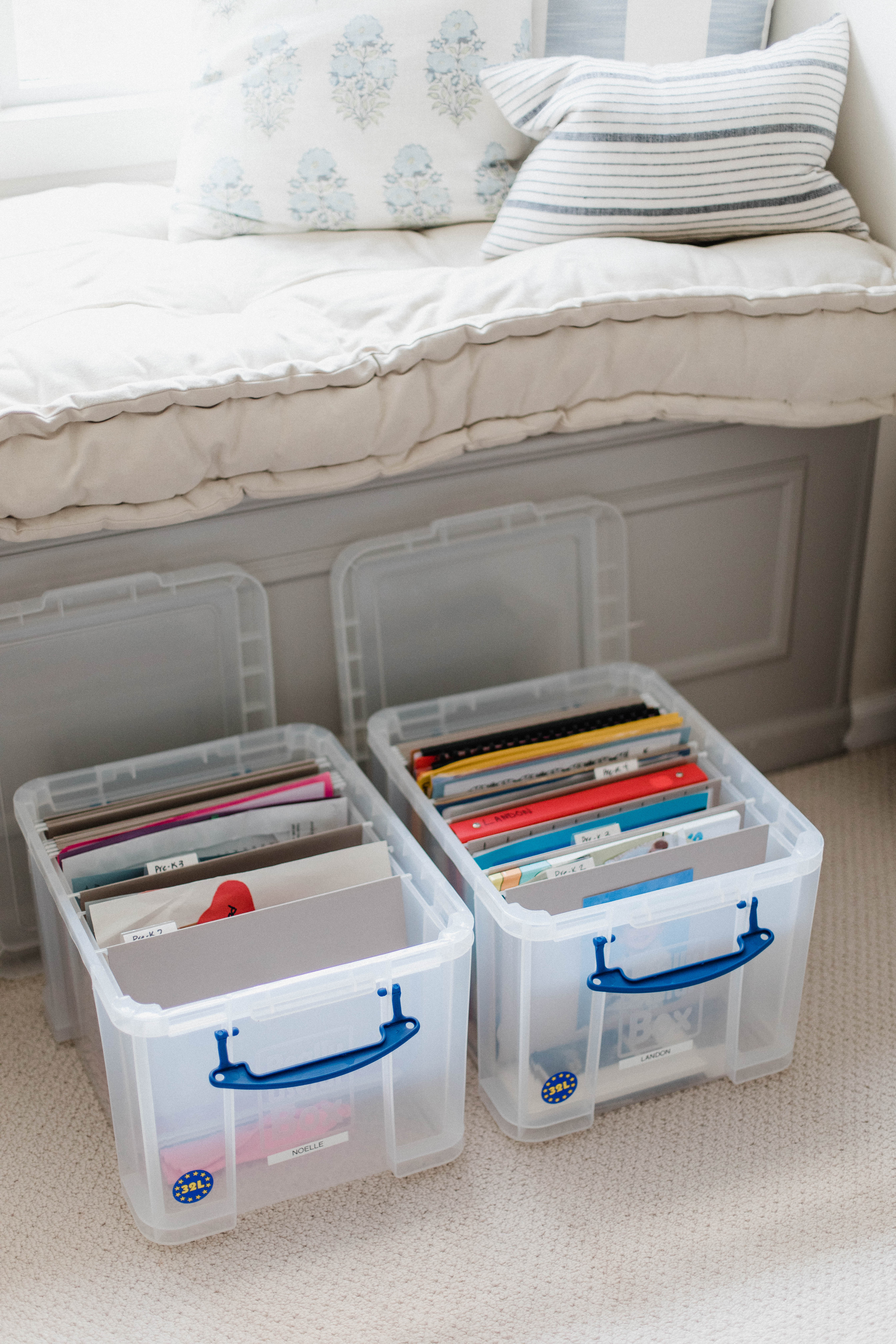 My friend Lise (@lisespiecesjewelry on Instagram!) showed her system in her Instagram stories one day, and I absolutely loved the set up! I decided to implement something similar, and so far it's been a really great and organized way to save our favorite school projects.
I bought THESE large plastic storage boxes that have the rails for hanging file folders (similar options HERE and HERE), and a set of THESE hanging file folders. I labeled a folder for each grade they've been in so far, including preschool. One of YOU actually gave me the tip of taping their class photo from the year on the front of the folder, which I loved! I then went through their projects and saved the sentimental, specials ones…like the adorable things they say for Mother's or Father's Day, or special projects about our family. My son wrote several books in Kindergarten, and I saved them ALL because I don't have the heart to toss them! I also saved their school and class photos.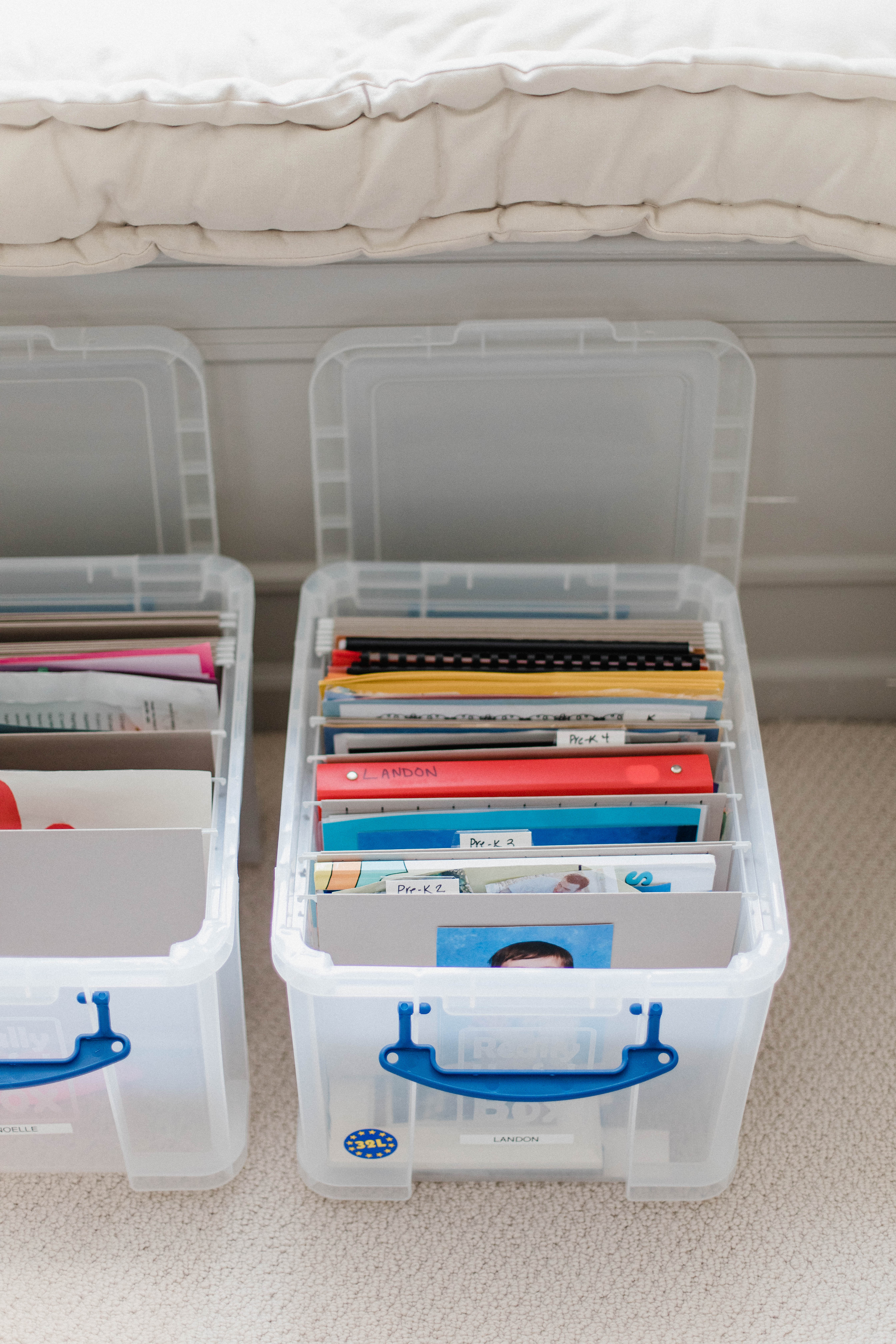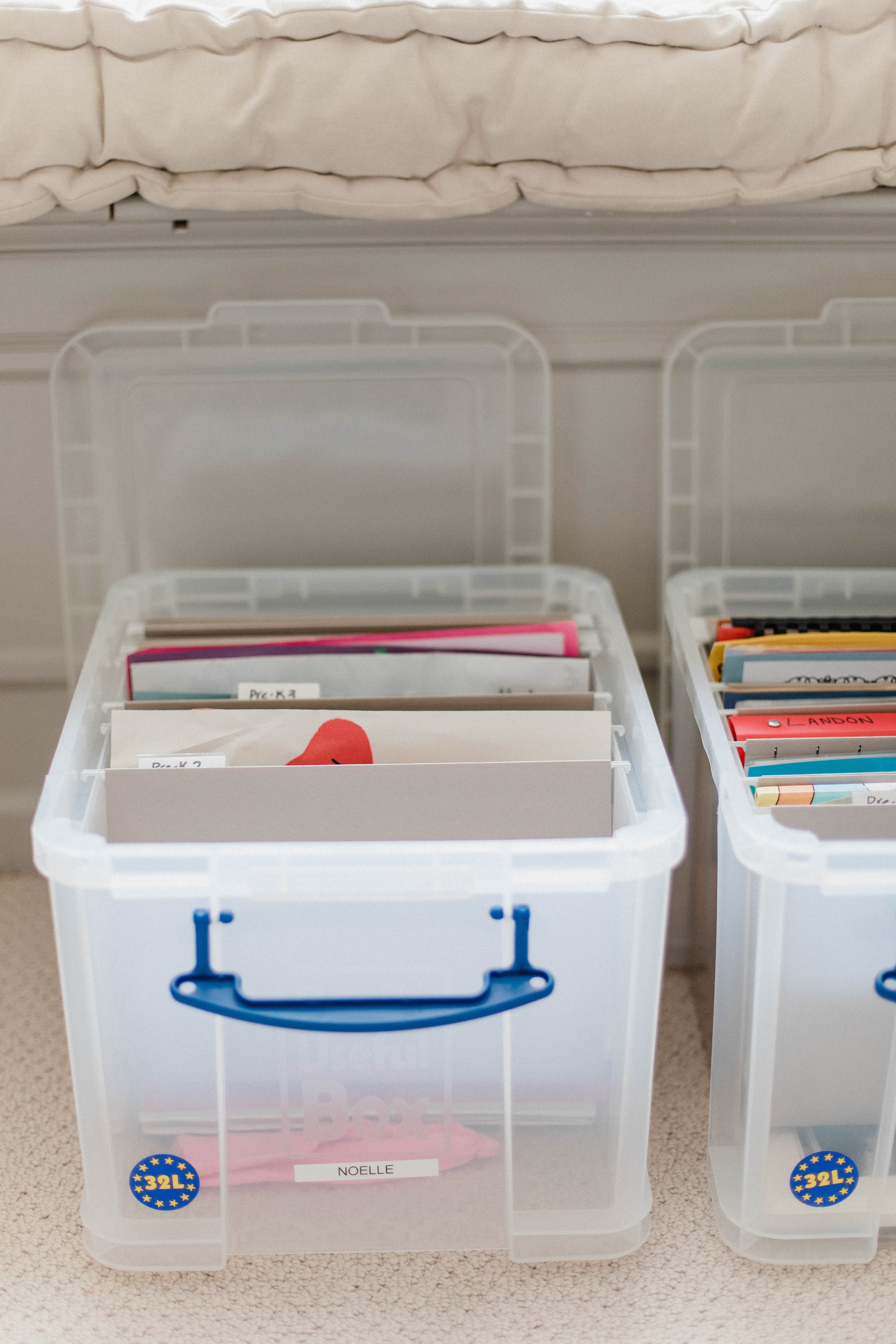 I'm sure I'll have to go through and filter things out over the years, but I like this simple system for now! One of you also suggested using the app Artkive for taking photos of each project and creating them into a book, but I feel this works better for me (because I would probably forget to take the photos). But I just wanted to mention it in case you wanted to check it out!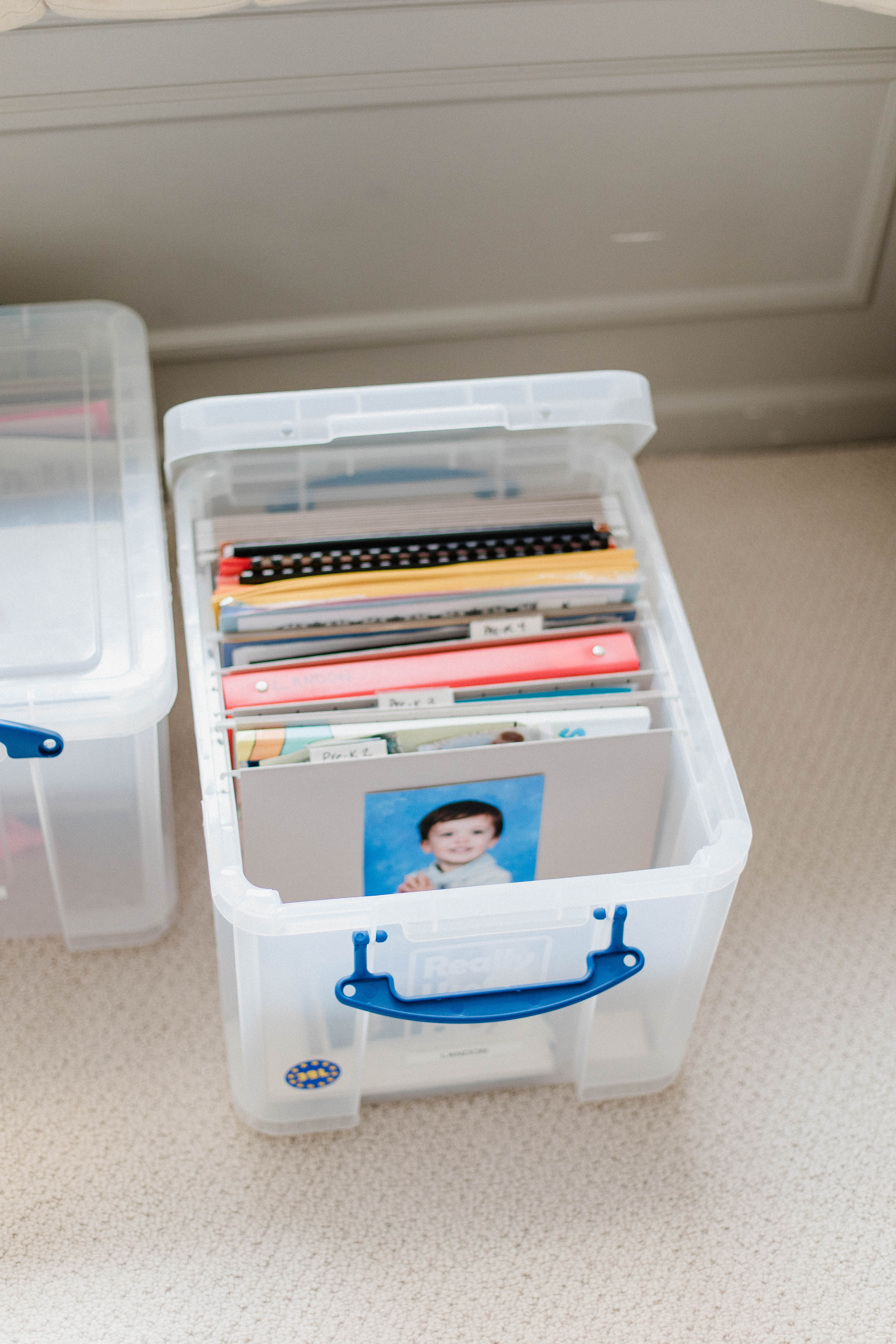 I'd love for you to share how you organize your kids' school projects below with our community! I'm always learning from you!
READ NOW, PIN FOR LATER: