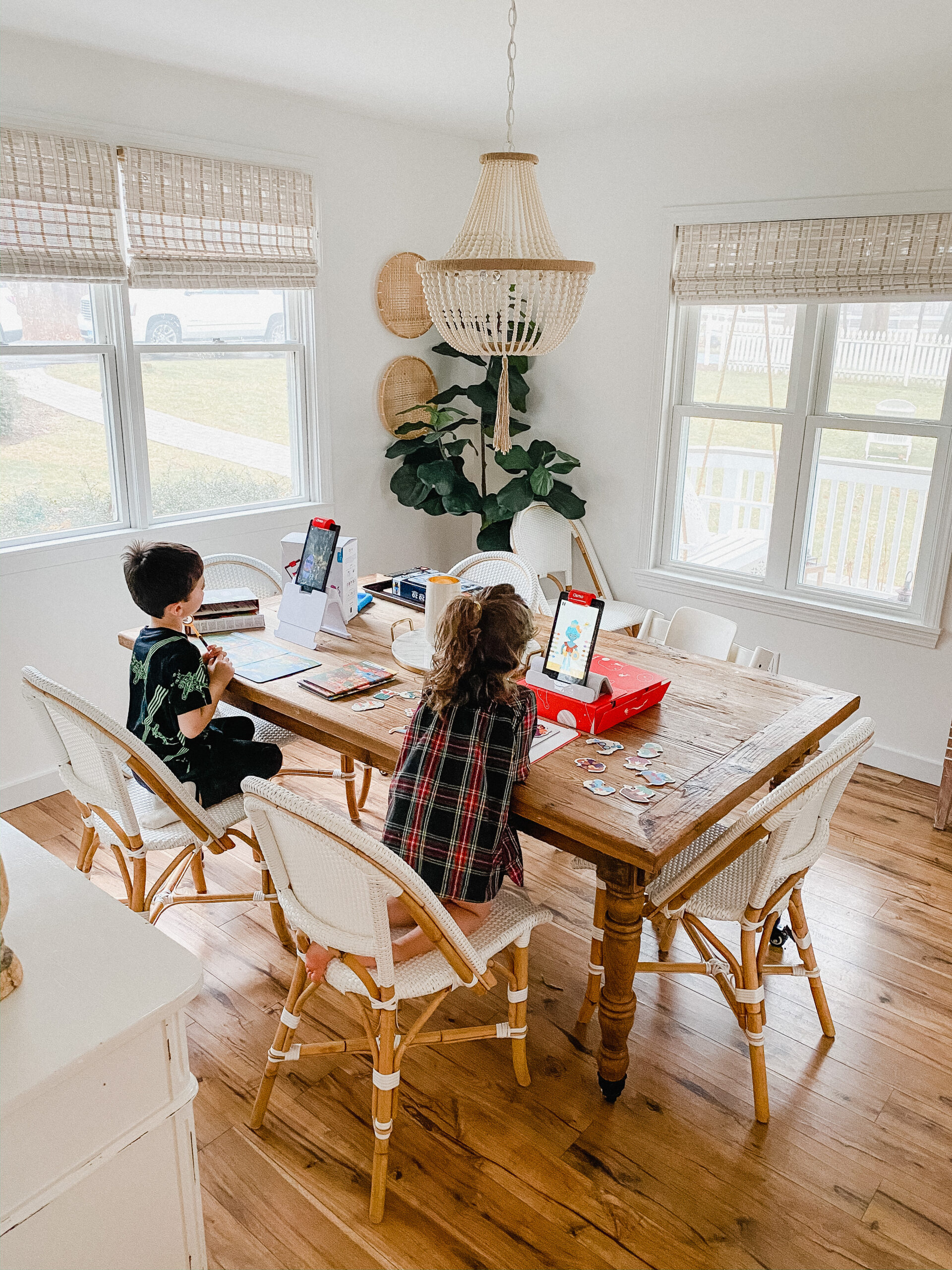 Given the status of many of our school districts, it looks like many of us will be home for a bit! While I know many schools are sending home curriculum, I thought I would put together a list of resources suggested by many of you just in case you are looking for a little something extra! I have a variety of FREE and PAID Learning Resources for School at Home listed below!
FREE RESOURCES
Here's a list of awesome companies offering free subscriptions to learning resources during this time!
PINTEREST: There is a WEALTH of info on Pinterest and many of my homeschool friends say they get several project ideas on here!
CURRICULUM ASSOCIATES: This company has resources available for extended school closure for grades K through 8! They are printable packets for math and reading.
KHAN ACADEMY: Free online resources for all ages! They have a page specifically for the current virus right HERE.
ALL IN ONE HOMESCHOOL: This is free Christian based online homeschool curriculum!
PRODIGY MATH: A highly rated FREE online math program! I actually downloaded this to my son's tablet, and I know for a fact they use this in some school districts here in CT.
BRAINPOP: So many recommended this! Completely free resources, and they even have a lesson plan on the virus.
MYSTERY SCIENCE: FREE online science curriculum! These look pretty awesome, I plan to utilize them! They have free lesson plans right here for those of us shut down during this virus.
BUSY TODDLER: Susie is the queen of at home activities!!!! She has so many FREE ideas and actives for toddlers!
STARFALL: Free learning games! This can be done on the computer or your tablet! My son has used this in school!
GO NOODLE: Really great for "gym" time! Free movement videos to get kids up and moving. Great for rainy days too!
ABCya GAMES: A variety of educational games and activities for Pre-K to 6+. Great for tablets! Free, or a paid premium feature.
COSMIC KIDS YOGA: We LOVE Cosmic Kids!!!! It really helps the kids focus and helps with mindfulness, too! My kids will easily do this for an hour. It essentially story telling with yoga!
GET EPIC: SO many books for online reading! It's $7.99 a month, but you get the first 30 days free! Could be good until we go back to school!
FRECKLE EDUCATION: Differentiation instruction across Math, ELA, Social Studies and Science for grades K-12.
Also, several museums are offering VIRTUAL TOURS, which one of you shared with me!
PAID RESOURCES
TEACHERS PAY TEACHERS: There are SO MANY awesome resources on here, made by teachers! I just downloaded a few packets for my children's grades (for cheap…$5!) from the Moffatt Girls, and it looks like there's more coming! Super helpful and inexpensive!
SCHOLASTIC TEACHABLES: A variety of teacher-created lesson plans and activity sheets! You can try this free for 30 days, too, but otherwise is $29.99 for the year!
HANDWRITING WITHOUT TEARS: These workbooks were highly recommended for practicing handwriting!
THE GOOD AND THE BEAUTIFUL: This is Christian based, but many homeschooling moms recommend this curriculum.
ABC MOUSE: You guys know I love this one! You can try it free for 30 days, too.
PLAY OSMO: We absolutely love Osmo when we have screen time. Highly, highly recommend! I have the Genius Kit for both of my kiddos. Worth every penny! I'm linking my favorites below. They are available for iPad and Fire Tablet.

HOMER: Another great learning app for kids 2-8. They offer a free trial!
ADVENTURE ACADEMY: A digital learning program for ages 8-13! You can get your first month FREE.
READING EGGS: A fun way to read! This app came highly recommended. You can get a free trial, as well.
NATIONAL GEOGRAPHIC ON DISNEY+: Great for science. I think this is more for older kiddos, though! Of course requires a Disney+ subscription.
BBC EARTH AND PLANET EARTH ON NETFLIX: Also great for science, but again might be more for older kiddos! Requires a Netflix subscription.
WORKBOOKS/HANDS ON ACTIVITES
I got a variety of workbook for my kids too, not just for this situation but also have on hand!
Scholastic Pre-K Reading and Math
National Geographic: They have a variety of STEM kids for kids! I got this awesome volcano one for my oldest.
KiwiCo: You all know my love for these boxes! You can get 30% off your first month with my link! Great for ages 0-16!!!
SOME OTHER POSTS WORTH READING:
Sally at Love Stalgia homeschools her daughter, has some awesome blog posts linked below:
Homeschooling her Kindergartener
Suddenly Homeschooling: Resources to Help You
My friend Carly at Lipgloss and Crayons is a teacher and also has great posts below:
If you have other resources to share, please share them in the comments below! I hope you find this resourceful! 🙂
READ NOW, PIN FOR LATER: