Disclosure: This post is written in collaboration with Babies "R" Us. All thoughts and opinions are my own.
The diaper bag. The most crucial item (aside from your baby!) that will be attached to your hip everywhere you go for the next few years. We learned VERY quickly that our diaper bag needed to be stocked at all times because you NEVER. KNOW. WHAT. COULD. HAPPEN. You might get a little confident and think "Oh, the baby already pooped today, we don't need to make sure we have a change of clothes" and BAM! your child will prove you wrong and have the biggest blow out imaginable that will leave you not only regretting your decision for leaving the clothes at home, but also questioning your parenting skills. It's true. Ask any parent.
Today I'm sharing with you my top 5 must-have items in my toddler diaper bag, AND some extra added tips on feeding/changing/and cleaning on-the-go for all you new moms out there. My diaper bag for baby has a few more items in it, but this is currently where we're at!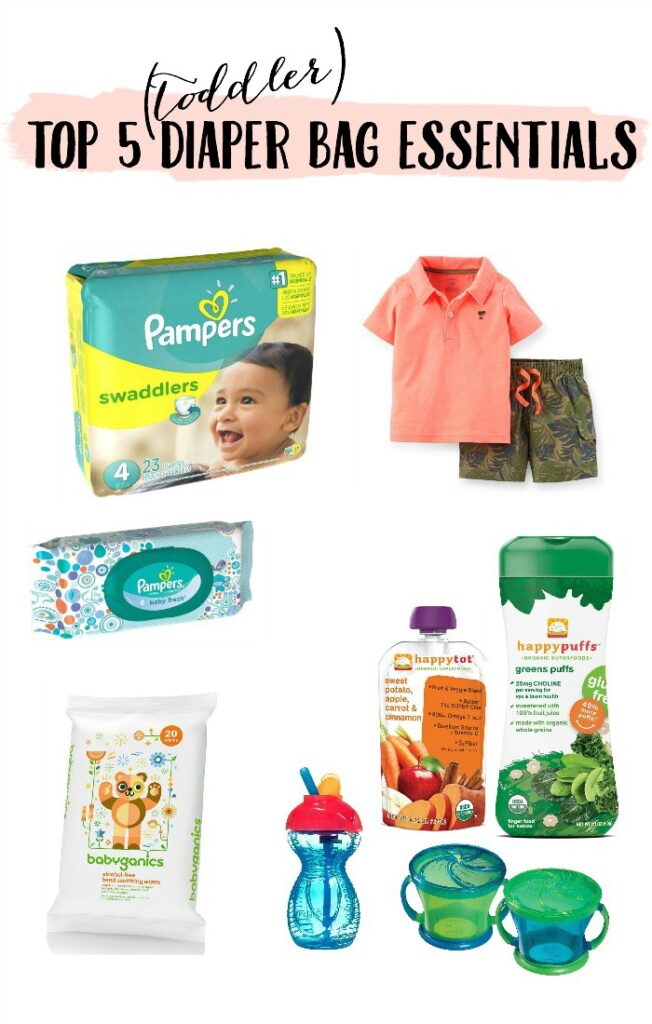 1. Diapers/Wipes: This seems a little obvious, but I can't even explain how necessary it is to make sure your diaper bag is STOCKED of these items at all times. You don't want to be out and about and have the massive, blow out poop that goes up the back and out the sides occur and you have only like, 3 wipes to work with (BEEN THERE). I always make sure I have a full pack of wipes with me, and while this adds some weight to the bag, I would rather be prepared than not! I love the Pampers brand of wipes because they're sturdy and your finger doesn't rip through them mid wipe like some other brands we've tried…………………
2. A change of clothes. I will always have a change of clothes or an extra white onesie in our bag in case of emergencies. In the winter I'll throw in an extra pair of sweat pants as well.
3. Sanitizing wipes. Maybe this is my crazy mom side coming out, but I've always kept some sanitizing wipes in our bag to wipe down tables or high chairs in restaurants. I feel a lot more comfortable knowing I've sanitized that table myself before putting my child's food down on it! They've also come in handy for washing my own hands post nasty diaper changes.
4. Snacks. Snacks are my sanity when I'm out and about with Landon. I love those little fruit and veggie pouches and he loves the little rice puffs. They keep him quiet and allow me to get things done with him in tow!
5. A sippy cup: I always have one with me, whether it's for water or milk!
While these are my absolute necessities, there are other items we always keep in our bag at all times that I thought I'd share as well!
For feeding on-the-go: 
A baby spoon/fork set: So handy to have in a restaurant or even just at a friend/family members house. Not everyone can accommodate children, so you're better off being prepared!
Disposable placemats: These are SO HELPFUL! I always put one of these on the table where Landon is sitting so we can put his food right on it if they don't have a small plate. It contains spills and it's easy to clean up (because I hate being that person to leave a total mess for the waiter to clean up!)
Bib/Burp cloth: When Landon was a baby, we always had a burp cloth on hand. Now we've switched over to bibs (although someone refuses to wear one while eating! Yes, we are in THAT phase.)
For changing on-the-go:
A changing station: So handy if your diaper bag doesn't come with one! My husband carries a tactical backpack as his diaper bag, so we purchased a changing station so he can lay Landon down basically anywhere to change him if needed. It's been helpful for back of the car poop diaper changes!
Diaper rash cream: Self-explanatory, we usually always have this on hand as well!
For cleaning on-the-go:
Spot cleaner: This may be more for myself than my kids, but I love having a spot cleaner (like a Tide stick!) on hand to help with spills on my clothing. I'm usually not wearing light colored clothing with my son anyway, but it's helpful when he accidentally touches my pants after eating pasta sauce 😉
My diaper bag is like a Mary Poppins bag, so I usually keep it in my car and only carry some basic items if I'm running into a store quickly. But if we're out to dinner or taking a day trip somewhere, we always come prepared because you NEVER know what can happen with these little ones! It's been helpful having two diaper bags (one for my husband as well) because then there's less moving around of items and you know a bag is ready to go at all times. I also like that he can wear his backpack and I can still carry my purse if we are out somewhere (my diaper bag is heavy!).
Babies "R" Us is awesome for stocking up your diaper bag because it has EVERYTHING you could possibly need! Here are some current sales they're running:
From May 24 – May 30: All Duracell Buy One, Get 2nd 40% Off
From May 1 – May 31: $5 off Dreft 150oz
To help you get ready for your little one, Babies "R" Us has been kind enough to give away a prize pack to ONE lucky reader!!!! The prize pack includes one $50 Babies "R" Us gift card, two packages of Pampers wipes,  Babies "R" Us changing station pad, and a Babies "R" Us Child Dinnerware Set!
The giveaway will run from Tuesday, May 26th, 2015 at 12:00AM to Tuesday, June 2nd, 2015 at 12:00AM and is open to US only. Enter via the Rafflecopter below! (If you are on a mobile device, click "a Rafflecopter giveaway" to enter)
GOOD LUCK!