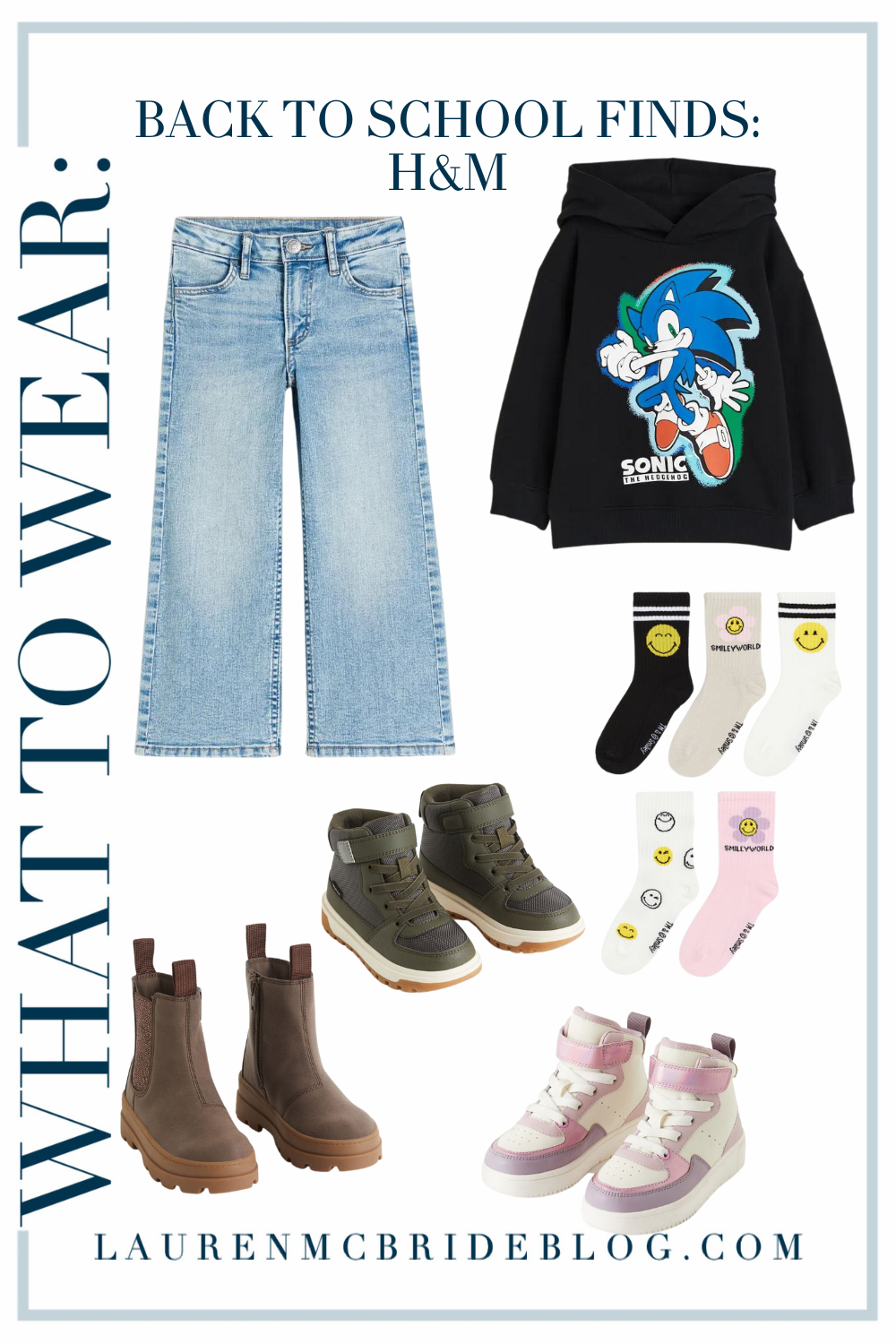 Summer is coming to an end, and it's that time of the year again! It's time to go back to school! While some may dread it, others get excited about the thought of new school clothes and accessories. This year, H&M has got you covered! They've got everything from adorable 5-pack socks to stylish high tops. Let me share with you a few of my favorite back-to-school finds from H&M.
Starting with my personal favorite, the Boys Printed Hoodie, which comes in three different patterns, but I picked Sonic the Hedgehog. This loose-fit sweatshirt hoodie is made from a cotton-blend fabric that is both comfortable and breathable. It has a printed motif at the front and a soft, brushed inside to keep your little one cozy. The jersey-lined hood with wrapover front, dropped shoulders, and long sleeves make for a relaxed but trendy look. Plus, the ribbing at cuffs and hem adds a touch of sophistication.
For girls, the Girls High Tops are a must-have! These shoes have a padded edge, padded tongue, and hook-loop tab and lacing at the front, making them easy to put on and take off. The ripstop loop at the back adds an extra pop of detail. The shoes have a mesh lining, and the insoles are made of Cellfit™ technical foam for extra comfort. It has a sole thickness of 1 in, giving it an excellent grip for any surface.
Another great find for girls is the Girls Superstretch Wide Leg Jeans. Made from superstretch denim, these jeans offer maximum flexibility, perfect for kids who like to run around and play. They have a slim fit through hip and thigh, adjustable, elasticized waistband, zip fly with a button, and wide legs. They're not only practical but also stylish, creating an effortless cool kid look.
For all kiddos, we've got the Kids 5-Pack Socks. They come in various colors and designs, but the Smiley Faces pack is definitely my favorite. These fine-knit socks are perfect for keeping little toes warm on chilly mornings. And at only $15 for five pairs, they're a great option for parents who want to save some cash.
Let's not forget about the Boys Waterproof High Tops. These shoes are perfect for any weather condition, and despite their waterproof nature, they are still stylish. They have a padded edge and tongue, elasticized lacing, hook-loop tab at the front, and a grosgrain loop at the back. The reflective details offer more added visibility. Insoles made of Cellfit™ technical foam provide unparalleled comfort for your little one. Plus, the chunky, patterned soles have good grip, making them perfect for any outdoor adventure.
Lastly, the Kids Chelsea Boots are a great option for both girls and boys. These boots have an elasticized panel at one side and zipper at the other side, making them easy to put on and take off. The grosgrain loop at the front and back gives them an added detail, and the velour lining provides extra comfort. The insoles are made of Cellfit™ technical foam, and the chunky soles have good grip, making them durable and functional.
There you have it, folks! H&M has some amazing back-to-school finds for your little ones that are stylish, functional, and affordable. Whether you're looking for the perfect hoodie, jeans, shoes, or socks, H&M has got you covered. Happy shopping!