Who says business casual has to be boring? It's time to elevate your work wardrobe with these chic and comfy outfit ideas that will have you feeling confident and stylish in the office! As a businesswoman, it's important to present yourself in a professional manner, but that doesn't mean sacrificing your fashion sense or personal style. With these versatile pieces, you can mix and match to create a capsule wardrobe that works for any work environment, from corporate offices to teaching positions. So, let's dive in and discover some amazing looks that will inspire your inner fashionista!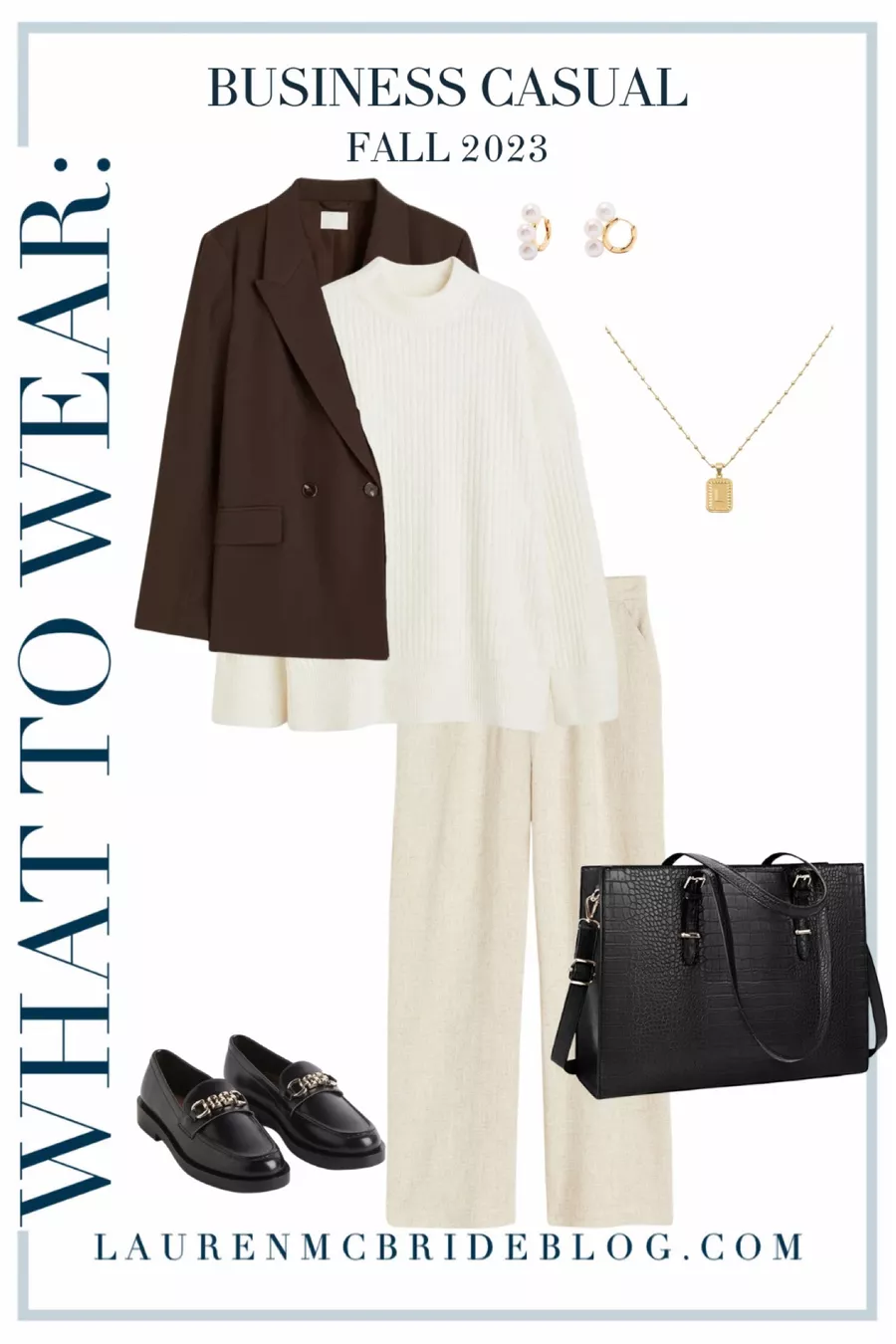 This outfit is perfect for a cooler fall day when you want to look stylish but still feel comfortable. The linen-blend dress pants are breathable and light, making them ideal for wearing all day long. Pair them with loafers for a polished and put-together look, and top off the outfit with a slightly oversized double-breasted jacket in a neutral color like black or navy blue. For a touch of elegance, add dainty pearl earrings and a minimalist gold initial necklace. Keep yourself cozy by layering a cream rib-knit sweater under your jacket. Accessorize with a stylish briefcase from Amazon that looks professional and chic at the same time!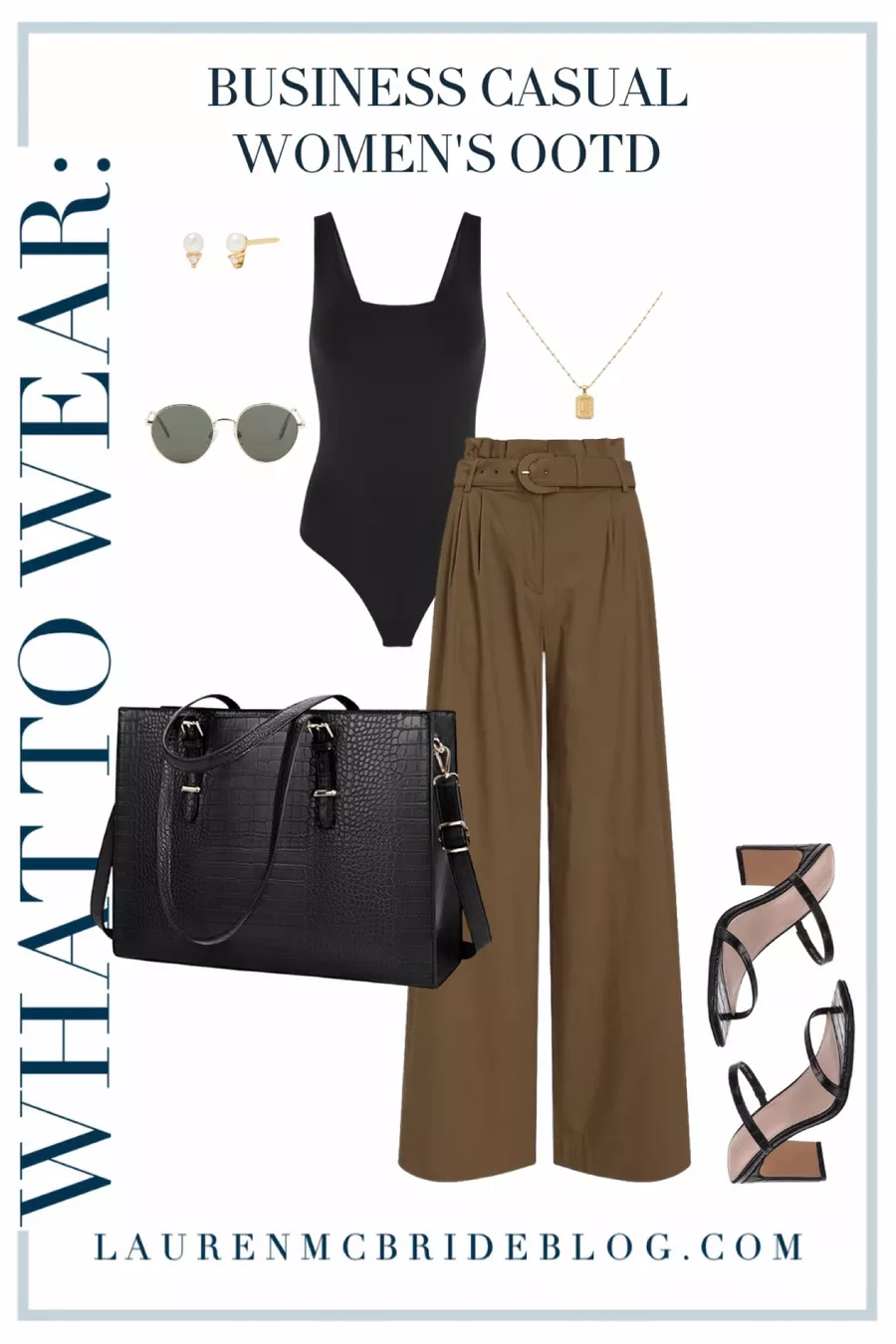 Stay sleek yet comfortable in this outfit perfect for warmer days! Add a blazer or sweater if your office keeps the AC blasting! Outfit details: Round Sunglasses, dainty pearl earrings, minimalist gold initial necklace, Square Toe Two Strap High Heeled Sandal, stylish brief case from Amazon, black High Compression Scoop Neck Bodysuit, green High Waisted Belted Paperbag Wide Leg Pant. This outfit is perfect for a boardroom meeting or when you're leading a conference.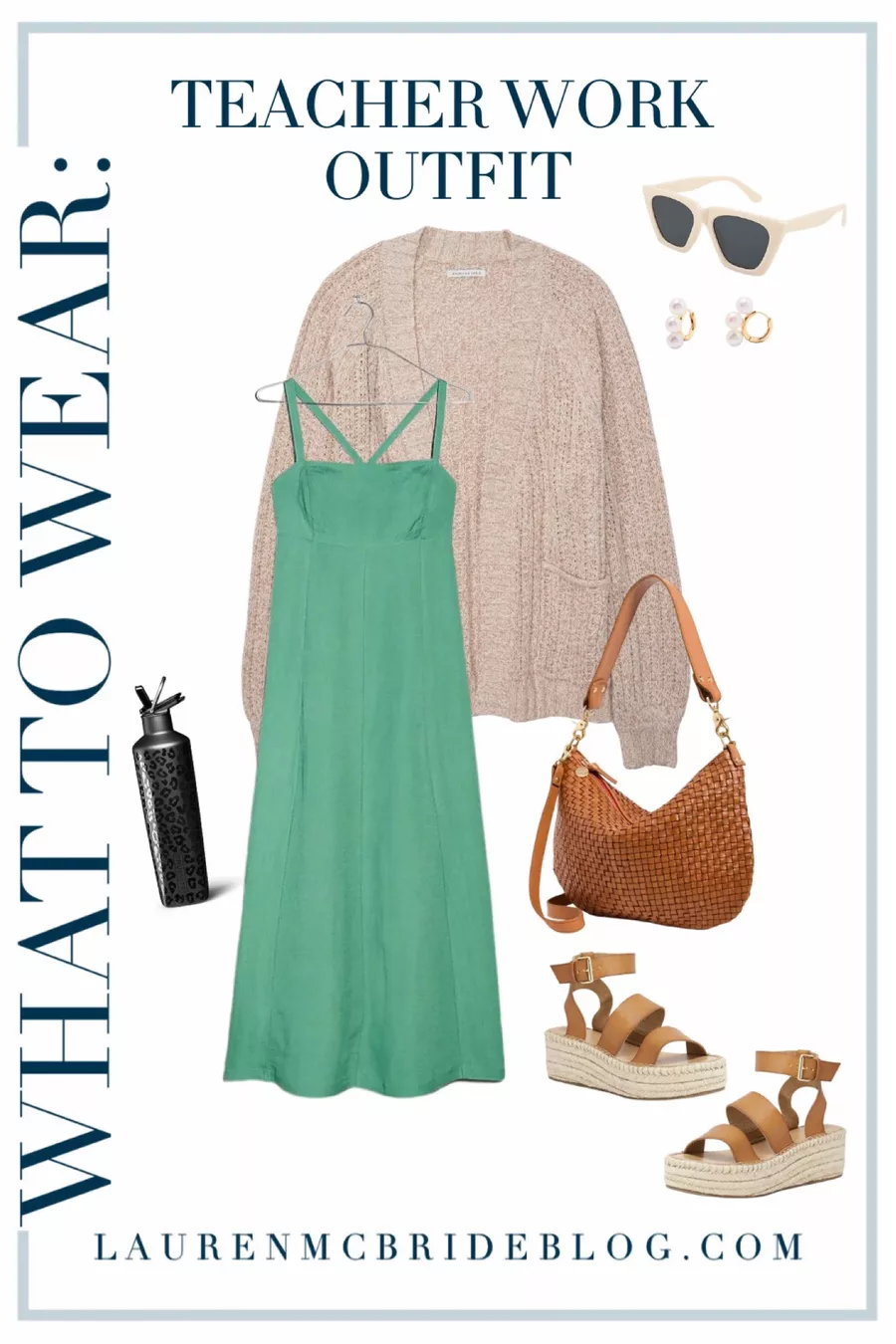 This outfit is perfect for teachers! It's modest yet stylish and can be easily modified for the corporate office. Pair a trellis green tie-back cami midi dress with a cream open-front stitch cardigan and brown espadrille wedge sandals. Add some dainty pearl earrings for a pop of personality and a reusable water bottle for all day hydration! Finally, complete the look with a Clare V. Moyen messenger bag and square cat-eye sunglasses for the ultimate elevated yet comfortable look!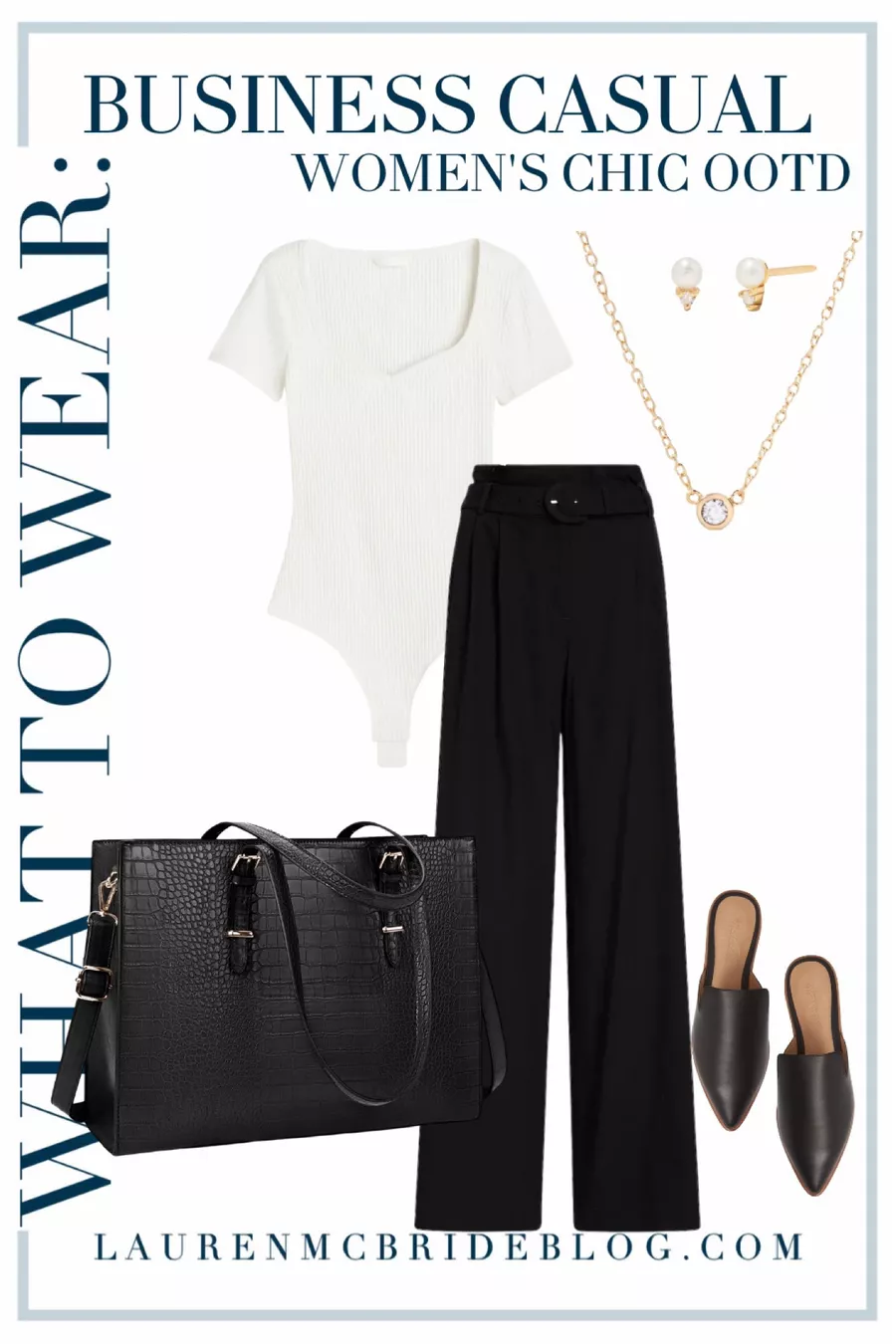 Now, let's get to Look 4: the perfect look for corporate women, and it ties in some products you've already seen. Look at that, your capsule wardrobe is already coming together! This outfit features dainty pearl earrings, a minimalist gold necklace, madewell mules, a white ribbed short sleeve bodysuit, and high waisted belted paperbag wide-leg pants (this time in black). This ensemble exudes sophistication and style, perfect for business meetings or presentations!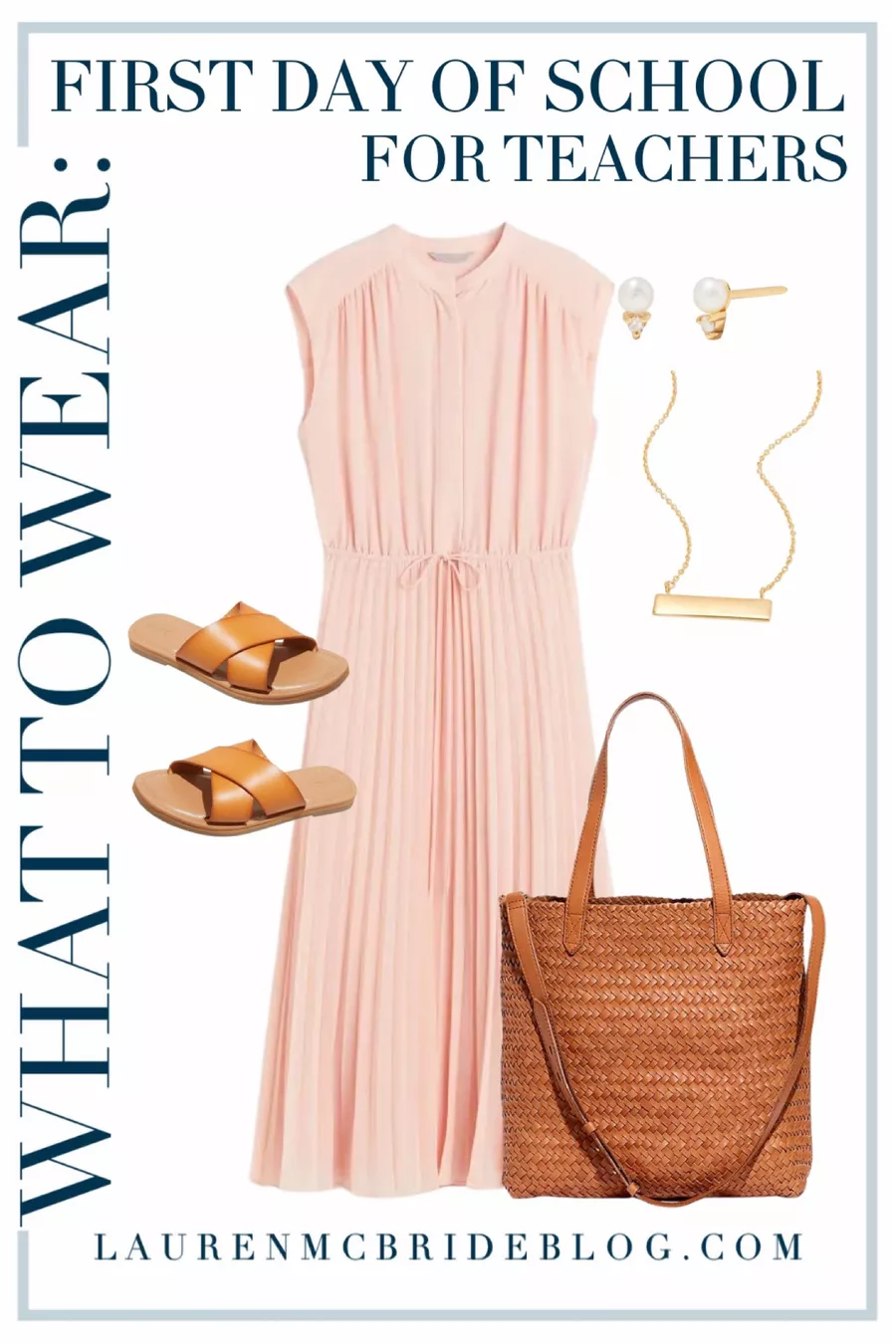 This modest yet stylish look is perfect for teachers – or anyone who prefers a more modest look. A pleated midi chiffon dress paired with chic slide sandals and a brown leather tote creates a comfortable yet professional outfit. Custom date necklace and minimal pearl earrings are the perfect accessories. This outfit can also be modified for the corporate office – just switch out the sandals for block heels!
There you have it, the ultimate business casual fashion look book. I hope this helped inspire you to step up your work wardrobe game and create a capsule wardrobe that suits you perfectly. Remember, business casual doesn't have to be boring – you can easily incorporate your personal style into your work outfits. With the right outfits and accessories, you can look professional, stylish, and confident in any situation!