Does anyone else feel like Halloween decor gets pushed out earlier and earlier every year? Well don't worry, I won't be giving spooky recommendations anytime soon. As you may know, summer is easily my favorite season and I won't been wishing it away! That being said, there have been some great summer sales on Fall decor and I'd be remiss to not shout them out! Keep reading for a round up of 3 of my favorite Fall decor trends and some items that you might want to pick up for the upcoming season.
1: Textured Vases – Adding Depth and Style to Your Space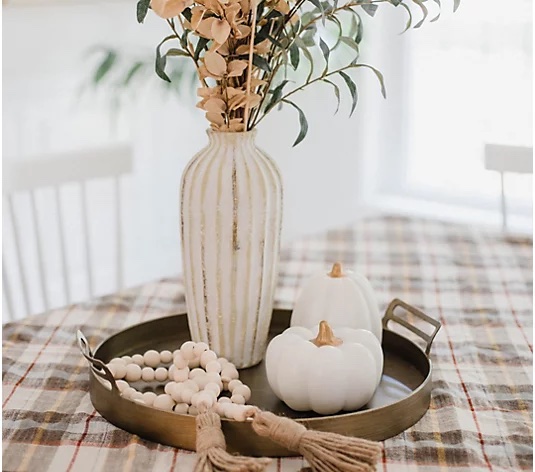 Looking for something to bring life and dimension into your home? Look no further than textured vases. Whether it's a unique matte finish or intricate glass patterns, these vases are sure to make a statement. With colder whether setting in, you're probably spending more time indoors. Keep your space feeling fresh and new with textured pieces that really come alive in the home! Here are a few options that caught my eye:
– 12″ Textured Decorative Vase: Perfect for any area of your home, this warm and welcoming vase will elevate your space, no matter the style.
– Textured Glass Bottle Neck Vase: With its diamond pattern design and sleek silhouette, this textured glass vase will showcase your most exquisite arrangements beautifully.
– 9″ Matte Black Decorative Vase: Add a touch of elegance to any room with this fab matte black vase. Fill it with your favorite greens or flowers or let it make a statement on an empty shelf or mantel.
2: Ambient Lighting – Creating Cozy Vibes All Year Round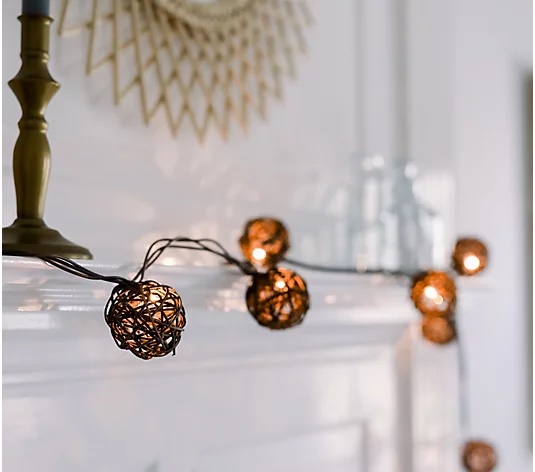 As the seasons change, so does the natural lighting in our homes. Remember those long summer days basked in sunlight? Well, sadly, winter will come again, bringing early darkness. But don't worry! I've got you covered with these ambient lighting options to keep those cozy vibes alive:
– 8.5′ Rattan Outdoor String Lights: These chic string lights will keep the conversation going long into the night. With their rattan-covered bulbs, they add a natural and rustic feel to any outdoor OR indoor setting.
– XMCOSY+ Outdoor String Lights: Easy to use and perfect for any outdoor or indoor space, these wifi string lights will create a magical ambience, whether you're on the patio, pergola, or even in your bedroom.
– Set of (2) 5″ Lanterns with Fairy Lights: Add a touch of enchantment to your space with these adorable ceramic lanterns. With twinkling fairy lights, they make the perfect accent on your bedside table, bookshelf, mantel, or dinner table.
3: Cozy Add-Ons – Embrace the Cold Weather in Style
Like I've been (begrudgingly) alluding to…cold weather is approaching. With that, it's nice to have an extra pillow or blanket to grab if you're always cold (like me). Here are some great, autumnal, cozy finds to add to a warm touch to your collection:
– Bigreat Knitted Throw Blanket: Made of 100% acrylic fiber, this blanket is not only warm and cozy, but it's also durable for year-round use.
– Creative Co-Op Cotton Slub Pillow: This cream cotton slub pillow with crochet and tassels adds a touch of elegance and comfort to any space.
– Textured Wilder Pillow: Give your bed or couch a boho touch with this decorative pillow featuring textured fringed trim.
And there you have it! Three must-have fall decor trends to elevate your space. But don't worry, there's still plenty of summer sun left to enjoy. So, soak up the rays while you can and get ready to cozy up in style for the upcoming season!