We've been taking advantage of our five minute distance from the beach and hitting it up as much as we can so far this summer! Our winter was entirely too long, so any day that involves sunshine means we are sticking our toes in that sand! At this point I've become a pro at what is absolutely necessary to have on the beach with us and what can stay in the car. We always bring our jogging stroller (because it's awesome on the sand), a large blanket, and a cooler with snacks and water. But the beach bag is what's most important, so today I'm sharing with you my baby beach bag essentials!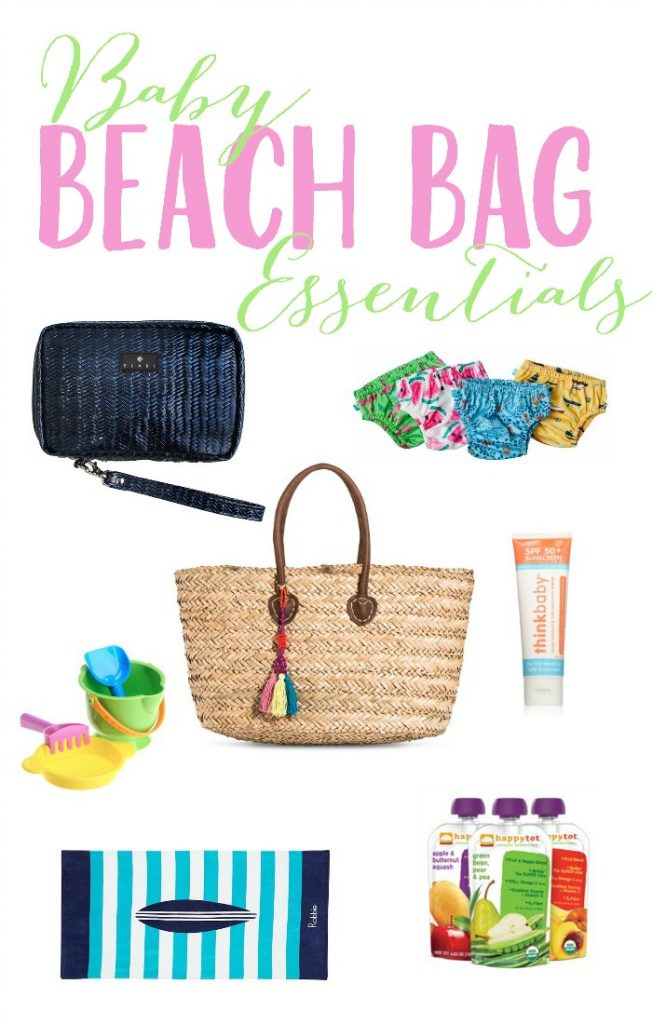 Beach Bag: Finding a bag that's waterproof, easy accessible, and big enough to fit everything has always been a tough feat for me. I'm currently loving this one from Target.
Sunscreen: We are currently loving ThinkBaby sunscreen. It was top rated by EWG and is free of biologically harmful chemicals, which is really important to me when it comes to Landon (I should probably care more about this for myself too!). It applies super easy and absorbs quickly…and doesn't leave any oily residue! I've tried many other brands and this one takes the cake for us.
Honest Swim Diapers: I'll be really happy when I don't have to pay for diapers anymore, hahaha. To cut costs on swim diapers, we love the Honest Company brand! Their swim diapers are so cute and are cost effective because they're reusable! I'm happy to save a buck anywhere, so this works for me 🙂
Beach Toys: Where would we be without our beach toys? Landon absolutely loves playing in the sand, so I make sure I have enough toys for him at all times (two buckets, enough shovels to share, sand castle-y things). I will NEVER go to the beach without toys.
Towel: Granted, Landon is rarely sitting. But I still like to have his towel to wipe the sand off his face and hands repeatedly 😉 Especially before snack time! I grabbed this Pottery Barn towel on sale last summer and I love it's size and softness.
ELARI Diaper Wallet: This product is a must-have for moms. It's a compact, wallet-sized case that holds a changing pad, diapers, wipes, and even some creams which can be easily thrown into ANY bag. I've used it in oversized purses before, but I love it for a beach bag because it contains everything I need for easy changing and cleanups! I keep a few diapers in here in case there's a blowout, and I always need wipes on hand. I love that everything is contained for easy access and not floating around my beach bag!
Snacks/Water: I always bring a small cooler of snacks for the both of us, but I try to make sure Landon's snacks are as mess free as possible (sand + food = disaster). That's why I always have pouches on hand. They're SO easy for him to eat, loaded with fruits and veggies, with little to no clean up.
Out of all of these items, the ELARI Diaper Wallet has to be my favorite. It makes things a little bit easier when some essential diapering items are all in one place. I'll even throw the wallet in my purse when I'm running into stores, as it prevents the need for an ENTIRE diaper bag. Anyway I can downsize a bit is super helpful!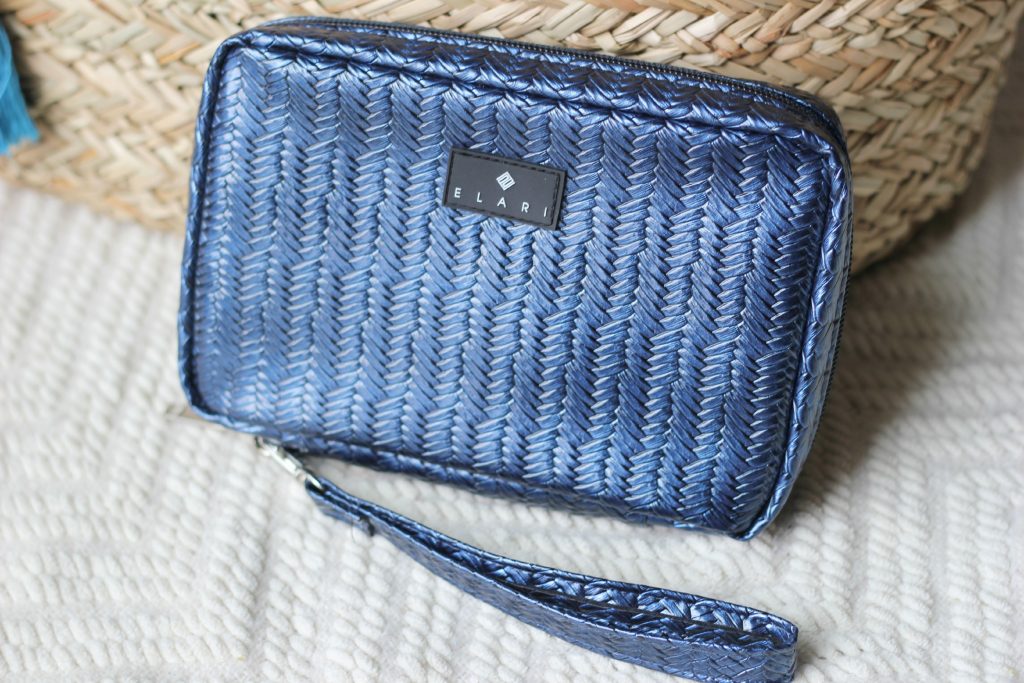 One side contains a changing pad and an extra pocket for whatever you need. The middle the perfect pouch for wipes because it prevents them from drying out!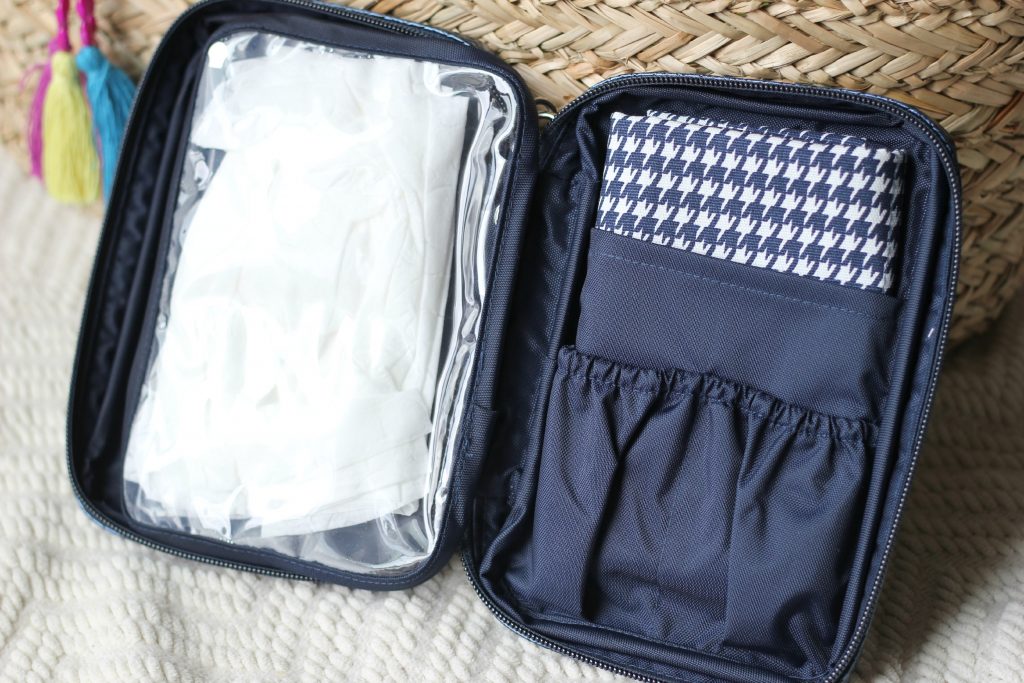 The other side is a small pocket that fits a few diapers, depending on your child's current diaper size. It's basically a diaper changing station combined into a cute clutch! Perfect for fashionista moms everywhere 🙂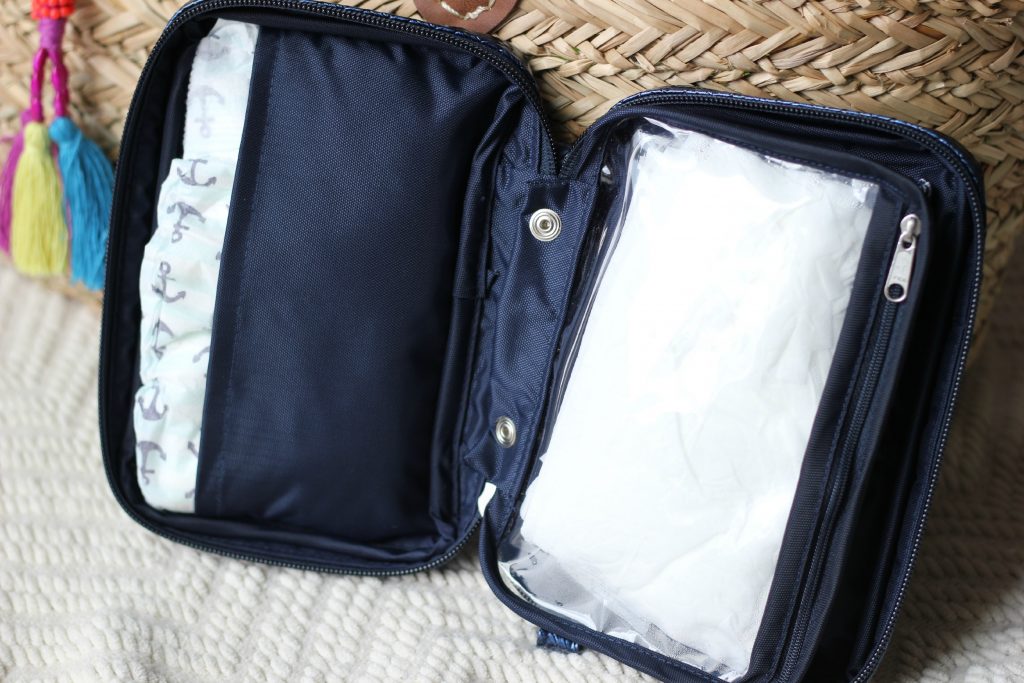 My friends at ELARI were kind enough to offer you readers a discount code! Enter code LMBFRIEND15 at checkout for 10% off your purchase!!!! They have some amazing summer colors including a hot pink and bright orange…the trouble will be deciding which color to buy! 😉
What else is in your baby beach bag?