Dress: TJMaxx (similar) // Boots: Hunter // Scarf: Target (similar) // Watch: Daniel Wellington
The foliage in New England is unreal. Pretty sure I said this in my last post, but it's true. I feel like I've never seen a more beautiful fall season. Sadly it leaves just as quickly as it arrives, and then we're buried under piles of snow for entirely too long. I'm really not looking forward to that, at all, especially with two littles. But for the moment, I'll enjoy this gorgeous season and pray the leaves stay on the trees a little longer!
Fall Outfit Must Haves
I have a few fall outfit must haves that I'm sure to have on hand with the season. First things first, a plaid blanket scarf. Nothing says FALL more than plaid, am I right? Plaid comes in a variety of colors, so if the one I'm wearing isn't your thing, maybe a more neutral version is more your taste. I never really incorporate much color into my wardrobe, so doing so with a fun scarf like this one is easy with minimal commitment ;). Another must have fall item? Rain boots. This is my second pair of Hunters, and I truthfully could own every color if my wallet would let me. I decided to be colorful and went with red for my second pair, and I absolutely love them. The weather in New England can be pretty unpredictable this time of year (it is hurricane season, after all), so rain boots come in handy quite a bit. However, I don't just wear them for rain. I wear them if I know we're going somewhere the ground is messy or when we're outside with Landon. They also keep my feet warm with a pair of thick socks. 🙂 A third must have item for fall, which I am NOT wearing in this photo, is a wool hat. Actually, a lot of wool hats. I have an entire collection of multiple colors to go with different outfits. They're a fantastic accessory to an outfit, and help keep your head warm. And you can find them fairly cheap!
I love how fall also brings about new fall fragrances from some of my favorite brands, which I love incorporating into my skincare regime for the full fall effect 😉 St. Ive's NEW Refresh & Revive Pear Nectar and Soy Body Lotion and Wash not only has a perfect fall scent but also boosts skin's natural radiance with it's 100% natural moisturizers. Which is great because my skin gets dry and dull during the cooler seasons! The pear extract and soy make it suitable for sensitive skin too!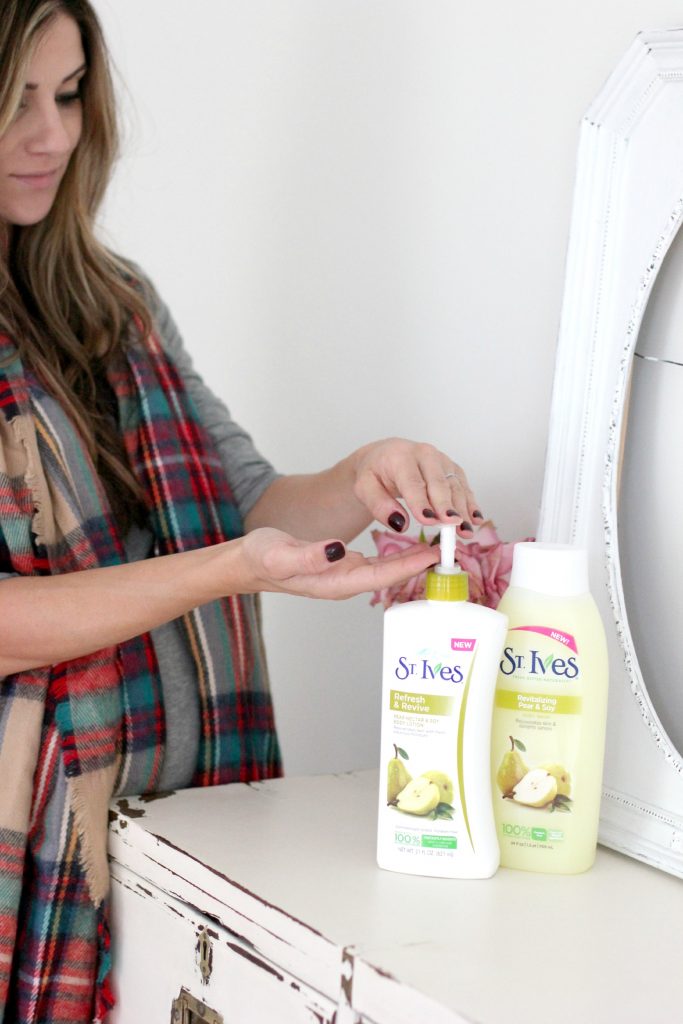 St. Ive's sent me the most adorable little gift basket complete with chocolate pears…..which my husband completely inhaled before this prego could get to them. He tells me they were incredibly delicious. I told him he owes me chocolate 😉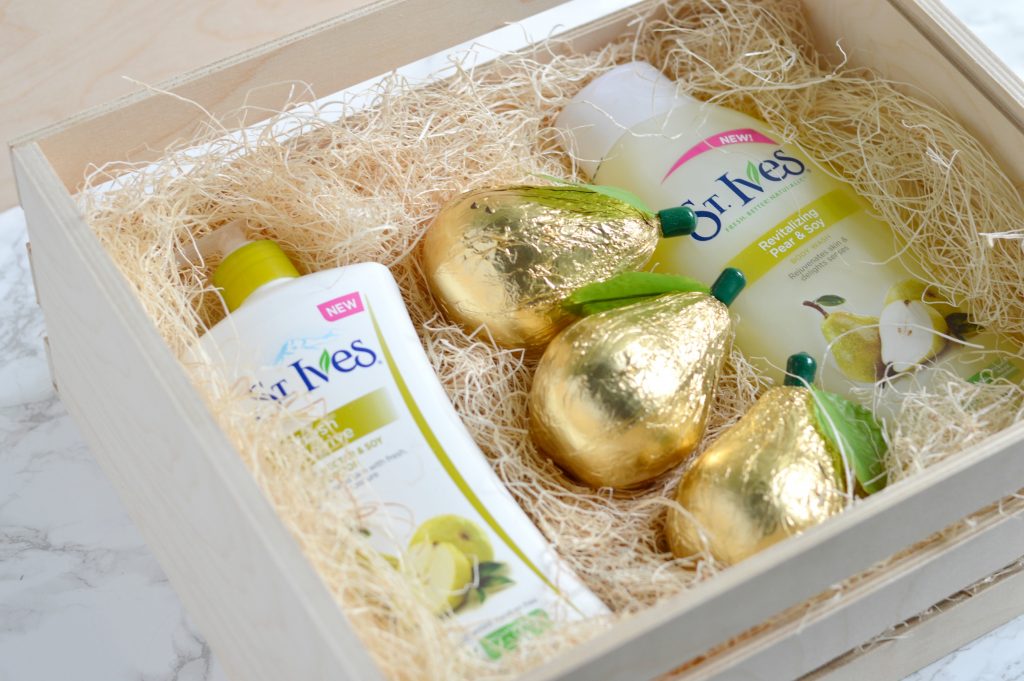 What are your favorite fall items? Be sure to add St. Ive's NEW Refresh & Revive Pear Nectar and Soy Body Lotion and Wash to your beauty routine this fall season!

This is a sponsored conversation written by me on behalf of St. Ives. The opinions and text are all mine.