Thank you to FTD Flowers for sponsoring today's post!
With the holidays coming up, we're all getting busier thinking about buying gifts, prepping for family dinners, and trying not to stress out over the craziest time of year. We usually host holiday dinners at our home, so I get particularly stressed about the cleaning and (of course) decorating. I surely can't be alone in this, right?! But I've got a few tricks up my sleeve! Today I'm sharing with you how to create a Five Minute Tablescape if you've got minimal time and still want to throw a gorgeous table setting together!
Five Minute Tablescape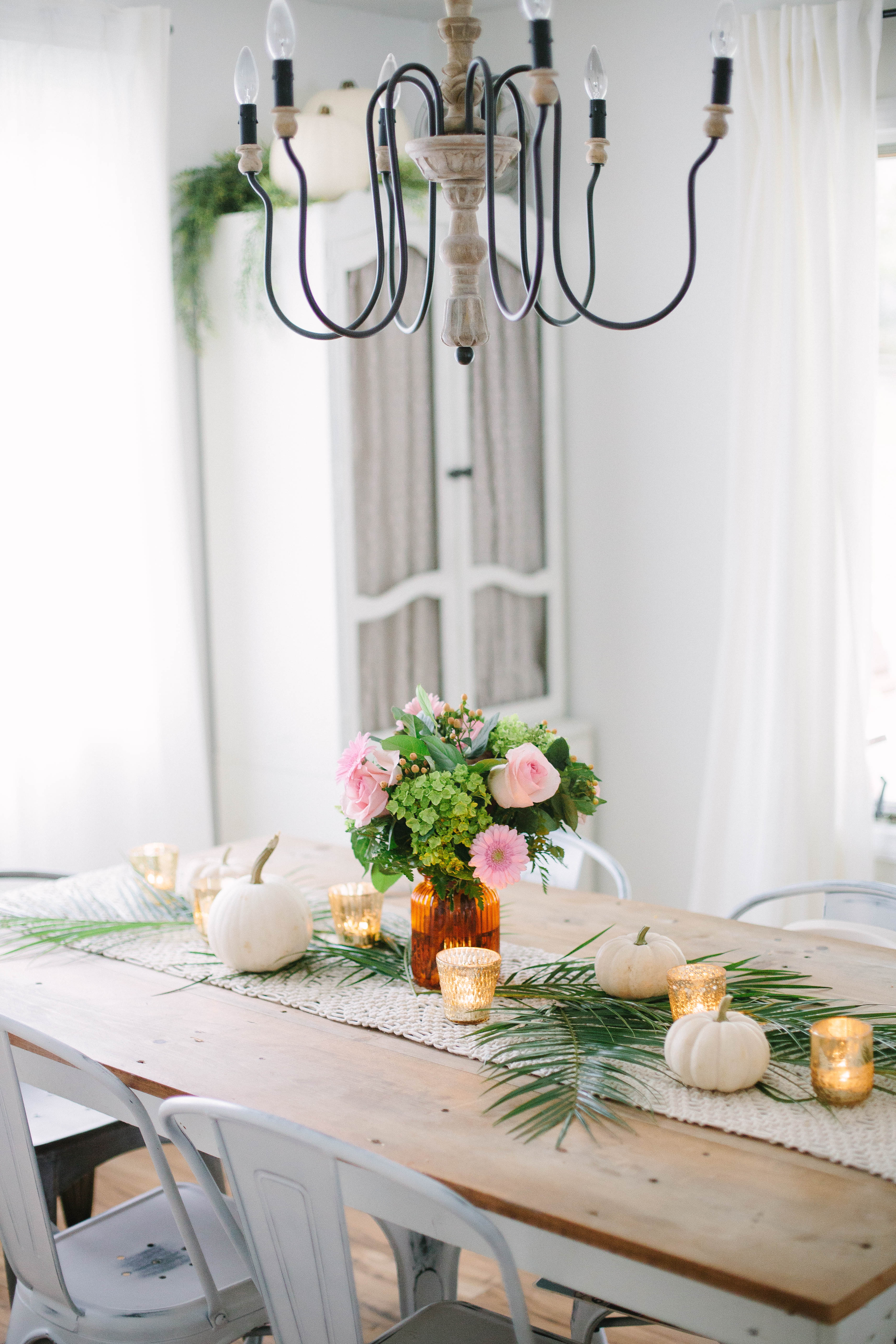 Use a prearranged floral arrangement. Sometimes using a premed floral arrangement is the easiest way to create a simple tablescape! My husband often gifts me beautiful floral arrangements for our anniversary, my birthday, and Mother's Day, and I love to use them to create a gorgeous table setting. This Peachy Keen one by FTD Flowers is perfect for fall with it's beautiful orange vase, and I love the pops of pink and peach colored berries. Since it makes such a statement, I used it in the center of the table and simple accented with small details around it. It would even work in the middle of the table by itself! That's what I love about premade arrangements…they're enough of a statement to not need much else! Perfect for throwing a table together in minutes. And they offer same day delivery because they're handcrafted by your local FTD florist!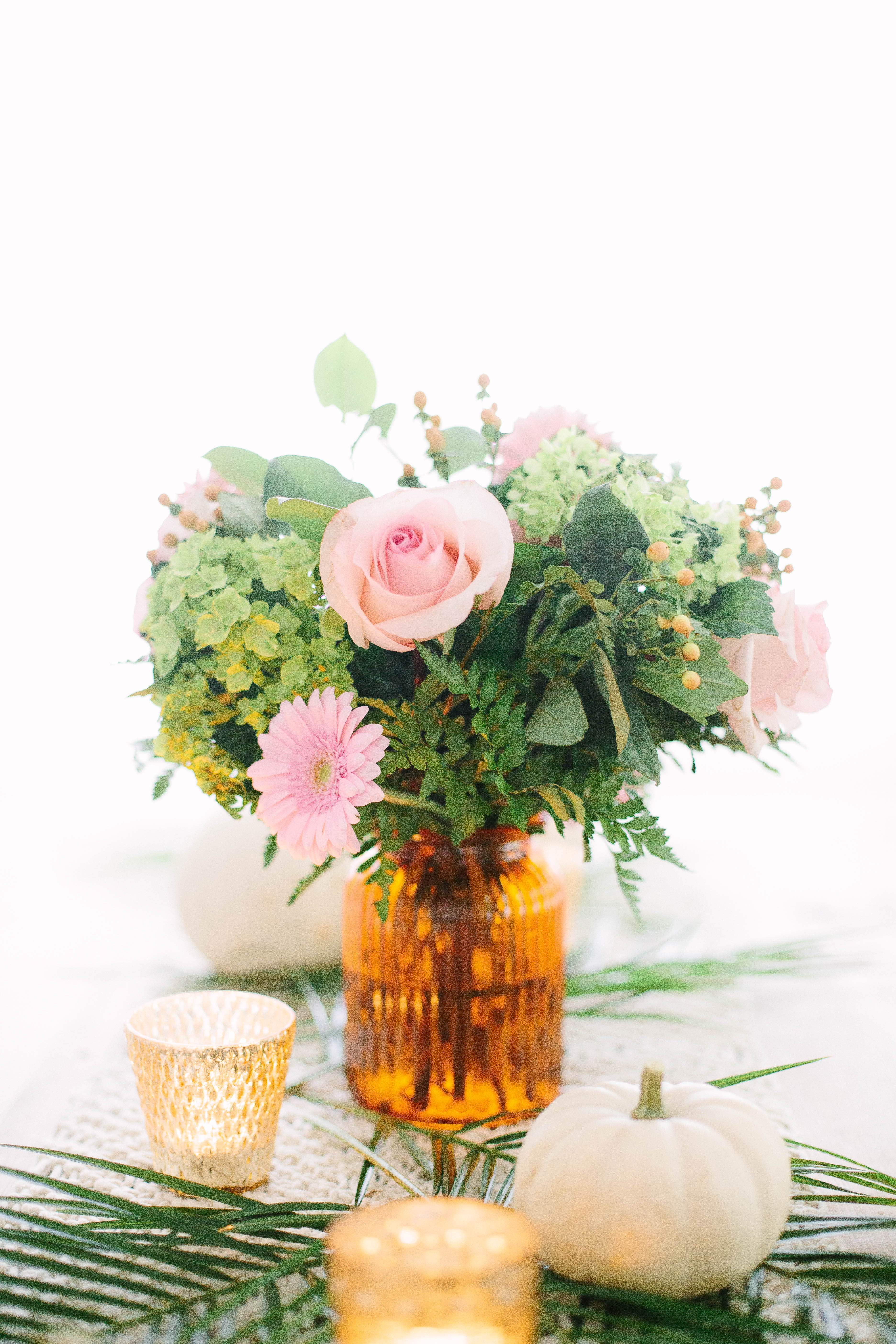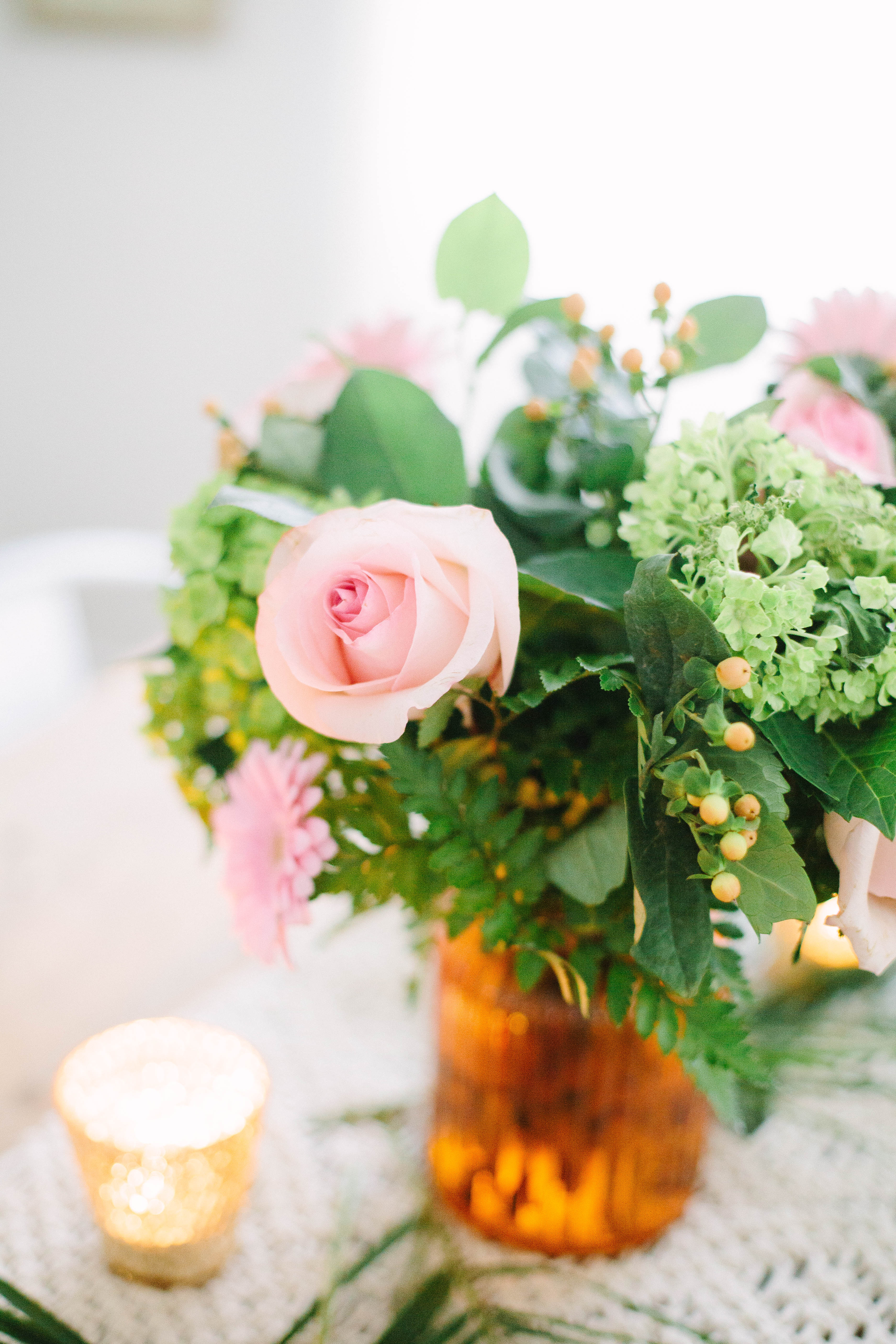 Add a table runner. I have a bunch of neutral, textured table linens that I've collected over the years, and I love that they go with EVERYTHING. One of my favorites is this macrame table runner I picked up last year because its texture is amazing against our farmhouse table. It also makes a statement and takes less than 30 seconds to throw on the table, so it's always a win for me!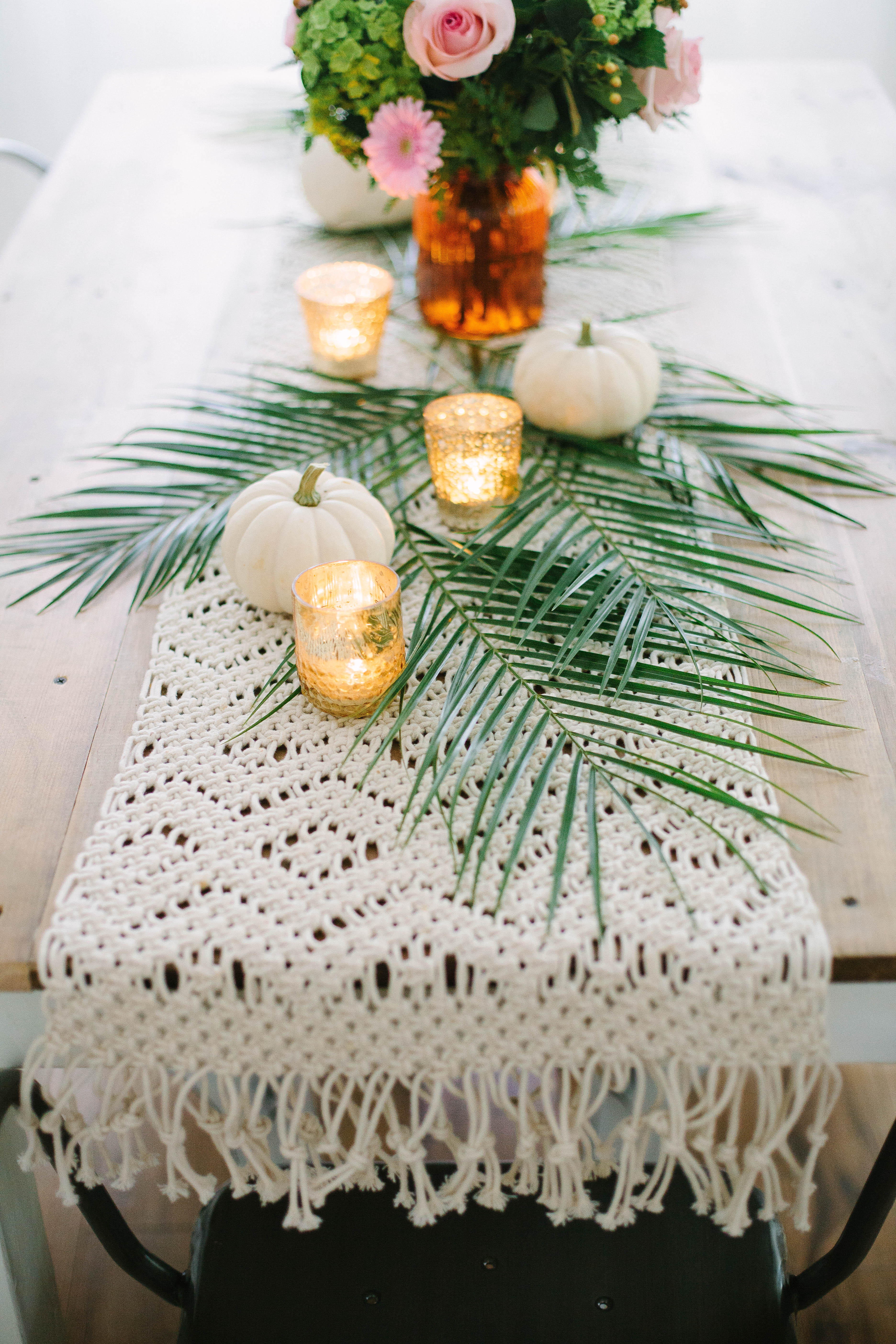 Add some candles. Candles always make the table more dreamy and romantic. I throw some tea lights in these mercury glass votives I've collected over the years for some mood lighting and sophistication. When in doubt, always add candles!
Add in details. I like to add in simple little details like these white pumpkins and some greenery to the rest of the table runner for balance. The FTD Flowers floral arrangement makes such a statement on its own, but looks even better and more balanced on the table with the additional elements. Keeping it simple and low to the table keeps the floral arrangement front and center without overpowering, and only enhances its look!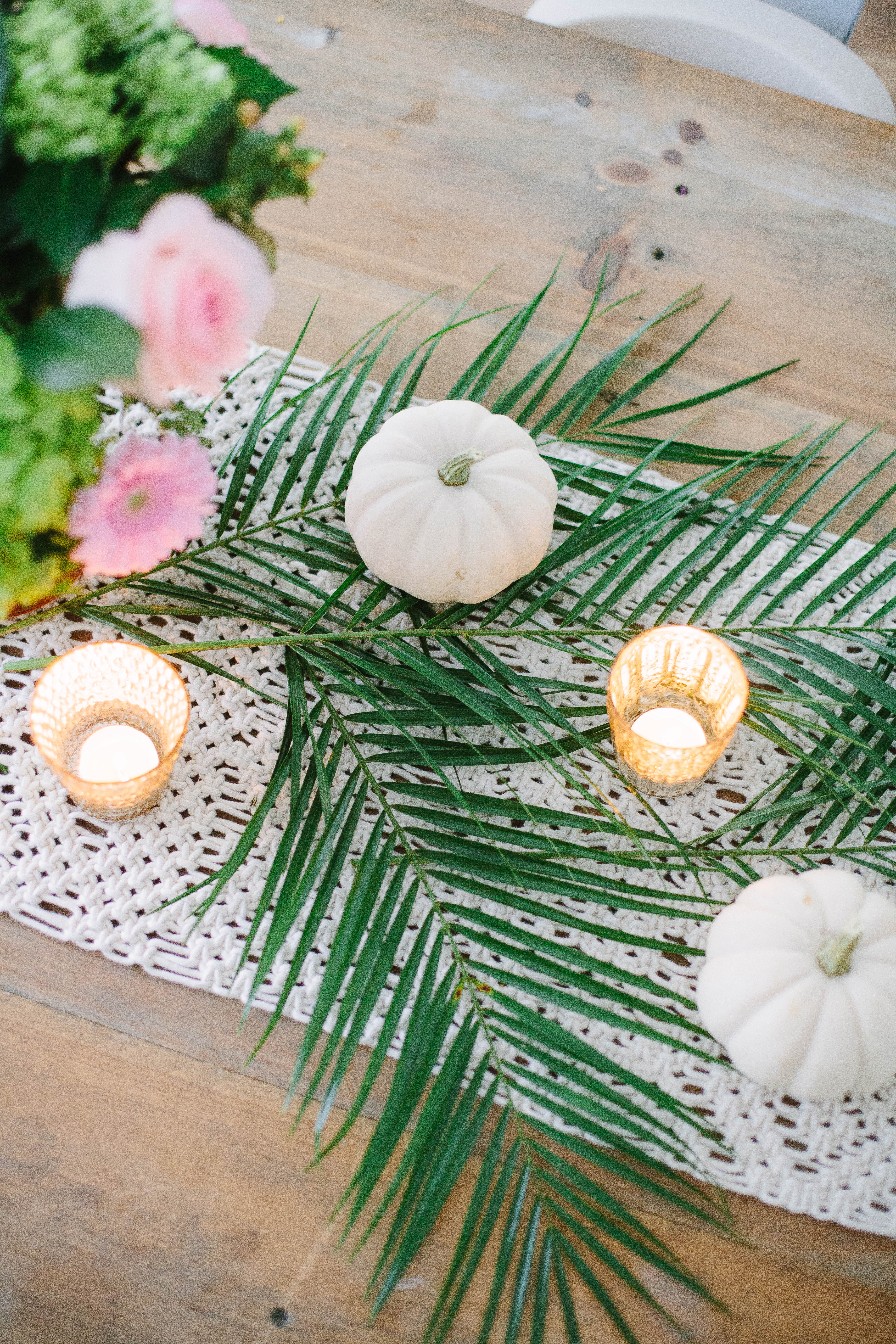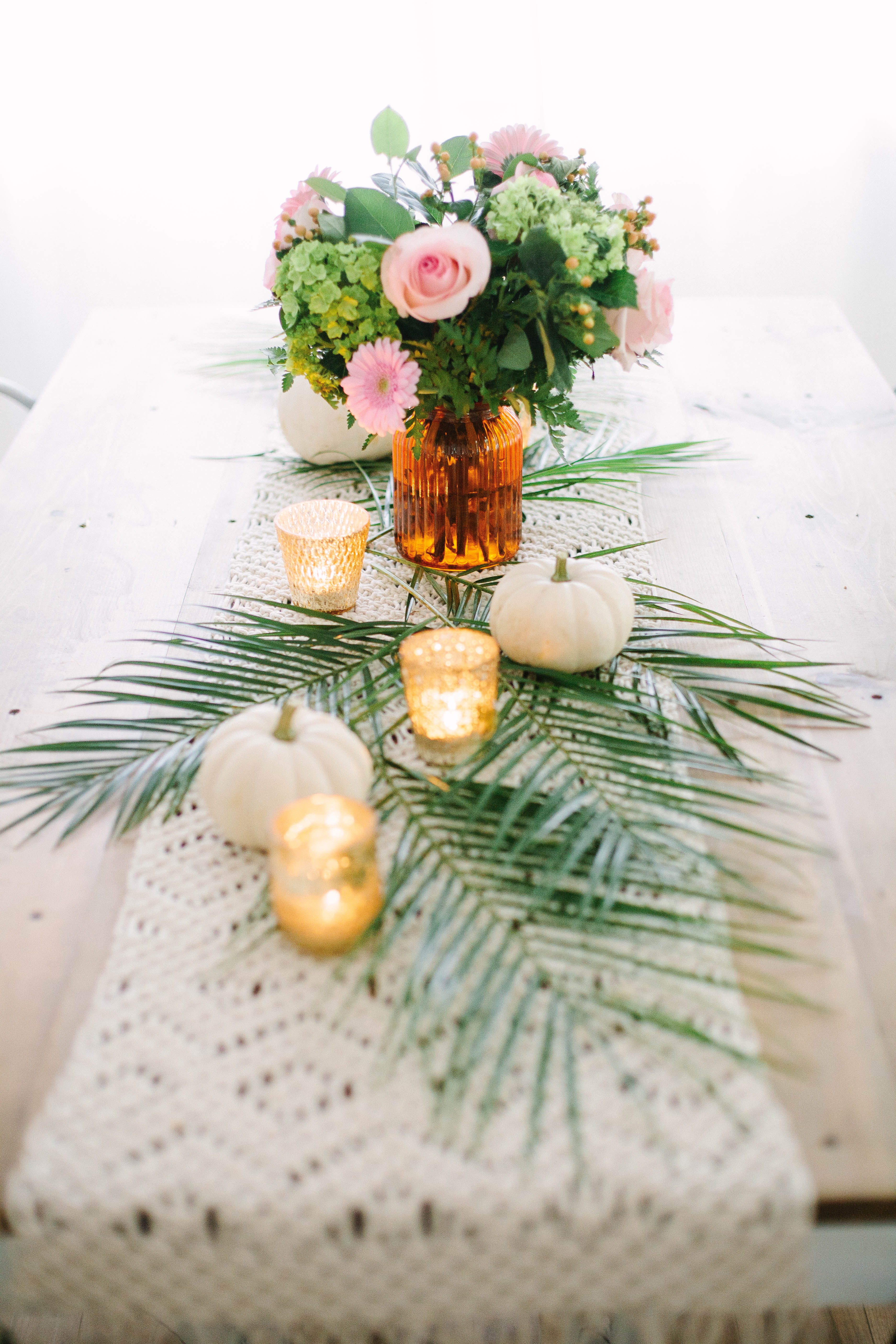 That's all you need for a simple, five minute tablescape! FTD Flowers is the best for gorgeous floral arrangements for ANY occasion. We love sending them to our family across the states for Mother's Day and other holidays as a way to let them know we're thinking about them! I've received many myself for special holidays and even baby arrivals. They even offer same day delivery if you're in a pinch! Keep them in mind the next time you're in need of a statement table centerpiece!