With the countdown on to my due date, we are busy preparing our home and family for the new baby. Landon had a great transition when we brought Noelle into the world (although his first response was "NOOOO!"), so I thought I would share some tips on How to Help Your Childr Transition to a New Baby in case it's something you're prepping for as well! Some of these tips were mentioned by Instagram followers of mine (you guys are so smart!), so I've included those as well!
How to Help Your Child Transition to a New Baby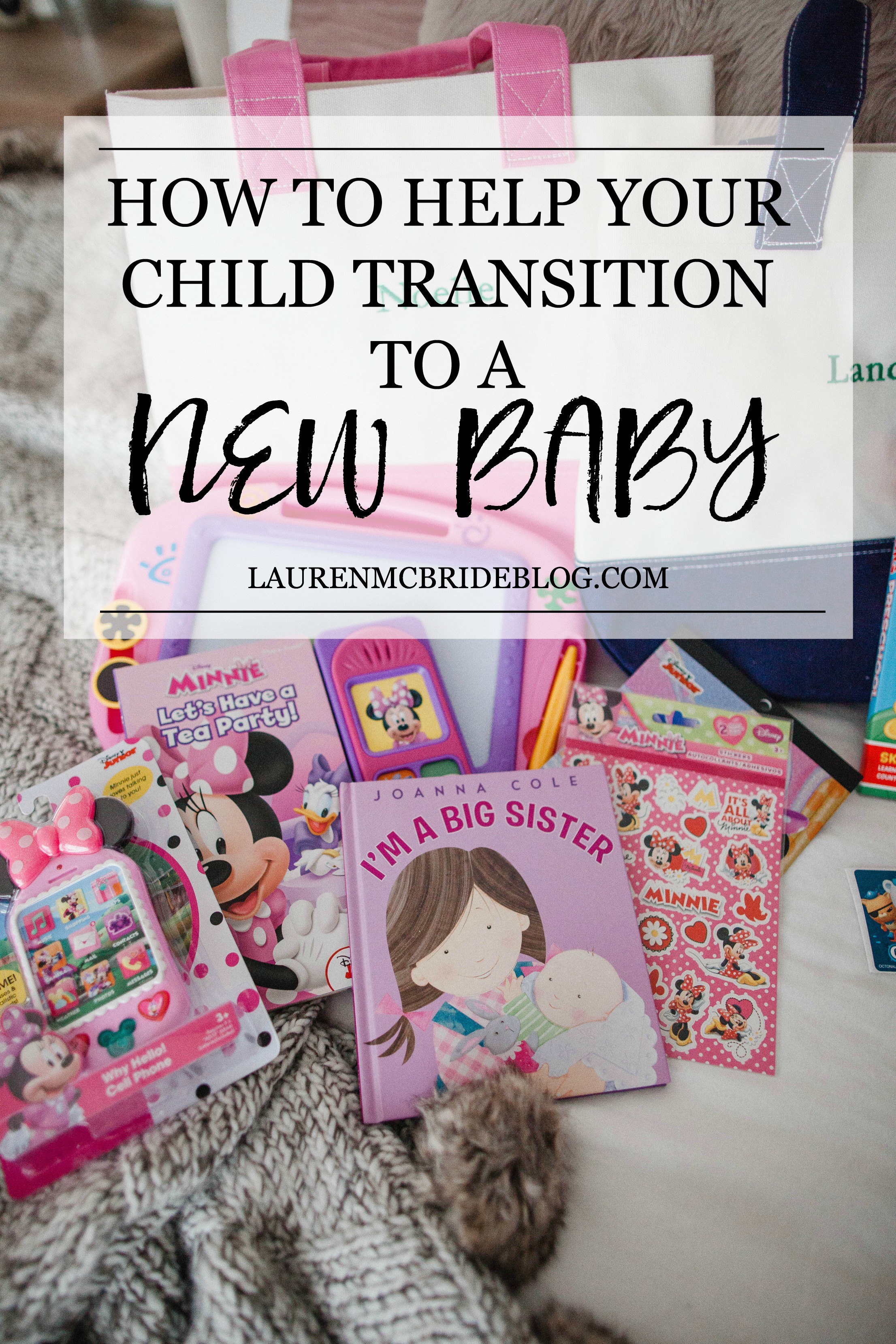 1 // Set up baby items ahead of time.
We started doing this already, pulling out old baby items like the swing, Rock 'N Play, etc. and telling our children that the baby is coming soon! They've been really interested, and Noelle has even started using her baby doll in some of the baby gear! If you're able to do it ahead of time, it's not a huge of a shock when the baby finally arrives! (This also works well for dogs, too!)
2 // Big Brother / Big Sister Bags
I wanted my kids to have something fun when they came to visit at the hospital, and something more than just one present. I loved the idea of creating a big brother and big sister bag to celebrate their new roles. I had these simple tote bags from Pottery Barn personalized with their names, and filled them with goodies for when they make their visit!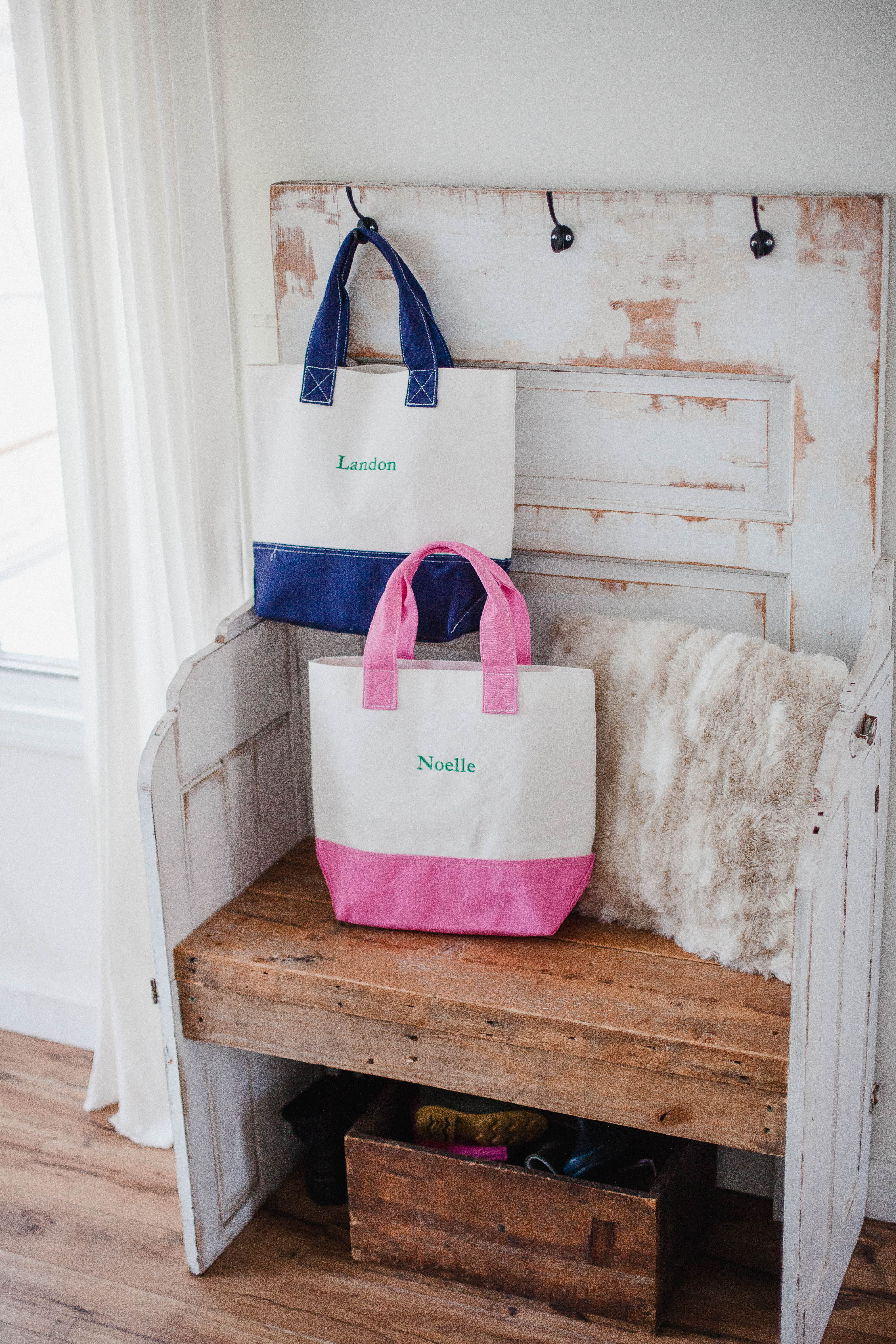 I like that the bags can double as beach totes this summer (or a tote for anything, really!) I filled the bags with a variety of items, including stickers, fun new toys, a camera for them to take pictures of the baby, and loads of snacks. This will not only keep them occupied when they come and visit, but also make them feel special that their new baby brother brought them a fun gift! You can see some of the items I have in their bags below (still waiting on a few in the mail!)
Landon's bag: Stickers / RescueBots Toy (he loves these right now) / Penguin Popper (these are SO CUTE and fun!) / Preschool Workbook / VTech Camera
Noelle's bag: Stickers / Minnie Cell Phone / Penguin Popper / VTech Camera / Minnie Mouse Book / Baby Doll (on it's way!) / Etch-a-Sketch
Not pictured: SNACKS! And maybe some coins for the vending machine at the hospital (to make it extra fun!)
3 // Throwing a big brother/ big sister "party"
I say "party" because as new parents, we are most likely not up for "parties" when we arrive home, haha! We're keeping this party SUPER simple, and I'm having my husband simply grab some cupcakes for the kids when we arrive home with the new baby! I figured cupcakes and pizza delivery (yay for delivery!) is ALWAYS a hit, and we'll make it a celebration of Landon and Noelle's new roles. That way the focus is on them and they feel extra special! I'm also going to have a special congratulatory present I'll give to them during their cupcake time.
4 // Big brother and big sister books
I bought Landon the Daniel Tiger Big Brother Daniel book and read it to him daily when we were prepping for Noelle, and I REALLY think it helped! Anytime I repeated "You can be a big helper in your family!" (a line from the story), he would stand proud and help with whatever I was doing. I'm using the same book and a few others for Noelle. So far I've purchased this book, but some of you also suggest Snuggle the Baby which looks adorable!

5 // When visitors arrive, have them greet the older siblings first.
Someone gave me this tip when we were pregnant with Noelle, and I do think it really helped with Landon's transition. Whenever a visitor would come by to drop off food or offer their help (I kept it MINIMAL, by the way…it was overkill with Landon and I'll never do that again!), I would have them see Landon and play with him for a few minutes first before coming over to see the baby. They would also say things like "I hear you're a big brother now!" and "Do you want to show me your baby?" which made him feel really proud in his new role. We plan on keeping visitors really minimal and only to family and our babysitter, but we'll have them follow suit!
6 // Know there will be a transition period, and give grace.
This is to be expected…bringing a new baby into the family is a huge change! We have to be gentle with the older siblings and know it will affect them a bit. Landon did remarkably well, but definitely had moments of acting out. We just kept this in mind, and made sure to give him extra attention. Someone also suggested that if both (or multiple) kids are crying at the same time, to tend to the OLDER sibling(s) first. This really helped, in my opinion, as well.
Hopefully you found these tips helpful, if you aren't doing them already! And if you have any other tips, I would LOVE for you to leave a comment below so other readers can see them!