I have been compensated by QVC for today's post; all thoughts and opinions are my own.
I've been experimenting with making Easy Homemade Almond Butter, and I have the easiest recipe to share with you today! This recipe involves just ONE ingredient: almonds! I'm using my NutriBullet PRO 900 Series High Speed Blender to turn some roasted almonds into a delicious almond butter. I promise this is SO easy and nearly foolproof – plus it tastes better than any almond butter I've tried!
Easy Homemade Almond Butter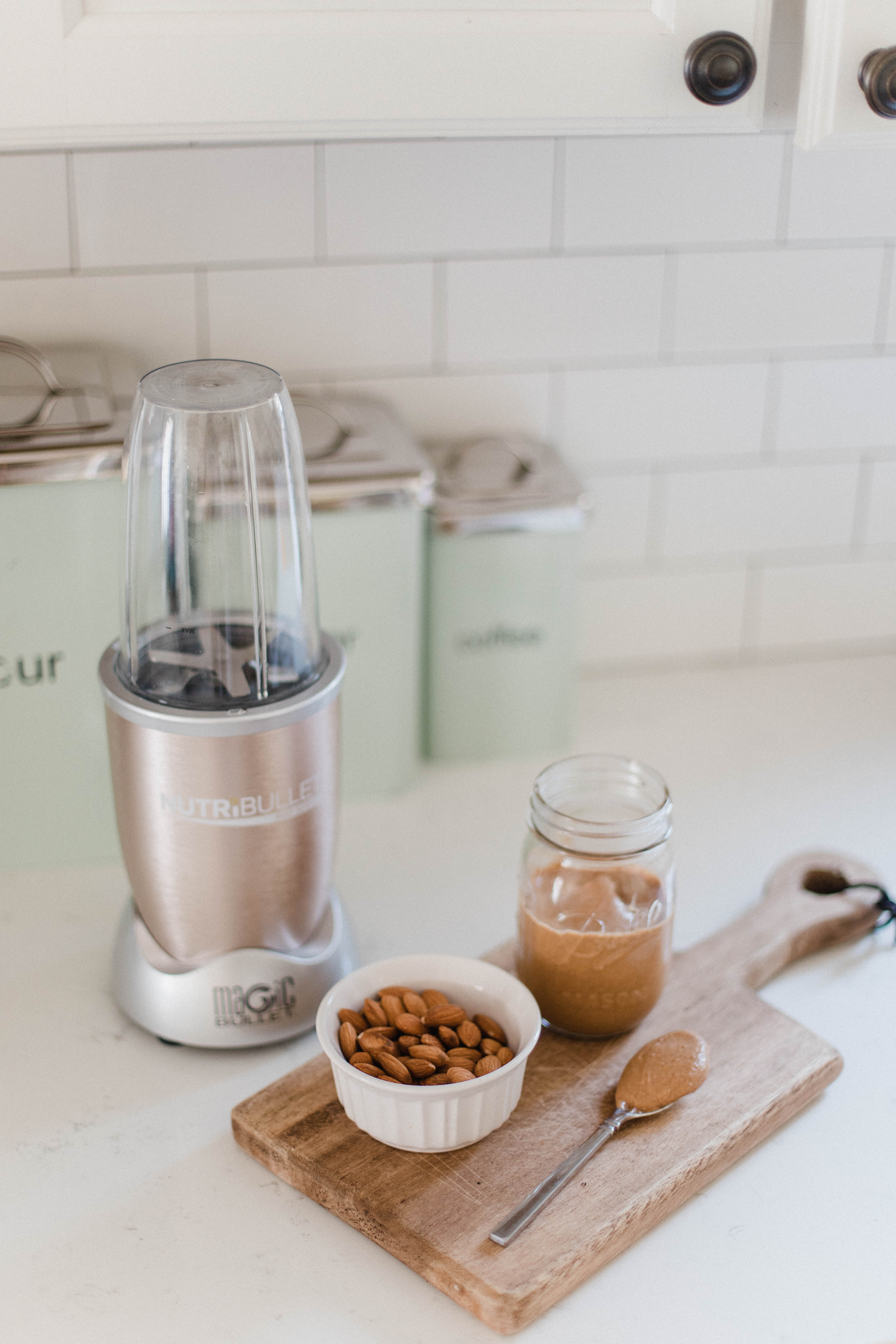 DIRECTIONS:
1 // Preheat your oven to 400F.
2 // Place raw almonds (make sure they're raw! No salt or anything like that) flat on a cookie sheet. I used a bag from Trader Joe's which filled the whole sheet.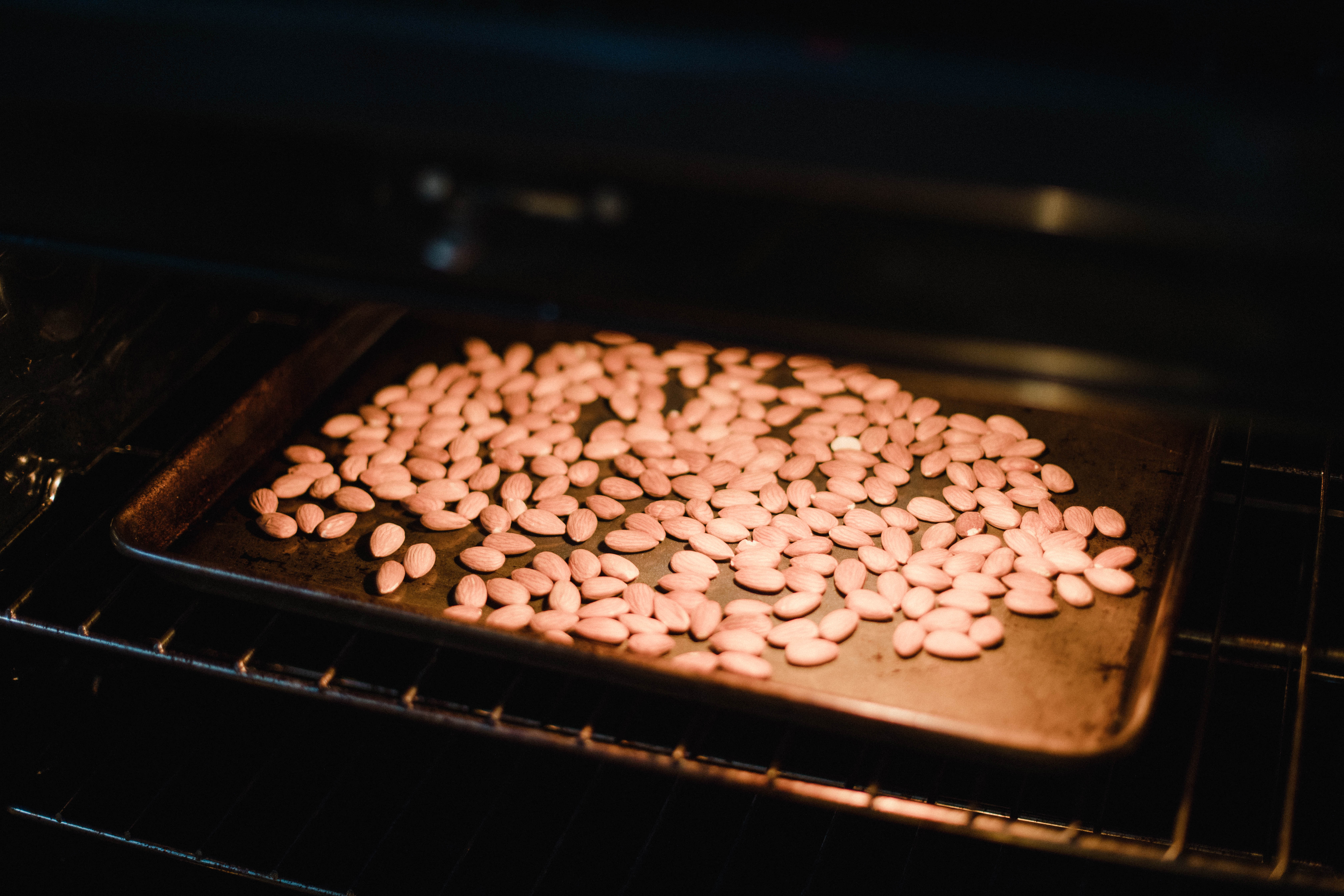 3 // Put the sheet of almonds in the oven for 8 minutes.
4 // Once they're roasted, take them out and let them cool for about 15 minutes. I remove them from the pan and place them on a paper towel so they can cool a bit faster.
5 // Once they're cool, place them in the NutriBullet (make sure they aren't past the fill line) cup and screw on the base. I did mine in 2 batches to make sure everything would blend up easily!
6 // Blend! It takes a few minutes, and the NutriBullet will get hot in the process. You might need to scrape the sides down a bit, but eventually it blends into the most PERFECT almond butter ever!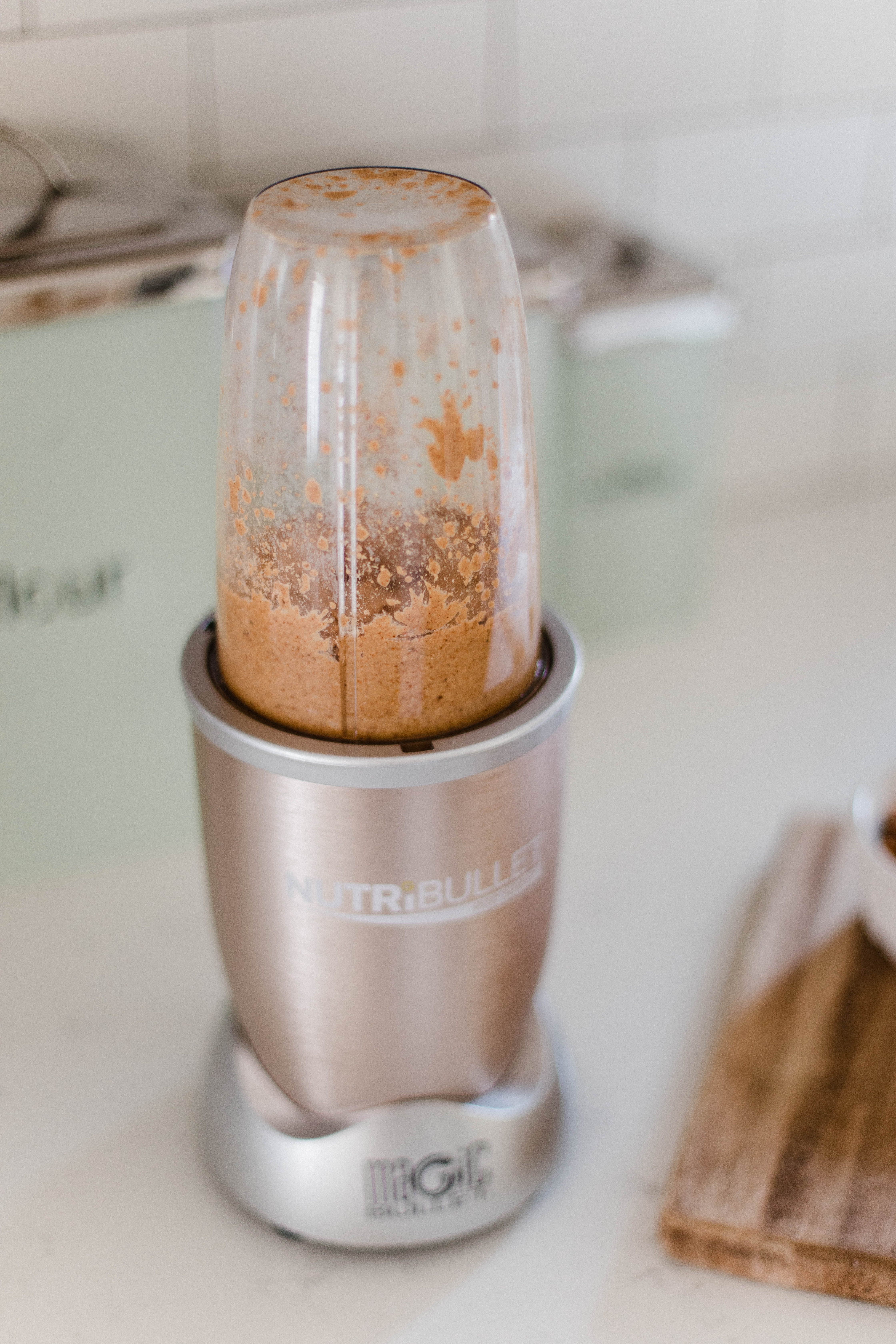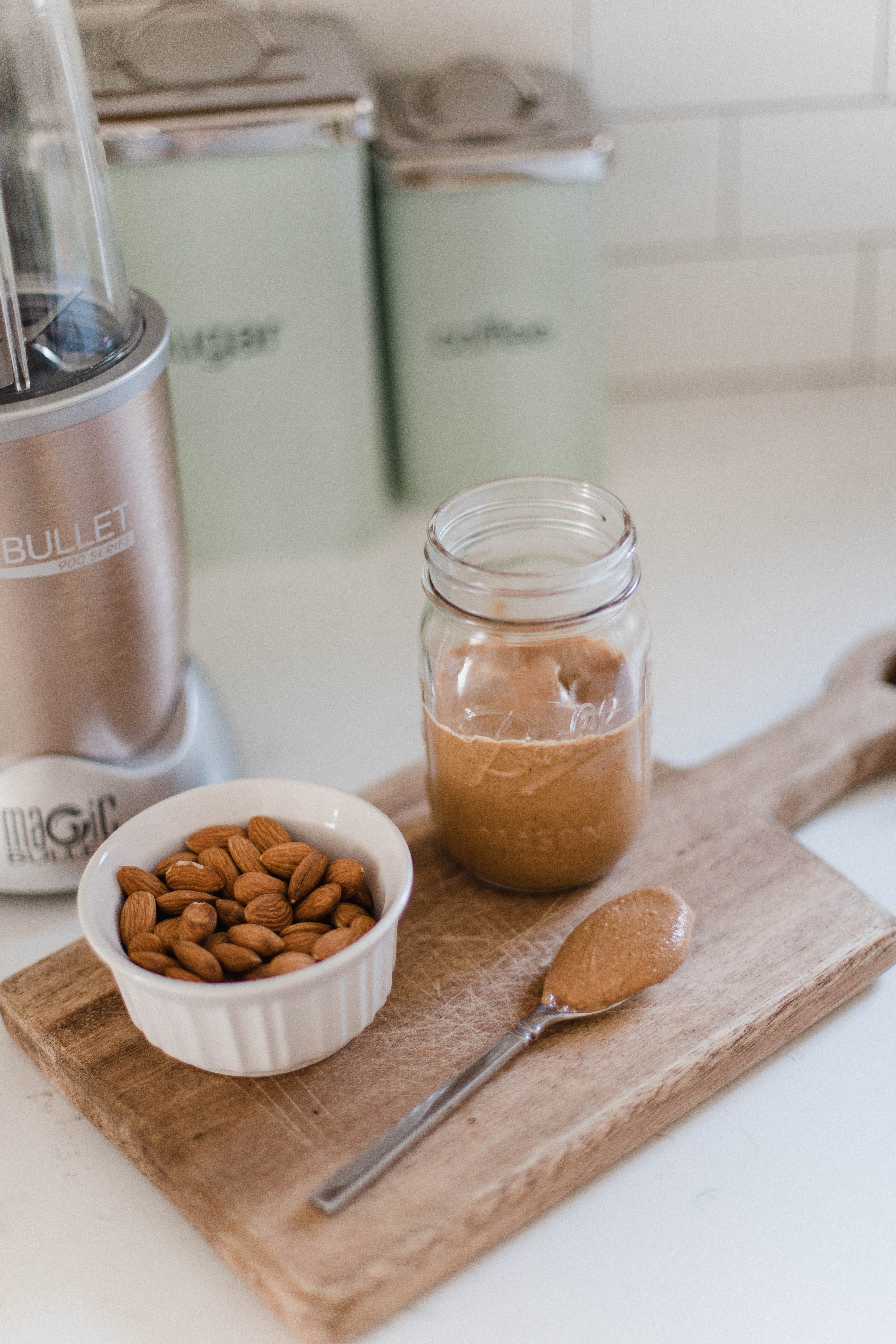 You can add salt or even a dash of cinnamon for something a little different, but it tastes absolutely delicious with just almonds! I put mine in a little mason jar, and I leave it in the pantry so it doesn't harden. We go through almond butter super quick in our house, so this won't last more than a week! I plan to make some cashew butter as well!
I really love my larger blender, but the NutriBullet 900 PRO Series High Speed Blender has always been a favorite because it's compact yet powerful. I love using it for quick smoothies too because the clean up is REALLY simple, but the options are endless! It's one of my most used kitchen gadgets that I've ever owned.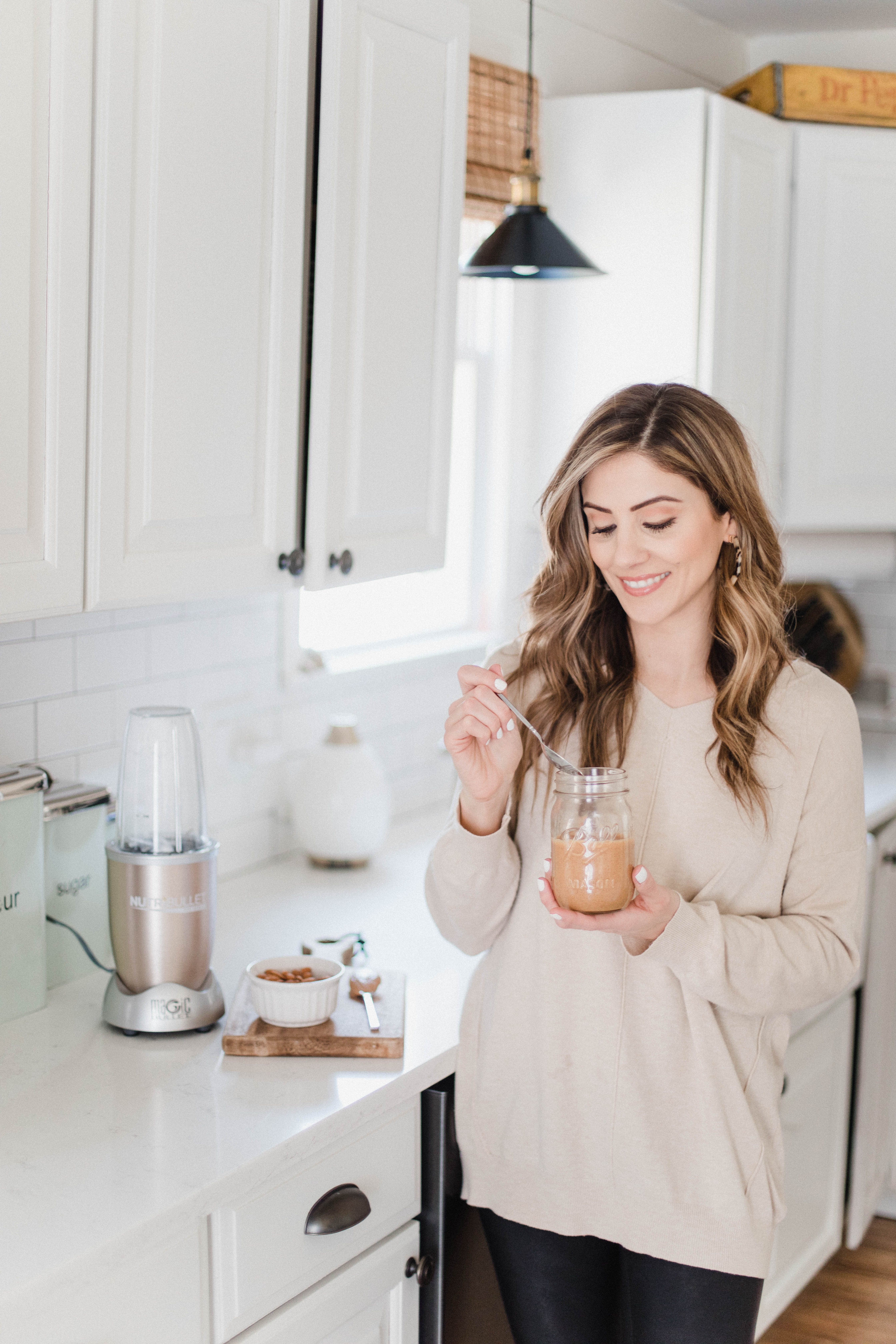 The NutriBullet 900 PRO Series High Speed Blender is currently on sale on QVC for $59.98 and comes with the blender, 2 different cup sizes, a flip-top to go lid, 2 different lip rings, and a recipe book! Don't forget you can use the code FIVE4U for $5 off your first order for first time customers! 🙂
SHOP THE POST