It's back to school season! Which means eeeeeeeeverybody is about to be sick, haha! Germs will spread, colds go around, and everyone goes through all the typical childhood school illnesses that happen every year. At this point I just expect it because there's no avoiding it completely unless you keep your kiddos in a bubble. And I just can't do that, sooooo I try to boost their immune system the best I can instead!
I added a couple of supplements to our daily routine last year, and I DO feel like they helped because we had a pretty good year as far as sickness goes. My children are NOT sick often, but they're bound to catch something going around when they're in school with their peers! Please note: I am not giving medical advice here. I am just simply sharing what we use daily and what seems to have worked for ys last year! We'll see about this year 😉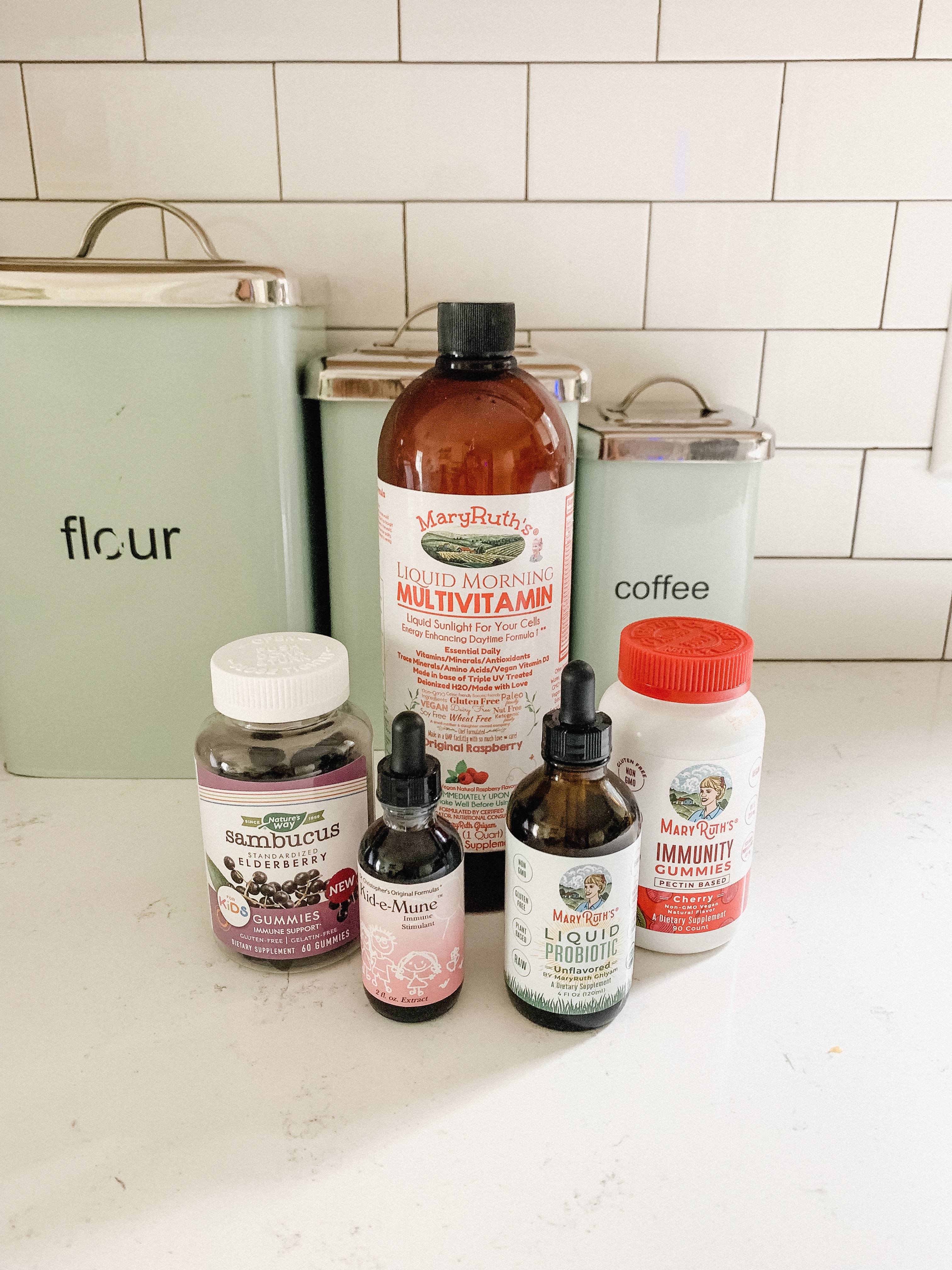 MARYRUTH ORGANICS LIQUID MULTIVITAMIN: I just started taking this multivitamin because of the insanely good reviews! I like the overall formulation and that it's also considered allergen friendly. Many vitamins contain soy and I didn't like that! I have not used this on the kids just yet, although it claims you can. But it recommends asking a doctor for the proper dosage.
SMARTYPANTS GUMMIES FOR KIDS: (Kids) Currently trying these for the kids! I was using a different brand but switched to these because they offer folate and methylcobalamin as B12.
MARYRUTH ORGANICS ORGANIC LIQUID PROBIOTIC: (Me) I switched to this probiotic recently for myself and the kids and I am reeeeeeaaallllyyyy liking it. For one, it's SUPER easy to administer and literally tastes like water. My kids know it's good for their bellies, and never fuss about the flavor because it has no taste. We love it! And it lasts us a while, too. So if you have a kiddo that doesn't like taking probiotic gummies or pills, try this one out!
NATURE'S WAY SAMBUCUS ELDERBERRY GUMMIES FOR KIDS: (Kids) I gave my 2 older kiddos these elderberry gummies to help boost immunity last year, and I do think it helped! I preferred the ingredients to this brand than others, and I liked that they're specially formulated for kids. I give these to my older 2 every morning.
DR. CHRISTOPHER'S FORMULAS KID-E-MUNE SUPPLEMENT: (Kids) This is essentially a liquid form of echinacea, which my mom always gave me during cold and flu season as a kid! Echinacea supposedly helps increase the number and level of activity in special immune cells and helps boost your immune system. My kids take these drops every morning.
MARYRUTH ORGANICS IMMUNE SYSTEM BOOSTER: (Me..maybe kids) I recently bought this to try out myself, and depending on if I like it, I might use it for the kids too (it's for adults and children!) and cut out some of the other supplements. It contacts elderberry, zinc, vitamin C, and echinacea all in one! But for now, it's just me taking it. We'll see! I like MaryRuth's other products, so I have high hopes for it!
Another thing, and probably the most important thing, we do during the school year to help prevent colds – WASH HANDS. My kids know that the second they walk in the door, they drop their stuff and head to the bathroom to wash hands. I also love THIS hand sanitizer because it's specifically made for fighting norovirus. If we're out and about, I'll spray some on their hands until they can hand wash at home. I'm trying to find a more natural one, and will keep you updated if I do.
I also try to specifically use a cleaner that kills norovirus amongst other bugs during cold and flu season, so this year I'm trying THIS one out! IDK guys, I just don't mess around during this time of year. I hate when anyone is sick!
Since these seemed to work the first year, I'm gonna give these a go for another year and see what happens! I'll report back!