The Sephora Holiday Savings Event is happening, which is always one of my favorite events to stock up on some of my favorite beauty products! This event is for Beauty Insiders (which is FREE to sign up for – and worth it for the points you accrue with purchases!) and happens several times a year. The more points you accuse, the higher your "status" and deeper the discount for these events. The even details are below:
I'm sharing a few of my top picks for this sale below, as well as my daily makeup and skincare routine!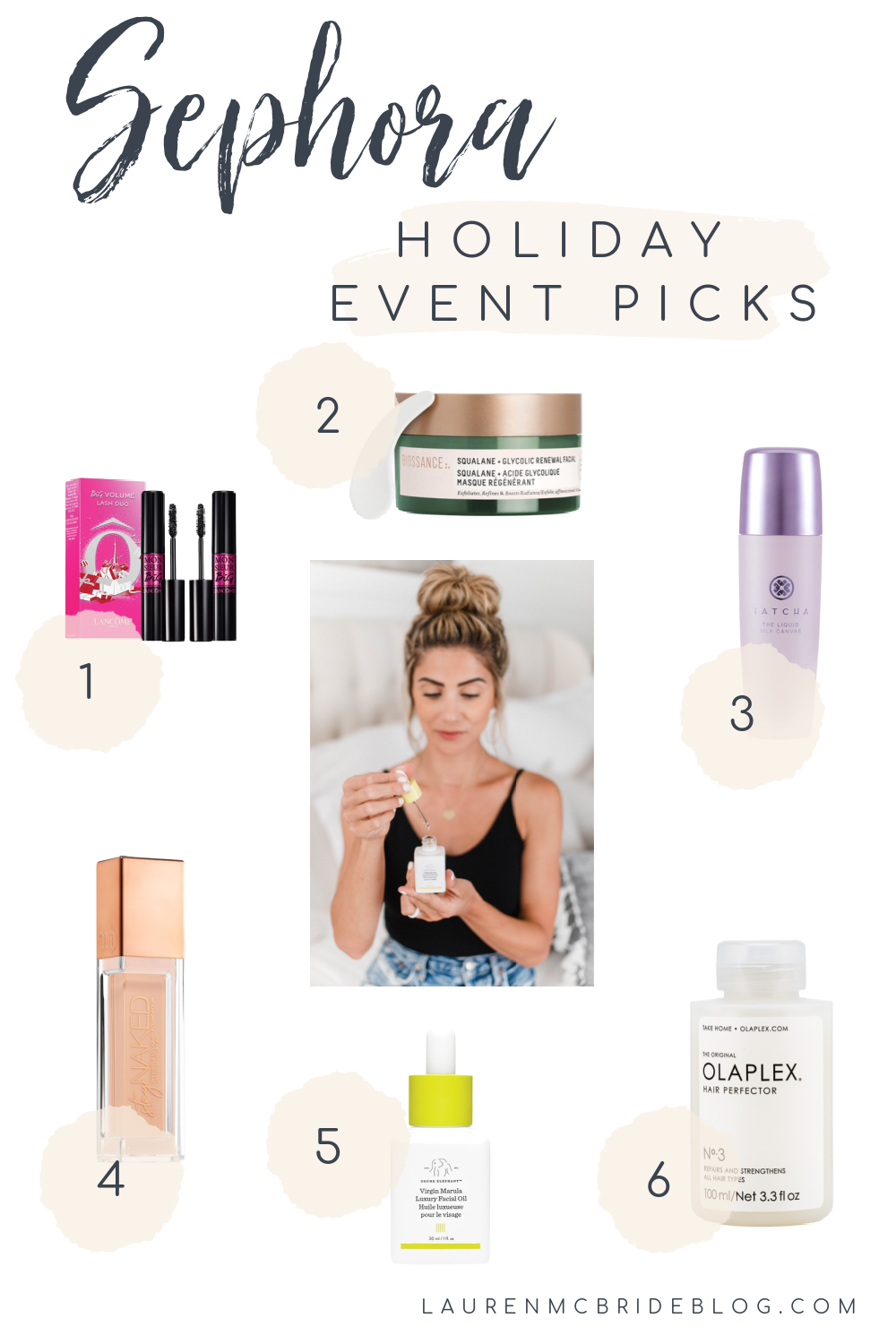 This is hands down my favorite mascara, and I'm seeing Sephora has a holiday set right now! Normally one tube is $25, but with this set you get 2 for $32! Add the discount, and it's even less – almost a two for one deal! You can also purchase the single version right here. This is the best mascara I've ever used, and it's been a regular in my routine for years now! I also use the Cils XL Booster Primer before I apply.

This is another favorite of mine that I've used for years now. I apply this as the LAST step of my skincare routine, morning and night, and it's made a world of different in the texture and softness in my skin. NOTE: you only need 2-4 drops depending on how much moisture your skin needs! A little goes a long way, and the only absorbs very quickly. There's a mini version as well, if you don't want to commit to the full sized!

Highly, highly recommend this facial treatment – it's incredible how my skin feels afterwards! It immediately polishes and smoothes the skin while brightening as well. I can see an instant difference every time I use it, and it's a great weekly facial to add into your routine because of the multiple benefits it offers. A little goes a long way of this one!

I get Olaplex treatments at my salon every other visit, and this is what I use in between treatments (although you don't need the treatment to use it!). It strengthens the hair bonds from within and helps to reduce breakage over time. I use this one a week on a hair washing day, and it's really made all the difference in the strength of my hair.

I haven't been this in love with a foundation in a very long time. I swear this is the ultimate foundation, providing medium to full coverage (it's buildable!) while keeping your skin actually looking like SKIN. It's never cakey, applies like a dream, and is truly weightless. It also stays in place ALL DAY. I cannot recommend this enough!!!!

This is the best primer I've tried. I was NOT a fan of the solid version, but this one truly gives your skin the perfect canvas for foundation. It blurs pores, evens the skin, and helps keep your makeup in place all day. It's pricey for a primer, but that's why it's one of my top picks – now's the time to buy!

Below I'm linking my Sephora picks from my makeup and skincare routine (some of the items are not available at Sephora, so please note that I'm only linking what's available!)
Shop my makeup routine

Shop my skincare routine