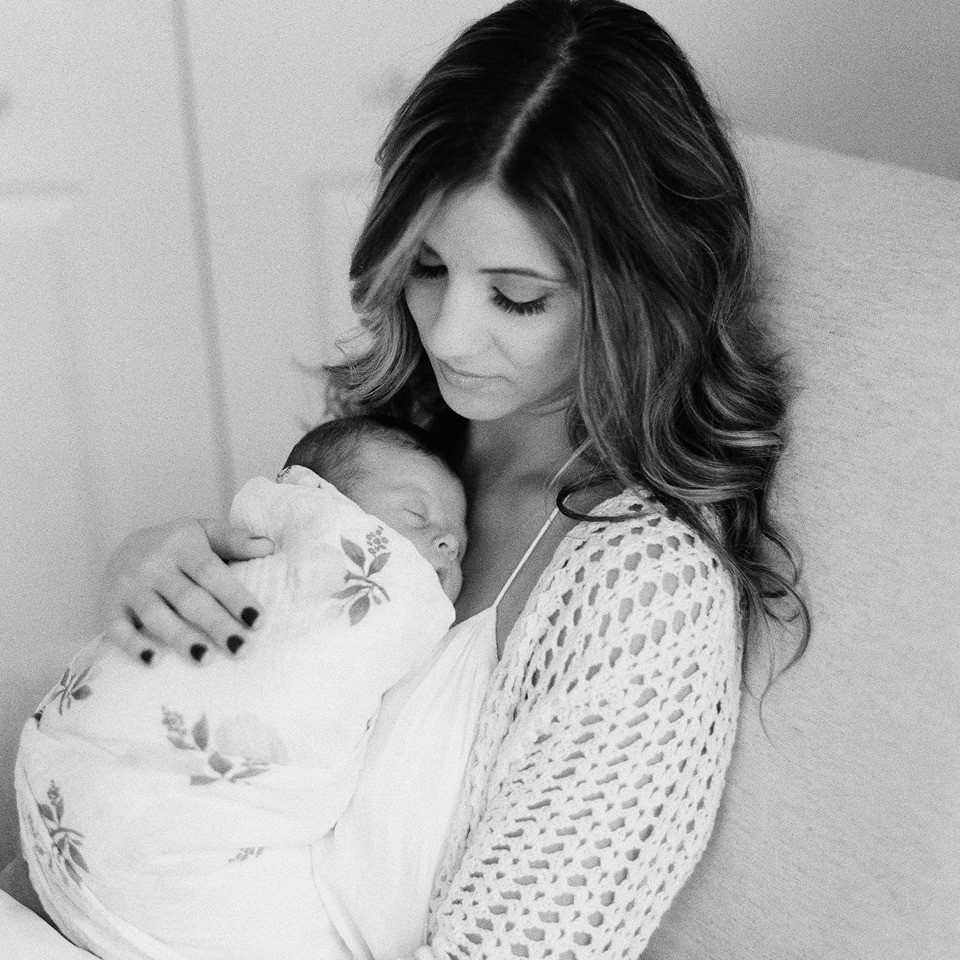 (Photo by Tiffany Farley)
If you've been here a while, you know all about my breastfeeding struggles with my son and how I ended up exclusively pumping for 13 months. It's funny how even years later and post second baby, I still have bitterness towards that whole situation. And to tell you the truth, having a successfully nursing second baby only made me that much more bitter because I could see where things went wrong the first time around.
I am so overjoyed that Noelle is nursing. It was one of my biggest fears going into this pregnancy, and I took certain steps to try to succeed as a result of my anxiety. I'm going to share my tips for successful breastfeeding with you today in case you are in a similar situation. I cannot guarantee these will work for you, but they did for me. I also should mention that Noelle's delivery was uneventful and she did not need any medical intervention like Landon did (he basically got a slow start, had some trouble breathing, and was rushed to the NICU. He was only there for a few short hours, but I do feel that affected things. I'll explain why later).
1. Do your research. So I've taken the breastfeeding classes and read the books, but do you know what was most helpful for me? A while back I saw a video on how babies self latch. A mom shared it in my EP support group and we all found it really interesting. This video is similar. I know it's a little long, but I promise it's a wealth of knowledge. What frustrated me the first time around was I couldn't understand WHY Landon was having issues latching. A medical condition is one thing, but he didn't have that. He just had a horrible latch that destroyed me. But after watching that video I realized how many things went wrong and most likely contributed to our lack of success. God intended for babies to nurse, and sometimes I think we get in our own way of that. So after watching that video, I vowed that I would allow Noelle to self latch and no one was going to tell me otherwise.
2. Hire a doula, and one who is a lactation counselor. I cannot even begin to stress the importance of a doula during delivery. I would have seriously been lost without mine (I used Mary from MCMaternity, she is the best!) the first time around, and while she missed Noelle's birth (of no fault to her, Noelle was almost a car baby!), she was there for what I cared about most – initiating breast feeding. Before delivery, she carefully walked me through the steps we would take to have Noelle initiate her first latch. We went over this multiple times, and she was very open and honest with me about the fact that it may take up to 2 hours to have her finally latch on – but that's OKAY and it's what we want. Babies do not need help latching. They will find their way, trust me.
3. Have a post-birth plan. Now I realize birth plans are kind of dumb because birth is not predictable, so I didn't bother to have an actual birth plan. It was after birth that mattered more to me. I wanted to do skin to skin immediately. I wanted to allow her to self latch. I absolutely refused to have any hospital staff give me advice on breastfeeding because they are the reason I was unsuccessful the last time. I had a shitty nurse who told me she was "too busy" to help me, and that I needed to feed Landon hand expressed colostrum with a syringe. I did that for a full 24 hours before initiating breastfeeding because NO ONE was "available" to help me. Listen, my mom didn't breast feed, and I had no clue what I was doing as a first time mom. So I just listened to what they said. Looking back, that was the worst thing I could've done. This is where having a doula comes in handy again; they'll advocate for you when you're overwhelmed and can't advocate for yourself.
4. USE NIPPLE CREAM. Luckily this time around I had an AMAZING nurse who I just wanted to take home with me. Her breastfeeding views aligned with mine (let baby self latch, etc) and she gave me the helpful tip of applying breastmilk to my nipples, allowing it to air dry, and then following with lanolin. This was like a magical recipe this go around. I know there are plenty of other nipple creams out there (including the prescribed APNO), but this was the only thing that worked for me.
5. Hire a lactation counselor to come to your home. This is if you can afford it. Insurance may cover it, so check with your provider. I didn't care the cost, and paid $250 to have one come see me in my home. She assessed our environment for best nursing spots, watched me nurse, gave me helpful tips, and even followed up with me days and weeks later. I specifically used Dr. Jennifer Young if you're here in CT (Google her!), and I cannot speak highly enough about her. I highly recommend! And I loved that she didn't force baby on in weird positions, and took a natural approach. It's all about finding what works for you and baby, not necessarily what the "textbook" says.
6. Relax. I was so uptight with Landon, and my goal with Noelle was to RELAX when it came to feeding. I have no idea how many ounces she's taking in, and I don't care. She's gaining weight appropriately (seriously, she's a porker) and that's all that matters. I'm letting her lead, and following along. Eventually I'll get more on a schedule but I didn't want to force anything because I just wanted to have her nurse and nurse well. And, it's working. She nurses SO WELL. And I'm so happy because I feel like my mentality behind it helped with that.
I'm sure there are other ways to be successful at breastfeeding, but this is what worked for me based on my past experience with exclusive pumping. Going from EPing to nursing is quite the adjustment…it's so different. I can honestly tell you exclusively pumping is a thousand times harder than direct feeding. I can also tell you I loathe even looking at my pump and wish I didn't have to ever again (but alas, I have to work). But let this be hope for you. If you're exclusively pumping, let this be confirmation that every baby is different. Your next baby has a chance at direct feeding! If you have any additional questions, leave them for me in a comment below and I will try my best to answer them in a direct email.
And if you are exclusively pumping, here are my tips on doing the that without killing anyone 😉