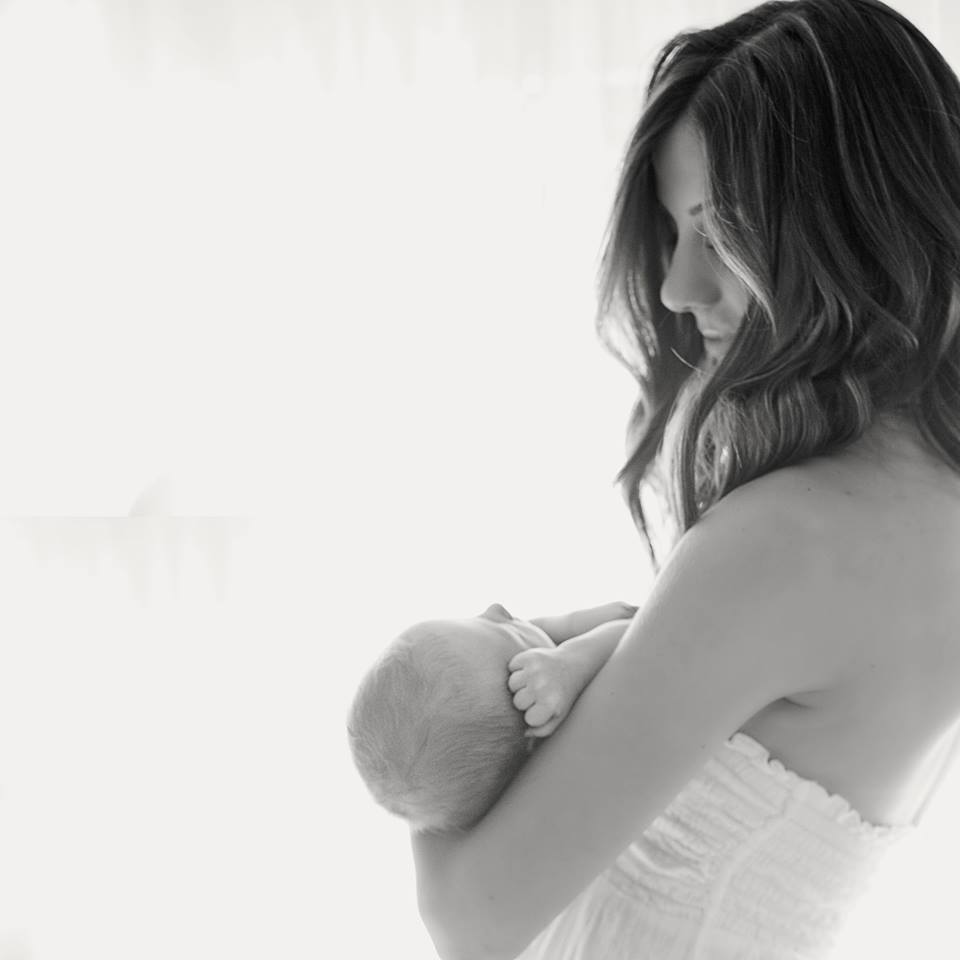 (Photo by Tiffany Farley)
I remember thinking, "why does this child not come with a manual?" when I first had my son. I'm still wondering that almost 3 years and 2 children later. It's so crazy to me how such tiny humans can completely turn your world upside down and make you feel totally incompetent. I had one very close friend who had her daughter three weeks before I had Landon, and she was basically my lifeline as a first time mom. We would text all day and all night (during those late night feedings!) long. I always knew she would be at the other end of that text if I needed her. We reached for each other whenever we were having a "what the heck?!" moment, and to this day I am so grateful for her!
While there's no manual to raising children, I have learned a few tips and tricks along the way. Today I'm partnering with Pampers and Babies"R"Us to share with you my tips and tricks for Mom's First 100 Days with baby. My hope is that this advice gives you the confidence you need to realize you ARE a fantastic mom and you CAN do this!
Always carry a change of clothes. Babies are…messy? You never know what's coming out of where. I like to have a change of clothes always on hand as a result.
When changing diapers, put a new one open underneath the old one for a quick and easy transition, and just incase there's any leakage during the process.
If blowouts are consistently happening, it's usually a sign that baby needs a diaper one size bigger!
Forgo the cute printed diapers (I know, they're cute) and find a brand that actually works. For us, it's Pampers. Blow outs are very minimal! Right now you can get $8 off a value box of Pampers at Babies"R"Us, and 2 for $12 Pampers 3X wipes! Offer is valid 3/1-3/31, so stock up while you can.
Pre-treat those poop stains right away to save those cute baby clothes. I always keep a Dreft pen on hand when we're out and about, along with little baggies to put soiled clothes in.
Always use white noise when babies are sleeping. The combination of white noise and swaddling makes for the perfect sleep! The white noise sounds like when they were in utero, so it's comforting to them.
Invest in a baby carrier. Wearing my babies helps me SIGNIFICANTLY, especially on fussy days. Baby is comforted and content, and I have two free hands to get things done!
Keep an extra diaper bag with emergency supplies in your car. You never know when you'll need something! Babies"R"Us has everything you need for the first 100 days with baby, so it's one stop shopping! I love to grab some extra things for my car diaper bag when I'm stopping in for something. They always have great travel sized items near the register, which is perfect for the car.
But my biggest tip on being a new mom? Don't worry about what anyone else thinks. It is so easy to get caught up in the unwarranted advice you will receive from other moms. It's so easy to feel judged with the comments other moms will make. I don't know why some moms feel the need to press their opinions on others, especially if they weren't asked. I remember being worried about every move I made…are they judging me because I can't breastfeed? Are they judging me because I'm giving my baby a bottle? Am I horrible for letting my baby cry a little? Am I horrible for following a schedule instead of feeding on demand for the first year? It is no one's business what you do as a mother. You ARE a great mom. I want you to be confident in yourself, even on the days you feel like you're failing. Because we all have those days! But do NOT let these other mothers make you feel like less of one. It WILL happen. You will receive the backsided comment that haunts you for hours later. There's no avoiding it. But you can choose to not let it effect you. So please, if anything, know that YOU DO YOU. And it doesn't matter what anyone else thinks.
For more tips and tricks for Mom's First 100 Days with baby, click here.
I stopped in Babies"R"Us the other day, and they have the CUTEST Easter apparel out right now. It's currently on sale the entire month of March! 25% off selected Koala Baby & Koala Kids clothing (offer valid 3/1-3/31), and ALL Koala Kids Easter themed clothing and accessories for girls and boys 0-18 months on sale (offer valid 3/1-3/31). Plus, all Babies"R"Us stores across the country are hosting a "Baby's First Easter" event on March 19th at 11am-12pm. There will be fun Easter activities, giveaways, and photo-ops. You can see more details here.
Babies"R"Us is also having Twitter party on March 15 at 2pm ET using the hashtag #BRUEaster that will talk about all the fun Easer activities they'll have! There will be great prizes too, so I encourage you to join in!
And because Babies"R"Us and Pampers love you all SO much, they were kind enough to offer a special giveaway to my readers! Enter via the widget below. The giveaway will run from Thursday March 10th, 2015 through Thursday March 17th, 2015 and is open to US only. GOOD LUCK!

This is a sponsored conversation written by me on behalf of Babies "R" Us/P&G/Pampers. The opinions and text are all mine.