Thank you to Janie & Jack for sponsoring today's post with these cute suits!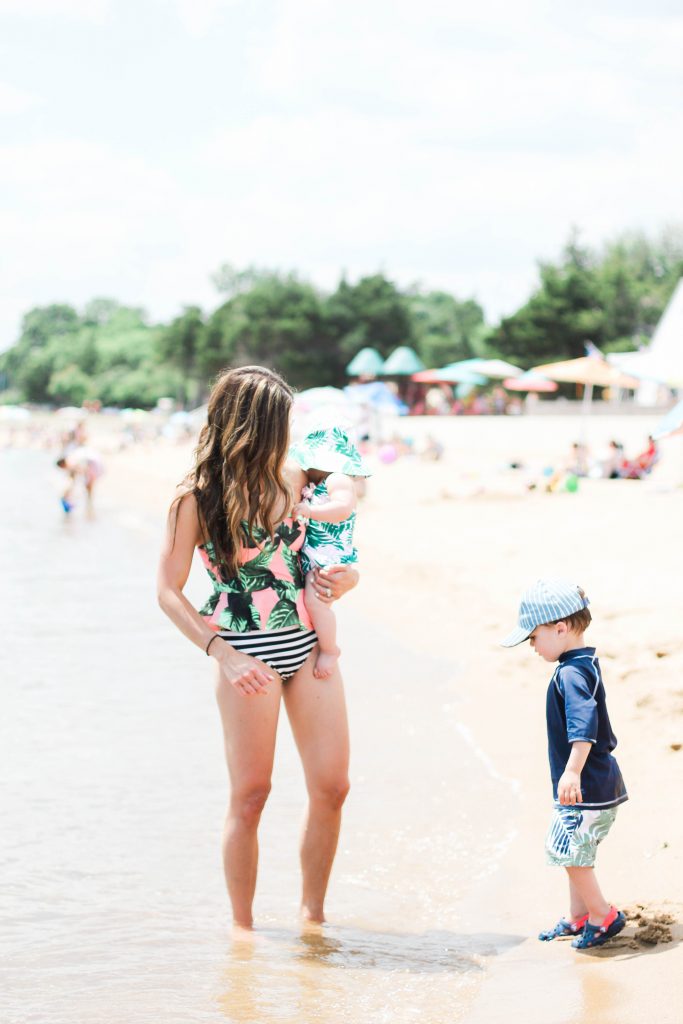 I've already mentioned on here that we (minus my husband) are big beach go-ers. Living by the shore means summers filled with sandy toes and salty hair. I grew up on the beach as a kid and have such fond memories of walking to the sand bar, drinking iced tea, and eating ice cream from the ice cream man during hot summer days. And I want the same for my kids!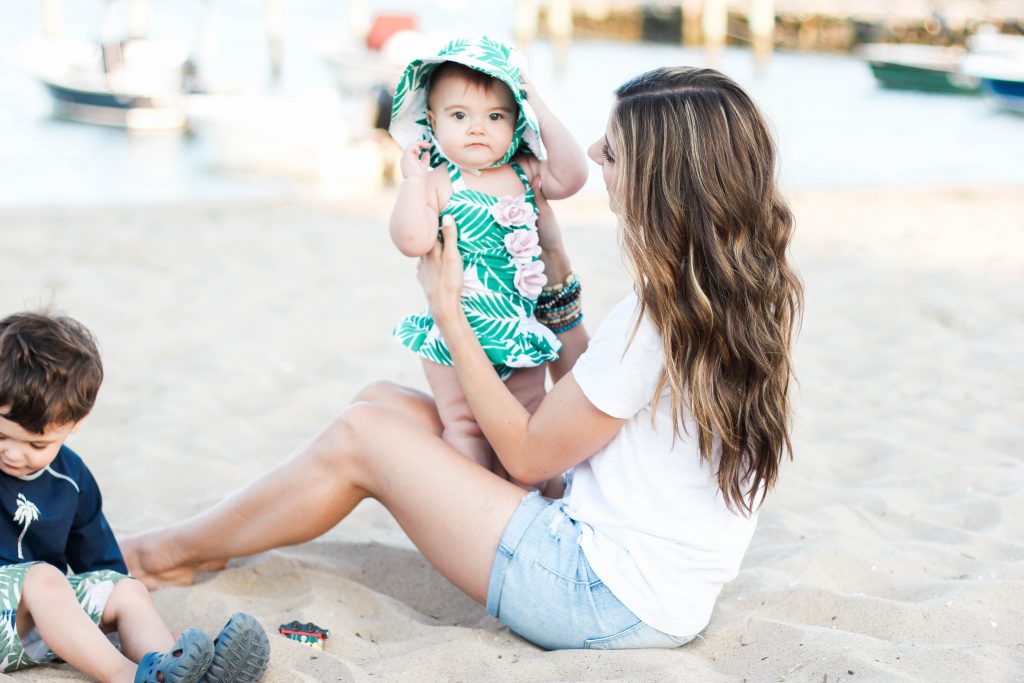 That being said, I feel the sun has been increasingly stronger as the years go by. I'm also not willing to risk the chance of skin cancer, so I take all precautions with my kids (and myself) when heading to the beach. Today I'm sharing some of my sun protection tips for kids!
Always apply sunscreen. I usually do this before even stepping out of the house just to make my life a little easier. I love Badger and ThinkBaby for the kids because they're natural and don't have any of those crazy chemicals (something I've also been super aware of!).
UPF swimwear. I love love love that sun protective swimwear is a thing! I always make sure the kids have UPF swimwear on (and thankfully most kids line have them!). Landon and Noelle are sporting UPF 50+ swimwear from Janie and Jack in these photos (thanks, guys!). I love the palm print on each, especially because it matches my "mom" suit 😉 Having them wear UPF swimwear gives me confidence that their sweet little baby skin is protected.
Hats. Landon actually took off his hat for this shoot, but you can usually find him in his Thomas the Train hat at the beach! Noelle is in the stage of pulling it off, so I love when they have the straps to secure them. There are many days I wear a hat myself to the beach.
Umbrellas/beach tent. This is actually our first year with both of these items, but I'm glad we have them. Having a spot in the shade to cool off in is necessary on hot summer days.
Go during the hours the sun is the least strong. I actually prefer this anyway because the beach is quieter, but we usually head down in the morning and leave shortly before noon/lunchtime! The sun is significantly hotter from 12-2 than it is in the morning, so leaving before this happens is important for us.
Have fun while being protected at the beach this year! Be sure to check out Janie and Jack for more cute clothing for the kiddos!
And since I know you want to know, my suit is from Albion Fit. This is my first year rocking a one-piece/tankini, and you bet I'll be stylish doing it! I also love these stylish suits here, here, and here.
Don't forget to check out my post on the best swimsuits for postpartum bodies, and this post on items you need for going to the beach with kids!