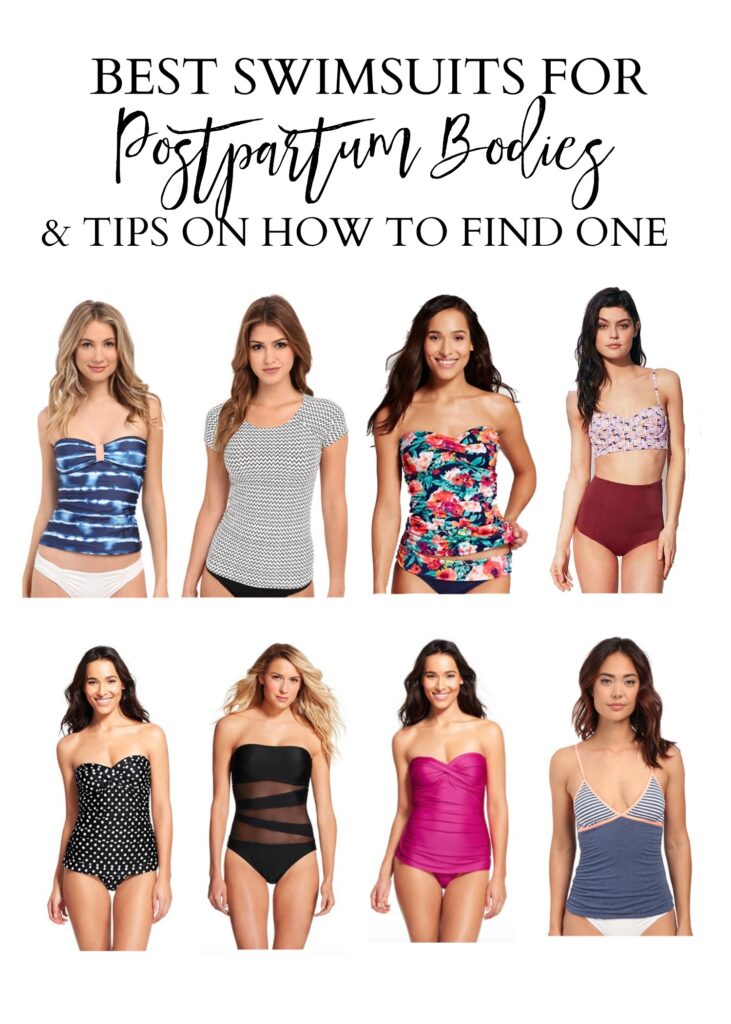 Six months out from having baby #2….yeah, my body is SO not bikini ready. And that's okay. I didn't expect it to be. And even it was, I don't know if I would be in a bikini. Postpartum bodies often have extra weight in the midsection, as well as a larger chests. Plus, heading to the beach with my girlfriends is a LOT different from heading to the beach with my kids! I'm not exactly lounging on a beach chair anymore. I've been on the lookout for some mom-friendly suits that are stylish and don't risk all the goods falling out, so I thought I would share the best swimsuits for postpartum bodies with you!
A stylish one-piece. One-pieces have come a LONG way, let me tell you! Gone are the day of Speedo suits and in are the colorful prints and flattering styles. I really love the look of the bandeau top suits, especially because they're also nursing friendly. This is a great modest option for mamas who don't want any extra skin to show.
SHOP ONE-PIECES

High-waisted bottoms. I am sooooo grateful this trend is in! It's made for the newly post partum moms, I swear. Paired with a cute top, the high waisted bottoms are perfect for covering the mom pooch. This is a great option for those who don't want to forgo the bikini! They provide total lower belly support, which is a new moms BFF. Aerie has some really great options so I highly recommend checking them out.
Tankinis. Not all tankinis are created equal! There are so many cute ones as of late, and I'm especially drawn to the ones with a peplum style top like from Albion Fit. Peplum will hide any postpartum bulges in a stylish way. I also love that the top and bottom can be mixed and matched for different looks.
SHOP TANKINIS

Rash guard. This is definitely a sportier looking option, but a great one for beach activities. Some of them are super cute and short-sleeved! This is a good option especially for places like water parks (for those mamas with older kids!). I'm kind of obsessed with this one.
SHOP RASHGUARDS

Coverups. If you just don't feel swim suit ready in the slightest, throw a coverup on! I don't know about you, but wearing a stylish cover up makes me feel a little more put together than an old pair of shorts and a t-shirt. It's totally fine if you're a little self concours about the way things are looking, and this is probably the easiest way to keep things under control. Especially if you have a little one to chase!
While shopping, there are a few things to keep in mind. Try everything on! I realize this is the part everyone hates, but it's necessary. Don't just assume it will "work." All bodies are different and you might not like how it looks on you! Choose something that you'll feel comfortable in. A top might not be supportive enough for your chest area, and the midsection area might be too tight. And if you don't feel comfortable, throw a cover up on.
All of these options are great for the new mom (or even seasoned mom!) who just doesn't want it all hanging out. I encourage you to try feeling comfortable in your bodies, but completely understand how difficult that is with all the new changes you experience with motherhood. I'll definitely be opting for fuller coverage this year until I feel like myself again, whatever that may look like. However, if you're someone who really doesn't give a crap, then rock that bikini girl!!!!!!!!!! 😉