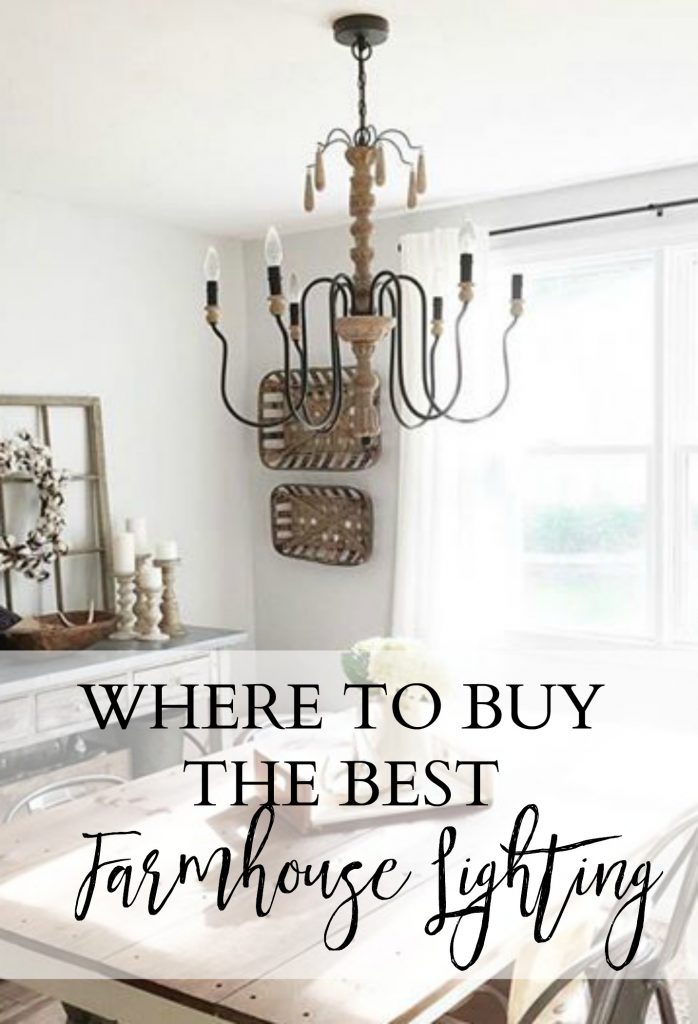 I have a thing for unique lighting. I'm not one to shop the normal box hardware stores for lighting because I feel I'm less likely to have what someone else has if I shop elsewhere. I like my lighting to be a focal point of the room, considering it fits! You'll find fun lighting all throughout our home…from a rope chandelier in Landon's room to the industrial cage lighting in our bathroom. I'm frequently asked about where my lighting is from or if I can recommend a great website for lighting, so I thought I would share where to buy the BEST farmhouse lighting with you!
World Market: I recently purchased this gorgeous chandelier for my dining room, and I absolutely LOVE the look of it. World Market has always been a go-to of mine for lighting because of the wide variety they offer. They range from rustic to modern, and have unique styles you won't find elsewhere.
Lamps Plus: This is a site even my interior designer mother recommends because of the variety they offer. I swear they have lighting for every single style out there! We have one similar to this rustic cage light in our playroom (more on that soon). They also offer a wide range of prices, so you're sure to find something you'll love that's affordable!
Shades of Light: One of my new favorite sites, Shades of Light has gorgeous farmhouse and industrial style lighting! I recently purchased this one for our downstairs bathroom (more on that soon, too!). I love the charm is has and it looks incredible against our new shiplap walls. I can't wait to share that with you!
Barn Light Electric: You all know how much I love this site, if you follow me on Instagram! We recently added this light to our farmhouse kitchen makeover, and we have two of these sconces next to our fireplace. They're high quality and worth every penny. I love the unique styles they offer, and in such s wide variety. I literally drool over every fixture.
Parrot Uncle: I've yet to purchase from here, but I'm really impressed with the price points of this site. They have very similar fixtures to the other sites I've listed, except at a lesser price. I can't speak for the quality, but if you're on budget this seems to be a great place to shop!
Schoolhouse Electric: This site has a glorious mixture of vintage and modern lighting, and a way to combine the two if that's possible. They also have an industrial selection; you're sure to find something that catches your eye.
Each of these sites has a lot to offer, so I can guarantee you'll find a great fixture for your home!