Thank you to lucy Activewear and Baby Jogger for providing us with gear for this post! All thoughts and opinions are my own.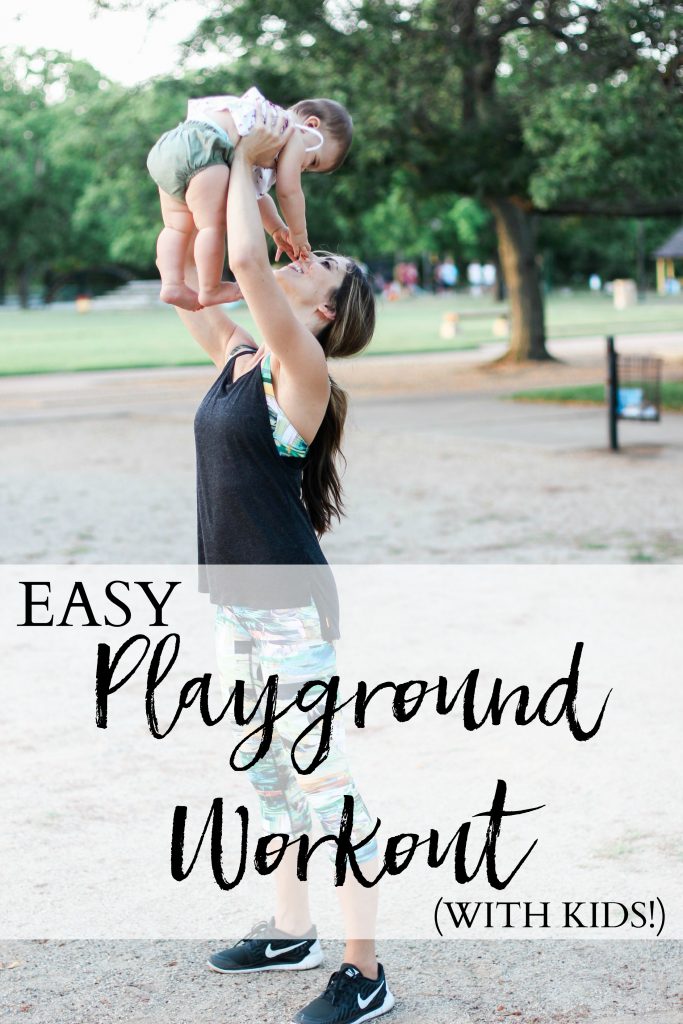 I started going to CrossFit regularly after I had Landon. I worked during the week and was able to fit a class in at the end of my work day. It became a routine, and I would go at least 3 times a week. On my off days, I ran or did yoga at home. I was in the best shape of my life during this time, which was what I wanted to achieve before my second pregnancy.
When I became pregnant with Noelle I took a weekend position at the current job I held. I knew this would change my entire routine, but I guess I didn't realize just how much. I tried my hardest to make CrossFit work by bringing Landon with me, but he became pretty impatient (duh, he was 2) and I ended up more stressed out during the workout than actually enjoying it. So I stopped CrossFit temporarily, and decided I needed to figure out a way to enjoy my workout while having Landon in tow. Enter, my beloved playground workout.
Now let me just be the first to say this workout is NOTHING like CrossFit. But it was better than doing nothing at all! And Landon really enjoyed himself during and after. It helped me stay sane and gave me good bonding time with my boy before his baby sister was born. We have since moved from this area, but I occasionally take the kids back here for a repeat of our routine.
I fell in love with this park in our previous home town. It was perfect because it had a playground geared for kids Landon's size, as well as a beautiful running track that circled the entire park. Along the track was different playground equipment which I used to my advantage to create a workout. Mamas, I totally feel you that working out with kids is HARD work. It happens less often than I'd like, let me admit that. I'm lucky if I can workout 3 times a week. But at least this workout allows me to involve the kids, which is half the battle. Today I'm sharing my playground workout with you in hopes to inspire you to do the same!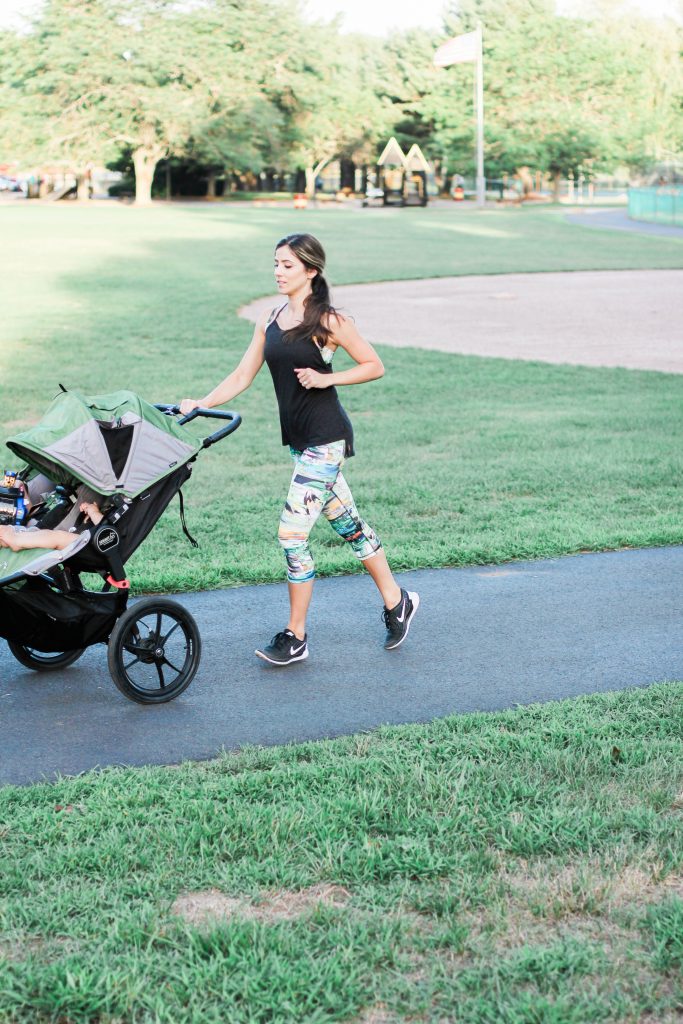 Equipment needed:
A jogging stroller. I'm using the Baby Jogger City Summit x3 double, and LOVE it. It's so easy to push, and I love that there's a hand brake on the handlebar to control speed when going downhill. The canopies are huge and the kids love the comfortable seats. It's also really easy to fold for a large double stroller!
A playground. Preferably one with an area to run!
This park is really special because I can do a circuit-like workout all throughout the track with running intervals in between. But if you don't have that option, I suggest doing your cardio portion (running/walking), and then utilizing the playground equipment for a body weight workout! Here are some of the movements I do.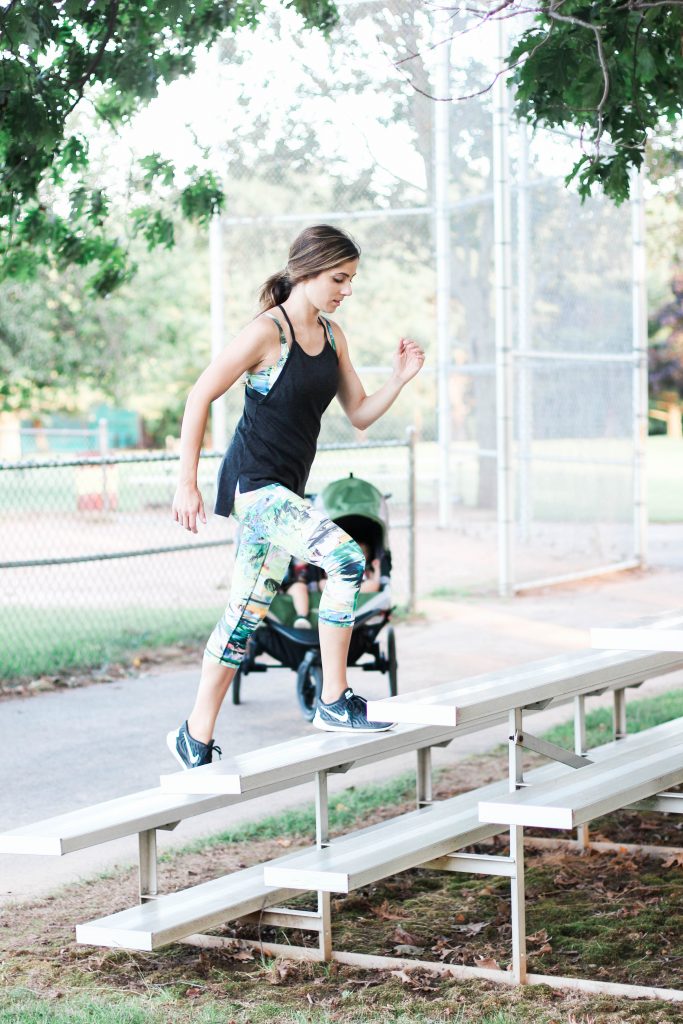 Bleachers. Always good for the legs, running the bleachers a few times is great cardio and a leg workout. If your kids are impatient like mine, you can only go up and down a few times (these are only a few rows high, so no worries…kiddos weren't left alone!). But something is better than nothing!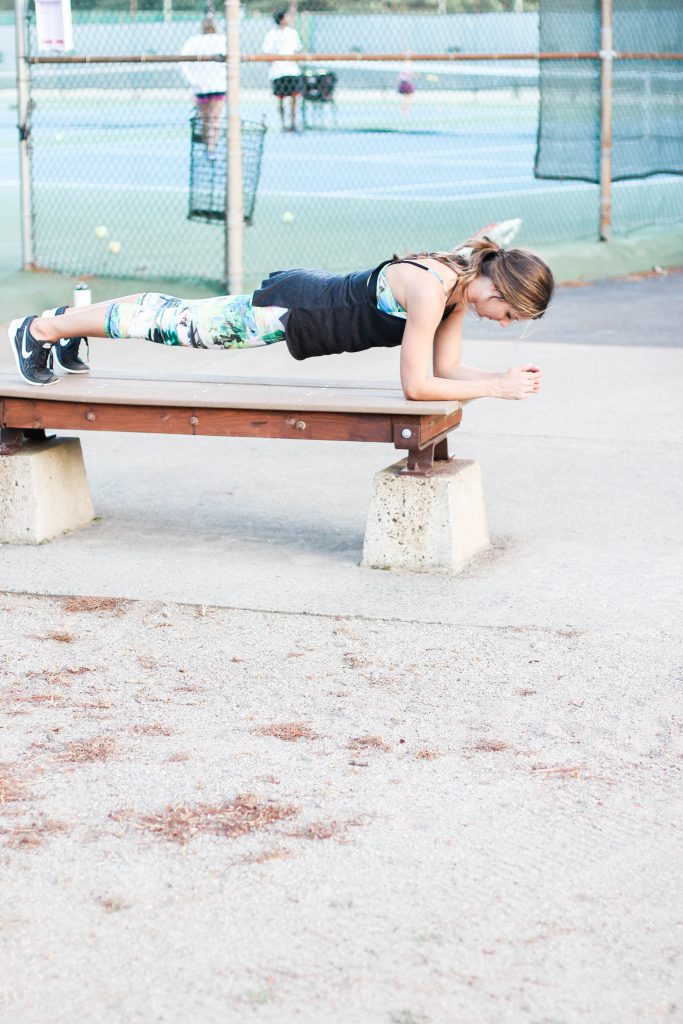 Planks. Holding 30-60 second planks on the benches or ground is a great core workout. You can also do it right in front of the kids and have them count with you!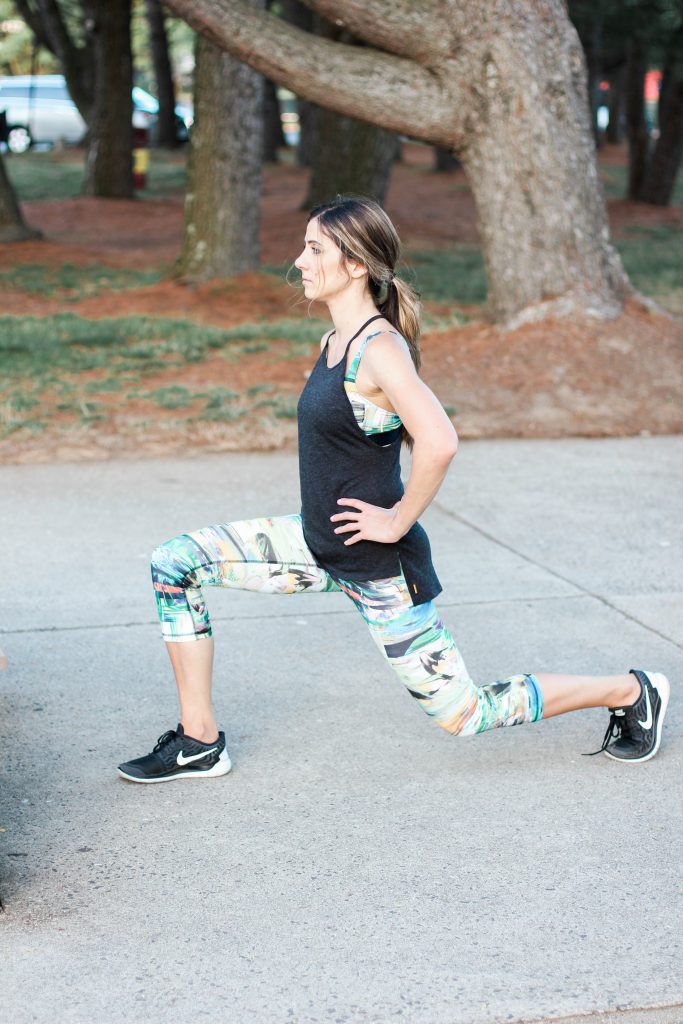 Lunges. I'll do these while Landon is playing on the playground, I'll do sets of lunges in between playing with him. They're super easy and can be done anywhere.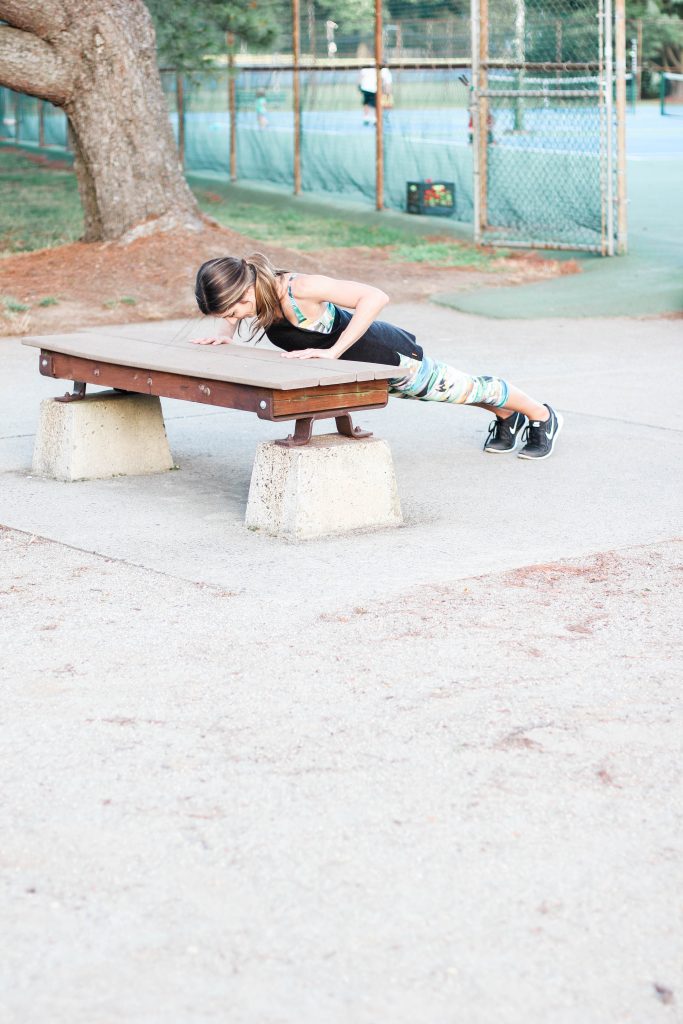 Pushups. I suck at pushups, so I utilize a park bench to make them a little easier for me. Again, an easy movement that can be done anywhere while the kiddos are playing!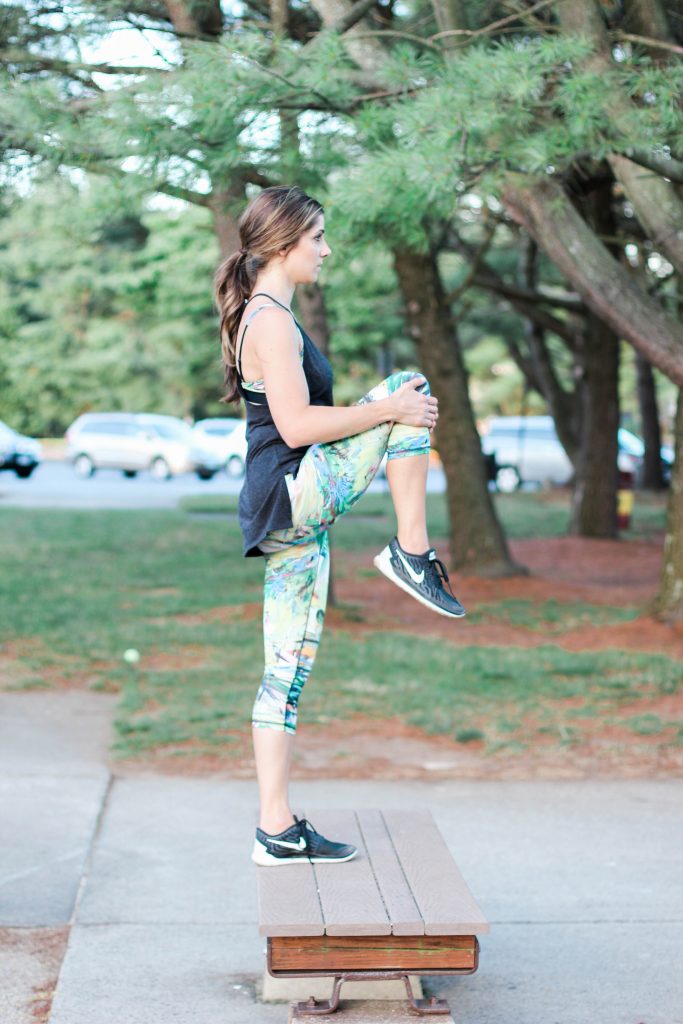 Step-ups. Use the park bench or playground equipment to do some step-ups! Add the leg lift for extra work. You can also jump up if you're feeling bold!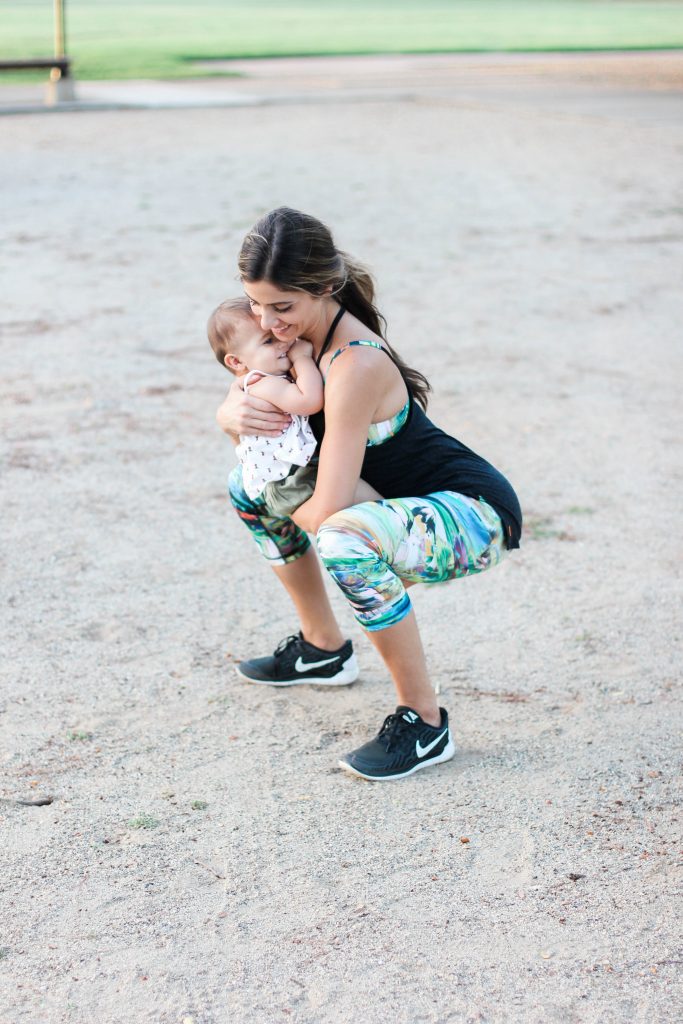 Squats, squats, squats. Doing some simple air squats will definitely make you sweat, and adding the baby in for extra weight is good too. 😉 Landon was playing with his trains in front of us in this photo!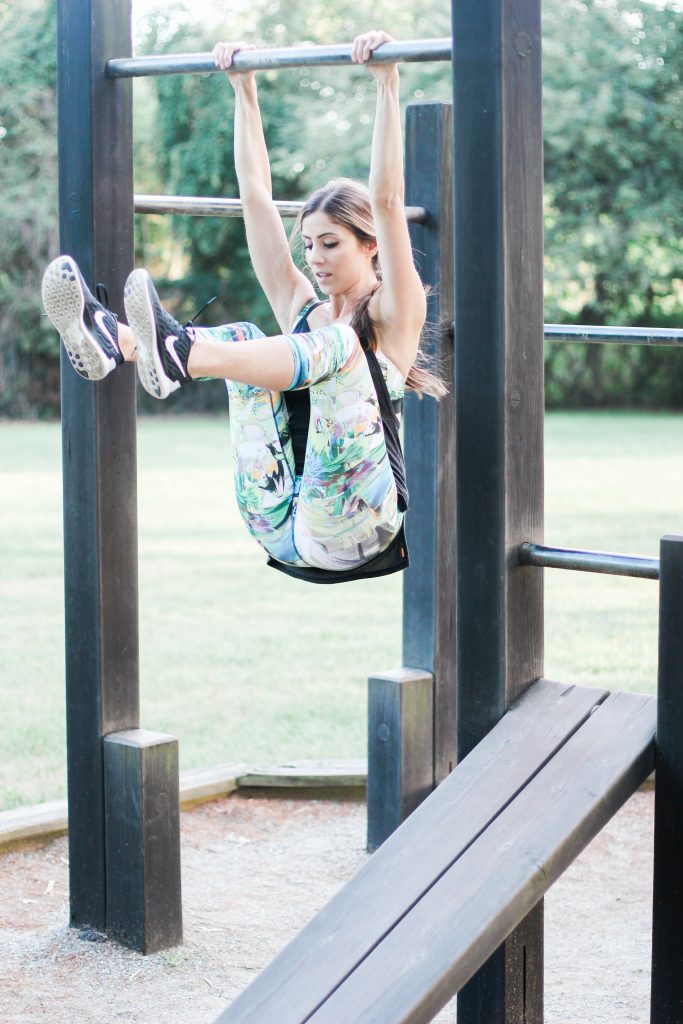 Leg lifts. There are a few sets up pull-up bars at this playground, so I'll use them for some simple leg lifts for an ab exercise! They can be used for pull-ups also.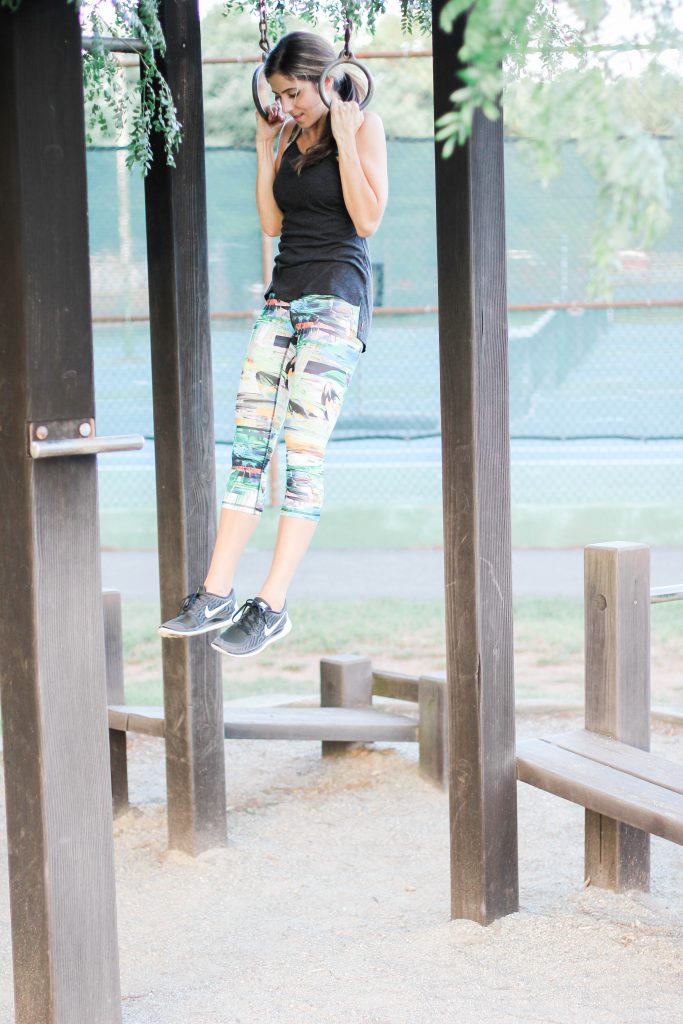 Jumping pull-ups. I USED to be great at pull-ups when I regularly attended CrossFit, but that is no more! They have rings at this playground, so I do a modified jumping pull-up (which Landon finds hysterical). It's really hard, but a great movement!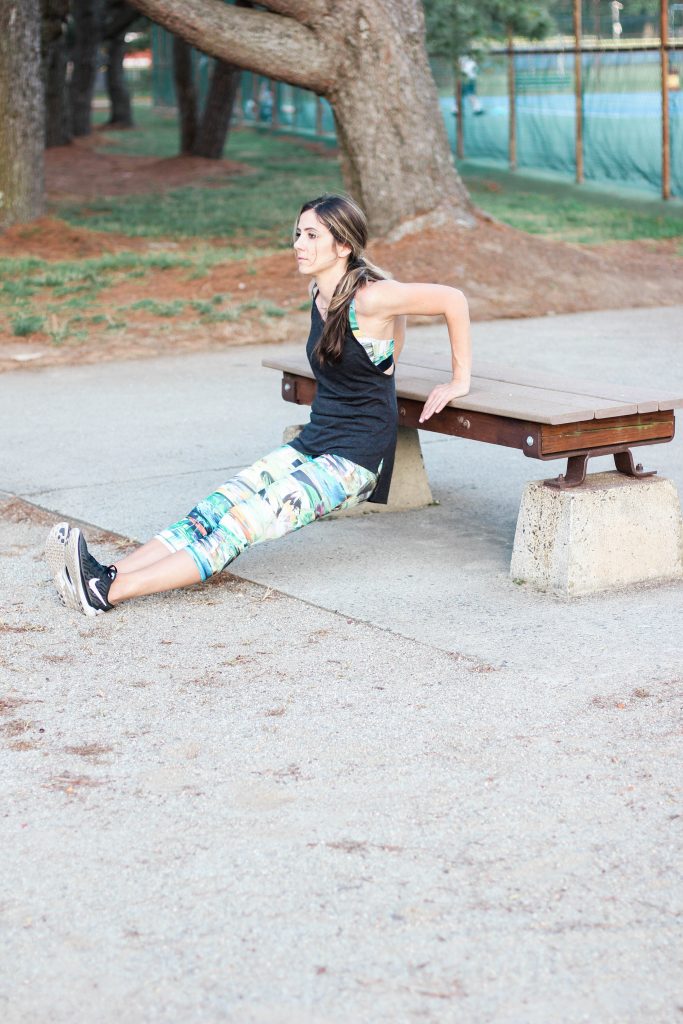 Tricep dips. Use that bench for those tris! The straighter your legs, the harder the movement!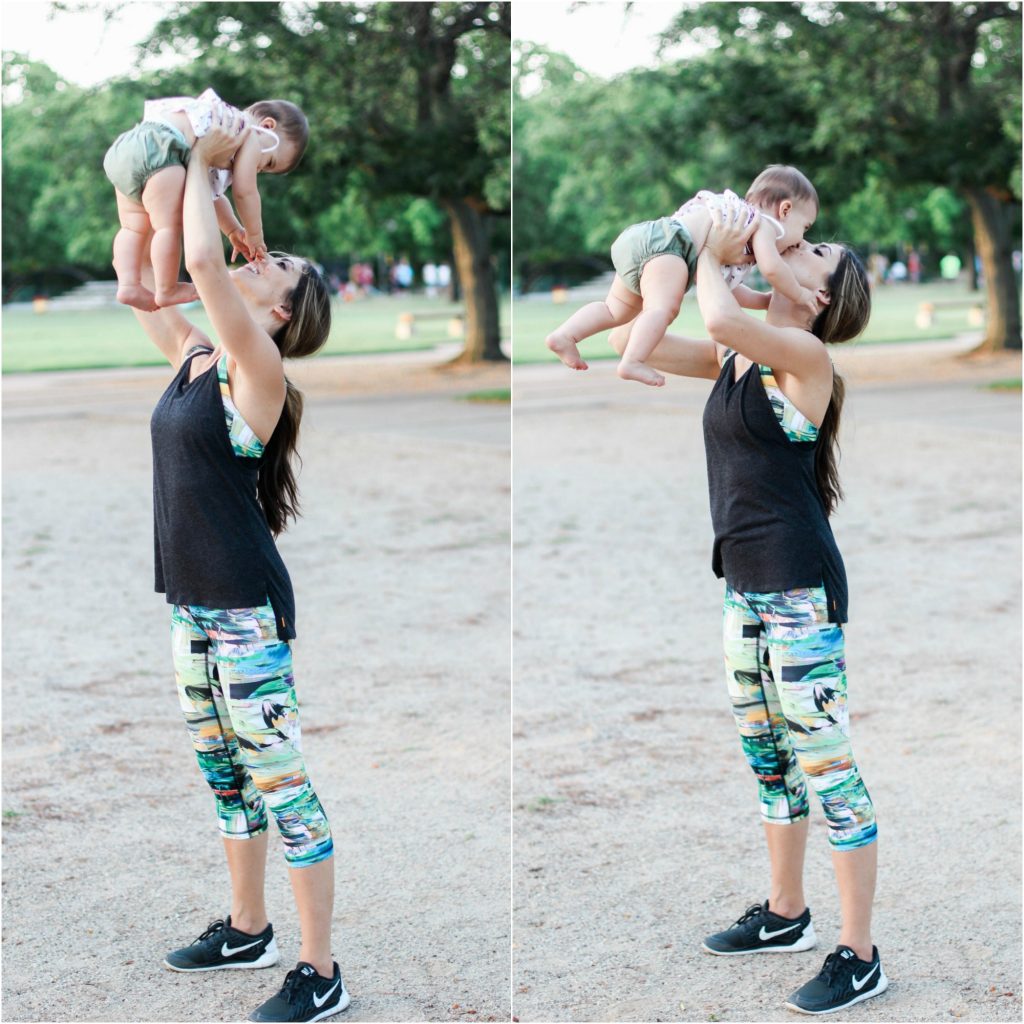 Push-press with baby! Noelle LOVES this! I'm simply lifting her up and down and getting an arm workout in in the process. It works! 🙂
Top: Lucy Activwear / Sports Bra: Lucy / Pants: Lucy / Shoes: Nike Free
These are just some basic body weight movements I do on the playground equipment at our local park! Sometimes it's hard to feel motivated if you don't have a set plan or workout idea, so I hope this is encouraging you to get out with the kiddos and break a sweat! If you're like me and struggle to find the time, this is the next best options. I've found home workouts to be difficult because I can't contain the kids, whereas at least they can be running in the stroller with me on the playground. Plus, they get to be outside and can have some fun too. Exercise is my sanity; when mama is happy, everyone is happy! 🙂
Enjoy!