Thank you to Sophos Home for sponsoring today's post! And a special thank you for supporting the brands that support this blog!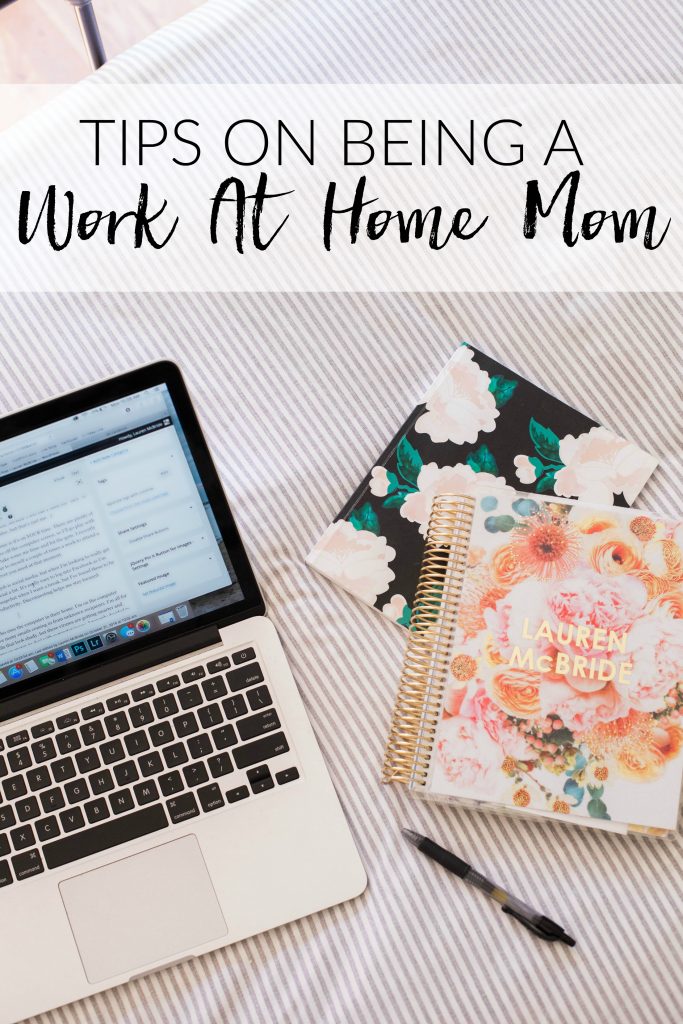 I was recently scrolling waaaaaay back through my Instagram feed and came across some photos from when I recently had Landon and was working Monday through Friday. I got flash backs from the pain I felt having to leave my son for work every day (even though it wasn't for a full 8 hours!). I so badly wanted to stay at home but wasn't sure how to make any of that work. When I found out I was pregnant with Noelle, I was offered a position working weekends only. Now, there are pros and cons to a weekend only job, but I accepted because the pros outweighed the cons significantly. I suddenly became a stay at home mom, as well as a working mom all in one.
Being home during the week allowed me more opportunity to work on this blog and make it into something more than a hobby. This blog has since become a full time job for me. I easily spend over 40 hours a week working on it, on top of working weekends at my nursing job. And then, I have the best job of all….mom! But being a work at home mom has been quite a challenge, and one I never expected to face like I am at this moment. I know there are a lot of work at home moms out there who may be reading this that agree. I've learned a lot during this process, so today I'm sharing with you some tips on being a work at home mom and making it work for you and your family. This is for all the mamas doing their best to make an income while staying home as well, in whatever way that looks like.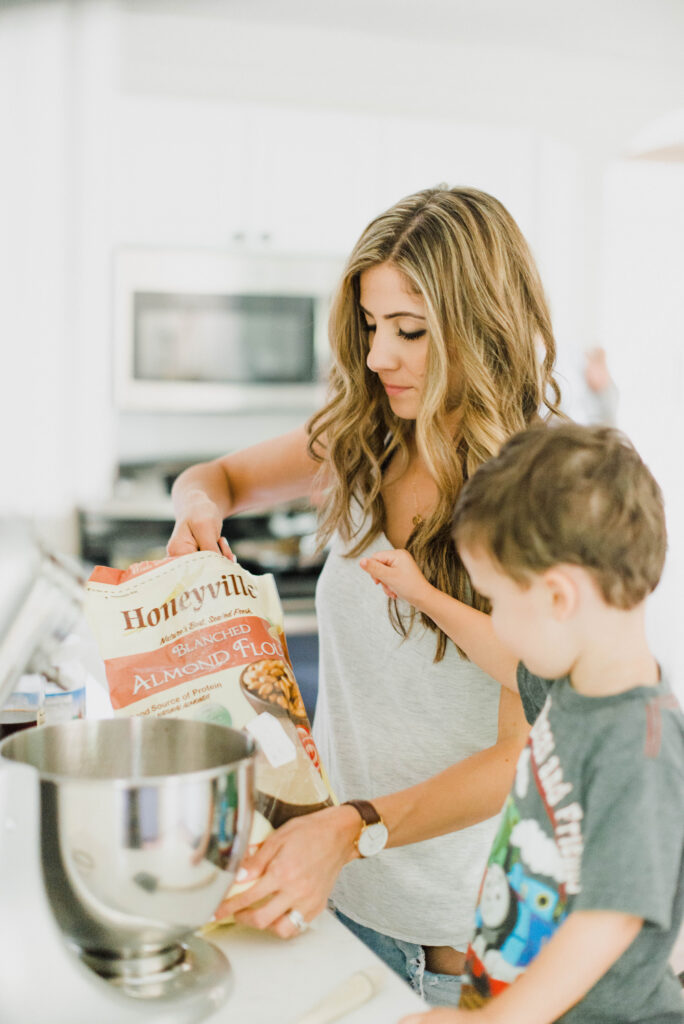 (Photo by Victoria Gloria Photography)
Make a schedule for yourself. I recently implemented "office hours." This sounds silly because my office is at home, but I have to stick to it in order to not let this job control every aspect of my life. My office hours are when my mother's helper is here (more on that in a second), nap time, and after bed time if needed. Otherwise, I'm busy with my other job, Mom. This has helped me learn to say no to answering emails immediately, or feeling the need to post on social media all day long. It's also helped me be more focused on my kids and husband. What's nice is I'm able to call my own shots!
Hire a mother's helper, if you can. This option might not be available to everyone, but I recently decided to bite the bullet and it has been SO worth it. My sitter is here a few days a week helping with the kids so I can go upstairs and get some work done. I use these days as my "office days." But my kids (and my sitter) both know that they have access to me if they need me. I'll never shush Landon away if he wants to show me his Play-Doh creation or the picture he drew. My presence is still there, but I'm in a separate room working while they have a total BLAST with our sitter. This also allows me to feed Noelle as needed, and then pass her off so I can go back to work.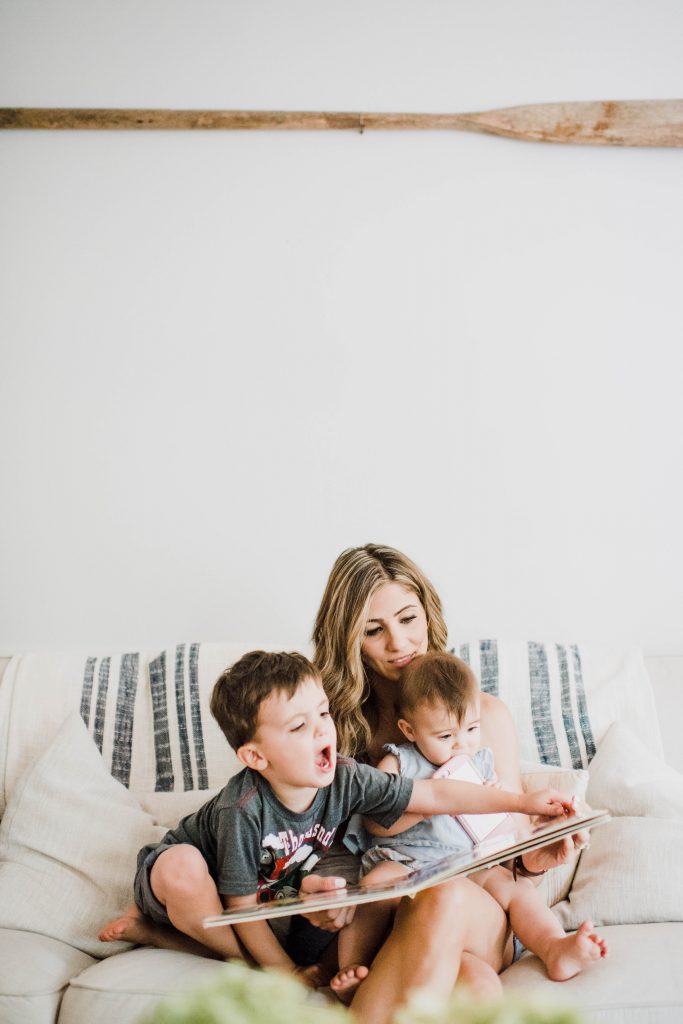 (Photo by Victoria Gloria Photography)
Get dressed. Sounds silly, but it's not. Getting dressed actually helps me be more productive and be in the "zone" to get work done. I also put makeup on every day because I feel like I need my "face" to not look like a scary sleep deprived monster, but that's just me. 🙂
Take breaks as needed. The benefit of working at home is it's on YOUR time. There are plenty of moments I just need to clear my head and take my eyes off the computer screen, so I'll go play with the kids for a bit and give my sitter a break. OR, I'll take some me time and hit the gym. I recently signed up for hot yoga and have been taking an hour to myself a couple of times a week to attend a class. Your break can be whatever you need at that moment.
Disconnect from social media. Apart of my job is social media, but when I'm looking to really get a jump start on work, I'll disconnect from social a bit. It's really easy to log into Facebook as I'm typing a post or scroll through Instagram or Snapchat when I want a break, but I've found these to be total time suckers and inhibit my productivity. Disconnecting helps me stay focused.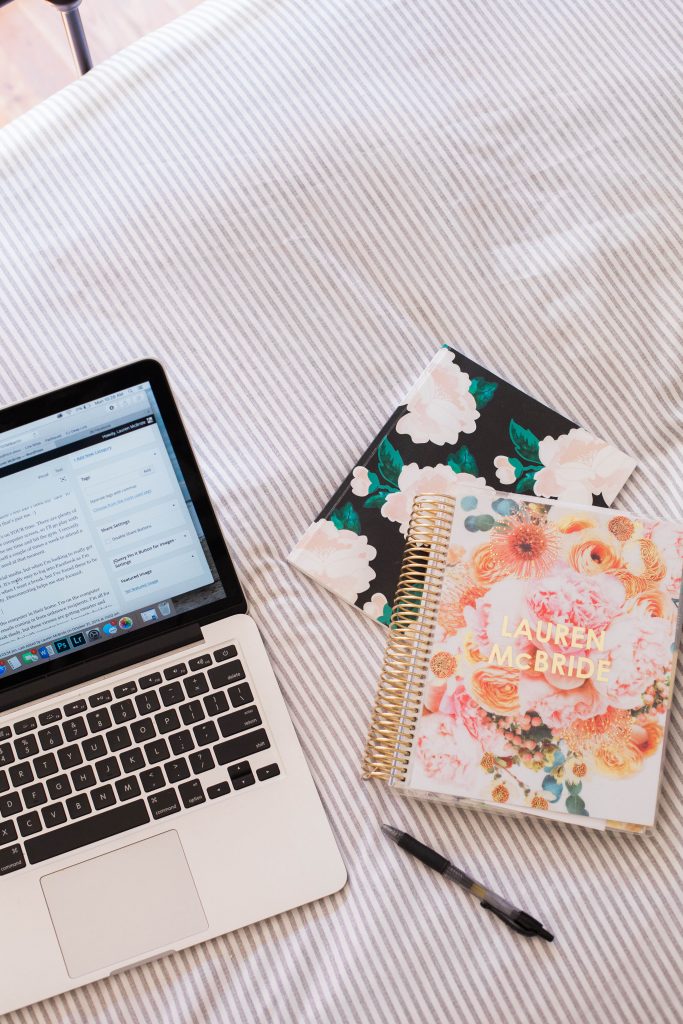 Here's one quick tip for ANYONE who uses the computer in their home. I'm on the computer frequently throughout the day and have many emails coming in from unknown recipients. I'm all for not downloading or opening emails that look shady, but these viruses are getting smarter and smarter and I just don't have the time or energy to deal with computer issues. I recently decided to download Sophos Home, a FREE online security software that protects up to 10 Mac and PC devices against hackers, malicious software, and viruses. They also have a content filter, which makes me feel better knowing that the kids won't see anything pop up on the computer that isn't for their eyes. The Sophos toolkit really sheds some light on how to stay safe, and even how to secure your cell phones. Technology is becoming more and more advanced these days, so it's important to me to stay ahead of the game. It puts me at ease knowing my devices are protected, whether its my computer, tablet, or phone.
You can download Sophos Home for FREE right here! Sophos Home is also running a special sweepstakes for Lauren McBride readers from now until November 3rd, 2016! Anyone who downloads will be automatically entered, and THREE random winners will be chosen and announced via email on November 7, 2016! ONE grand prize winner will receive a MacBook and TWO additional winners will receive an Apple Watch Series 2! Enter right here!
If you have any other tips for being a work at home mom, I would LOVE to hear them!