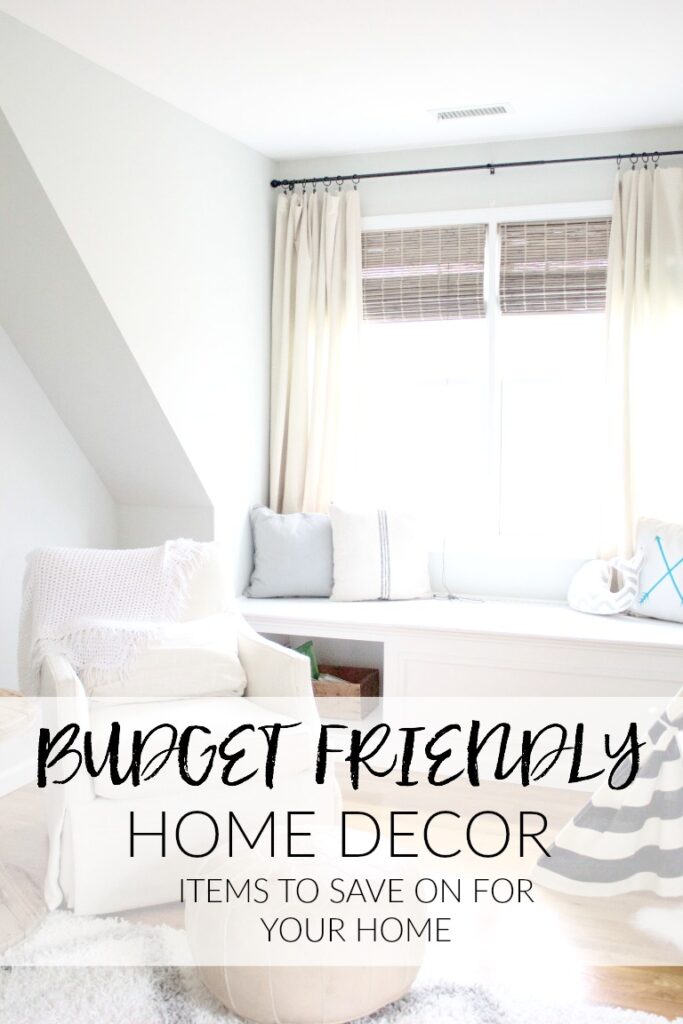 There's nothing more frustrating than seeing an item I love on another blogger's Instagram page or blog, only to find out that item is WAY out of my price point. I'm sure that's frustrating to you, too, especially if you're trying to furnish your home on a budget. I do believe in investing in some quality pieces (because you DO get what you pay for), but I also believe you can get great items for your home without breaking your bank. Today I'm sharing some budget friendly home decor that you've seen in our own home that are great options for yours, too!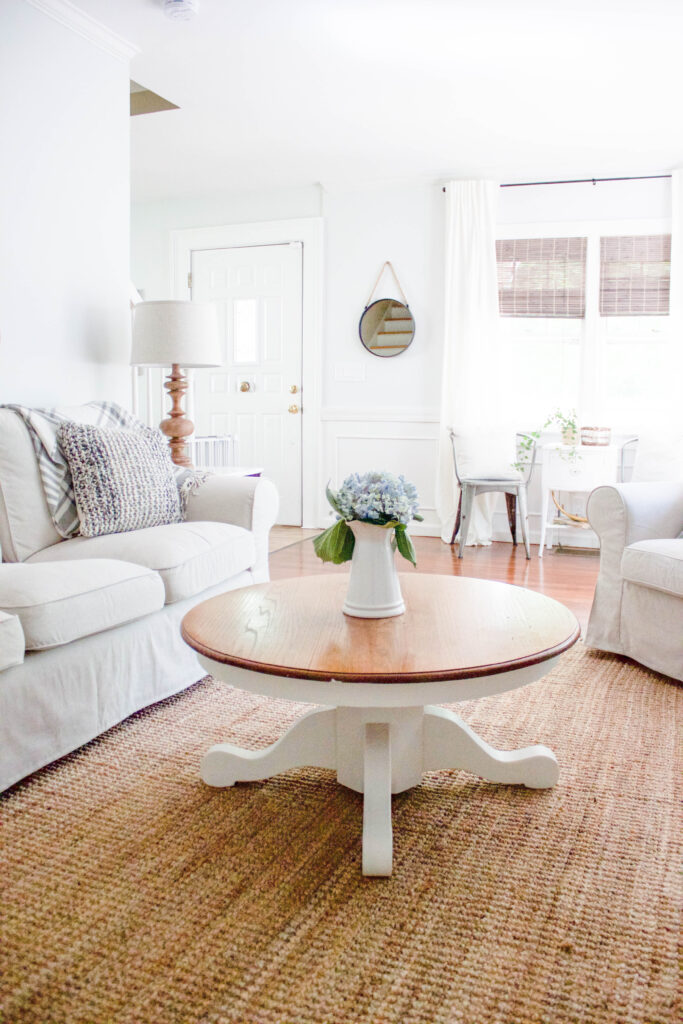 Curtains. I'm frequently asked about the curtains we have in our home, and they're ALL IKEA. If you don't live near an IKEA, you can purchase them right here on Amazon (although the price is a little higher). I love IKEA curtains because they're inexpensive for 2 panels (mine were literally $30 for 2 panels!), they come in a couple different levels, and they're easy to hem. The white curtains you currently see in our home are the Ritva curtains. I used to own the Aina curtains from IKEA which were a higher price point, and while they still have them, the fabric has changed over the years (total bummer). They used to be a gorgeous linen, and now they're very flat instead of having that grainy texture. To replace the Aina, I purchased the Lenda curtains which are very similar. I wasn't crazy about the tabs for the curtain rod on the Lenda, so I cut them off and used these clip curtain rod rings instead. Another option for linen-like curtains would be purchasing drop cloths and making them yourself! It's pretty easy to sew a rod pocket, or use the rings to save time on sewing!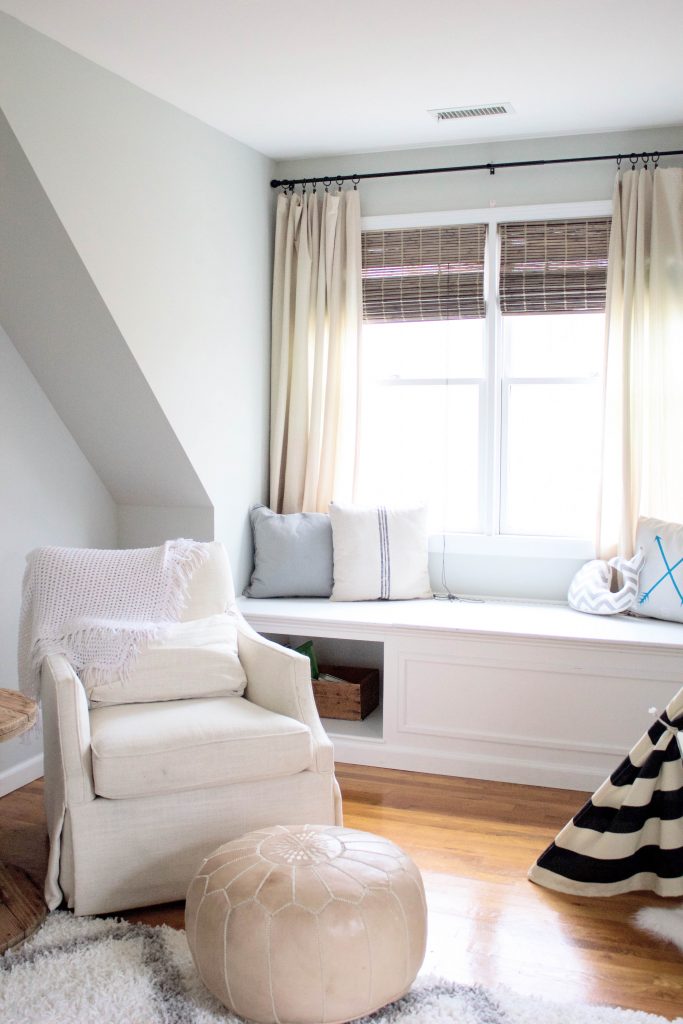 Blinds. I will admit here, paying more for higher quality blinds definitely has its benefits. My mother works for The Shade Store and gave us a set of linen blinds for our bathrooms. They are high quality and glide smoothly. But if you're on a budget, I suggest these blinds from Home Depot. These are the ones you see in our home, in the Driftwood shade. They're very easy to install, and can be mounted inside or outside the frame. I like that they darken the room just enough, and love the way they look with my white Ikea curtains. They have a variety of shades and sizes, too. I paid a little less than $30 for each blind. I will say, they do not open and close as my expensive blinds, but that's to be expected. Again, they do the job on a budget. I'm hoping to try Select Blinds soon, so I'll let you know what I think about those as well.
Home Depot Home Decorators Bamboo Blinds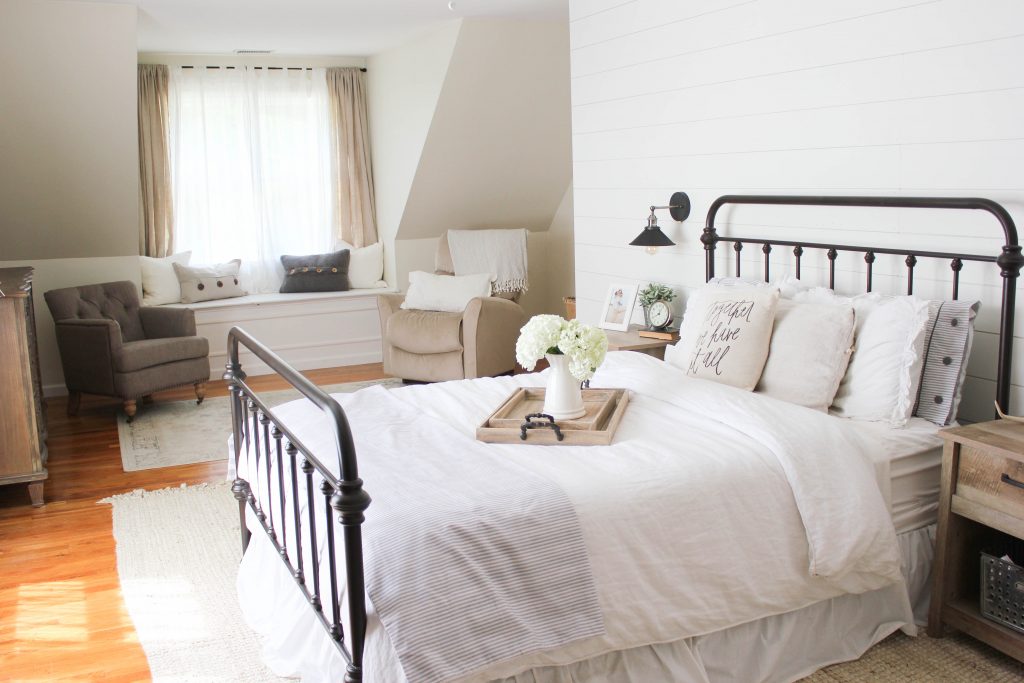 Rugs. Rugs can definitely be tricky to find on a budget because some rugs can run upwards of $1000. I cap my rug budget around $300. I just can't bring myself to spend more than that! Luckily over the years I've found a few great sites to find budget friendly rugs on. Rugs USA, Overstock, and even Amazon have been my websites of choice. Buyer tip: Rugs USA usually ALWAYS has 70% or more off rugs, so you can get a great selection for decent prices. These rugs are usually available on Overstock or Amazon as well, so copy and paste the name into your search bar to see where else it might be located for the better deal. I saved over $100 on our playroom rug by finding it on Overstock! Another great site for rugs is World Market, and they usually always have a coupon code. If you're willing to wait for a coupon code, it will be worth it!
Furniture. One of my favorite ways to score furniture on a budget is to buy previous owned or antique pieces and make them your own. If you get them at a great price, you can invest a little money into them to fix them up! For instance, I have two parlor chairs I scored free from a friend. They needed to be stripped and reupholstered, so I invested in having that done to make up for the money I saved on buying new chairs. They're now one of a kind! I also scored a few friend pieces when my husband and I first bought our condo. I repainted and distressed them to make them more my style, and now they're my favorite pieces. If you're a DIYer, you can build your own furniture as well. Ana White is my favorite website for furniture plans because she literally has everything you could possibly imagine. We used her plans for our dining room table, which is our most commented on piece of furniture to date. It literally cost us $150. Saving money on the table allowed me to use it on the chairs I've been wanting! Many of you have asked about my IKEA Ektorp couch, and I think it's a really great and inexpensive option. It looks almost identical to the Pottery Barn couch except it's a fraction of the price. We've had ours for many years and I can honestly say it's the most comfortable couch I've ever sat on! The slip covers wash well, and the cushions are soft once broken in. We love it so much we bought another one for our playroom!
IKEA Ektorp Couch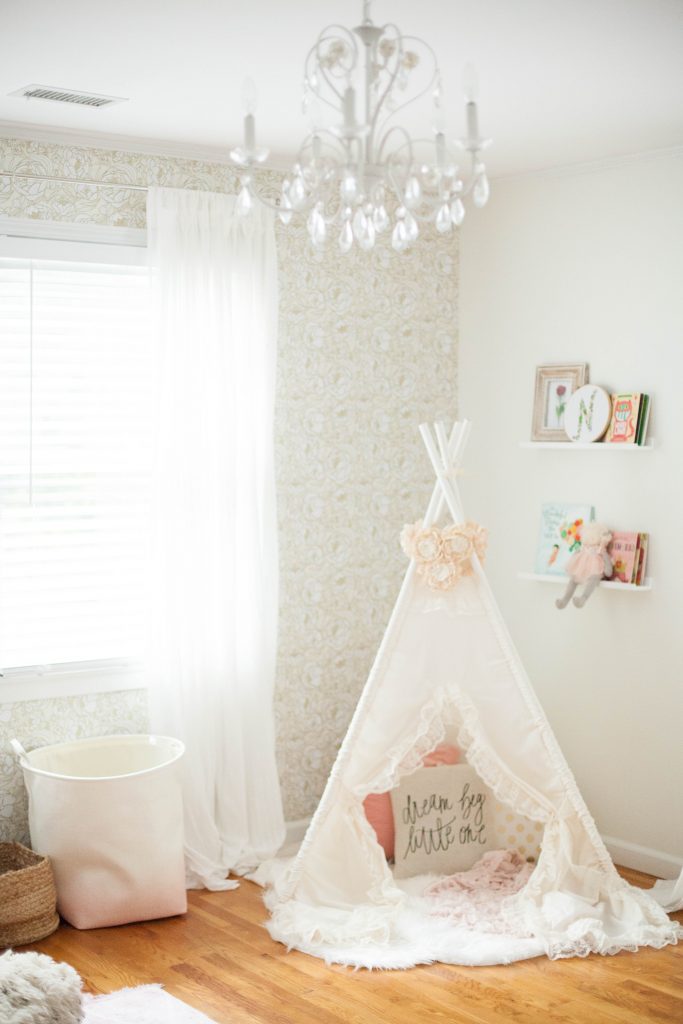 Lighting. A long time ago I remember complaining to my electrician husband about the minimal lighting options I had at our local hardware store and the frustration I experienced because I hated all of it. I remember him saying, "Oh there's better lighting places, but you'll be paying for it." Lucky for him, he wasn't right about the high price tag. It's very possible to get beautiful lighting on a budget. World Market is one of my favorite places because they always have coupons and usually offer free shipping. Our dining room chandelier is from here, and it's even more beautiful in person than it is online. I've also bought gorgeous inexpensive sconce lighting on Amazon, of all places. You can see my favorite farmhouse lighting picks on Amazon right here. Lamps Plus also has some inexpensive options. I've even bought a chandelier at a thrift store and rebuilt it to my own liking. Landon's chandelier was $10 from a Habitat Restore, and Noelle's was $40 at a little vintage shop. I had Pat rewire Landon's and I added jute to make it look like the highly coveted Pottery Barn and Restoration Hardware rope chandelier. For Noelle's, I simply removed all the crystals and spray painted it white. Good as new!
I feel that by saving in these areas, you're allowing yourself a greater budget to use in other areas of your home. The items I listed will still give you a high quality look for a low price!
Don't forget to join my home Facebook group right here where we chat all things home related!