This post is sponsored by AmLactin. Thank you for supporting the brands who support this blog!
With the constant change of weather here in New England, my skin can really take a beating. This only got worse last year when we moved to a home that utilizes well water. Our well water was really hard, and we needed to install proper equipment to improve the quality. My skin always reacts poorly to cold weather (clearly this is just a sign that I need to live somewhere warm all year round!), so I'm always taking extra special care of it once the cold weather hits. The cold, dry air outside and the warm, dry heat inside are constantly draining moisture from our skin, which results in dryness, itching, and flakiness (which is my biggest pet peeve as a nurse!). Today I'm sharing with you some cold weather skincare tips that might be helpful if you're like me and live in this type of climate!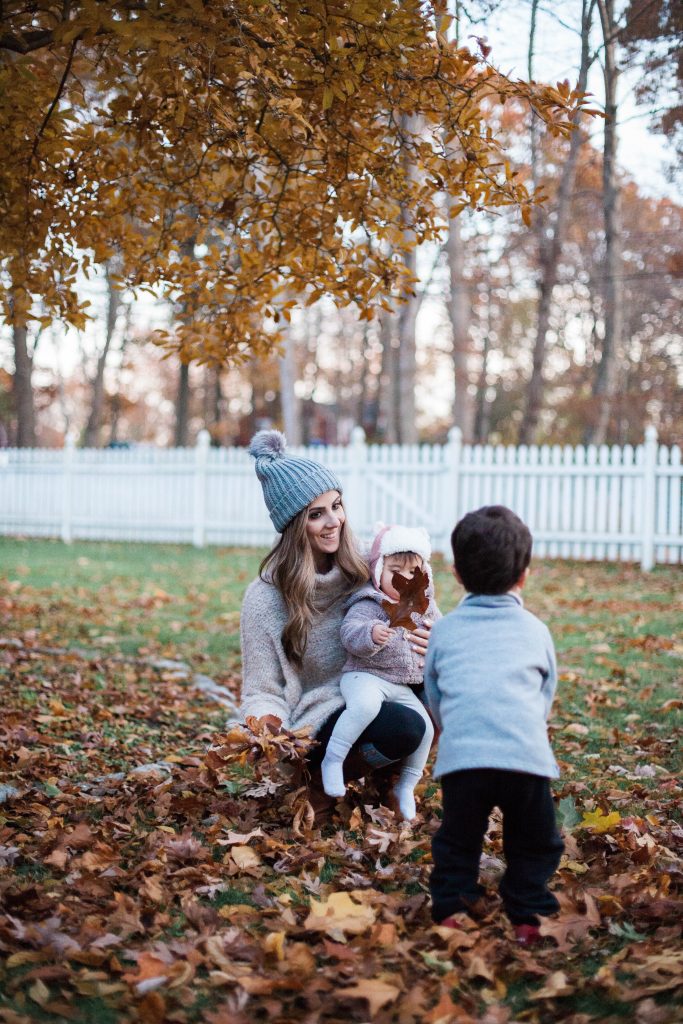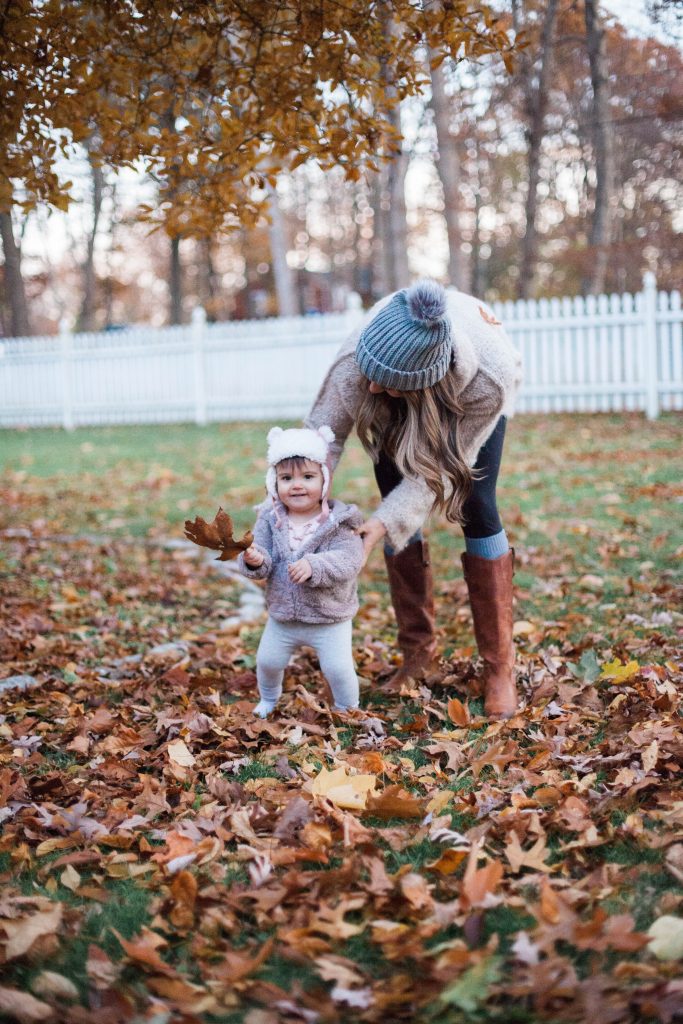 Keep hydrated. A lot of times we don't even think about this, but drinking water and keeping your body hydrated will keep your skin hydrated, too. I'm usually good about my water intake, but I haven't been the best since Noelle has been born (probably because I'm a lot busier with two kids than one). I bought myself a straw water bottle because I noticed I drink more water when I have a straw, and I always add a little lemon for flavor.
Install a water softener if you have a well, and keep on top of adding salt. This was one of the first things we had done in the new house because of how hard our water was (the water company said it would end up corroding the pipes, it was so hard). We add salt about once a month to make sure it stays functioning properly. I can totally tell when we need to add salt because my skin gets SO incredibly dry and itchy. I started marking it in my calendar, along with changing our air filter (seriously, the responsibilities that come with home ownership!), so we can make sure to avoid any hardness.
Moisturize! I can get really lazy with applying body lotion, usually because I'm always in a rush after my showers (hello, tiny humans). But my skin gets horribly dry and itchy in the cooler months, so it's crucial that I moisturize or else I'll itchy my skin off in my sleep. I've tried COUNTLESS moisturizers, and even oils, to no avail. I finally had the opportunity to try AmLactin Moisturizing Body Lotion, and I swear it's been the only lotion to actually work.Usually I'm itchy again hours later, and I haven't been with this! I think I may switch to the AmLactin Ultra Hydrating Body Cream during the really cold months for extra hydration. Carrying around a little hand lotion in your purse or diaper bag helps, too.
Don't forget your feet and hands! My hands can especially get dry and cracked in the winter, as well as my heels! I love applying a thick cream like AmLactin Foot Cream to my feet and going to bed with socks on for intense hydration. I'll do the same using hand moisturizer to my hands, as well! My skin feels super soft when I wake up in the morning, and it helps prevent any cracks to my heels or knuckles.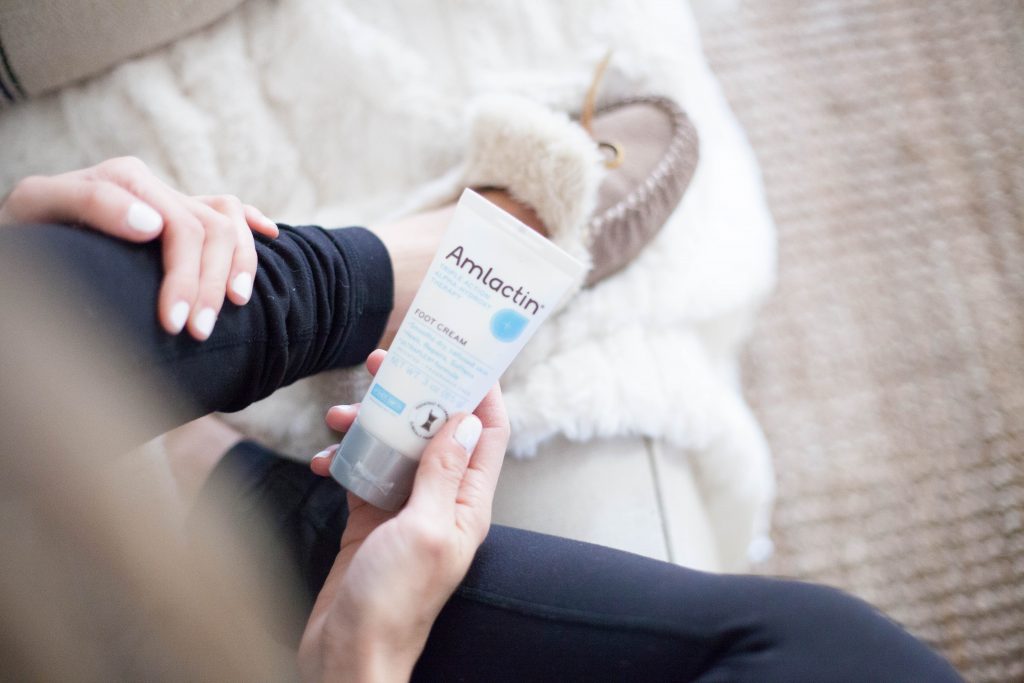 Use a humidifier. We have these for the kids, but I think I'm going to buy one for our room this winter, too. There's minimal humidity during the cooler months, and the dry air is what causes dry skin. Adding some humidity back into the air can do wonders for the skin. I highly recommend using one that's mold-resistant!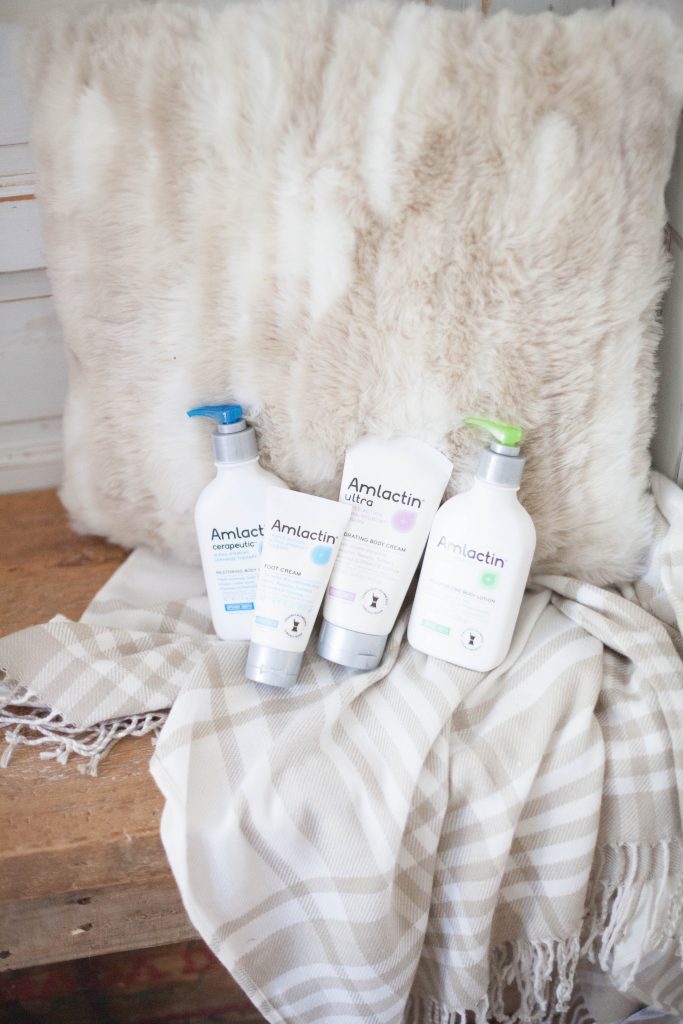 Uncover smooth, radiant skin with AmLactin Alpha-Hydroxy Skin Care. Its unique exfoliating and hydrating alpha-hydroxy therapy gently removes dead skin cells and thoroughly moisturizes. It's the difference between skin care and skin therapy. Look for AmLactin moisturizers at your local Target, CVS, Walgreens, Costco, Walmart and Rite Aid.
Would you like to try AmLactin Skin Care for FREE? Follow these steps to enter my Soft Skin Giveaway:
1. Visit AmLactin's website and look at each product.
2.In the comments section below, tell me about your winter skin care secrets AND provide a link to the product you'd most like to try by 11/22/16 to enter.
On 11/23/16, I will randomly pick 1 commenter to receive $100 worth of AmLactin products!
*Giveaway is open to United States residents only. Product and shipping provided by AmLactin Skin Care.
GOOD LUCK!
This is a sponsored conversation written by me on behalf of AmLactin. The opinions and text are all mine.